The Lost Kitchen Dress Code, Maine | Ultimate Guide
Maine's Lost Kitchen dress code is majorly accepted as semi-formal or formal. The Lost Kitchen recommends their guests dress beautifully and comfortably. 
Even though the restaurant is rustic, men should opt for long pants, while women can wear any semi-formal dress or skirt with a blouse.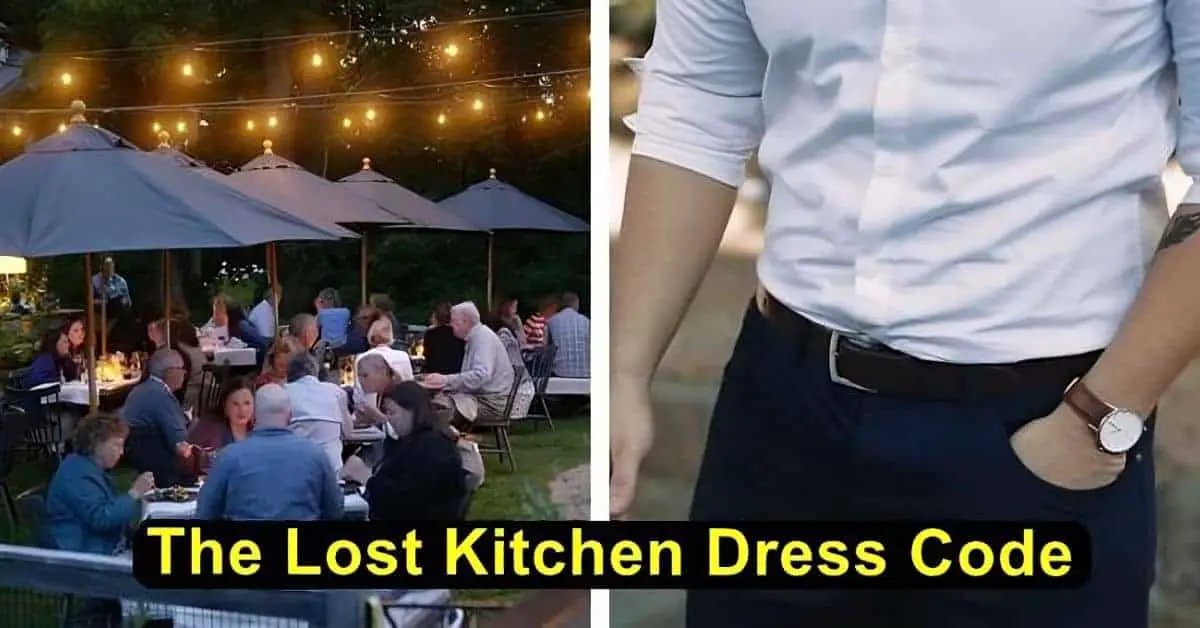 The Lost Kitchen Dress Code
Dress Code for Men at The Lost Kitchen Restaurant – Maine
The dress code at the Lost Kitchen is different from usual Michelin-star restaurants. You can play around with some colors with your outfit. You can also opt for some patterns with your shirts and blazers. Make sure the long pants are in a proper color balance. Some of the clothing options are given below.
Dress shirt
Trousers
2 piece Suit
Tie
Formal shoes
Sports coat
Light colored blazers
Button-down shirt
Formal socks 
Dress slacks
Chino pants
Loafer
Chelsea Boots
Dress Code for Women at The Lost Kitchen Restaurant – ME
For women, the dress code for The Lost Kitchen is mainly concentrated on various types of cocktail dresses. You can opt for something in light colors that suits your personality. Some of the clothing options are given below.
Cocktail Dress
Formal trouser
Button-down shirt
Long Skirt
Pencil skirt
Blouse
Dress pants
Jumpsuit
Summer Dress
Dress shirt
Tops 
Flats
Stilettos
About The Lost Kitchen Restaurant – Maine
Lost Kitchen by Chef Erin French is the most popular and highly praised restaurant in Maine, located in the small town of Freedom. The experience of eating at this place is both unique and memorable.
From the reservation process to the whole sit down and dinner, Lost Kitchen provides a calming adventure to people's monotonous lives. They will serve you an unforgettable memory with a plate of food. The diners are invited based on a lottery system. 
Address: 22 Mill St, Freedom, ME 04941, United States
Read How Much Is Dinner At The Lost Kitchen
The Lost Kitchen Menu 
There is no fixed menu in Erin French's Lost Kitchen Maine. They serve 12 courses each night. All dishes are made using locally sourced fresh ingredients. The general cuisine here is New American. The cost per person for their prix fixe food menu is $195. Drinks are separately priced.
The Lost Kitchen Reservations
The reservation for the Lost Kitchen Maine is unique and exciting. Erin French invites only 48 guests to her restaurant at the old mill each night. To be one of them, patrons must send a postcard through snail mail.
The address to send this postcard is only revealed after one has donated to the PFAS Emergency Relief Fund through the website of the Lost Kitchen restaurant. After receiving postcards, French picks her guests randomly based on a lucky draw. Lucky draw winners are then called and informed about their invitations.
Timings:- Wednesday to Saturday, 6 pm to 9 pm, Sunday to Tuesday closed.
What Months Is the Lost Kitchen Open?
The Lost Kitchen remains open from late May to October. It remains open four days a week for approximately six months.
Maine State in the USA Articles:-
Email Us to Enlist Your Business Here.