15 Best Live Music Venues in New Hampshire 2023
Blasting and soul-stirring performances by prominent musicians in the Live Music Venues in New Hampshire are always a treat for the visitors to cherish for life. Vast collections of wines, beers, and dishes served delight customers.
Many of these music venues in Exeter, Keene, Manchester, and Portsmouth of NH create memorable wedding and holiday gatherings with their music variations and catering. These places have rental spaces for organizing parties, functions, business meetings, and conferences. Fundraising events are conducted for social welfare and charity.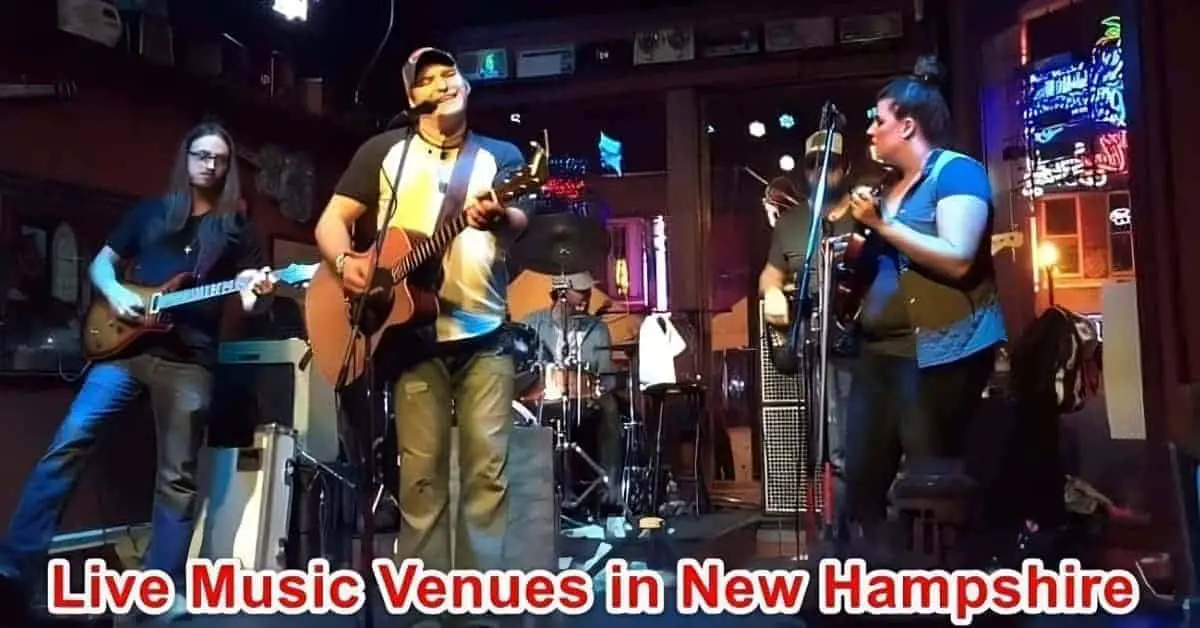 List of 15 Best Live Music Venues in New Hampshire
1. The Word Barn – Exeter, New Hampshire
Ben and Sarah started the Word Barn from a horse stable. Now, the barn has multiple modern audio and sound systems, comfortable seats, and a balcony serving as the best concert spot. They have been recognized by Yankee magazine as one of New England's Top Ten Summer Event Venues.  
Their farm meadow is created for art lovers to spend quality time with family on the grasses. They sell their own reared honey, eggs, and pigs.  
Various events happened here, from wellness, comedy, and theatrical to live music, poetry, fiction, and workshops. The bar serves various dishes with various wines, beers, and beverages.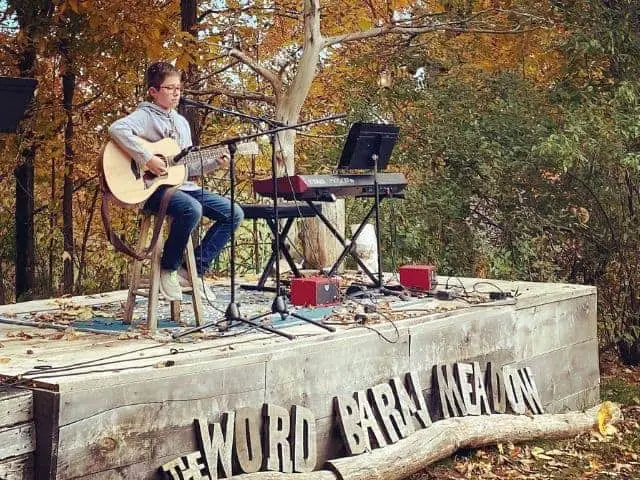 Trending and wonderful design merchandise are available for people online. Weddings, business meetings, and parties are organized at the huge meadow with all amenities and also at the barn. 
The AIRBNB is their private apartment for staying overnight, and a walk-in on their lawns with your dog is welcomed. You get their fresh farm honey and eggs here. 
Hours: Always open
Contact: 603-244-0202
Nearby Attractions: Strawbery Banke Museum, Portsmouth Escape Room
Address: 66 Newfields Road, Exeter, NH 03833
Read Best Tattoo Parlors In New Hampshire
2. Bank of New Hampshire Pavilion – Gilford, NH
Bank of New Hampshire Pavilion is situated in Gilford near Lake Winnipesaukee. The seating capacity for 9000 people is stunning, and they are recognized as one of the Best Ten Concert Venues of the US by USA Today. 
Some of the thrilling events for the upcoming 2023 Eastern propane concert series are Foo Fighters, Charlie Puth, Walker Hayes, Subtronics, and Louis Tomlinson. Seasonal tickets for the concert are available online with discounts. Entertaining shows are also conducted on the hazy little stage. 
Delicious food and beverages are served by eminent Sam Adams Brewhouse and Coors Light VIP Club with special cocktails, craft beers, burgers, and hot dogs.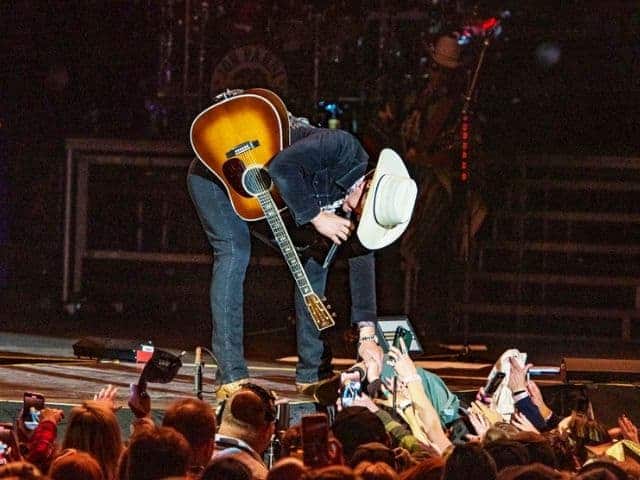 After the show, all can enjoy camping in the woods or grasses with family and friends and feel the vibe overnight. Many resorts and inns are around for your accommodation. 
This venue is the best spot for having functions from weddings, corporate meetings, and conferences to family gatherings with nice catering, live concerts, and a rocking experience in the amphitheater. 
Hours:  Monday – Friday: 9 AM – 5 PM, Saturday & Sunday: Closed
Contact: 603-293-4700
Nearby Attractions: Endicott Rock State Historic Site, Opechee Park
Address: 72 Meadowbrook Ln Gilford, NH 03249
Read Best Antique Stores In New Hampshire
3. The Music Hall Lounge – Portsmouth, NH
The Music Hall Lounge has provided thrilling live music at night and a diverse stage for artists, comedians, and musicians since 2011. Amazing music artists like Martyn Joseph, Peter Cincotti, Sarah Potenza, Molly Parden, and Billy Gilman perform here. Quick bites and bar options are available. 
There are exciting comedy shows by Hari Kondabolu, Steven Rogers, Jon Rineman, Andy Beningo, and Rachel Feinstein. Theatrical and dance performances also happen here with storytelling. The music hall can hold 100 guests, and now it is under renovation to include advanced music and lighting systems.  
Popular authors' writings and artworks of George Mumford, Richard Russo, and Dr. Luana Marques are also featured here. The place is also ideal for corporate meetings, conferences, seminars, and award ceremonies.   
Hours: Tuesday – Sunday: 12 PM – 6 PM, Monday: Closed
Contact: 603-436-2400
Nearby Attractions: Portsmouth Escape Room, Portsmouth Historical Society
Address: 131 Congress Street Portsmouth, NH 03801
Read Best Bike Shops In New Hampshire
4. Casino Ballroom – Hampton, New Hampshire
The Casino Ballroom has been a historically significant venue for live entertainment since 1899. Many famous artists have performed here, including Paige, Morrison, Hendrix, Joplin, and Bono. 
About 60 to 80 concerts and comedy shows are hosted annually between April and November. Some popular events include Beartooth & Trivium, Dylon Scott, Collective Soul, and Tower of Power. Joining the Beach Blast Club will let you know about the latest events. Shows are conducted both in standing and seated manners.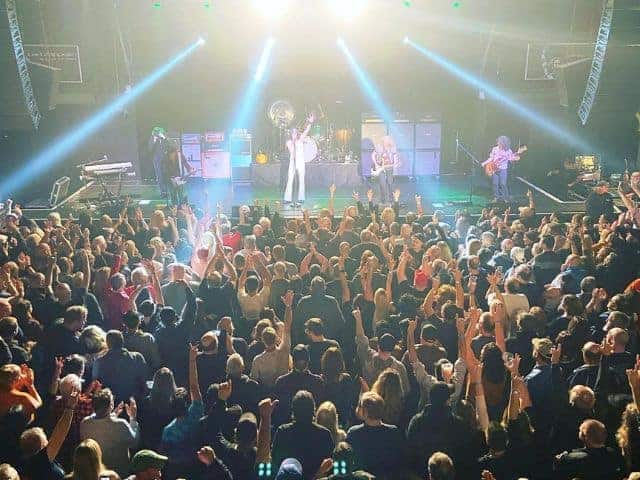 There are several hotels, restaurants, and beverage options around the area for good dining and refreshment after soulful entertainment. Trending vintage hoodies, HBCB Tees, and cool merchandise are available online. 
Hours: Monday – Friday: 10 AM – 3 PM, Saturday & Sunday: Closed
Contact: 603-929-4100
Nearby Attractions: Salisbury Beach Boardwalk, Plum Island Lighthouse. 
Address: 169 Ocean Boulevard, Hampton Beach, NH 03842
Read Best Wineries In New Hampshire
5. Nova Arts – Keene, New Hampshire
Nova Arts is an organization that focuses on bringing up emerging artists and supporting various genres of music and art performances. The main motto is to promote art and culture in the social community. 
The Thing in the Spring happens between May 19 to 21 and features diversified artists' performances by Bill Callahan, Guerilla Toss, Rough Francis, Zoh Amba, and Susan Alcorn. Popup events like After School Art, Twerk + Tone Takeover, and Craft Circles do happen. 
The Keene artist residency here brings famous artist from various places and engage the public as a community in a project, developing a sense of teamwork. 
The place consists of two stages: a cafe and open art studio. Visitors can enjoy the food or sightseeing nearby in the town on the event day after the shows.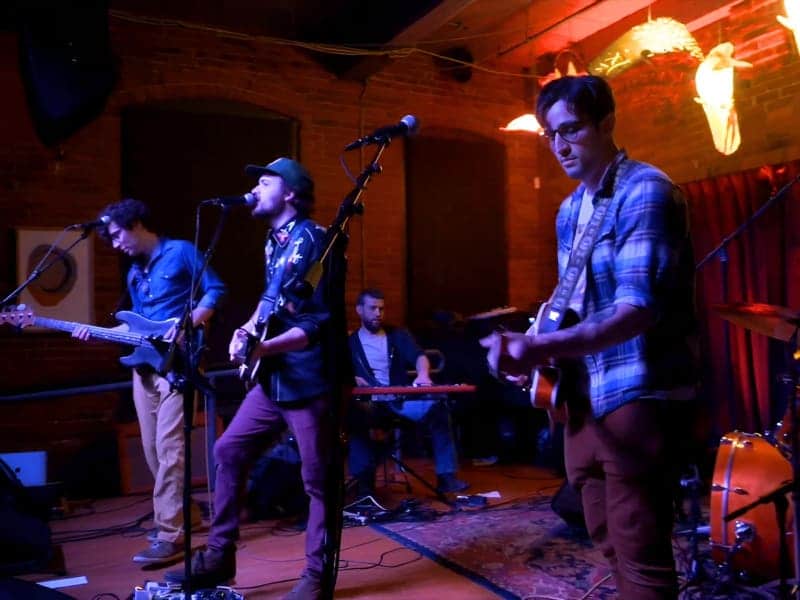 Hours: Open 24 hours.
Contact: [email protected]
Nearby Attractions: Cheshire Children's Museum, Robin Hood Park.
Address: 48 Emerald Street, Keene NH
Read Best Furniture Stores In New Hampshire
6. Cousin Richard Entertainment – Portsmouth, NH
Cuzin Richard Entertainment, in partnership with many local and international stars, has offered music, comedy nights, DJs, and magic shows since 1976. Richard Smith is the pillar behind starting this organization. They collaborate with Diana Krall, The Cars, and Wendy Liebman.
Various events are performed, from folk, reggae, rock, funk, and hip-hop to pop, DJs, classics, and blues. They play cocktail hour, dinner, and reception-type music for weddings. 
They have unique, talented, and skilled artists for various corporate and community events. Notable comedians, hypnotists, mind readers, and caricaturists give peculiar shows to their best. Richard organizes the Portsmouth Jazz and Blues Festival annually.  
Hours: Monday – Saturday: 9 AM – 5 PM, Sunday: Closed
Contact: 603-436-8596
Nearby Attractions: Portsmouth Escape Room, Strawbery Banke Museum
Address: 93 High Street Portsmouth, NH 03801 USA
Read Best Shopping Outlets and Malls in New Hampshire
7. Flying Goose Brew Pub – New London, NH 
Tom Mills started Flying Goose Brew Pub in 1993, providing music, entertainment, dining, and top drinks for customers. It was the first to become a solar-powered brewery in New Hampshire in 2011. Signing up for the club will give us an exciting birthday gift card.  
Enthralling music performances occur, and popular artists, including Tom Rush, Willi Porter, Ellis Paul, David Mallet, and Pousette Dart, give a live treat. Stillhouse Junkies' band always rocks the stage with classic, West African, bluegrass, and blues genres. 
Delicious soups & salads, sandwiches, appetizers, and burgers are there to fill our appetite. The kid's menu comprises spaghetti, mini cheeseburgers, mac n cheese, and chicken fingers. A variety of draft beers and cocktails are available to enjoy the day.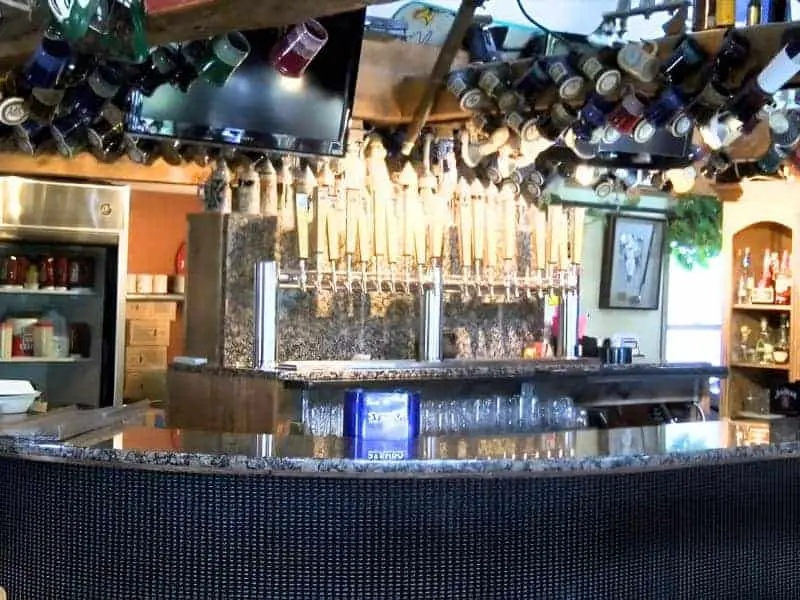 Hours: Monday – Saturday: 11.30 AM – 9 PM, Sunday: 11.30 AM – 8 PM
Contact: 603-526-6899
Nearby Attractions: The Ice House Museum, Mt. Kearsarge Indian Museum
Address: 40 Andover Rd, New London, NH 03257, United States
Read Best Restaurants in White Mountains, New Hampshire
8. Tupelo Music Hall – Londonderry, NH
Tupelo Music Hall started in September 2004 from an old 1890s farmhouse structure. It has an area of 2400 square feet to accommodate about 700 people and screens live music events, comedies, and theatrical shows. The two seating arrangements are comfortable for people and artist's cooperation. They are also NH's first live music venue to switch to solar power. 
The menu includes salads, sandwiches, steaks & eggs, buffalo chicken, and Pizza. Drinks from draft beers, white & red wine, spirits, non-alcoholic Red Bull, and fountain soda are available. 
Three rented rooms have perfect lighting, sound systems, projectors, a microphone, and a podium. Event managers on site will help with the setting up of all things.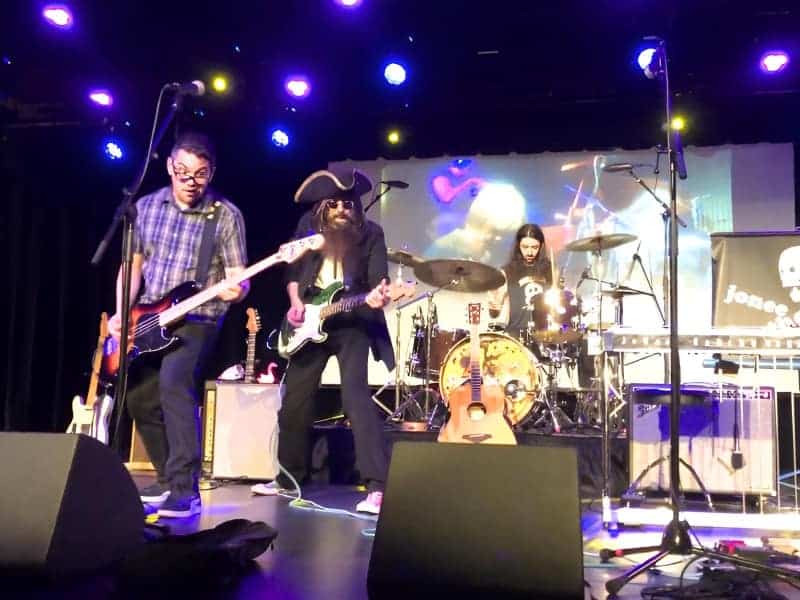 Hours: physical box office: Tuesday – Friday: 10 AM – 2 PM, Saturday: 10 AM – 12 PM, Phone Hours: Monday – Friday: 10 AM – 5 PM
Contact: 603-437-5100
Nearby Attractions: Derry Museum of History, Taylor Mill State History Site. 
Address: 10 A Street, Derry, NH
Read Best Flower Shops in Wolfeboro, New Hampshire
9. The Shaskeen – Manchester, New Hampshire
Tommy and Matt opened the Shaskeen in November 2005 to bring the Irish touch to their foods, style, tradition, and live music. 
Brunch collections include waffles, sandwiches, avocado toast, and drinks such as Bloody Mary and iced Irish coffee. Lunch and dinner have appetizers, salads, sandwiches, burgers, suppers, and sides. Drink varieties are whiskey. Cocktails and draft beers. 
Tremendous events happen, like Rap nights on Sunday, Comedy nights on Wednesday, and Trivia on Monday. Popular musical acts like Amigo the Warfield and Derek Warfield took place. Comedy nights go with Kyle Kinnane, Dan Soder, and Mobb Deep. Cool gift cards, hoodies, and Shaskeen hats are sold online.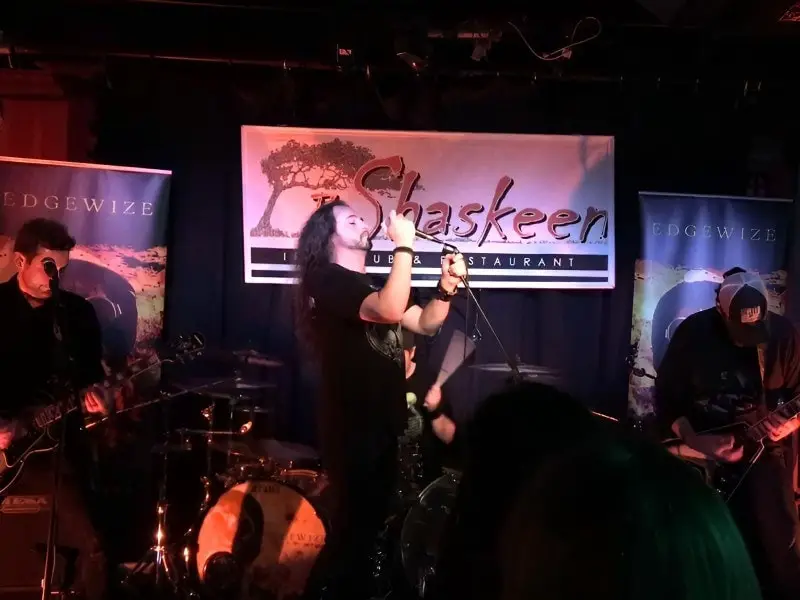 Hours: Monday – Sunday: 11.30 AM – 1 AM
Contact: 603- 625-0246
Nearby Attractions: SEE Science Center, Currier Museum of Art
Address: 909 Elm Street Manchester, NH 03104
Read Best Vegan-Friendly Restaurants in Portsmouth, NH
10. The Flying Monkey – Plymouth, New Hampshire
The theatre in Flying Monkey, built in the 1920s, is a popular venue for movies, comedy shows, dance, and kids' entertainment. Live shows organized here include Spafford, The Wallflowers, BoDeans, and Comedian Bob Marley.
Multiple numbers of blockbuster films are screened. The big theatre can accommodate 450 people, and the balcony with 75 members is ideal for conducting parties, weddings, corporate meetings, business luncheons, and conferences. They help fund social causes, and their event space is also available for rent.
They offer good selections of craft beers, cocktails, and wines for the visitors. There are several restaurants and lodges nearby for the tourists to stay.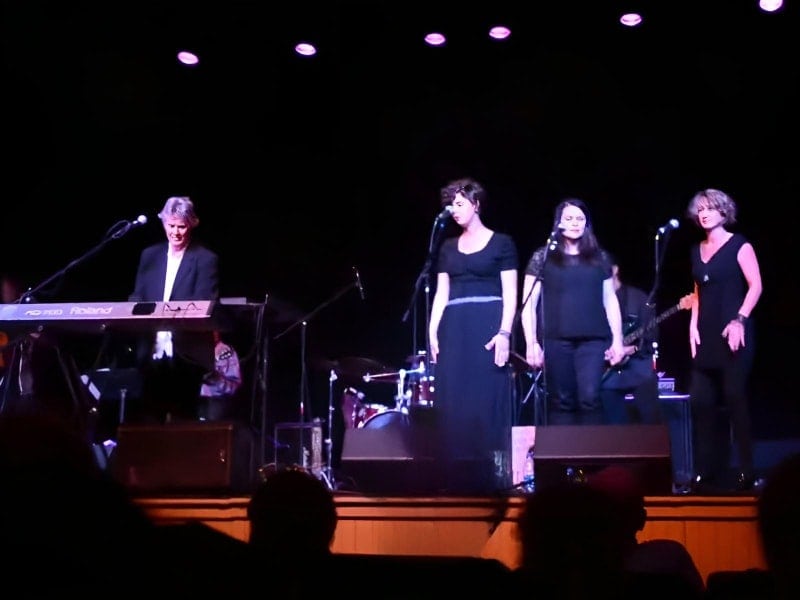 Hours: Monday – Friday: 12 PM – 5 PM
Contact: 603-536-2551
Nearby Attractions: Museum of the White Mountains, Squam Lakes Natural Science Center. 
Address: 39 S. Main St, Plymouth, NH 03264
Read Best Public Golf Courses in New Hampshire
11. The Stone Church Music Club – Newmarket, NH
The Stone Church was built in 1832, and they have over 52 years of musical exposure, hosting over 15000 shows. There is a restaurant and also a big event space. Customers coming here can feel the vibes of the early 70s, 80s, and 90s. This place is dog-friendly. 
Top-notch musicians include Twiddle, Derek Trucks, Langhorne Slim, Stanton Moore, and Bela Fleck. People can showcase their artistic talent with a chance to display their art on the walls of this club, and monthly shows are organized for this purpose. Apart from this, band shows and comedy nights do occur here. 
The food menu contains various dishes along with vegan and gluten-free options. The bar collections have cans & bottles, beers, vodka, whiskey, tequila, and rums. The outdoor patio is an ideal place to have good food and drinks.  
They have separate rental spaces for private parties, birthdays, weddings, and showers. Catering with special staff and a unique banquet menu is available. Cool collections of merchandise are sold.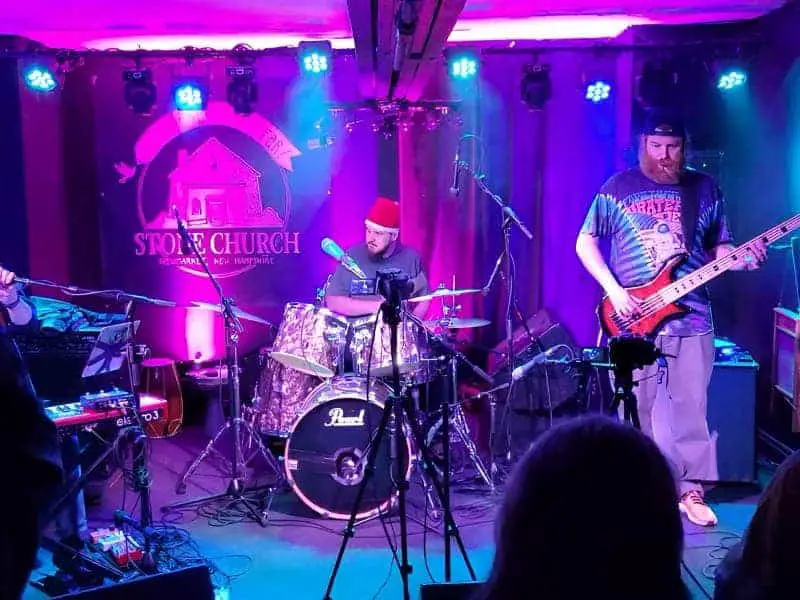 Hours: Wednesday – Saturday: 4 PM – 12 AM, Sunday: 3 PM – 12 AM, Monday & Tuesday – Closed. 
Contact: 603-659-7700
Nearby Attractions: Prescott Park, Portsmouth Escape Room. 
Address: 5 Granite St, Newmarket, NH 03857
Read Best Seafood Restaurants in New Hampshire
12. The Press Room – Portsmouth, NH
A folk music lover, Jay Smith opened the Press Room in November 1976. It is the longest with a bar, restaurant, and live music venue in Portsmouth. 
The downstairs space has a huge bar for cool drinks and quick bites and is best for late-night gatherings. Live music entertainment occurs upstairs; hearing thundering sounds and getting a superb top view is best. Popular shows performed include Marco Benevento, Cormac McCarthy, and Nick Goumas. 
The menu mainly consists of starters, salads, sandwiches, quick bites, burgers, and desserts. Drink collections come with wines, cocktails, and Sans Booze. The special brunch menu is always there for customer choice. There are private spaces for events, dinner parties, business luncheons, and film festivals. 
Hours: Monday – Wednesday: 5 PM – 1 AM, Thursday – Sunday: 12 PM – 1 AM
Contact: 603- 431-5186 
Nearby Attractions: Seacoast Science Center, Portsmouth Escape Room. 
Address: 77 Daniel Street Portsmouth, NH 03801
13. Jewel Music Venue – Manchester, New Hampshire
Jewel Music Venue is known for its eminence in providing various band performances for visitors and various drinks. Bands from local, national, and international levels give rocking nights.
The popular events here are Infekt, Taytay party, Mimosa Fest, Equinox, and Luzcid. Various genres of music, from rock, reggae, funk, jam, metal, rap, and hip-hop, are performed. Burlesque and comedy nights also happen. Hammering sounds come from the latest Hennessy sound system and an elegant light show.
They run a full-time bar with beers, liquors, ciders, and Seltzers. Bookings for private parties, band performances, and functions are available online.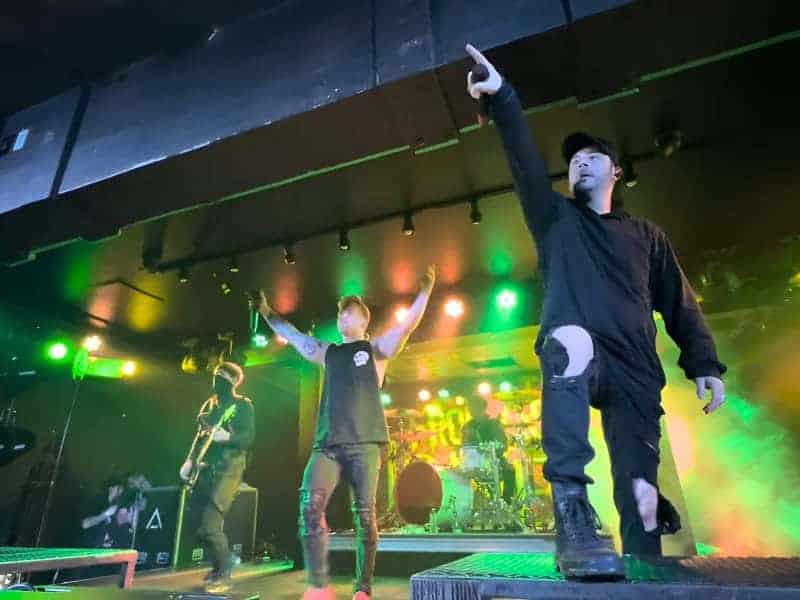 Hours: Friday & Saturday: 8 AM – 1 PM, Sunday – Thursday: Closed
Contact: 603-819-9336
Nearby Attractions: SEE Science Center, Currier Museum of Art. 
Address: 61 Canal St, Manchester, NH 03101
14. Jimmy's Jazz & Blues Club – Portsmouth, NH
Jimmy's Jazz & Blues Club is known for featuring top-class performing artists from blues and Jazz since the 1900s. Michael and Brother Peter Labrie are the pioneers behind this establishment. The Labrie family owns the club. The Atlantic Grill, River House, and Rio Tequila Cantina are their other prominent holdings.
The venue has high-end acoustics, lighting arrangements, and a video system, providing a superb live-streaming experience for the artist and the people. The hall can accommodate about 600 visitors.
Chef Nate and Brian make delicious cuisines for a good combo with soul-stirring music. The food menu has appetizers, entrees, and desserts. Diverse collections are present in wine, spirits, and craft beers. Special brunch is served on Sunday during the Jazz.
Popular events like Clay Melton, Tia Fuller, Frank Catalano, and Davy Knowles Band occur. Dinner is served from the first till the second show. Weddings, corporate events, and celebrations are welcome; necessary catering with event space is available.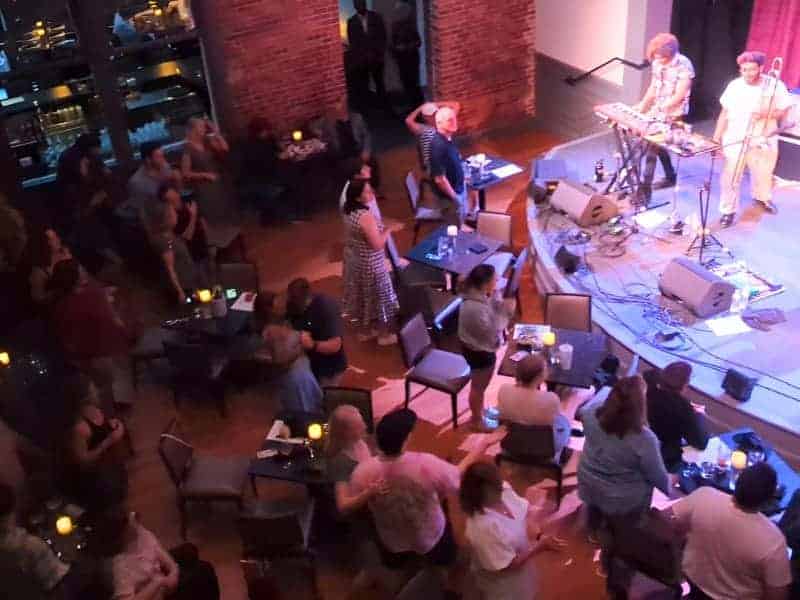 Hours: Tuesday – Saturday: 11 AM – 6 PM, Sunday: 2 PM – 6 PM, Monday: Closed
Contact: 888-603-5299
Nearby Attractions: Prescott Park, Seacoast Science Center.  
Address: 135 Congress Street Portsmouth, NH 03801
15. Bank of New Hampshire Stage – Concord, NH
Capitol Center for the Arts owns the Bank of New Hampshire and opened in 2019. It has been a prominent stage for cultural, dance, comedy, live music, and screening opera presentations. 
The Bank NH stage can accommodate up to 125 members and has a main theatre, venue lobby, and a canteen room. The theatre can occupy 296 members and reception up to 400 people. It is best for organizing cocktail parties and ceremonies. Full bar and rental music equipment are available.
The Chubb theatre can accommodate 1300 people and is suitable for concerts and comedy nights. The Governor's Hall can hold 350 members and is perfect for weddings and parties. Kimball House has a dining room, library, parlor, and boardroom with space available for 50 guests.  
Some popular shows hosted include Tenille Arts with Justin Cohn, Rockstar Karaoke, The Senie Hunt Project, and Bear Brook Season 2.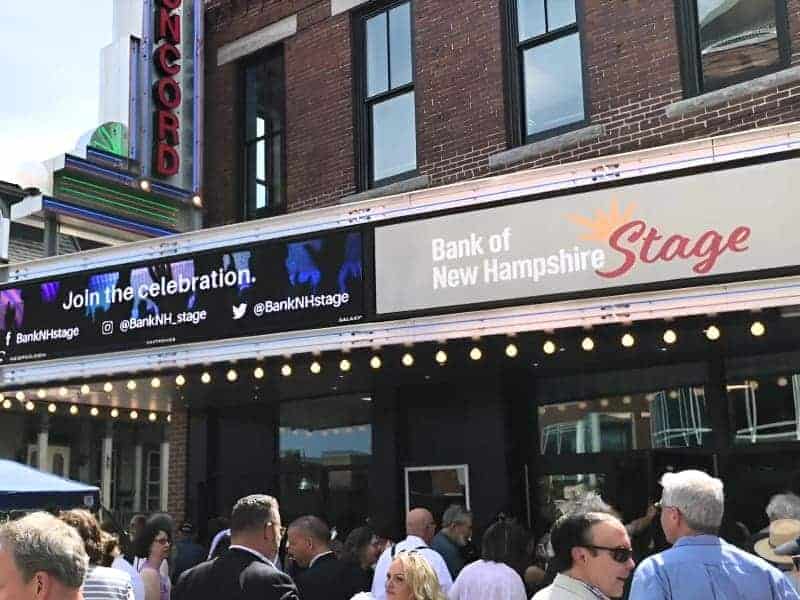 Hours: Monday – Friday: 12 PM – 6 PM
Contact: 603- 225-1111
Nearby Attractions: McAuliffe-Shepard Discovery Center, Winant Park
  Address:  16 S Main St. Concord, NH 03301
Conclusion
Top Collections of merchandise and goodies are found online in the Live Music Venues of New Hampshire with amazing discounts. Apart from music and comedy nights in the live music spots of Manchester, Londonderry, and Keene, popular restaurants and recreational destinations are nearby for the people to explore.