16 Best Shopping Outlets and Malls in New Hampshire 2023
People shop for daily groceries and accessories. The Shopping Malls and Outlets in New Hampshire are the best spots to enjoy multi-featured shopping. As the market is filled with new collections, the craze for shopping also increases. 
Mainly, Real estate groups run these shopping malls with unique tenants for selling various products. The Shopping markets in Manchester, Rochester, Lebanon, Tilton, Newington, and Salem of NH provide leasing facilities for new tenants for their shop establishment.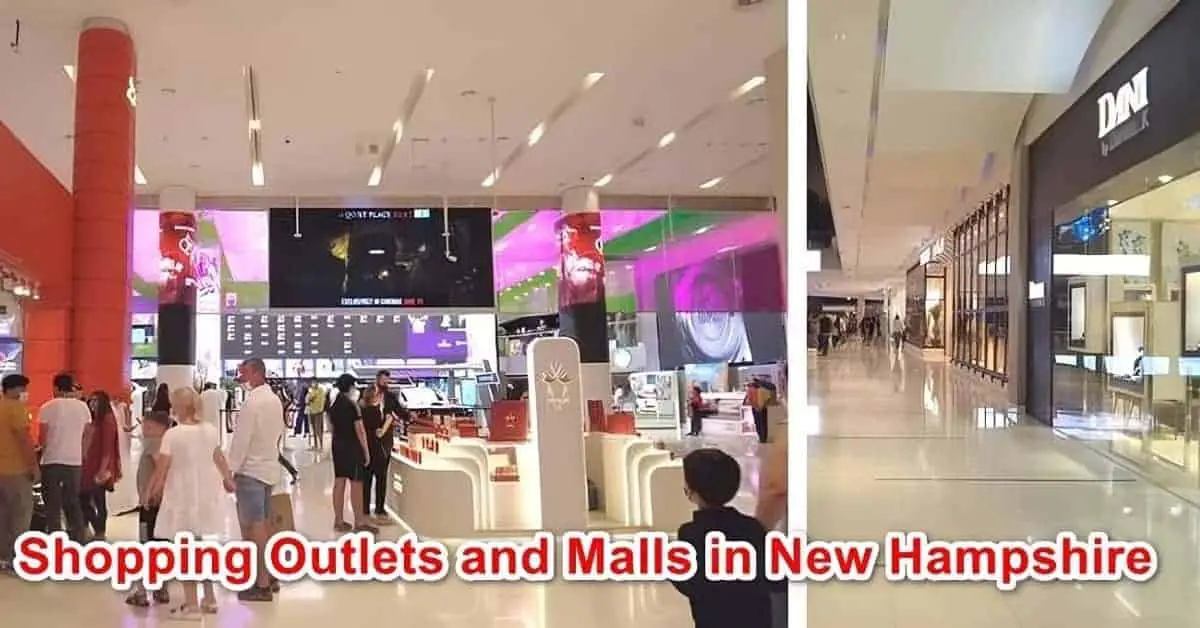 List of 16 Best Shopping Outlets and Malls in New Hampshire
1. The Mall of New Hampshire – Manchester, NH
The Mall of New Hampshire serves nearby locations like Londonderry, Hooksett, Bedford & Candia. Home furniture and accessories of top brands like JCPenny and Macy's are found. This climate-controlled indoor shop leaves exclusive deals on its product sale. 
Special amenities like children's play area and mobile device charging stations are there for a family visit. Popular Auntie Anne's, Dunkin Donuts, Cinnabon, and Buffalo Wild Wings all offer a variety of dishes and cuisines. These shops have good dining facilities with take-in and delivery options.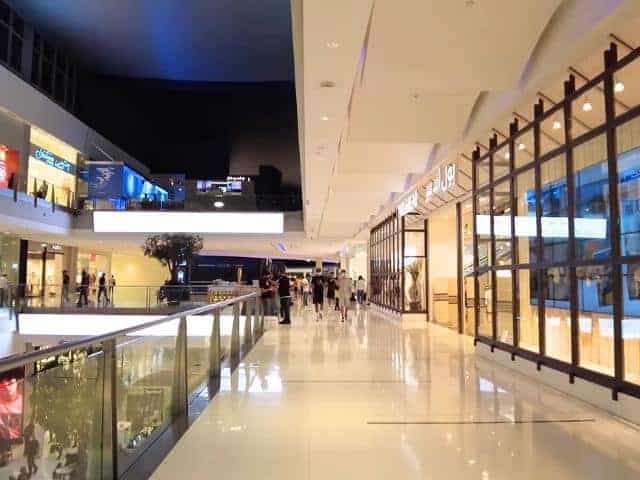 Top accessories are available from Aerie, Aeropostale, Apple, and American Eagle outfitters. There are top brands available separately for men and women at attractive prices. 
Hours: Monday – Thursday: 10.00 AM – 8 PM, Friday& Saturday: 10 AM – 9 PM, Sunday: 11 AM – 6 PM. 
Contact: Shopping line: 603- 669-0433, Mall Management: 603- 669-0434
Nearby Attractions: SEE Science Center, Currier Museum of Art 
Address: 1500 S Willow St. Manchester, NH 03103
Read Best Tattoo Parlors In New Hampshire
2. Pheasant Lane Mall – Nashua, New Hampshire
Pheasant Lane Mall is a two-level mall satisfying the necessities of the locals and outsiders. Top brands such as Express, Dick's sporting goods, Foot Locker, Ann Taylor, Hollister, Pacsun, etc., are filled with high-quality clothes and accessories essential for men and women. 
FYE has supercool games, box sets, music, and movies for kids' entertainment. About 135 stores are present in this shopping outlet in Nashua, NH. Gamesoft sells software and hardware, the latest edition, and next-generation game console systems from top brands.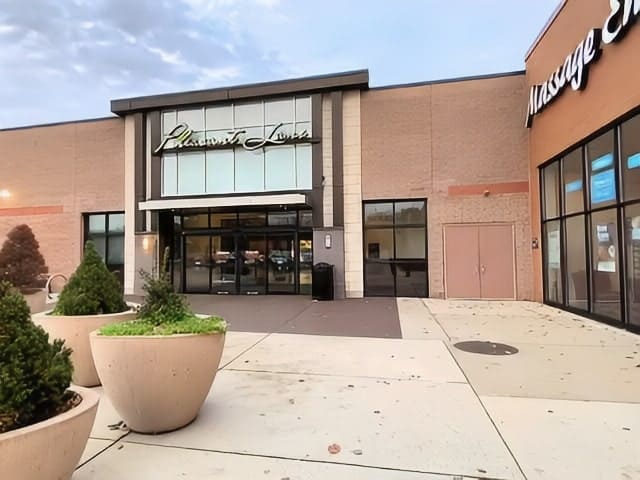 A large food court comprising 12 different shops is at people's service. Top-notch food spots like Blaze Pizza, Buffalo Wild Wings, Burton's Grill, Lindt Chocolate, and Sarku Japan provide customers with unmemorable and tasty food varieties. 
Hours: Monday – Thursday: 10 AM – 8 PM, Friday & Saturday: 10 AM – 9 PM, Sunday: 11 AM – 6 PM.
Contact: Shopping Line: 603- 888-2331, Mall Management 603- 888-0005
Nearby Attractions: Mine Falls Park, Fun World
Address: 310 Daniel Webster Hwy, Nashua, NH 03060
Read Best Antique Stores In New Hampshire
3. The Mall at Rockingham Park – Salem, NH 
The Mall at Rockingham Park spans about 1024171 square feet of floor space. It was opened in August 1971, and Simon Property owns this big thing. Approximately 150 stores have stunning collections of apparel and cosmetics. It's the biggest shopping mall in NH.
Prominent shops like American Eagle, Box Lunch, Altar'd State, Charlotte russe, EbLens, and Finish Line are present. Appleseed Crepe & Bread, Auntie Anne's Pretzels, Dunkin Donuts, and Earth & Sky Bar serve us delicious foods and relaxing chillers. 
Cinemark screens the latest blockbuster movies to make the day. Accessible ATMs and Disney Junior Play Zone are there for the needs of people.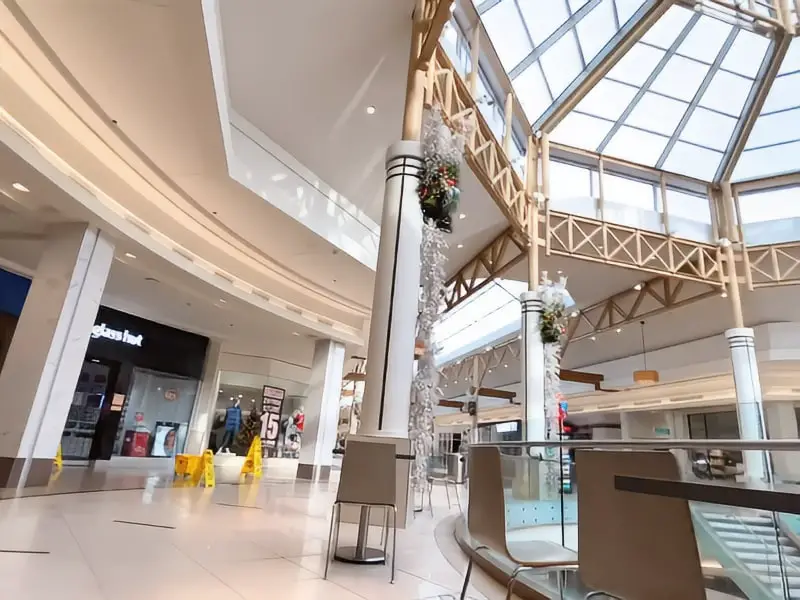 Hours: Monday – Thursday: 10 AM – 8 PM, Friday & Saturday: 10 AM – 9 PM, Sunday: 11 AM – 6 PM
Contact: Shopping Line: 603-894-4411 Mall Management: 603- 894-5526
Nearby Attractions: Field of Dreams Park, America's Stonehenge 
Address: 99 Rockingham Park Blvd, Salem, NH 03079
Read Best Bike Shops In New Hampshire
4. Tanger Outlets Tilton – Tilton, New Hampshire
Tanger Outlets has numerous collections and accessories for men, women, and kids. Top brands like Adidas, Banana Republic Factory, Calvin Klein, Crocs, Reebok, and Nike Factory Outlet Store possess high-quality merchandise and clothing materials to explore. 
Various brands offer great deals. Being a member of the Tanger Club will get us extra bonuses, perks, good discounts, and trending gifts. Attractive gift cards are purchasable online. 
Jersey Mike's Subs, Starbucks Coffee, Sweetz & More, and Tropical Smoothie Cafe are popular shops offering many food and drinks for enjoyment. The savings book is given to military and university students. 
Hours: may vary weekly
Contact: 603-286-7880
Nearby Attractions: Memorial Arch of Tilton, Opechee Park
Address: 120 Laconia Road, Tilton, NH 03276
Read Best Wineries In New Hampshire
5. Settlers Green Outlet Village – Conway, NH
Settlers Green Outlet Village has been in service for over 30 years. Black Cap Grille, Cheese Louise, Lindt Chocolate Shop, and Stonewall Kitchen are shops to dine with delicious foods. Ryans's family friend's Fun and The Soakingpot Infusion Spa are good recreational spots. 
The community labyrinth for honoring Dot Seybold is perfect for meditation and relaxation. It's a dog-friendly outlet, and online ordering & take-in are available. Public arts are displayed throughout the outlet for customer attraction, reflecting different themes.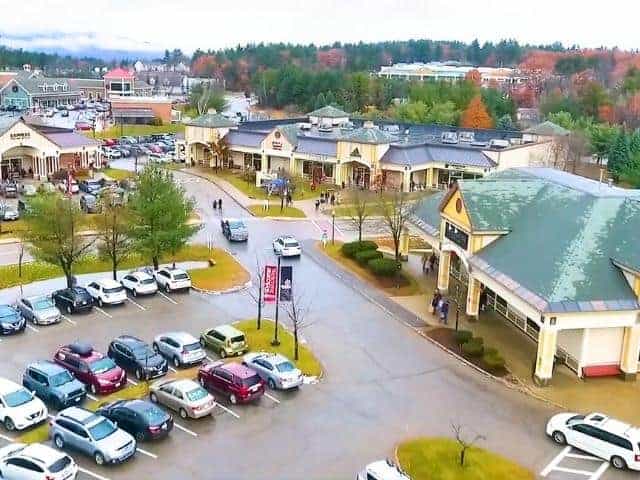 Gardens are made in containers and maintained by Sunshine Daydream Gardens with different varieties of flowers. The Senior Discount Day is every Tuesday for people of 55 plus age. Other offers like military, student, and teacher discounts are also available.     
Hours: Sunday – Thursday: 10 AM – 6 PM, Friday & Saturday: 10 AM – 7 PM (winter hours). Spring, Summer & Fall – Sunday: 10 AM – 6 PM, Monday – Thursday: 10 AM – 7 PM, Friday & Saturday: 10 AM – 8 PM
Contact: 603-356-7031
Nearby Attractions: Story Land, Diana's Baths
Address: 2 Common Ct. Unit C13 North Conway, NH 03860
Read Best Furniture Stores In New Hampshire
6. Mall at Fox Run – Newington, New Hampshire
Mall at Fox Run is a one-level shopping mall with over 60 shops for modern and trending shopping. Top brands like Aeropostale, American Eagle, Claire's, JCPenney, and PacSun are housed, offering accessories and outfits of modern styles and flavors. 
Famous restaurants like Cowboy, Sarku Japan, Tutti Frutti, Roman Delight, and Palm Treats have top menu treats and sophisticated dining. Special events take place every month for important occasions. Great deals keep coming on each brand's products. 
The newly styled outfits at Loft and Ray-Ban aviator at Sunglass Hut are some fresh arrivals. Customers aged 18 and above can bring their dogs leashed or caged for shopping.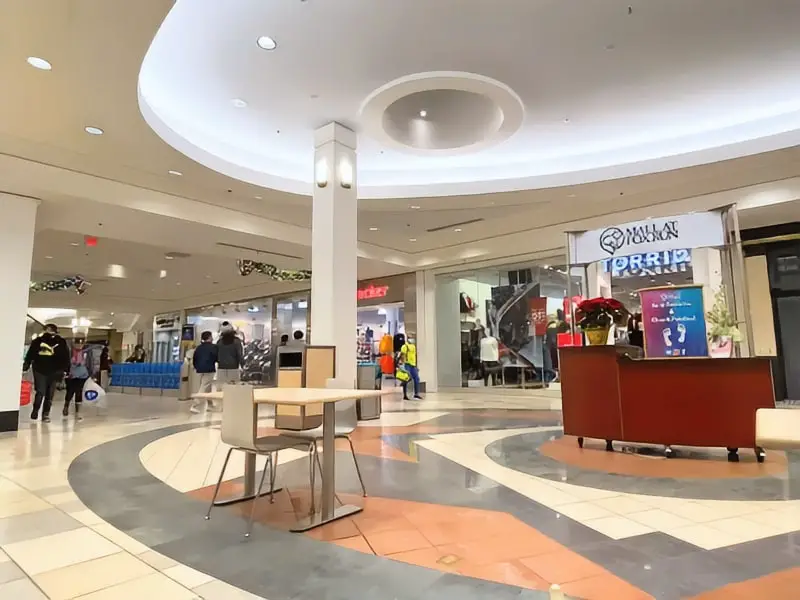 Hours: Monday – Saturday: 10 AM – 8 PM, Sunday: 11 AM – 6 PM
Contact:  603-431-5911
Nearby Attractions: Portsmouth Escape Room, Children's Museum of New Hampshire.
Address: 50 Fox Run Road, Newington, NH 03801
Read Best Restaurants in White Mountains, New Hampshire
7. Belknap Marketplace – Belmont, NH
Vernet Properties owns Belknap Marketplace with a motto to rejuvenate it to attract more customers. There are prominent shops like Big Lots, Joann, Shaws, & Clear Choice MD offering quality merchandise and accessories of extreme quality.  
Blockbuster deals are offered for special occasions in Big Lots and Joann. Dunkin Donuts, New Hong Kong buffet provides crispy, tasty foods and good dining. Mattress Firm and Key Nails render sleeping accessories and facial services, respectively.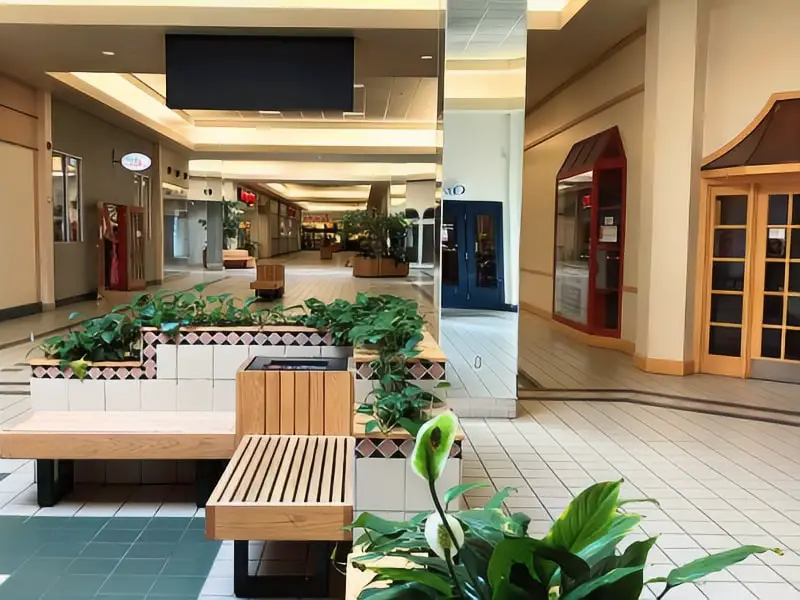 Hours: Monday – Sunday: 7 AM – 9 PM
Contact: 978- 744-4272
Nearby Attractions: Escape Hour House, Squam Lakes Natural Science Center
Address: 96 Daniel Webster Highway, Belmont, NH 03220
Read Best Flower Shops in Wolfeboro, New Hampshire
8. Lilac Mall – Rochester, New Hampshire
Lilac Mall has served for over 30 years and has been the only mall in Rochester for many years. Popular furniture and merchandise are found in JCPenney, Hannaford, and Dollar Tree. Universal Nails, Seacoast Gymnastics Center & Jordan family eyecare are present for personal health and relaxation. 
Subway and Papa Gino's provide nutrient-rich food for customers. Great deals and special events happen on the arrival of festivals or occasions. Each shop has its events well planned and organized.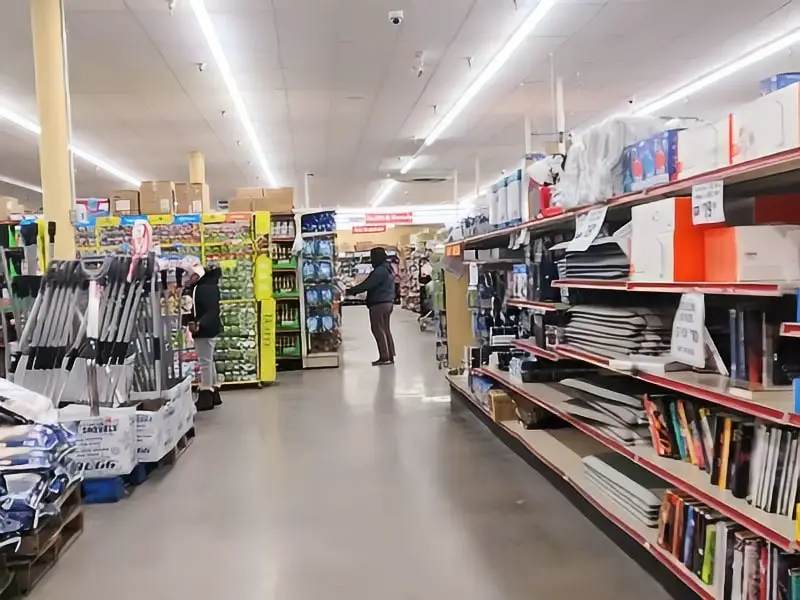 Hours: Monday – Saturday: 9.30 AM – 8 PM, Sunday: 11 AM – 5 PM 
Contact: 603-332-9234
Nearby Attractions: Winnie The Pooh Trail, Henry Law Park.
Address: 12 Milton Rd. Rochester, NH 03867
Read Best Vegan-Friendly Restaurants in Portsmouth, NH
9. Rochester Crossing – Rochester, NH
Rochester Crossing has multiple facilities like shopping, dining, and recreation. Various accessories and facilities are found in Kohl's, Dollar Tree, Mattress Firm, Edward Jones, and Pet Smart. Good soul-soothing dishes are ready in Buffalo Wild Wings, Clements Pizzeria, and Brew & Tropical Smoothie Cafe.
Aspen Dental offers quality dental services and has a pharmacy. Wireless and electronic items are affordable at Amcomm Wireless and Game Stop. Joann Fabric & Craft Store displays unique craft works. 
Hours: Monday – Saturday: 10 AM – 8 PM, Sunday: 12 PM – 6 PM
Contact: 617-896-4946
Nearby Attractions: Woodman Museum, Winnie The Pooh Trail
Address: 160 Washington Street, Rochester, NH, 03836
Read Best Hair Salons in New Hampshire
10. PowerHouse Mall – Lebanon, New Hampshire
The PowerHouse Mall won the AIA award for retail development. It creates a village atmosphere and a great retail shopping experience for the people. Top-notch shops like Adorn, Clay's, Country Kids Clothing, Griff & Company, and Yankee Candle facilitate high-quality merchandise and accessories for people. 
Something Sweet, Lui Lui offers multi-cuisine dishes along with luxurious dining facilities. Belleza Beauty Salon, Fit Body Boot Camp, Nature Calls & Bonkers & Vermont Violins provides recreational and memorable moments for customers.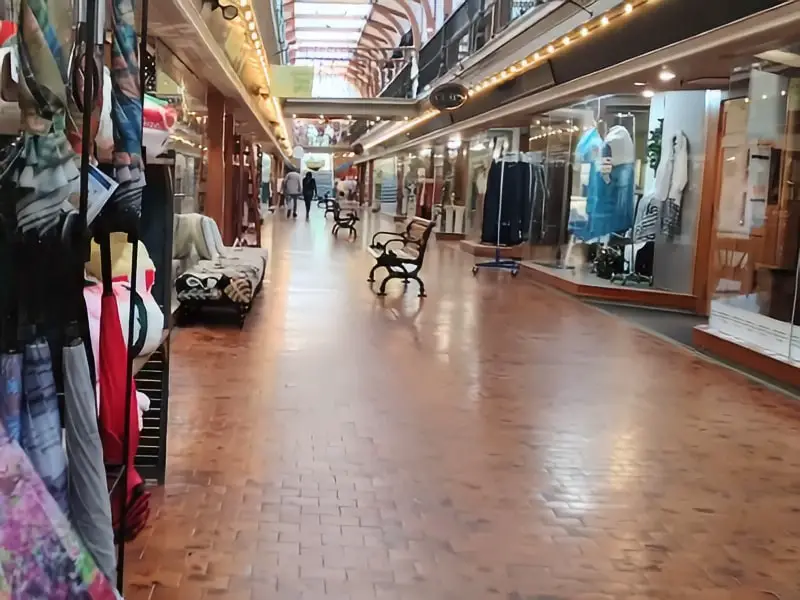 Hours: Monday – Sunday: 9 AM – 8 PM
Contact: 603-448-0017
Nearby Attractions: Vermont Toy Museum, Billings Farm & Museum
Address: 8 Glen Road, West Lebanon, NH 03784
Read Best Live Music Venues in New Hampshire
11. Mill Falls Marketplace – Meredith, NH
Mill Falls Marketplace has exciting stay, shop, and dine-well features. The lakeside resort has good amenities for our stay. The shore of Lake Winnipesaukee, with a splendid mountain view, is a popular photo destination for weddings and vacation places for people.  
Weekly activities like meditation and mountain climbing happen for people well-being. Adornments and Creative Clothing, Cozy Cabin Rustics & Great Northern Trading Company offer high-quality clothing and furniture accessories. 
Ben & Jerry's, Lee's Candy Kitchen, and The Waterfall Cafe have delicious food and drinks. Cascade Spa provides stress relieving and salon services. There are four inns, giving comfort to reach spots.
Hours: Shop open by 10 AM
Contact: 844-745-2931
Nearby Attractions: The Meredith Sculpture Walk, Winnipesaukee Pier
Address: 312 Daniel Webster Highway, Meredith, NH 03253
Read Best Public Golf Courses in New Hampshire
12. Manchester Commons Shopping Center – Manchester, NH
Brady Sullivan Properties owns the Manchester Commons Shopping Center. Its area spreads to 13 acres, with multiple stores and unique accessories, near South Beech Street.
They run a buffet system with multi cuisines, mainly the Chinese dishes that are popular here, along with good catering. Giovanni provides delicious steak kabab, grilled chicken kabob, and roasted beef sandwiches. 
Hours: Monday – Saturday: 10 AM – 9 PM, Sunday: 11 AM – 6 PM
Contact: 888-565-7078
Nearby Attractions: SEE Science Center, Aviation Museum of New Hampshire
Address: 375 South Willow Street, Manchester, NH 03103
Read Best Seafood Restaurants in New Hampshire
13. Hudson Mall Shopping Center – Hudson, New Hampshire
The Meg Companies has run Hudson Mall Shopping Center for over 27 years. The mall has multiple facilities, from household stores to eateries and miscellaneous items. Autozone has all the necessary spare parts for automobiles. 
Grocery essentials are affordable at Hannaford Supermarket. There is a separate shop for pet supplies and personal fitness. Fantastic eatables are found in Papa Gino's & McDonald's. Great Clips, Lavish Nail & Spa, renders popular hairstyles for different occasions exclusive for kids and adults. 
Inner Dragon Martial Arts offers a Kenpo program and hyper program through which world-class fighting skills and weapon training are provided for developing the self-defense and motivation of candidates.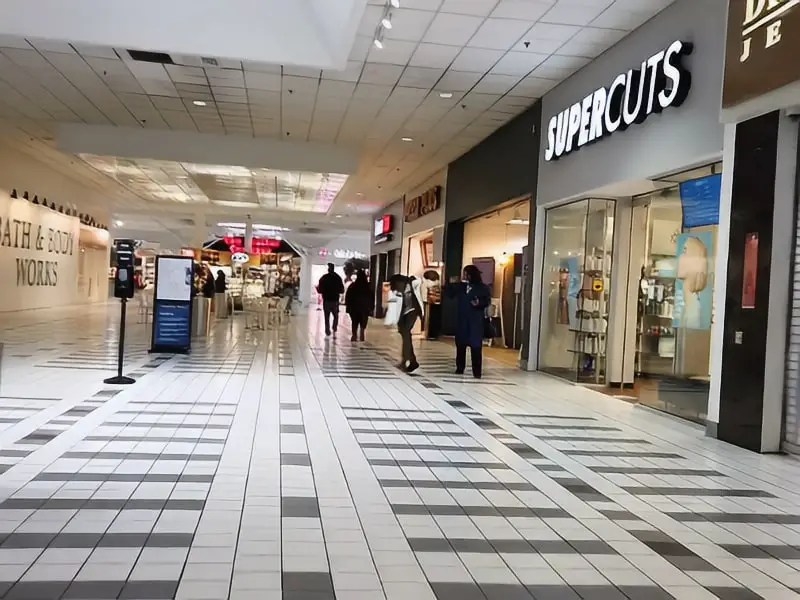 Hours: Monday – Friday: 8 AM – 8 PM, Saturday: 8 AM – 7 PM, Sunday: 10 AM – 7 PM 
Contact: 603- 434-6700
Nearby Attractions: Greeley Park, Benson Park
Address: 77 Derry Rd Hudson NH 03051
14. Stateline Shopping Center – Salem, NH
Stateline Shopping Center is known as the retail gateway to New Hampshire. It spreads over an area of 232000 square feet. People within a seven-mile radius are prominent customers here. Well-known retailers Lowe's and Aldi food market attract large numbers of visitors. 
Aldi has excellent infrastructure. It has organic pasta, fresh bagels, whole wheat spaghetti, and linguine at cheaper rates. Lowe's sells top furniture and accessories for home and daily purposes. Santander Bank provides good banking services along with support for running businesses.
Hours: Monday – Sunday: 7 AM – 8 PM
Contact: 617- 232-8900
Nearby Attractions: Castaway Island, Field of Dreams Park. 
Address: 539 S Broadway, Salem, NH 03079
15. Bedford Mall – Bedford, New Hampshire
Ace Property owns the Bedford Mall. The mall is housed in top-class brands and retailers. Super quality accessories are present from Target, Lowe's, Macy's, Walmart, and Hannaford. Whole Foods, Chipotle Mexican Grill, and Starbucks are spotlights for flavored foods. 
Hand & Stone Spa provides massaging and facial services for relaxation and body care. Pet Supplies Plus is filled with essentials for pet grooming. The mall has a maximum number of customers from the south river road.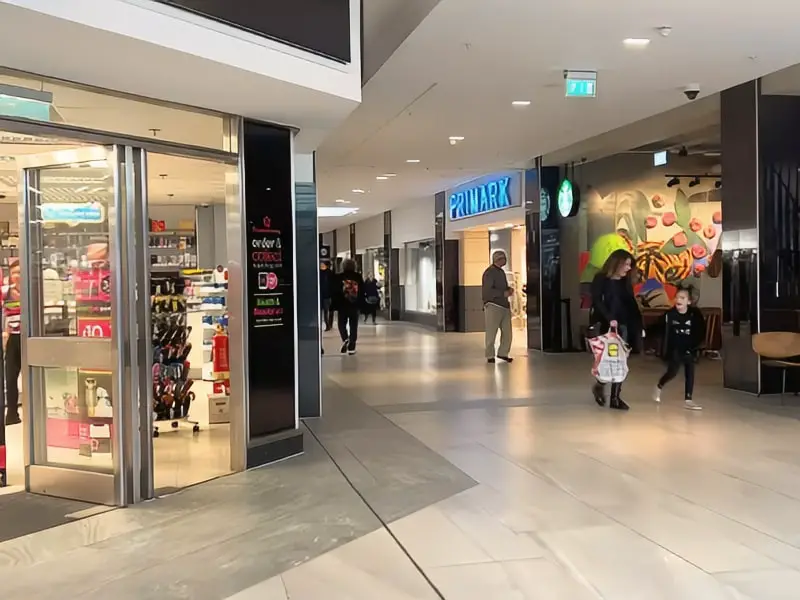 Hours: Monday – Sunday: 9.30 AM – 8 PM
Contact: 303-291-0111
Nearby Attractions: Currier Museum of Art, Aviation Museum of New Hampshire. 
Address: 85 S River Rd, Bedford, NH 03110
16. Merrimack Premium Outlets – Merrimack, NH
Merrimack Premium Outlets is an outdoor retail complex with more than 100 stores. They provide tax-free shopping for items from brands like Bloomingdale's Outlet Store, Boss Outlet, Coach, J.Crew Factory, and Kate Spade. The shopping center covers a huge retail space full of different options. They offer everyday savings ranging from 25% to 65% on presented products.
Apart from its diverse array of stores, Merrimack Premium Outlets also provide a range of dining options. Visitors can enjoy a quick bite at the food outlets such as Curry Bites, Asian Pro, and Bumblebee. Events and activities like promotional events and product launches are held annually. 
Hours: Monday- Thursday from 10:00 am to 6:00 pm, Friday & Saturday from 10:00 am to 8:00 pm, and Sunday from 11:00 am to 6:00 pm.
Contact: 603-424-0050
Nearby Attractions: Twin Bridge Park, Greeley Park.
Address: 80 Premium Outlets Blvd, Merrimack, NH 03054, United States
Are Dogs allowed in the malls of New Hampshire?
Yes, dogs are allowed in the Shopping Malls and Outlets of NH with some rules. The dogs should be leashed or caged while in the shop, ensuring no trouble to others. The owner is solely responsible for the pet care. 
Find Shopping Outlet Malls Near You
Conclusion
We like to spend quality time with our family on the weekends by shopping or playing games. It is achievable in the Shopping Malls and Outlets in New Hampshire with extensive features for shopping and entertainment. The Shopping Malls and Outlets in Meredith, Bedford, Hudson, Concord, and Nashua have huge food courts with multi-cuisine restaurants.