15 Best Wineries and Vineyards in Vermont 2023
The Wineries and Vineyards in Vermont produce distinct wines from various grapes. They offer little winery tours of their places any time of the year. Such grapes are hardy, cold varieties with good sugar content. These units offer wine-tasting programs to sip their collections, too.
Visitors of vineyards get immense knowledge from staff in wineries of New Haven, Franklin, Newport, Barnard, Charlotte, and Colchester on wine production. These wine production units have official websites for product orders with pickup and delivery services. Some also sell spirits, cocktails, ciders, and wines.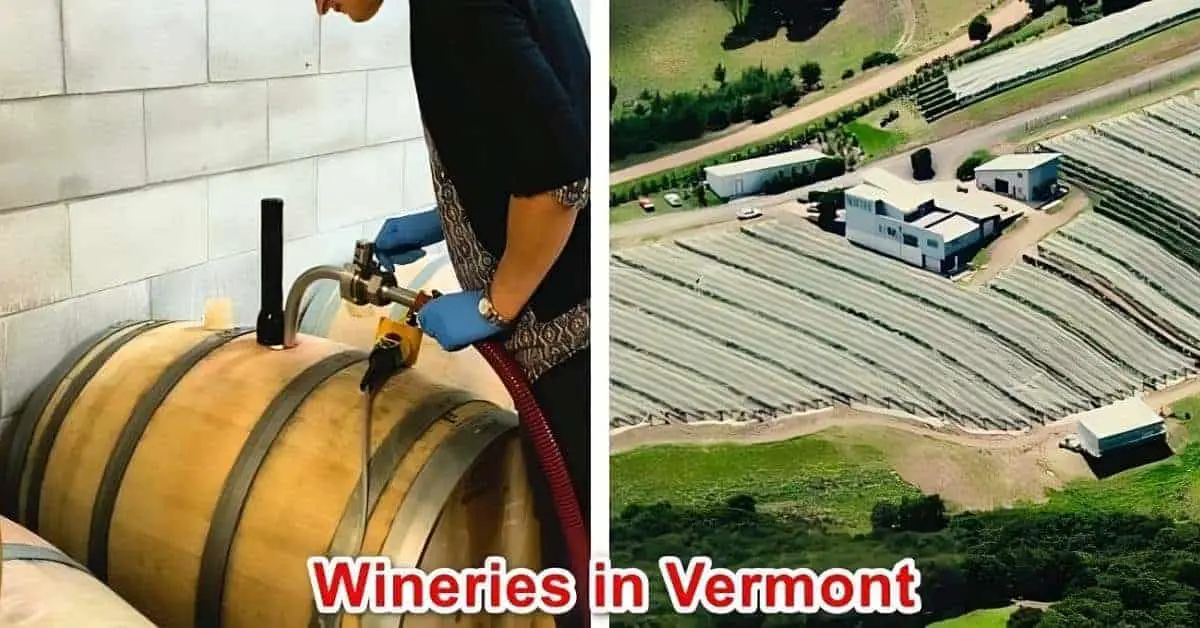 List of 15 Best Vermont Wineries and Vineyards
1. Due North Vineyard and Winery– Franklin, Vermont 
Due North Vineyard is a family-owned farm and winery that has been functioning since 2008. Various grape vines are grown in different seasons, each taking its own style. They make wines from semi-sweet to dry types for the customers. It's one of the best wineries in VT.
Wine tasting happens on Sundays during summer with different tastes of top-notch wines. Customers can bring their choice of food for their picnics. The personnel here will explain the winemaking process and grapevine cultivation to interested visitors.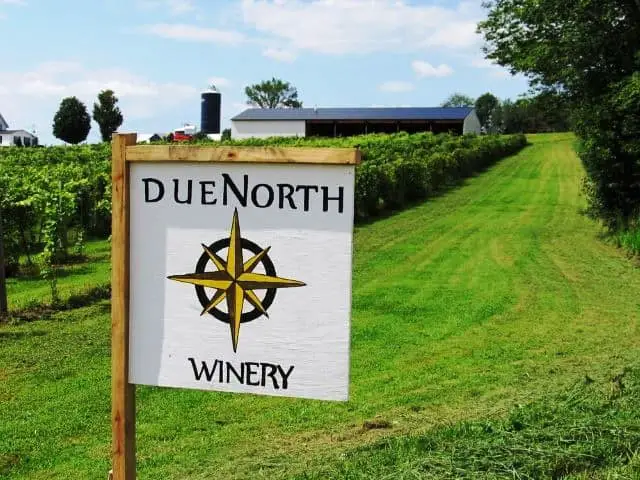 Best Selling Wines: Highland White, Red Sundress, Silver Lake, and Blazing Hills  
Hours: Sunday: 12 PM – 4 PM
Contact: 802-285-2053
Nearby Attractions: Lake Carmi State Park, Fort Montgomery
Address: 206 Skunks Misery Road Franklin, VT 05457
Read Best Shopping Malls and Outlets in Vermont
2. Eden Specialty Ciders – Newport, Vermont
Eleanor and Albert Leger founded Eden Ciders in 2007 and gradually widened to build a big orchard for cider production. They grow over 50 varieties of heirloom apples, each with flavor and characteristics in the ciders. 
They partner with many local orchards to procure their supplies for ciders. Cider types range from dry to sweetest, with a blend of variations or a single variety. The tasting room has a lot of ciders to taste, and booking is to be done at least 48 hours before tasting.  
A virtual cider-tasting party with Eden founder Eleanor Leger is possible through Zoom meetings. Cider tasting kits are available online to order for families and friends, and you can enjoy in-home learning about different ciders and apple varieties. Joining their cider and wine clubs will add discounts or benefits for cider purchases. 
Best Selling Wines: Ice Ciders, Protolith, Terrane, Alluvium, and Subduction 
Contact: 802-334-4231
Nearby Attractions: Gardner Memorial Park, Musee Colby – Curtis Museum 
Address: 150 Main Street Newport, Vermont 05855
Read Best Tattoo Shops in Vermont
3. Whaleback Vineyard – Poultney, VT
Dennis and his wife Amy jointly run Whaleback Vineyard, which is involved in wine production, which started in the late 1800s. The logo used in their wine labels is the artwork of their daughter, Sadie. Cultivation of 6000 vines spreads over an area of 9 acres. 
Growing cold, hardy varieties of grape vines, they make many wines in stainless steel tanks. Individuals or groups can enjoy complimentary wine tasting in their tasting room with a pleasant view of the vineyard. Seeing the local artworks in the visitor's gallery will give a traditional touch to their cultural values.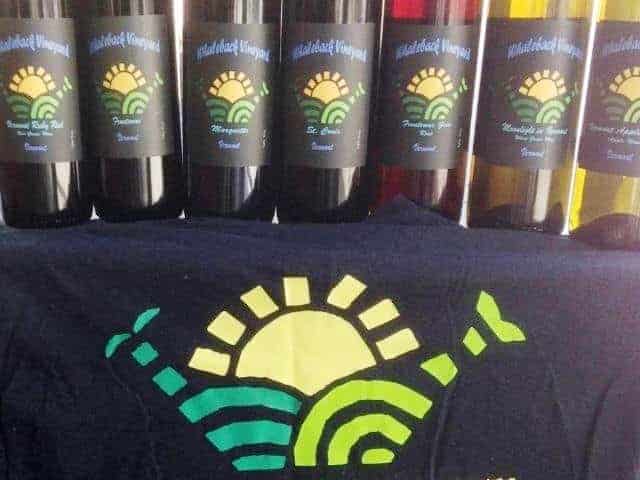 The remodeled barn with all basic amenities and the beautiful mountain view is perfect for your wedding. A banquet-style room is there for comfortable catering. Any parties, bridal showers, and business gatherings are arranged in their small event room. Bus facilities for visitors are available. 
For people, several events happen, like Wine & Chocolate Weekend and Vermont Wine & Harvest Festival. They have the materials to make wines for a fresher to an advanced brewer.  
Best Selling Wines: Vermont Ruby Red, Rose Wine, White Wine, Fruit Wine, and Ice Wine. 
Hours: Wednesday – Sunday: 11 AM – 6 PM, Winter Hours: Friday – Sunday: 11 AM – 5 PM
Contact: 802-287-0730, 802- 287-2256
Nearby Attractions: Skene Manor, Skenesborough Museum  
Address: 202 Old Lake Rd Poultney, VT 05764
Read Best Breweries in Vermont
4. Lincoln Peak Vineyard – New Haven, Vermont
Chris Granstorm founded the Lincoln Peak Vineyard in 1981 to produce various wines and made the first batch of commercial wines in 2006. Now, this Vineyard was purchased by Shelburne Vineyards. The place suits very well to growing red wines, mainly the Marquette and Farnsworth.
The Marquette and Farnsworth are their signature wine selections. A tasting room is available to get their tasty wines. Their Local cheese and crackers make good sides for wines. Many concerts and music shows like Mall Maiz will happen this summer for good vibes.  
Wines are buyable online, and pick up is at the Tasting Room every Friday – Sunday. Order delivery is made within 2 -3 business days. Pets are welcome here in leashed condition.      
Best Selling Wines: Marquette, Farnsworth, Ragtime, Rose 
Hours: Friday – Sunday: 12 PM – 6 PM
Contact: 802-388-7368
Nearby Attractions: Vergennes Falls Park, Rokeby Museum
Address: 142 River Rd, New Haven, VT 05472
Read Best Hair Salons in Vermont
5. La Garagista Winery – Barnard, VT
Deirdre Heekin and Caleb Barber started La Garagista in 2010. They grow their alpine wines and ciders and produce a line of wines from other organic grape growers across Vermont as part of their "Field Studies" project.
New York Times, Food & Wine, Decanter, and other publications have recognized their work for bringing wines from hybrid grapes and biodynamic viticulture into the spotlight at the highest level.
They make wines with well-equipped glass demijohns and old barrels from their sole grapevines. The wild yeast found in their fermented fruits gives a unique taste. The Pellitant natural wines come in late spring to winter, while the still wines are available in the summer.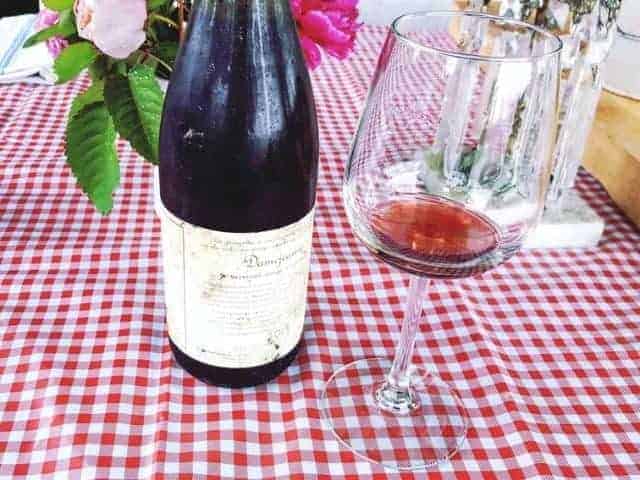 About 34 Cuvees are there, with some ciders released every month or after a few months. Their products have a vast market in New York, Boston, California, Rhode Island, and New Hampshire. The wines are available online on their official website. 
Special events happen here, from Foret, Chambers X LA Montanuela to Maine Wild Wine Fest. It's one of the best wineries in Vermont.
Best Selling Wines: White Sparkling Wine, Rose Sparkling Wine, Red Sparkling Wine, and Grace & Favour
Contact: 802-291-1295
Nearby Attractions: Billings Farm & Museum, Montshire Museum of Science
Address: 1834 Mt Hunger Rd, Bethel, VT 05032
Read Best Antique Stores in Vermont
6. Fable Farm – Barnard, Vermont
Fable is a group of talented people who own a farm, fermentory, and culinary company. They produce wine in the fermentory, and unique ciders come after fermentation with native yeasts. The ciders have botanical infusions of elderflowers, currants, and dandelions.
Wines made include traditional cysers, Acerglyns, and Pyments. The fermentory has a barn with a kitchen, indoor event space, and a terrace to get a good view. 
The midday meal program with fellow communities takes place in the warmer months. In view to celebrate the changing seasons, multi-course meals in family and taverna style with drinks and a tasting tour of the fermentory delight the customers. 
Every Thursday at the beginning of each spring, the fellows and farmers gather for a big, merry feast and live music. At the Feast and Field Commons, a group of farmers and artists host a live farmers' market in the summer, selling various farm products. 
Weddings occur at the fermentory or the Field Commons, facilitated with catering and bar service. The barn is rentable for organizing parties or events throughout the week, and the tasting room is closed.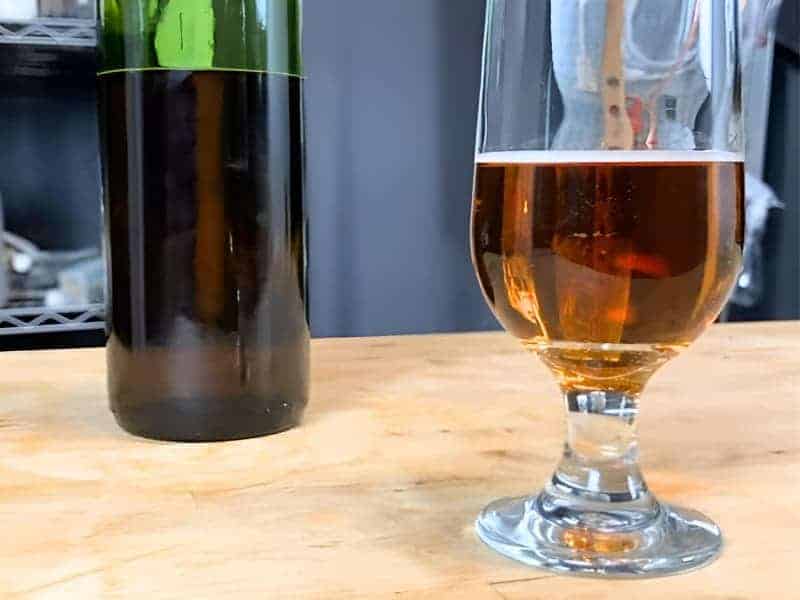 Best Selling Wines: Cysers, Acerglyns, and Pyments
Hours: 8 AM – 2 AM
Contact: 802 -234–5288
Nearby Attractions: Silver Lake State Park and 
Address: FABLE FARM & FERMENTORY- 1525 and 1544 Royalton Turnpike, Barnard, Vermont, 05031.
Read Best Furniture Stores In Vermont
7. Isle La Motte Vineyard – La Motte, Vermont
Steve and Jamie Foley own Isle La Motte Vineyard, a two-acre spread field established and cultivating vines for the last eight years. They grow Marquette, LaCresent, Frontenac Blanc, and Louise Swenson varieties for manufacturing Red wines and white wines.
There is a tasting room to taste different wine varieties. Many events and shows predominantly take place in all seasons. Some events for summer 2023 include The Smokey Newfield Project, Artisan Market, and the Ursa and Major Key. These events happen with peculiar wine offerings and delicious dishes. 
Best Selling Wines: Red Wine, White Wine, Bourbon – Barrel aged Marquette, and White Blend. 
Hours: Thursday – Sunday: 1 PM – 6 PM, Monday: Closed
Contact: 802-928-3737
Nearby Attractions: Goodsell Ridge Preserve, Alburgh Dunes State Park. 
Address: 85 Shrine Road Isle La Motte, VT 05463
8. Charlotte Village Winery – Charlotte, VT
William and Colleen Pelky founded Charlotte Village Winery in 2001. They produce both fruit and grape wines. They started winemaking from the blueberries obtained from the 10 acres of field. 
The fruit wine collections come in Strawberry, Raspberry, Peach, and the core three types of Blueberry. The grape wines consist of Merlot, Cabernet Sauvignon, and Pinot Grigio. Dry, semi-dry, and sweet wines are available. 
The tasting room is open seven days a week for wine tasting. There is also a small gift shop with mini gifts, merchandise, and accessories for people to buy for their holidays. An indoor seating area and patio with tables are available to relax and sip a glass of wine.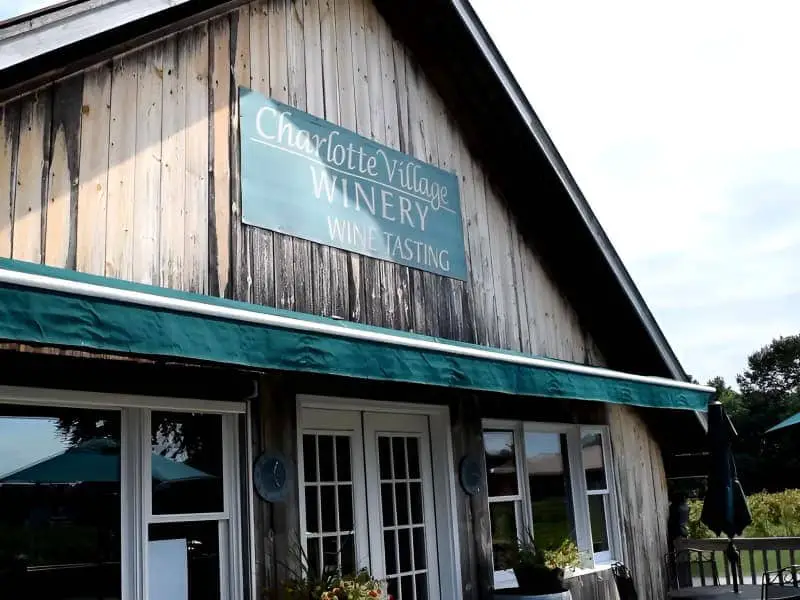 Best Selling Wines: Cabernet Sauvignon, Midnight Blue Dry Reserve, Country Blue Semi-Dry, Merlot and Peach Chardonnay
Hours: Monday – Sunday: 11 AM – 6 PM
Contact: 802-425-4599
Nearby Attractions: Shelburne Museum Covered Bridge, Vermont Teddy Bear factory
Address: 3968 Greenbush Rd., Charlotte, VT 05445
Read Best Corn Mazes in Vermont
9. Montview Vineyard – Corinth, Vermont
Montview Vineyard Farm began in 2008, and they started serving the public after getting licensed in 2018. Severe cold-tolerant varieties of grapes such as Prairie Star, Marquette, Frontenac Gris, and Edelweiss are grown on their farm. 
Visitors can enjoy lunch or dinner having a picnic at the hilltop, where the local chefs serve delicious foods. Different varieties of wine are accessible from their cellar. Special dinner occasions happen at their farm with unique wines and top-notch foods. 
Advance Booking is the process of reserving seats for the picnics and dinners available online. 
Best Selling Wines: Pas De Deux, Vermont Sangria, Marquette and Rose Wine
Hours: Saturday & Sunday: 12 PM – 5 PM, also by appointments
Contact: 802-439-6160
Nearby Attractions: Bedell Bridge State Park, Elizabeth's Park
Address: 102 Flanders Lane, Corinth, Vermont 05039, United States
Read Best Thrift Stores In Vermont
10. Hillis' Sugarbush Farm & Vineyard – Colchester, VT
Hillis' Sugarbush Farm & Vineyard, started in 1987, comprises two farms. Those are the main sugarbush farm near Lake Champlain and the Butler Island vineyard in Northern Lake Champlain. They produce animal products, Vermont maple syrup, and confections. 
Marquette, Marechal Foch, Clara Rose, and Lacresent are specific wine collections. White wine, red wine, rose wine, and dessert wines are popular to taste.  
They also make four types of maple syrup with different flavors and tastes. Some are a Grade A delicate golden taste, and others are a Grade A robust dark taste.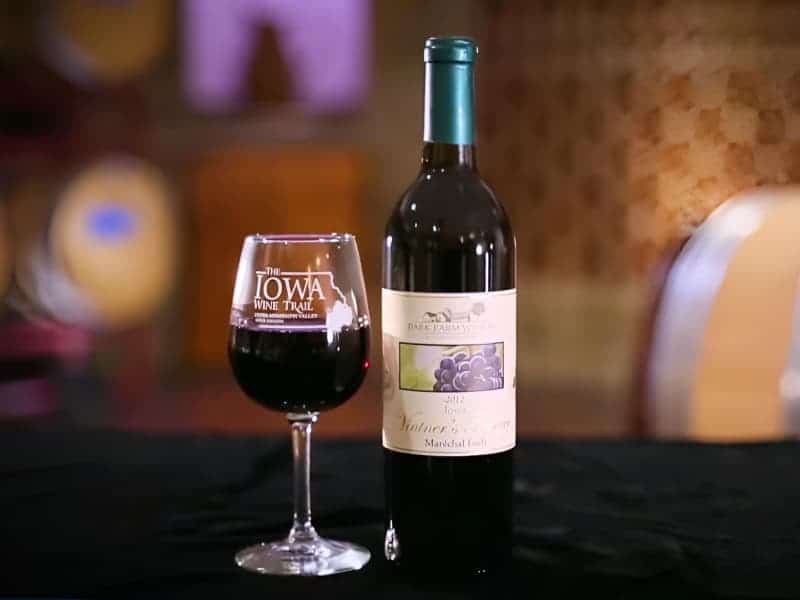 Best Selling Wines: Marechal Foch, Petite Pearl, Clara Rose, LaCresent, Marquette Reserve
Contact: 802-893-2928
Nearby Attractions: Heritage Winooski Mill Museum, Ethan Allen Tower  
Address: 206 Sugarbush Farm Rd, Colchester, VT 05446
Read Best French Restaurants in Vermont
11. Putney Mountain Winery and Spirits – Putney, VT
Charles and Kate founded Putney Mountain Winery in 1998. Both focused on making top-notch wines and liquors, satisfying customers, and ensuring environmental sustainability. The winery is solar-powered, and recycling of waste is regular here. 
The wines made are from locally sourced ingredients grown in the local farmlands. Some core collections include Cranberry, Blueberry, and Peach flavors. Putney bubbles cider made of apple and bubbles gives a unique flavor. The stunning Cocktails list has chocolate, maple, honey, ginger, and Vermont classics. Amazing spirits produced are maple, ginger, chocolate, and honey.
Wine-tasting programs occur at Putney and Quechee. Customers can watch the winemaking process via the observation window and get guidance from the staff in the winery.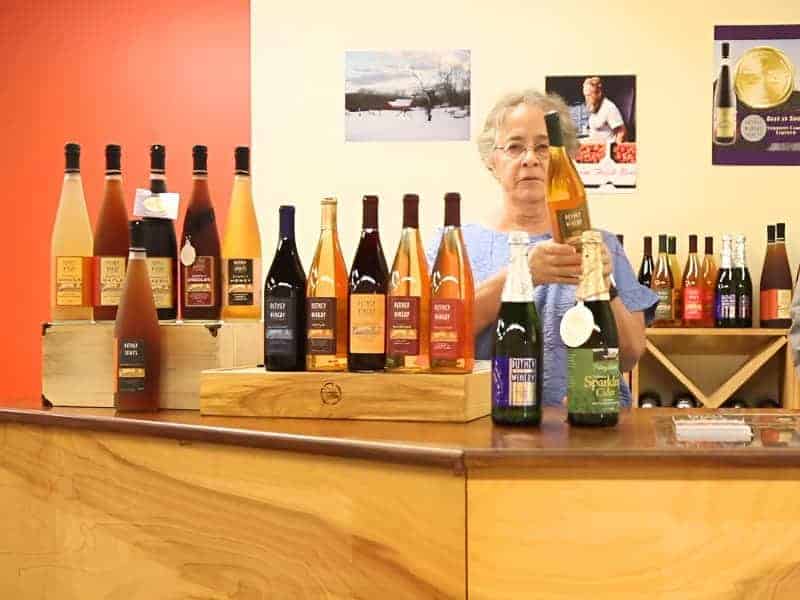 Best Selling Wines: Rhubarb Blush, Apple Maple, Simply Blueberry, Northern Spy, and Vermont Pear
Hours: Putney Mountain Winery – Monday – Sunday: 11 AM – 5 PM, Quechee Tasting Room – Saturday & Sunday: 11 AM – 5 PM
Contact: 802-387-5925
Nearby Attractions: Madame Sherri House, Creamery Covered Bridge
Address:  8 Bellows Falls Rd, Putney, VT 05346
12. Shelburne Vineyard – Shelburne, Vermont
Ken Albert established a wide vineyard planting in Shelburne in 1998. Ethan Joseph now produces many wines here with traditional and modern wine-producing practices. 
They have different grape varieties growing organically and naturally in three distinct vineyards. LA Cresent, Louise Swenson, Riesling, Marquette, and Petite Pearl are grapevines grown here. Many numbers of Red, white, orange & rose wines are available. They sell superb Ciders and Pet Nats in partnership with Eden Cider Company.
Their wines and Eden ciders are available for tasting in their tasting room. The retail has wines of Shelburne and Iapetus to buy. Enjoy the vineyard tour to learn about the history and various aspects of wine-making with the guidance of staff members. 
Parties and events are organized in the upstairs loft of the tasting room or on the outdoor patio with prior reservation. Live concerts, music shows, and comedy nights do happen, and they have many evening shows.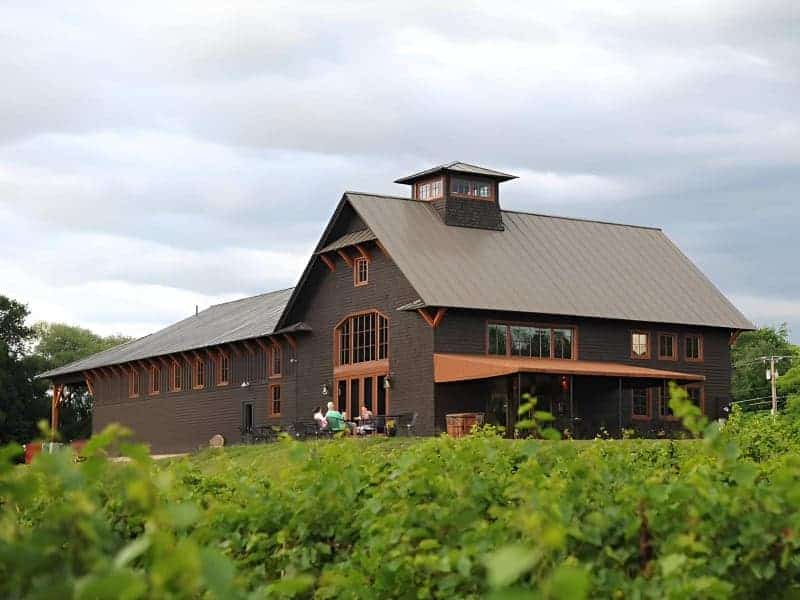 Best Selling Wines: Protolith, Lake View White, Cayuga White, Louise, and Orleans Apertif Ciders. 
Hours: Monday & Wednesday – Sunday: 12 PM – 6 PM, Tuesday: Closed
Contact: 802-985-8222
Nearby Attractions: Overlook Park, Shelburne Museum Covered Bridge
Address: 6308 Shelburne Road, Shelburne, VT, 05482, USA  
13. Snow Farm Vineyard & Winery – South Hero, VT
Dave and Juile Lane run the Snow Farm Vineyard, which originated in Lake Champlain in the mid-1990s. 
Core varieties grown are Seyval & Vidal Blanc, Leon Millot, and Baco Noir. They produce unique late harvest and dessert vines. Vidal Blanc Ice Wine is a distinct dessert wine made when the grapes have with good sugar content. Harvest festival happens in the fall, celebrating the picking of grapes.
Several wine clubs, such as Aficionado and Enthusiast Club, offer many perks and benefits. The 1200-square-foot patio gives comfortable seating and a beautiful mountain view. 
The Snow Farm Inn is the best place to experience a farm stay, and you can get their farm products there and enjoy the sunset in Lake Champlain.
The Lawn is suitable for weekend picnics with your family. Event spaces are available for any parties or weddings on rent, along with facilitated bar service. Dogs are allowed in leashed conditions.  
Live music shows and concerts happen in summer and are free for people. Local modern and traditional artisan arts are on sale for summer. The Winter Wine Down Music series combines music night with wines and dinner.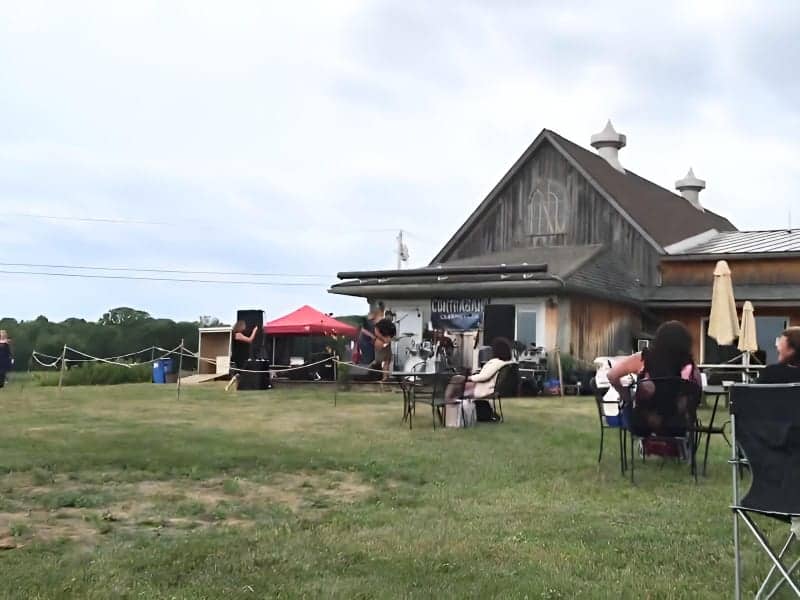 Best Selling Wines: Seyval Blanc, Naked Mermaid, Snow White, Cresent Bay White, and Fox Hill Maple
Hours: Monday – Thursday: Closed, Friday: 12 PM – 5 PM, Saturday & Sunday: 11 AM – 5 PM
Contact: SNOW FARM VINEYARD: 802.372.9463, SNOW FARM INN: 802.324.5563
Nearby Attractions: Ausable Chasm, Ethan Allen Tower
Address: SNOW FARM VINEYARD: 190 West Shore Rd., South Hero, VT 05486 and SNOW FARM INN: 153 West Shore Rd., South Hero, VT 05486
14. Boyden Valley Winery – Cambridge, VT
Boyden Valley Winery makes wines, spirits, maple bourbon, and cream liquors. All products manufactured in small batches produce good taste due to the unique local ingredients used in preparation. 
Creme liquors produced are with ingredients like native Apple brandy, fresh cream, and pure wood-fired maple syrup. Many cocktails have maple creme liquor, maple bourbon, apple cinnamon creme liquor, and glogg. 
The tasting room is seasonal and going to open this upcoming July. You can enjoy tasting wines and liquors in the carriage barn, the French bistro, or sitting peacefully on the stone patio watching the pleasant mountains. 
Best Selling Wines: Big Barn Red, Split Fruit Wine Case, Maple Creme Liquor, Blueberry Wine, and Bourbon Creme Liquor. 
Hours: Thursday – Saturday: 10 AM – 5 PM
Contact: 802-644-8151
Nearby Attractions: Grist Mill Covered Bridge, Sterling Gorge Falls. 
Address: 64 VT-104, Cambridge, VT 05444
15. Autumn Mountain Winery – Franklin, VT
Lutkus Family owns Autumn Mountain Winery, and they grow six varieties of grapevines for making red and white wines. Grapevines grown include Marquette, Frontenac, LaCresent, and St.Croix. Tasting their ten grape-based wines with local cheese is a good experience. 
Cabins here are well structured and facilitated with shuffleboard, horseshoes, and a swimming pool to beat out the heat. All cabins have fireplaces and bonfires at night for toasting marshmallows is incredible. All cabin guests will get free wine tasting. Pets are welcome here, provided they need a prior reservation and need to be leashed. 
Their 20 vintage cottages are an excellent spot for family reunions and parties. Catering facilities and campfires are added perks. About 60 people accommodation is possible here. Live music shows, Paint N Sip Classes, car shows, and other exciting events happen throughout the summer.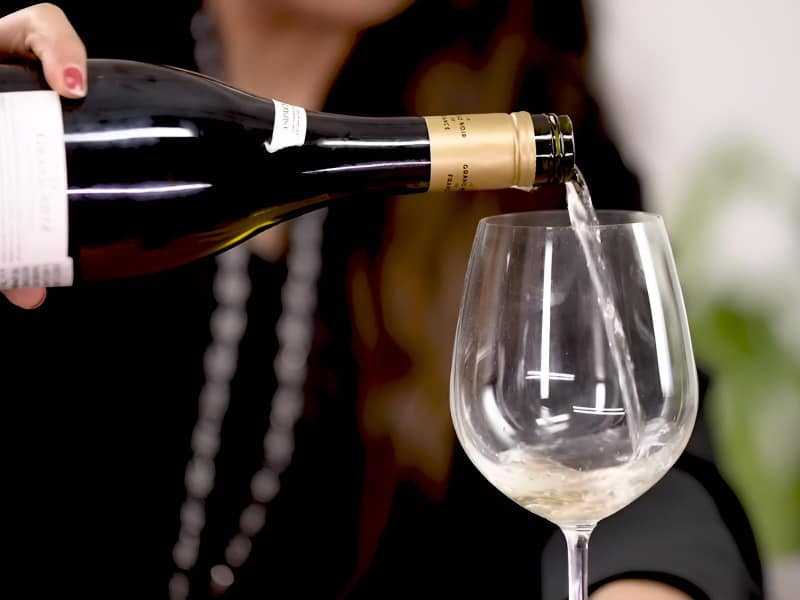 Best Selling Wines: Red Wines, White Wines, Frontenac Blanc
Contact: 413-230-5876
Nearby Attractions: Taconic Ramble State Park, Marble Bridge at Otter Creek 
Address: 1246 Franklin St (Route 7 ), Brandon, Vermont, 05733
Find Wineries and Vineyards Near You
Conclusion
People tend to taste different varieties of wines at any party or function. Large spaces for organizing events and weddings are available in the Wineries and Vineyards in Vermont, with delicious food offerings and wine tastings. The Cambridge, Putney, Brandon, Corinth, and South Hero wine manufacturing units organize farm dinners with menus containing multiple dishes and diverse selections of wines and other drinks.