20 Best Vermont Tattoo Shops in 2023
Vermont tattoo shops offer excellent service to tattoo lovers. This highest-rated tattoo shop in Burlington, Winooski, Bennington, Stowe, etc., allows people to portray their ideas, and transform them into designs and markings on the body.
VT Tattoo parlors give a person a cool look and a gentle physique. We can find many great tattoo artists in Vermont. whenever we forget about someone, we remember them upon seeing the tattoo. The pierced tattoo portrayed as our favorites are always in touch with our souls.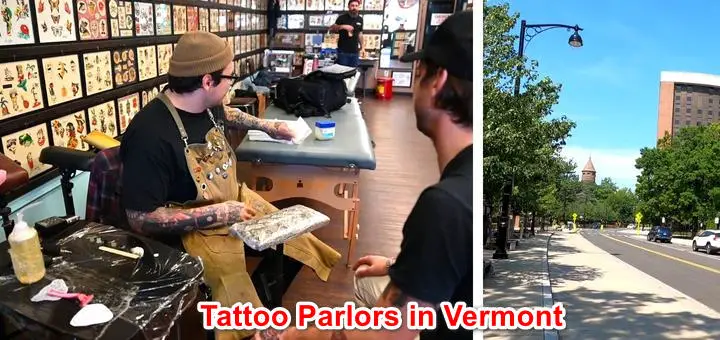 20 Top Tattoo Shops in Vermont 
1. Marigold Adornment Tattoo, Piercing & Jewelry – Montpelier, VT
Artists Michael and Jes started the Marigold Adornment in 2017, intending to establish safety body art in VT. Both artists have 45 years of experience in the industry. They provide custom service by blending the customer's idea and vision into body art on an appointment basis. 
Private rooms are available separately for designing tattoos, and customers are provided refreshments in the middle for relaxation. They are the only App Member studio from VT, an organization concerning the safety protocols for body piercers.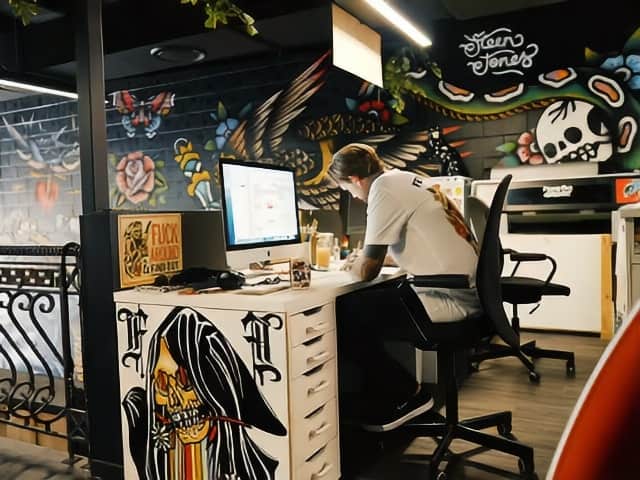 Hours: 11 AM-6 PM
Contact: (802)225-6667
Tattoo Artists: Michael Mulcahy, Jes Mulcahy, Erica Martin, Ari Pimsler
Nearby Attractions: Vermont Historical Society Museum, Hubbard Park, Hubbard Tower
Address : 89 Main St. #3 Montpelier, VT 05602.
Read Best Breweries in Vermont
2. Yankee Tattoo- Burlington, Vermont
Bald Bill established Yankee Tattoo in 1996. It was an old-school street at the start, but its wing had spread over Burlington with time. The artists here are very peculiar in their work, but some have their specialized niche to work upon. 
Scheduling a prior appointment is possible here through the receptionist. Drawing consultations are provided over the phone free of cost to do custom designs. Special early morning appointments are available. It's one of the best tattoo shops in Vermont.
Hours: Sunday – Thursday:12PM-6 PM, Friday – Saturday:12PM-8 PM
Contact: 802-862-3328      
Tattoo Artists: Bald Bill, Gentlemen Eric, Jason Allen
Nearby Attractions: Waterfront Park, Battery Park, North Beach Park
Address: 198 Pearl St, Burlington, VT 05401.
Read Best Shopping Malls and Outlets in Vermont
3. Ink & Iron Tattoo LTD – Randolph, VT
Ink and Iron Tattoo LTD provides tattoo and piercing services with a new service called MicroBlading. The aftercare services and instructions were unique, with a separate aftercare kit provided.
The artists here are very professional and offer appointment basis service. It's another great tattoo place in Vermont.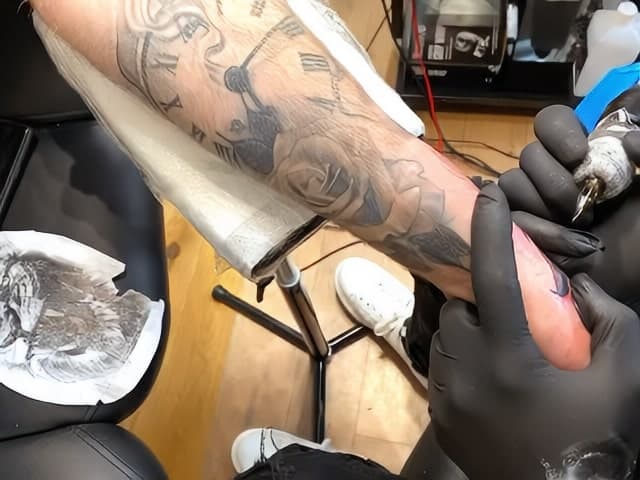 Hours: Monday- Tuesday: 9.00 AM- 5.00 PM, Wednesday- Sunday: 9.00 AM- 7.00 PM
Contact: (802) 565-5160       
Tattoo Artists: Claire, Airi
Nearby Attractions: Vermontosauraus, Quechee State Park, VINS Nature Center
Address: 570 VT RT 12S, Randolph, VT 05060.
Read Best Hair Salons in Vermont
4. Vermont Custom Tattoo and Piercing- Burlington
Vermont Custom Tattoo in VT is a custom-based tattoo and body piercing studio offering various services. They do tattoos for adults above 18 years. For those who are below 18, parental consent is a must, and they have to be present with a valid photo ID. Appointments can be obtained via mail and phone.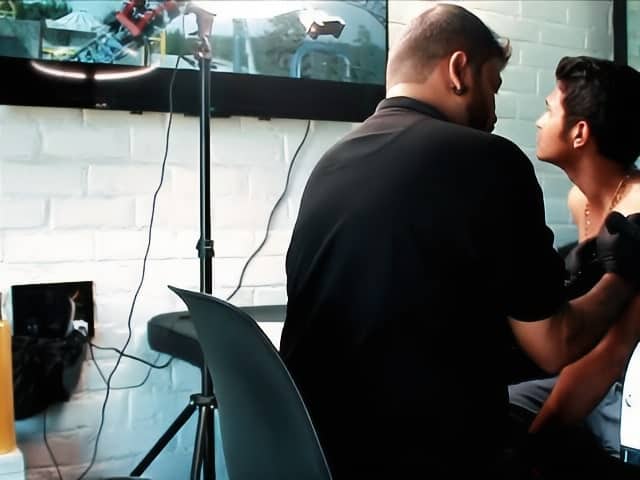 Hours: Thursday -Monday: 12 PM-7 PM, Tuesday & Wednesday: closed
Contact: (802)881-0555
Tattoo Artists: Julie Glies, Justin A Gilbeau, Charon Henning, Roman Bolozan 
Nearby Attractions: Waterfront Park, Battery Park, Oakledge Park
Address: 104 Church St #2A, Burlington, VT 05401.
Read Best Antique Stores in Vermont
5. Aartistic Inc – Winooski
Aartistic Inc in Winooski is one place to explore trending and eye-catching tattoos. The shop is open every day with only a few exceptional holidays. 
Booking can be availed via Facebook Messenger, Instagram, email, etc. The image, size, and location of the tattoo provided by the customers help the artists to estimate the cost. 
Hours: Monday – Saturday 11 AM – 9 PM. Sunday 12 pm – 6 pm
Contact : (802) 338-9009 
Tattoo Artists: Tyre, Amy, Jess, Will, Kiana
Nearby Attractions: Fleming Museum of Art, Waterfront Park, The PIT
Address: 7 E Allen St, Winooski, VT 05404.
Read Best Furniture Stores In Vermont
6. Body Art Tattoo Studio – Burlington
Shamus Parker launched Body Art Tattoo Studio in 1996. Private rooms with clean, sterile instruments are present for piercing and tattoo making, ensuring customers' safety. 
Experienced artists can draw customized art according to customers' needs. They can transform vision into real designs.
Hours: Saturday Sunday, Monday, and Wednesday 11 am – 9 pm, Tuesday, Thursday, and Friday 12 pm – 7 pm.
Contact : (802) 863-7870
Tattoo Artists : Shamus Parker, Benjamin Barreto, Adam Desjardin. 
Nearby Attractions: Oakledge Park, World's Tallest Filing Cabinet, Green Mountain Railroad
Address: 178 Main St, Burlington, VT 05401.
Read Best Wineries and Vineyards in Vermont
7. The Void – Brattleboro
The Void established in 2016, is a multipurpose shop with various accessories and tattoo piercing being a major service. The artists working here hold a great experience of over ten years in their niche. 
Advance booking is available via mail, phone, and even social media. People can come here to buy multiple things, which also saves time searching for another shop. 
Hours: Monday – Thursday:11AM-7 PM, Friday – Saturday: 11 AM – 8 PM
Sunday: 12 PM- 6 PM
Contact : (802) 490-2760
Tattoo Artists : Alli Papagna, Michael Papagna
Nearby Attractions: Creamery Covered Bridge, Brattleboro Common, Madame Sherri Forest 
Address: 109 Main St, Brattleboro, VT 05301.
8. Body Blend Tattoo, Shaftsbury, VT
Body Blend Tattoo in Shaftsbury is known for its hospitality in doing tattoos or piercing for its customers. The working artists are skilled in various portfolios doing custom-based designs. They take appointments through email, phone, and also walk-ins.
They manufacture many kinds of tattoo machines and release them for sale. Professionals give general aftercare instructions and procedures for tattoos and piercings with care.
Hours: Monday – Saturday:10AM – 6 PM
Contact :  (802) 442-2977 or (802) 681-7755
Tattoo Artists: Larry Ross, Cindy Ross, Ray Kawczak, Chelsea Danis
Nearby Attractions: Bennington Battle Monument, Children's Museum at Saratoga, Grafton Lakes State Park
Address: 46 Church Street Shaftsbury VT, 05262.
Read Best Corn Mazes in Vermont
9. Bury The Needle Tattoo, Barre, Vermont
Bury, The Needle Tattoo in Barre, offers custom and flash tattooing without piercing. They specialize in providing services to the local crowd. Bookings can be made in advance by mail, phone, etc.  
Hours: Monday– Saturday: 10 AM-6 PM, Sunday: closed
Contact:  802-622-0204
Tattoo Artists: Greg Wood, Mia Paronto
Nearby Attractions: Vermont Granite Museum, Largest Zipper in North America, Vermont Historical Society. 
Address: 136 N Main St, Barre, VT 05641.
10. Washburn Tattoo- St Johnsbury
Washburn Tattoo in St Johnsbury specializes in providing cosmetics and tattoos. The shop is linked with free wifi access so that customers can enjoy their time online while waiting. 
The professionals here are skilled in doing flash art, Graphics, and realistic portraits. This VT tattoo shop is an excellent place to explore multiple designs, tattoos, and piercings.     
Hours: Wednesday – Saturday: 11 AM-6 pm, Sunday- Tuesday: closed.
Contact : (802) 274-3098
Tattoo Artists: Bruce Washburn, Jason Griffith, Wes Walter, Isabel McCarthy
Nearby Attractions: Fairbanks Museum and Planetarium, The Museum of Everyday Life, Remich Park. 
Address: 452 Railroad St, St Johnsbury, VT 05819.
11. Tatunka Tattoo – South Royalton
Tatunka Tattoo is run by Tom Ball, holding about 30 years of experience in tattooing and piercing. The shop has different unique book collections for the customers to choose their art, or they can customize their art.
It is like a museum with eye-catching artifacts and collections from around the globe. You can make through calls, sometimes Walk-ins, and Payments made via Cash or Credit card.  
Hours: Tuesday – Saturday: 9.30 AM – 5.00 PM, Sunday and Monday: Holiday 
Contact : (802)3562768
Tattoo Artists: Tom Ball, Lucky Silva
Nearby Attractions: Montshire Museum of Science, Vermont Toy Museum, Quechee Covered Bridge. 
Address: 95 S Windsor St, South Royalton, VT 05068.
12. Mountainside Tattoo & Piercing – Rockingham
Mountainside Tattoo & Piercing in Rockingham provides services for people on a prior-appointment basis. They do tattooing, jewelry change, eyebrow, ear lobe, cartilage, and lip piercing at a fixed cost.
Trending top-brand merchandise is bought here both offline and online. They offer gift vouchers on the arrival of any great festival or special occasion.  
Hours: Monday – Sunday: 10 AM – 8 PM
Contact:  802-275-6218
Tattoo Artists: Alexander Lawrence, Preston Hutchinson, Sofia Laishram, Jaime Goldsmith. 
Nearby Attractions: Adams Old Stone Grist Mill, Central Square, Liberty Bell Center
Address: 49 Square Dr. Bellows Falls, Vermont 05101.
13. Onyx Ink- Burlington
Onyx Ink in Burlington possesses artists with specialization in different portfolios. They don't take appointments via phone but only through email. For appointments with desired artists, send separate mail to the artist. 
Artist Haley Sunkes of bloom ink offers microblading and lip blush services here. She provides a 60 hours training program in VT related to permanent makeup and microblading fundamentals. People can get a kit to start their careers in this field. 
Hours: Tuesday-Wednesday, Friday – Saturday: 11 AM-6 PM, Sunday- Monday & Thursday: closed.
Contact: (802) 497-2864
Tattoo Artists: Alisha, Karla, Lauren, Dustin, Haley Sunkes
Nearby Attractions: Waterfront Park, Battery Park, Fleming Museum of Art. 
Address: 73 Church Street, Second Floor, Burlington, VT 05401.
14. Strange Brew Tattoo- Brattleboro
Strange Brew Tattoo in Brattleboro has special instruments for tattooing and piercing. The needles and tubes are sterilized with EO gas and kept for single use. Appointments can be booked via mail and phone.
For tattooing and piercing for children below 18, the parental accompanying is a must, along with a valid photo ID. The services can also be availed through walk-ins. All appointments require a deposit of 50$ and are reduced from the total. 
Hours: Tuesday – Saturday:1PM-7 PM, Sunday – by appointment, Monday: closed
Contact : (802) 490-2324
Tattoo Artists: Jon Whitman, Rachael
Nearby Attractions: Brattleboro Common, Retreat Tower, Living Memorial Park. 
Address: 58 Elliot St, Brattleboro, VT 05301.
15. Frog Alley Tattoo & Leatherworks- Middlebury
Frog Alley Tattoo & Leatherworks in Middlebury is prominent for its work in piercing. Piercer Pierre is a master in doing standard, custom, and micro dermal piercings. Customers can recommend their customized designs, which can be pierced.
Piercing or tattooing is done for minors below 18 with parent consultation. The cost of piercing is well-fixed before the work. They are open six days a week with no appointment needed for piercing. Extensive collections of designs and jewelry are present for the customer's sight. 
Hours: Thursday – Friday: 12 PM-7 PM, Saturday: 11 AM-6 PM, Sunday to Wednesday closed
Contact: 802-922-7975
Tattoo Artists:  Pierre Vachon
Nearby Attractions:  Star Trek Original Series Set Tour, Sugarbush Resort, Silver Lake Trail
Address: 8 Bakery Ln, Middlebury, VT 05753.
16. Angelina's Rose- Hartford
Angelina's Rose in Hartford is famous for body piercing and jewelry working only on an appointment basis. They run retail of popular brands like Junipurr, Metal Mafia, and Invictus. Book online for standard and advanced piercings.
Other services are jewelry change, ear curation, teeth whitening, and ear styling. Metals used are of high grades like surgical grade steel, implant grade titanium, and various types of gold. For minors piercing, bringing their parents or guardians with a valid photo ID is mandatory.    
Hours: Tuesday – Saturday: 11 AM – 8 PM, Sunday & Monday: closed
Contact : (802) 369-2984
Tattoo Artists: Dell Robinson
Nearby Attractions: Savannah Historic District, Sedgwick County Zoo
Address: 222 Holiday Dr., Suite 20, White River Junction, VT, 05001.
17. TNT Explosive Tattoo – Newport
TNT Explosive Tattoo in Newport renders tattoo and body piercing services at attractive prices. Appointments can be booked through email and phone. The ink used by them adds extra gleam to the design. 
Like the shop's name is the designs they make which exhibit a massive amount of art. To do body piercing for children below 18, parental consent and a valid photo ID are necessary. 
Hours: Monday – Friday:10AM-7 PM, Saturday: 10 AM – 5 PM
Contact : (802) 487-9134
Tattoo Artists: Tony
Nearby Attractions: Gardner Memorial Park, Jay Peak Resort, Pump House Indoor Waterpark
Address: 189 E Main St, Newport, VT 05855.
18. The Studio Collective – St Albans City
The Studio Collective at St Alban's City is clubbed with a peculiar group of artists who do different piercings and tattooing. For tattoos, the artist makes custom designs, helping the customers to think of their design, making it a natural, graceful design on their body.
Book the specific artist via email, and provide the necessary data on the design and piercing to help the artist to proceed quickly. They hold varietal collections of glittering cosmetics of top brands. 
Hours: fixed based on appointment
Contact: +1 (802) 752-4099
 Tattoo Artists: Kristina Bosworth, Sara, Sonja Sayers, Randy Ross
Nearby Attractions: Hard'ack Recreation Area, Goodsell Ridge Preserve, Knight Point State Park
Address: 11 Kingman Street, Saint Albans, VT 05478.
19. Longtrail Tattoo and piercing – Clarendon, VT
Longtrail Tattoo and Piercing in Clarendon is prominent for providing tattoo and body piercing to the locals. A tattoo artist and a piercer jointly run this shop. They also sell good attractive merchandise for kids and adults. 
Hours: Tuesday – Friday: 12 PM-6 PM, Saturday: 1 PM-6 PM, Sunday & Monday: Closed
Contact: 802-747-7000
Tattoo Artists: Aubrey Goad, Tony Notte
Nearby Attractions: Wonderfeet Kid's Museum, Killington Resort, Thundering Brook Falls Trail
Address: 476 Rte 7b N #9238, North Clarendon, VT 05759.
20. Raven's Hallow Tattoo LLC- Newport, Vermont
Raven's Hallow Tattoo LLC in Newport does professional services in tattooing and designs. For booking, mail the artist, and Inquiries about pricing and designs can be accessed on the website. They do custom designs as per people's wishes and visuals. 
Hours: Wednesday – Friday: 12 AM – 8 PM, Saturday – 11 AM – 8 PM, Sunday: 12 AM- 6 PM, Monday & Tuesday: closed
Contact : (802) 673-0833
Tattoo Artists: Jeffrey Fortier, Tyler, Akira 
Nearby Attractions: Vermont Reindeer Farm, Jay State Forest, Sentinel Rock
Address: 95 Main Street, Newport, VT 05855.
Find Tattoo Parlors Near You
Conclusion
A person's identity is unique with the tattoo and custom-based designs made by the artist. Tattoo shops in Burlington, Winooski, Brattleboro, and Bennington of Vermont are clubbed with excellent well-talented artists specializing in different niches. They have many instruments for making good tattoos and body piercing. 
Piercing a tattoo can be painful, but the joy and memory of the pain experienced to come along in the future are unexplainable in words.
We Need 5 Second More From You To Share this On Your nearby Circle.