15 Best Antique Stores in Vermont 2023
People always have a love for old-fashioned and vintage products. Such collections are found in Antique Stores in Vermont, offering valuable memories. Craze and happy moments using an antique item are irreplaceable, which is met by these antique shops.
Multiple dealers display their products in the antique shops and malls of Quechee, Burlington, Chester, Brattleboro, Hartford, and Shelburne. Antiques may be furniture, home decor, handcrafted toys, and tools.
Bennington, Manchester, Burlington, Stowe, Chester, Brattleboro, etc., are the famous nearby antique places in VT.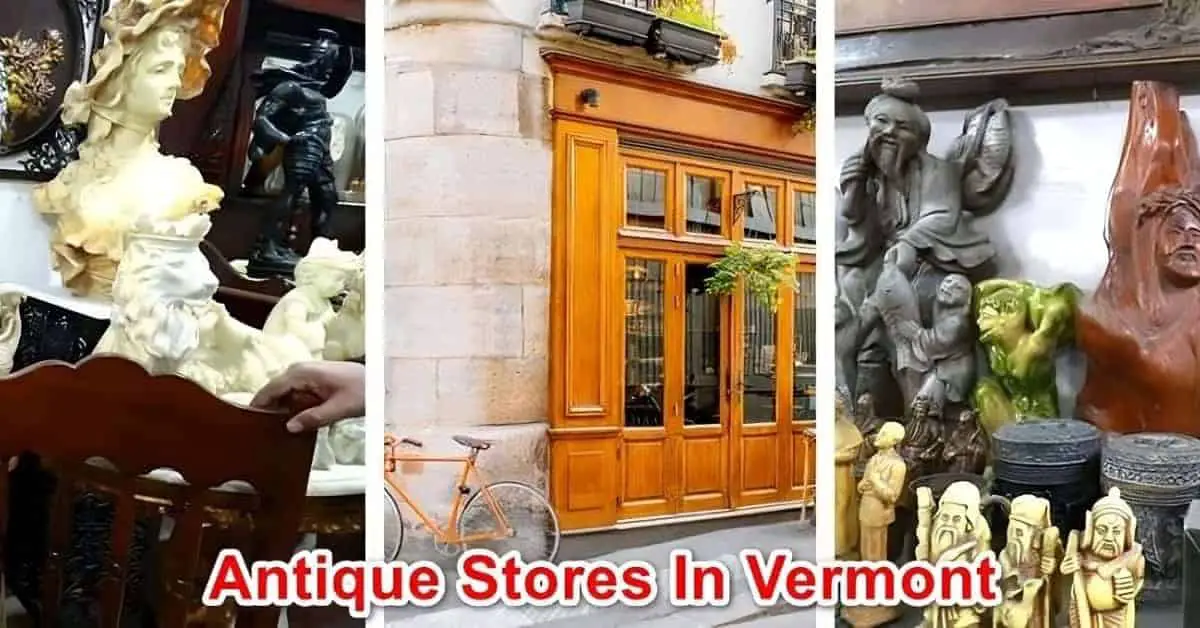 List of 15 Best Antique Stores and Malls in Vermont | Antiquing VT
1. Vermont Antique Mall – Quechee, VT
Cindy and Mark Walker bought the Vermont Antique Mall and collaborated with dealers to make it a spot for providing an excellent antique shopping experience. The shops have good collections of Vermont and vintage products from books, pottery, coins, and cast iron-made things. It covers an area of 17000 sq foot barn with enough parking space.
Essential furniture is available for cottages and bungalows to get an antique and modern setup. Similarly, home decor is there for setting an American farmhouse-style building. They also sell Howard's polishes, waxes, and mud paint's clay paint for furniture.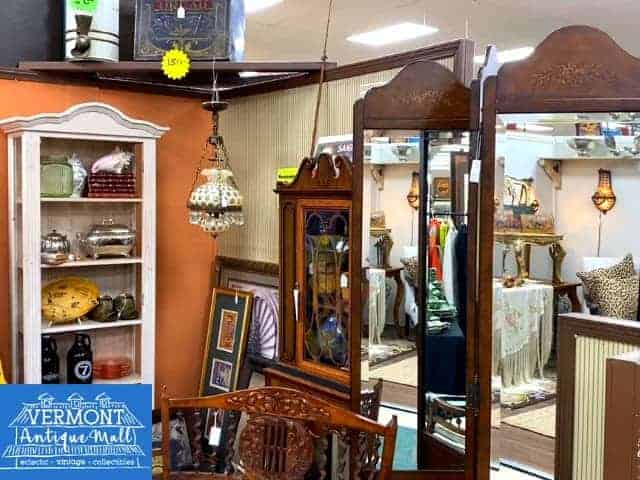 Hours: Monday – Sunday: 10 AM- 5 PM
Contact: 802- 281-4147
Nearby Attractions: Vermont Toy Museum, Billings Farm & Museum
Address: 5573 Woodstock Rd. Quechee, VT 05059 
Read Best Shopping Malls and Outlets in Vermont
2. Remarkable Things at Stowe Craft – Stowe, Vermont
Remarkable Things at Stowe Craft holds fantastic arts and home furniture and has been in service for over 35 years. Pottery collections from Zpots Studio, Ray, Bonnie Ritcher, Matthew Tell, and handmade ceramic coffee mugs are available. A variety of sticks, wood-burned, and handpainted decors are unique here.
We can find extensive collections of fashion and unique everyday jewelry that are handmade by artists. There are two art galleries with Canvas arts, Digital prints, sculptured wire trees, woodblock and Linocut prints, and photography of various exciting aspects. Handmade gifts are available.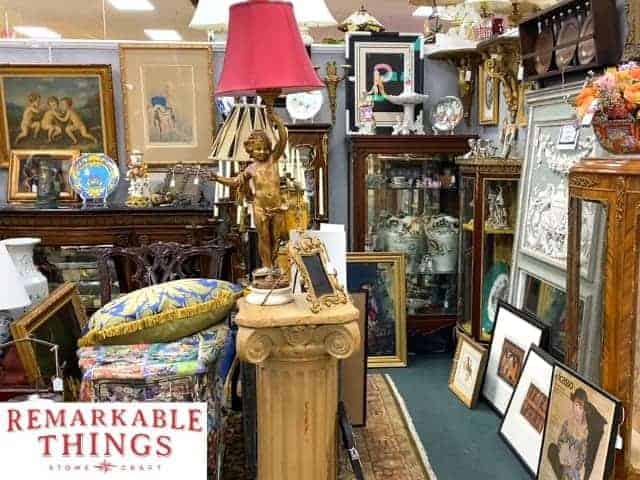 Hours: Remarkable Things – Monday – Sunday: 10 AM – 6 PM, Remarkable Home – Tuesday -Sunday: 10 AM – 6 PM
Contact: 802- 253- 2305
Nearby Attractions: Sterling Gorge Falls, Moss Glen Falls.
Address: Remarkable Things: 55 Mountain Rd, Stowe, VT 05672
Read Best Tattoo Shops in Vermont
3. Stone House Antique Center – Chester, VT
Stone House Antique Center spans an area of about 20000 square feet. More than 90 dealers buy and sell antiques here. Unique collections of furniture, folk arts, quilts, jewelry, and ephemera are present. The garden party will happen on April 22nd and 23rd, where beautiful flowers catch our eyes. 
Celebrating autumn takes place on September 19 and 20 with beautiful crafts. Stone House holiday happens on November 18 -19. Dealers Day is a monthly event they celebrate on the first Tuesday with great deals and gifts at attractive prices. Event notifications are sent through the mail. 
Hours: Monday – Sunday: 10 AM – 5 PM
Contact: 802-875-4477
Nearby Attractions: American Precision Museum, Stellafane Clubhouse
Address: 557 VT-103, Chester, VT 05143
Read Best Breweries in Vermont
4. Twice Upon A Time Antiques – Brattleboro, Vermont
Twice Upon A Time Antiques was initially a 100 sq feet shop selling infant and children's accessories in 1987. Randi Crouse pioneered and expanded the shop by 1996 to 10,000 square feet. One hundred vendors and 4000 consignors facilitate the shop.
They take old consignments like furniture, collectibles, jewelry, and glassware for a fixed rate. Vendors can display their products on a rental basis. Maple syrup is available here, made with many hours of hard work. Unique handcrafted sprung wood charcuterie boards, greeting cards, tea towels, and stewards maple syrup are available. 
Hours: Monday – Saturday: 11 AM – 6 PM, Sunday: 11 AM – 5 PM
Contact: 802-254-2261
Nearby Attractions:  Brattleboro Common, Retreat Tower
Address:  63 Main St, Brattleboro, VT 05301
Read Best Hair Salons in Vermont
5. Five Corners Antiques – Essex, VT
Five Corners Antiques spreads about 5200 square feet and has three rooms for display. Over 44 dealers have been selling and buying things of antique importance for 17 years. They have many primitive needs, such as New England buttery candles, buttery room spray, and old magazines.
Valuable items like Britax, old-fashioned milk paint, orange oil, silver polish, leather conditioner, etc., are there. Household items like pure raw honey, Maple syrup, goat milk, soaps, and lotions are also sold here. The candle is available for order through the phone. They display collections from Arts and Crafts, Victorian, and vintage. 
Hours: Monday – Saturday: 10 AM – 5 PM, Sunday: 11 AM – 4 PM
Contact: 802-878-6167  
Nearby Attractions: Get Air Trampoline Park, Wiggle Room
Address: 11 Maple St #3, Essex Junction, VT 05452
Read Best Furniture Stores In Vermont
6. Vintage Inspired Lifestyle Marketplace – South Burlington, VT
Vintage Inspired Lifestyle marketplace started in 2012 is an area of 2000 square feet with multiple dealers selling their products. They have unique collections of antiques, vintage, gift, thrift, retro, mid-century, etc. Prominent items include posters, gliding wax, lacquer, stencil, and wax brush are also sold. 
CREAM Annie Sloan Chalk Paint creates a retro-fifties French look to this place. Gift cards are also available.
Hours: Monday – Saturday: 10 AM – 5 PM, Sunday: 12 PM – 4 PM
Contact: – 802-488- 5766
Nearby Attractions: Waterfront Park, Heritage Winooski Mill Museum
Address: 10 Dorset St, South Burlington, VT 05403
Read Best Wineries and Vineyards in Vermont
7. Windham Antique Center – Rockingham, Vermont
Windham Antique Center has numerous collections of antiques and essential lifestyle accessories. Different eras of furniture, Heirlooms, estate jewelry, and hardware are present. There is a Natural history shop to find ancient unique products.
Soothing music and good scented candles provide a feel-good atmosphere for people. Retailers and dealers have been shopping here for more than 36 years. The shop was opened in 2011 with an area of 7000 sq feet. The inventory collections have attractive gems that you can take home.
Hours: Monday – Sunday: 10.00 AM – 5.00 PM
Contact: 802-732- 8081
Nearby Attractions: The Natural Museum, Robin Hood Park
Address: 5 Square, Bellows Falls, VT 05101
8. Barge Canal Market – Burlington, VT
Barge Canal Market sells various products, from antiques to furniture and home decor. Their products are mainly based on mid 20th century. The Macrame hanging lights create a unique glow for the surroundings.
Beds made of French Mahogany, red with a maple frame and Moroccan rug, reclining lounge chairs, Scatchard lamps, and Ingo Maurer bulb lamps are available here. Distinct collections of vintage prints for sale are also available.
The Holiday party happens here in December with food, drinks, and bumper shopping. Outdoor movie nights are organized, screening interesting movies along with popcorn treats. 
Hours: Monday – Sunday: 10 AM – 5 PM
Contact: 802-497-7119
Nearby Attractions: World's Tallest Filing Cabinet, Waterfront Park. 
Address: 377 Pine St, Burlington, VT 05401
Read Best Corn Mazes in Vermont
9. Antiques Collaborative, Inc. – Hartford, Vermont
Antiques Collaborative Inc. is a converted farmhouse with three floors displaying antiques and accessories from over 165 US dealers for over 30 years. They sell New England country furniture, sterling, and coin silver from the 17th-century arts and crafts period. They regularly invite interested dealers to showcase their products in rentable booths.
Quality consignments are taken at competitive prices. Many collections of attractive estate jewelry and fine arts are sold here. Customers can get new updates through the guest book option or via mail. It's one of the best antique shops in Vermont.
Hours: Monday -Tuesday, Thursday- Sunday: 10 AM – 5 PM, Wednesday: Closed 
Contact: 802-296-5858
Nearby Attractions: VINS Nature Center, Quechee Covered Bridge
Address: Waterman House, 6931 Woodstock Rd, Quechee, VT 05059
Read Best Thrift Stores In Vermont
10. Ardesh – Shelburne, VT
Ardesh has an area of 10,000 sq ft with furniture and home decor. Danial Ardesh solely runs it. Online shopping is available for people's convenience. They also take quality products with paying appropriate rates to customers. There will be new arrivals every Thursday at 5 PM.
Popular antiques like antique wagon wheels and stained glasses are there. Accessories like tables, beds, cabinets, lights, mirrors, rugs, and pottery are available. Metalware, woodenware for household purposes, famous art posters, and prints are there for people's attention. 
Hours: Monday – Saturday: 10 AM – 5 PM, Sunday: 11 AM – 4 PM
Contact: 802 -497-3342
Nearby Attractions: Red Rocks Park, Vermont Teddy Bear Factory
Address: 3093 Shelburne Rd, Shelburne, VT 05482
11. Antiques & Emporium – Lyndon, Vermont
Antique & Emporium is the largest antique shop in the northeast kingdom of VT. Paule Steele started the shop and has been running antiques since the 1970s. They buy gold, silver, and estate jewelry by appointment. Sterling necklaces are popular here.
A consumer can sell products to them by sending information through phone or mail. Recently, a Barbie dream house with a 1962 style was made with many features for people's attention.
They have collections of vintage toys, old-fashioned cabinets, furniture, oriental rugs, iron gates, and tools. The shop won the 2006 Kingdom Improvement Award from the Northeast Kingdom Chamber of Commerce.
Hours: Monday – Sunday: 10 AM – 5 PM
Contact: 802-626-3500
Nearby Attractions: Riverwalk Covered Bridge, Pollyanna Statue
Address: 182 S Wheelock Rd, Lyndon, VT 05851
12. Junktiques – Burlington, VT
Junktiques has been in operation since 2001. They do reusable activities to reduce landfill waste. They offer low-cost goods for the local community. There are lovely, affordable costumes, antique furniture, and home decor.
Many events occur, mainly to remind of junktiques and Jamba's birthday. Junktiques 20th Vortex was celebrated like a party with music, performances, and cool drinks. Mission Bazaar was celebrated to gather people to protect the decaying urban environment. 
Hours: Tuesday- Saturday: 11 AM- 6 PM, Sunday & Monday: 12 PM – 5 PM
Contact: 802- 865- 9983
Nearby Attractions: Waterfront Park, Battery Park
Address: 324 N Winooski Ave, Burlington, VT 05401
13. The Curiosity Shop – Rutland, Vermont
The Curiosity Shop has various antiques, collectibles, vintage quilts, and architectural salvage. Services like refinishing, chalk paint, carpet, and upholstery cleaning are offered here. It's a family-owned business of Chad and Karen Goulette. They make special on-site estate sales, too.
Their motto is to repurpose, reuse, reinvent, and renovate products. They organize many valuable events. One such event was called the Tatum Totes Fundraiser event, where the money from furniture sales would go directly to Tatum Totes. The "Last Minute Shoppers" event is for winding up holiday shopping. Sales, along with tasty foods and drinks, are served here. 
Hours: Tuesday- Friday: 10.30 AM – 6 PM, Saturday: 10.00 AM – 6 PM, Sunday: 10 AM – 4 PM, Monday: Closed.
Contact: 802- 417- 4500
Nearby Attractions: Pine Hill Park, Wonderfeet Kid's Museum
Address: 20Merchants Row, Rutland, VT 05701 
14. Champlain Valley Antique Center – Shelburne, VT
Reg Cross and his son Tom formed the Champlain Valley Antique Center in Shelburne in 1994. The shop spreads over 7000 sq ft and is the largest in Burlington. They have been serving for 28 years with 20-plus dealers of different items.
Antiques, collectibles, furniture, decors, and vast collections of custom and repurposed farm tables, kitchen islands, and cupboards exist. 
For decorating homes and businesses, their dealers are available for assistance in giving a good finish. They do buy old antiques for appropriate rates after inquiry. There is an online service to send info and pics of products wished to be sold.
Hours: Monday – Saturday: 10 AM – 5 PM, Sunday: 11 AM – 4 PM, Tuesday (January – April): Closed
Contact: cell – 802-922-1351, Telephone – 802- 985-8116
Nearby Attractions: Shelburne Museum Covered Bridge, Red Rocks Park.
Address: 4067 Shelburne Rd, Shelburne, VT 05482
15. The Wildwood Flower & Jake Wildwood – Rochester, VT
Mary & Bob Atwood, Jake & Bonnie Wildwood runs The Wildwood Flower & Jake Wildwood shop. Bob's restored Hoosier cabinets, enamel-top tables, and old antiques. Jake has repaired old musical instruments like vintage guitars, banjos, mandolins, ukes, etc., since 2007.
Vintage and remodeled musical instruments are available for sale. There are also good collections of glassware, kitchenware, and curiosities. Handcrafted and homemade designs & art are present in wall collections.
Hours: Thursday- Saturday: 11 AM – 5 PM, Sunday & Monday: Closed. Tuesday & Wednesday: by appointment
Contact: for Mary and Bob: 860-742-9650 & Jake – 802-230-8161
Nearby Attractions: Wonderfeet Kid's Museum, Robert Frost Wayside
Address: 645 Route 100 S, Rochester, VT 05767
Find Antique Stores Near You
Conclusion
The Antique Stores in Vermont offer a wonderful experience for people to relax and buy products that can hold them for years. The antique malls in Stowe, Essex, Rockingham, and Lyndon of VT are also packed with vintage stuff and quality products.