15 Best Mini Golf Courses in Connecticut 2023
Mini golf is an entertaining sport that people of all ages can enjoy. Many exciting mini golf courses in Connecticut offer a great day out for family or friends. Stunning landscapes and architecture with themed decorations are the major highlights of mini golf ct. 
Connecticut is the perfect place for outdoor activities, and there are many cool mini-golf places suitable for golfers of all skill levels with exciting challenges. From mini golf courses in Farmington and Berlin to Canton, CT, various places are available for ultimate fun.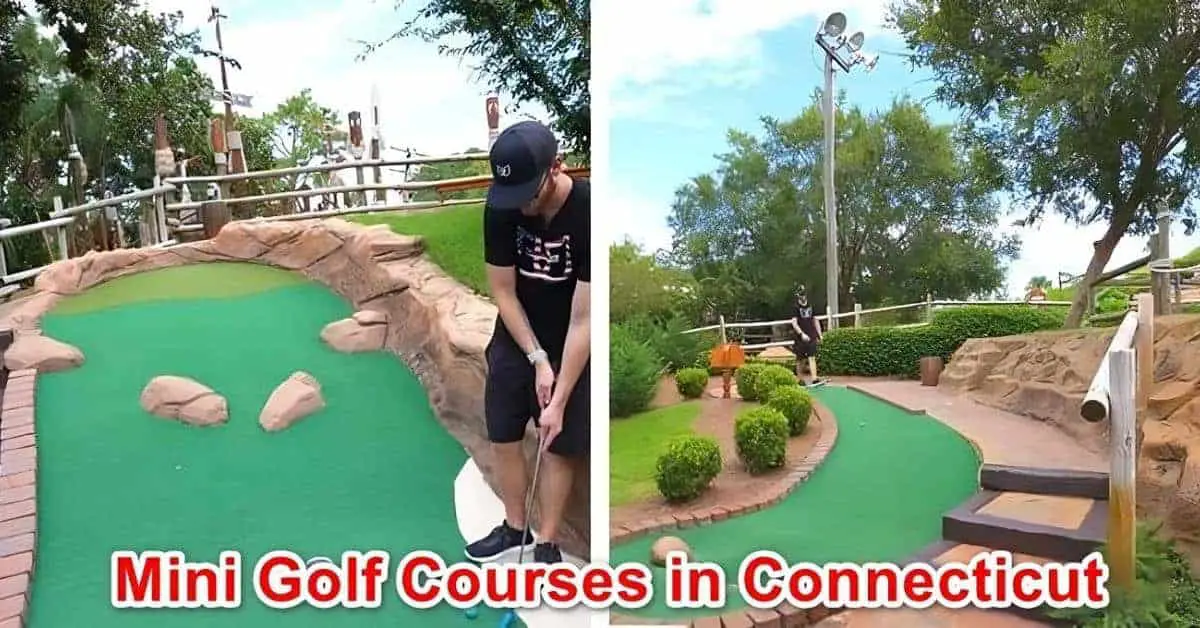 List of 15 Best Miniature Golf Courses in CT
1. Sonny's Place – Somers, CT
Sonny's Place is the perfect destination for a day of family-friendly fun. The Mini golf offers 18 challenging holes, gentle slopes, and trickier obstacles. This place also provides activities like climbing walls, monkey motion, eagle zip riding, laser tag, and batting cages. Sonny's is a perfect spot for baseball and softball lovers, too.
After a round of games, players can take a break in the clubhouse with complimentary beverages. Sonny's also hosts many events, like adult laser tag nights and concert festivals.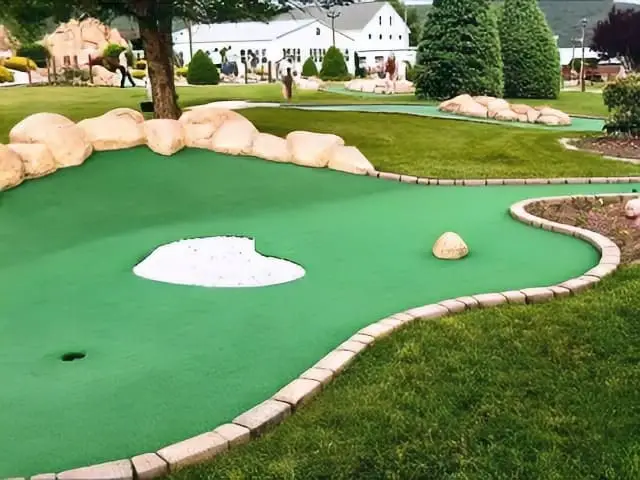 Dining after a long play day is available in their BBQ pit, popcorn stands & grill. Customers can book the venue for private weddings, events, and more.
Attractions: Batting Cages, Go Karts, Monkey Motion, XD Dark Ride.
Hours: Friday- 4:00 pm to 9:00 pm, Saturday- 11:00 am to 9:00 pm, Sunday- 11:00 am to 8:00 pm.
Phone: 860-763-5454
Nearby Attractions: New England Air Museum, Forest Park.
Address: 349 Main Street, CT-190, Somers, CT 06071
Read Best Shopping Malls and Outlets in Connecticut
2. Safari Golf – Berlin, Connecticut
The Safari Golf has been in business since 1985.  This award-winning miniature golf course is a perfect location for outings with friends, family, and colleagues.
The course is beautifully surrounded by lush greenery and various obstacles, making it perfect for golfers of all levels. Safari golf features a variety of themed obstacles, including lifelike animals, palm trees, and water features, making the experience truly unique.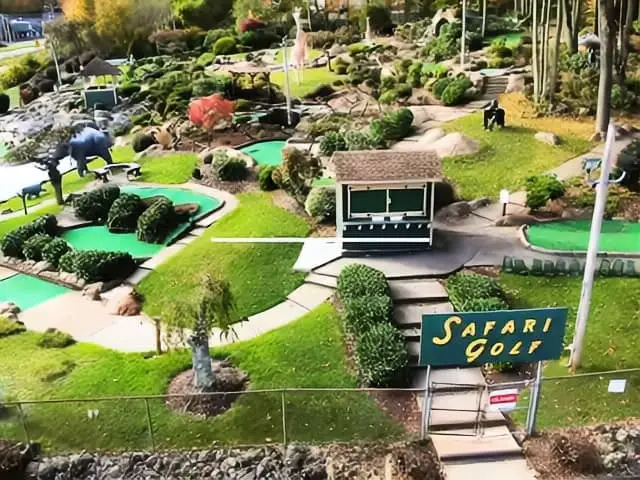 The course is well-maintained and has plenty of amenities, such as restrooms and a snack bar, making it a great place. They organize various events throughout the year for their visitors for extra fun. Anyone can book this place for private events and group outings like business outings, field trips, birthdays & more. 
Attractions: Birthday Parties, Field Trips.
Hours: Monday- (Spring & Fall hours)- Thursday, Sunday from 11:00 am to 7:00 pm, Friday- Saturday from 11:00 am to 8:00 pm. (Summer Hours)- 10:00 am to 9:00 pm.
Phone: 860-828-9800
Nearby Attractions: Hubbard Park, Castle Craig.
Address: 2340 Berlin Tpke, Berlin, CT
Read Best Furniture Stores In Connecticut
3. Matterhorn Mini Golf – Canton, CT
Matterhorn Mini Golf is family-owned and has offered a Swiss-themed mini golf course since 2015. They have 45 courses within half an acre of space, which always satisfies the people. It features an 18-hole filled with the learnings of cheese, chocolate & hadron collider and is enjoyable for all ages. Surrounded by beautiful nature, Matterhorn has established itself as the best award-winning destination for outings. 
The place also has a bar and a snack bar making delicious food. League nights are just one of several occasions that happen each month. One of Matterhorn's additional services is hosting international competitions with substantial cash awards. By ordering a gift voucher from their website, you may also give the option of a day trip to a loved one.
Attractions: League Night, Putt With The Pros.
Hours: Spring hours- Thursday, Friday, and Saturday from 10:00 am to 8:00 pm, Sunday- from 11:00 am to 7:00 pm.
Phone: 860-795-0234
Nearby Attractions: Roaring Brook Nature Center, Ski Sundown.
Address: 10 Dyer Cemetery Road, Canton, CT 06019
4. Farmington Miniature Golf & Ice Cream Parlor – CT
Family-run Farmington Miniature Golf has provided a classic golfing experience in a park-like setting since 1962. It's a one-of-a-kind location offering the best ice cream and golf for a unique adventure.
The mini golf course here has 18 holes, making it an enjoyable yet challenging layout. This golf court is perfect for everyone and an excellent location for family gatherings or dates.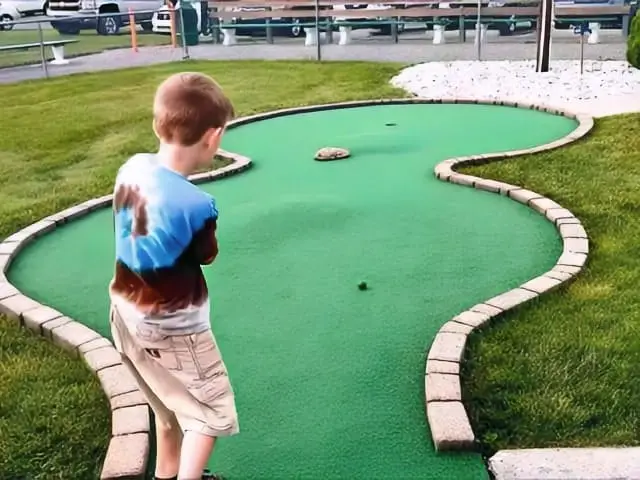 The course excites players with various obstacles and hazards like waterfalls and windmills. Another great thing about this place is its ice cream parlor featuring 40 different flavors.
Farmington lends its space for tons of private events & various tournaments. Small business Saturdays are held here to give them much exposure and the customers a choice to buy unique things. 
Attractions: Easter Egg Hunt, Glow Ball.
Hours: Monday- 11:00 am to 8:30 pm, Tuesday to Thursday from 11:00 am to 10:00 pm, Saturday, Sunday- 10:00 am to 10:00 pm.
Phone: 860-677-0118
Nearby Attractions: Hill-Stead Museum, Westmoor Park.
Address: 1048 Farmington Avenue, Route 4 in Farmington, CT
Read Best Tattoo Shops in Connecticut
Hidden Valley Miniature Golf is a family-friendly establishment that offers unique activities for guests of all ages. The place includes a challenging 18-hole miniature golf course and the yummiest food. The natural setup of the mini-golf course makes it more exciting. It also features obstacles like tunnels, water hazards, and sand traps for excitement.
The Waterfront Grille guests can enjoy a warm meal after an eventful golf session. The menu is based on classic American Cuisine. In addition to golf, you can also participate in other activities. Hidden Valley offers activities like Kayaking and pedal boating. This place also takes private bookings for birthdays.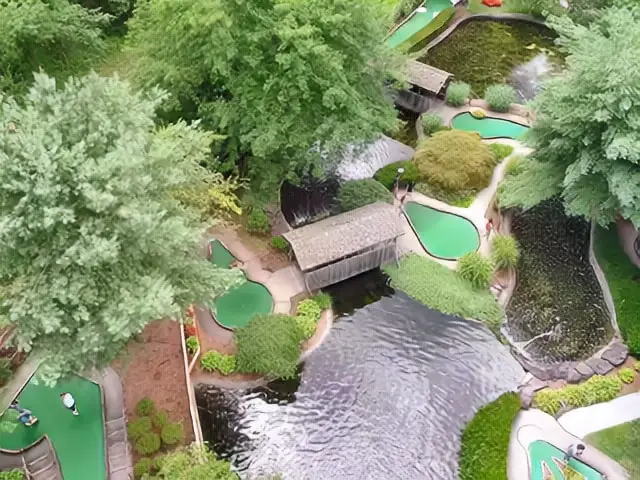 Attraction: You can celebrate Birthday Parties.
Contact: 860-621-2428
Nearby Attractions: Hubbard Park, Norton Park.
Address: 2060 West St, Southington, CT 06489, USA
Read Best Arcades in Connecticut
6. The Cave ( Formerly Monster Mini Golf ) – Bethel, CT
The cave is a premier destination for golf lovers. This 18-hole glow-in-the-dark mini golf course offers an exciting experience for the whole family. The entrance is decorated with a giant castle and no one can help but feel enchanted.
The course offers various activities for children. They also have a wide range of gourmet food and beverage options. Their other offerings include laser tag courses, glow bowling, rope courses, and arcade games.
There's also a unique attraction called the "Cave of Mirrors," where visitors can explore a maze of mirrors and secret passageways. Option of bookings for private events & birthday parties is available as well.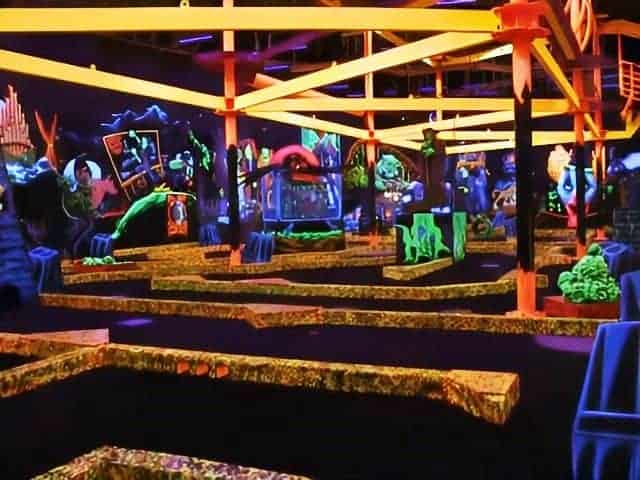 Attractions: Arcade, Ropes Course, Axe Throwing, Bumper Cars, Laser Tags.
Hours: Monday- Thursday from 2:00 pm to 9:00 pm, Friday- from 2:00 pm to 10:00 pm, Saturday- from 12:00 pm to 10:00 pm, and Sunday from 12:00 pm to 9:00 pm.
Phone: 203-744-4653
Nearby Attractions: Danbury Railway Museum, Collis P. Huntington State Park.
Address: 13 Stony Hill Road, Bethel, CT 06801
Read Best Record Stores In Connecticut
7. Old Sawmill Grill & Golf Course – Oxford, Connecticut
Old Sawmill Grill and golf course is surrounded by lush and beautiful landscaping. This place is in the hills of Western CT. The 18-hole golf course gives a rewarding experience. The place has become popular among golfers of all skill levels. They also have a shop selling golf equipment and clothing. 
This place also has a fine-dining restaurant with a bar and lounge. The restaurant's menu includes seafood and delicious steaks. They also have a great selection of beverages.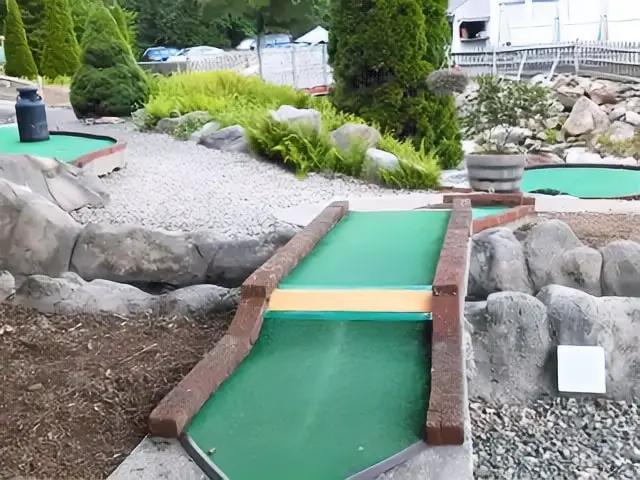 Phone: 203-888-3954
Nearby Attractions: The Barnum Museum, Boothe Memorial Park.
Address: 345 Oxford Rd (Rt. 67) Oxford, CT, US 06478
Read Best Antique Stores In Connecticut
8. Berlin Batting Cages – Berlin, CT 
Berlin Batting Cages is a family-friendly mini golf course destination with two different golf courses. Among these two, one course is called a challenge course that uses rock traps and other devices to pick up the ball, while the Fun Course uses more conventional obstacles like a windmill & bucket wheels. The courses surround a lush, picturesque landscape, making it the perfect getaway. 
Batting cages, Bumper boats, and Raceways are popular outdoor games here. All the services provided at Berlin Batting Cages come with an hourly charge basis, which is convenient for the customers. This place is also known for its friendly staff who can help you with any difficulties.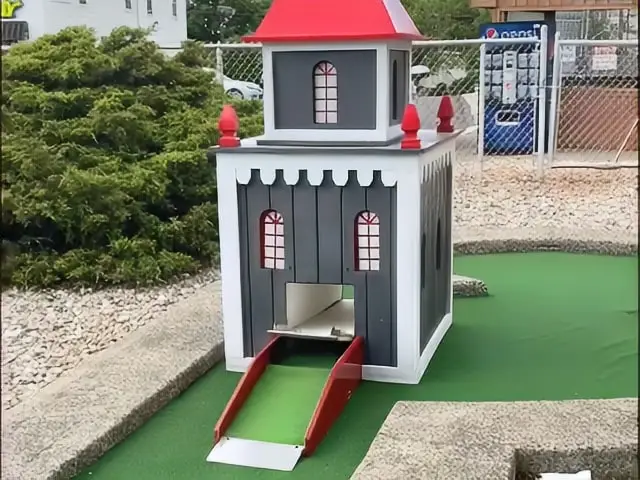 Attractions: Bumper Boats, Batting Cages, Raceway.
Hours: Sunday- Thursday from 10:00 am to 9:30 pm, Friday- Saturday from 10:00 am to 10:00 pm.
Phone: 860-828-7518
Nearby Attractions: Dinosaur State Park, Castle Craig.
Address: 1801 Berlin Turnpike Berlin, CT 06037
Read Best Seafood Restaurants in Connecticut
9. Mar-Lea Miniature Golf & Driving Range – Bolton, CT
Mar-Lea Miniature Golf & Driving Range is a great, family-friendly destination for a fun day. The nine-hole golf course has creative yet challenging obstacles, such as mazes, stone walls, and bridges. They also have a driving range adjacent to the golf course. 
The course has a clubhouse with restrooms and a seating area.
They also provide food options from a snack bar. The staff in this course are accommodating and polite. The whole place is available to host private events like birthdays and group outings. Their seasonal discounts & vouchers make this place more enjoyable yet affordable.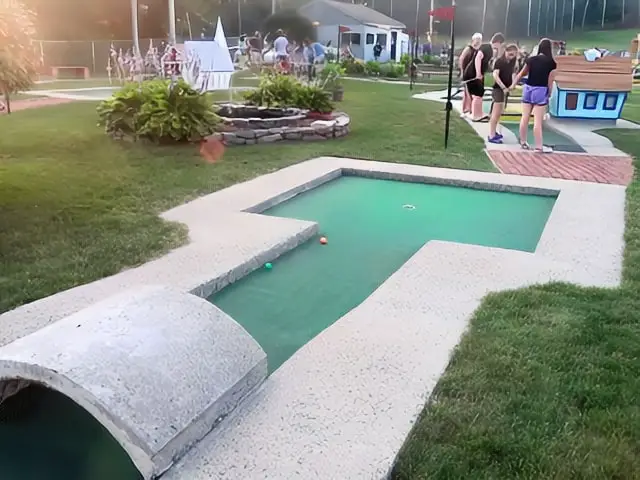 Attractions: Birthday Parties, Driving Range, Lighthouse.
Hours: Monday- Friday from 10:00 am to 9:00 pm, Saturday- Sunday from 9:00 am to 9:00 pm.
Phone: 860 649-7023
Nearby Attractions: Lutz Children's Museum, Nathan Hale Homestead Museum.
Address: 244 Boston Turnpike, Bolton, CT, USA
Read Best Garden Centers and Nurseries in Connecticut
10. Mini-Golf at Saybrook Point – Old Saybrook, CT
Mini-gold at Saybrook Point is a great family hang-out place. People of all ages can play this golf course. It provides a challenging and super fun experience. Vibrant colors and vivid designs are to be found throughout the course that is pleasing. There is a space for every skill level, from the bright flower plants to the unique obstacles and trick shots. 
The course also features an incredible fountain and waterfall, adding an extra touch of beauty. The friendly staff here are always ready to help patrons. Plus, the prices are very reasonable, and everyone will find an exciting sport here to opt for themselves. Tournaments of games like Pickleball, Basketball & poker are also present here.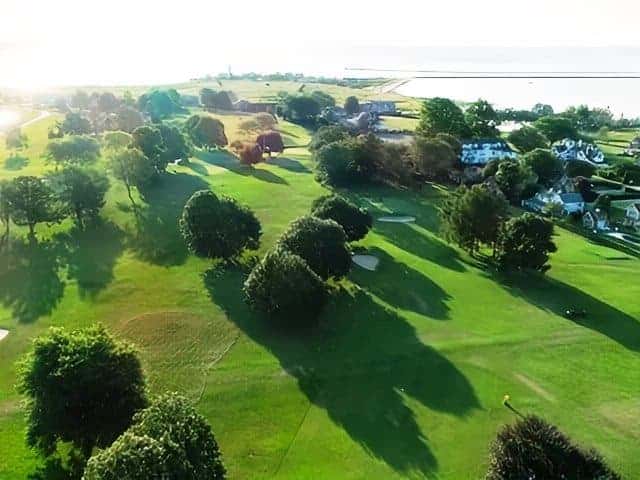 Hours: Monday- Thursday from 7:00 am to 8:30 pm, Friday- 7:00 am to 4:00 pm, Saturday- 9:00 am to 4:00 pm, Sunday – 11:00 am to 4:00 pm.
Phone: 860-395-3152
Nearby Attractions: Florence Griswold Museum, Connecticut River Museum.
Address: 308 Main St. (behind the Town Hall), Old Saybrook, CT 06475
Read Best Brunch Spots In Connecticut
11. Torza's Golf – Cromwell, CT
Torza's Golf is a famous family entertainment center that offers a wide range of golf experiences. From mini golf and driving ranges to full-scale golf courses, Torza's has everything covered. Here, mini golf is a popular activity, with four courses to choose from, open all year round.
For a classic mini golf experience, there is an original 18-hole course with its challenging obstacles and undulating terrain. For a different experience, there is a four-hole "Mini-Mania" course designed with crazy obstacles at a fast-paced pace.
The driving range at Torza's Golf is one of the best in the area. They have more than 50 targets and a range of distances, and it's the perfect place to practice and hone your skills. Becoming a member or taking lessons for better gameplay is available here. 
Attractions: Driving range, Taphouse, TopTracer Range. 
Phone: 860-632-1132
Nearby Attractions: Dinosaur State Park, Kidcity Children's Museum.
Address: 150 Sebethe Drive, Cromwell, CT 06416
Read Best Cocktail Bars in Connecticut
12. Golf Quest – Brookfield, Connecticut
Golf Quest is an extraordinary golf complex providing an incredible golf experience for all golfers. The course features a picturesque 18-hole championship golf course, a par-3 executive course, and a driving range.
Here, the championship golf course is a spot-on highlight of the golf complex, providing a tremendous test for experienced golfers. It features well-manicured fairways, challenging greens, and water hazards that add to the challenge. 
The driving range at Golf Quest features 28 hitting bays, each of which is suitable for up to four people. As well as the driving range, the complex also has a large putting green, three practice bunkers, & a practice chipping area.
Parties, events, and lesson programs are major givings of Golf Quest. Additional services of food & beverages are provided between the games for the added refreshment.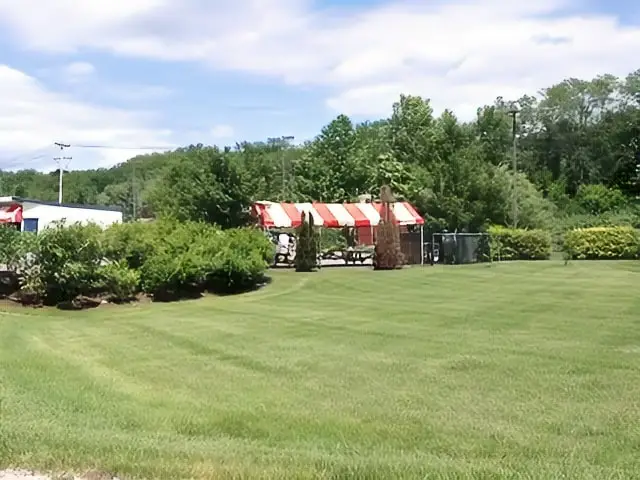 Attractions: Shoot your Shot, Early Birdie.
Hours: Monday to Saturday from 9:00 am to 8:00 pm, Sunday from 9:00 am to 7:00 pm.
Phone: 203- 775-3556
Nearby Attractions: Dinosaur State Park, Kidcity Children's Museum.
Address: 1 Sand Cut Road, Brookfield, CT 06804
Read Best Piercing Places in Connecticut
13. Sports Center of Connecticut – Shelton, CT
Sports Center of Connecticut was first opened in 1999 as a golf driving range; later, it expanded & became a sports hub. This 18-hole golf course creates a challenging atmosphere with its creative distractions. Each hole has a unique design and even kids can enjoy this course. The facility also offers a pro shop where players can purchase golf supplies and apparel. 
The property has various amenities to help players enjoy their experience. The online booking option for hosting events, like birthdays and corporate outings, is also available here. The facility itself hosts events of its own, such as tournaments. Ice skating, Hockey, Laser tag, Paintball, and Batting cages are among the other loved games seen here.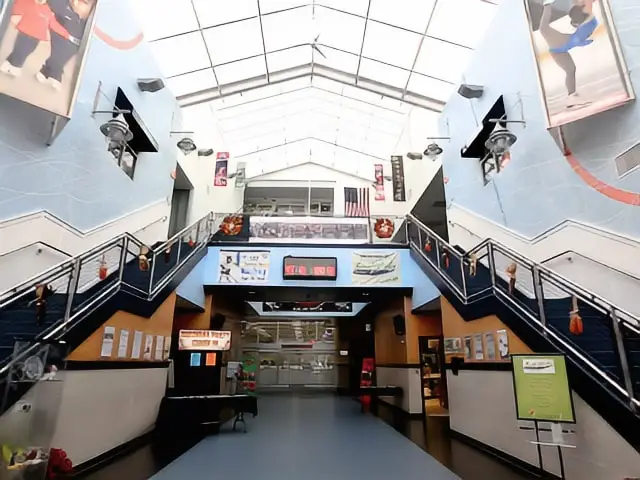 Attractions: Skating, Hockey, Star-Force Laser Tag, Video Arcade.
Hours: Sunday- Thursday from 9:30 am to 8:00 pm, Friday, Saturday from 9:30 am to 9:00 pm.
Phone: 203-929-6500
Nearby Attractions: Boothe Memorial Park, Connecticut's Beardsley Zoo.
Address: 784 River Road (Route 110), Shelton, CT 06484
Read Best Nail Salons in Connecticut
14. Nomads Adventure Quest – South Windsor, CT
Nomads Adventure Quest is an exciting family entertainment center with a unique yet adventurous twist on the traditional game of mini golf. The course is situated indoors with a maze of stone-age pathway decor.
The indoor golf experience here becomes more interesting with the involvement of animated dinosaurs, cavemen & black light. LED decoration of the course makes the gaming period puzzling yet enjoyable. 
Laser tags, Bumper cars, bowling, rock wall, and Basketball are the other popular games that the whole family can enjoy. Nomads are also highly known for their exciting event organization, which occurs every month, like wrestling. Private party bookings and group outings for every game are an added benefit in Nomads.
Attractions: Nomads VR, Bowling, Bumper Cars, Rock Wall.
Hours: Monday- Thursday from 4:00 pm to 9:00 pm, Saturday from 12:00 pm to 10:00 pm, and Sunday from 12:00 pm to 9:00 pm.
Phone: 860-290-1177
Nearby Attractions: Nevers Park, Puzzle Theory – Escape Room, Northwest Park
Address: 100 Bidwell Rd, South Windsor, CT, 06074
Read Best Escape Rooms in Connecticut
15. Essex Indoor Golf Center – Essex, Connecticut
Essex Indoor Golf Center is a virtual gaming destination with 70 different courses. They offer an excellent opportunity for golfers of all ages & skill levels to practice golf. At Essex Indoor Golf, you'll find plenty of full-size simulators with HD cameras to track and analyze shots.
The simulators feature a variety of golf courses from around the world, allowing you to play a "round" with loved ones in the comfort of a controlled environment.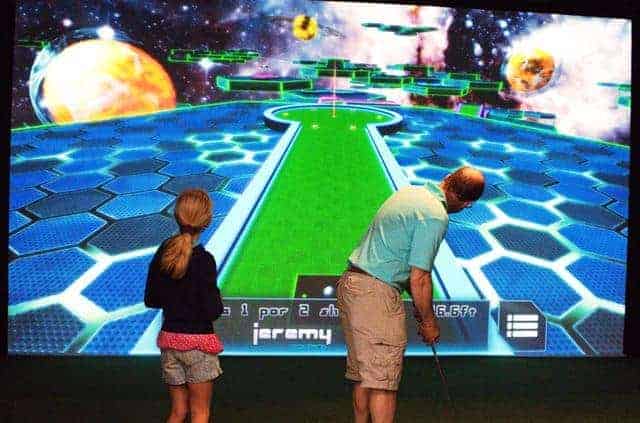 Other services, such as private & group lessons, club fitting, and regripping, are available here. Several special events and tournaments are held annually, making it a great place to enrich golfing skills. Games like Darts, Corn Hole, Skee Ball, and Beer Pong are among other sources of attraction here. Reservations are recommended. 
Attractions: Trivia Night, Happy Hour.
Hours: Monday- Friday from 9:00 am to Midnight, Saturday from 7:00 am till Midnight, Sunday from 7:00 am to 10:00 pm. Summer hours (effective May 1) are Tues – Sat 2 – 11 pm.
Phone: 959-265-8979
Address: 23 Saybrook Road (Suite 5), Essex, CT 06426
What Does Under Par Mean In Golf?
"Under par" in golf means scoring fewer strokes than the designated par for a particular hole or the entire round. It indicates that the player's score is lower than the expected or average number of strokes. The term is commonly used to represent a good performance in golf.
Play Mini Golf Near You
Conclusion
Mini golf courses in Connecticut are an excellent start for an excitement-filled outing with friends or family. Golfers of all ages and skills can enjoy these places. Depending on the player's preference, mini-golf can be played indoors or outdoors. So, grab your putter and explore the wonderful world of mini golf courses in CT. 
Connecticut Articles:-