12 Best Skate Parks In Maine 2023
Among different skate parks in Maine, USA many are indoor parks. You can visit them anytime with a skateboard. Most outdoor skate parks are part of city community parks, making them safe and well-maintained throughout the year. Portland, Augusta, Lewiston, bath, Bangor, Gorham, etc., are the main skatepark locations in Maine.
Skateboarding is adored by different communities living in the state of Maine. Despite the long winter seasons, people like to take out their skateboards when the sun shines.
These skateparks of the state have all the popular features needed for skateboarding, like quarters, flat rails, handrails, manual pads, ledges, banks, euro gaps, and many others. Some parks provide rentals and trained personnel for safety.
In some places, skateboarding training is offered to beginners. Maine is one of the most relaxed states in America for skateboarding communities for such great concrete parks. 
12 Best Skateparks In Maine
1. Old Orchard Beach Maine – Skatepark
Old Orchard Beach Skatepark is a prominent name among skating communities in Maine. Skateboarders from throughout the state and New England gather here every weekend to perform and watch skating events. The park comes under the famous four-season community Old Beach Recreation. It's situated in the town with the same name. 
Contact: (207) 934-0860
Park Timing: Monday-Sunday: 08:00 a.m.- 09:00 p.m.
Address: 7 Ball Park Way, Old Orchard Beach, ME 04064, United States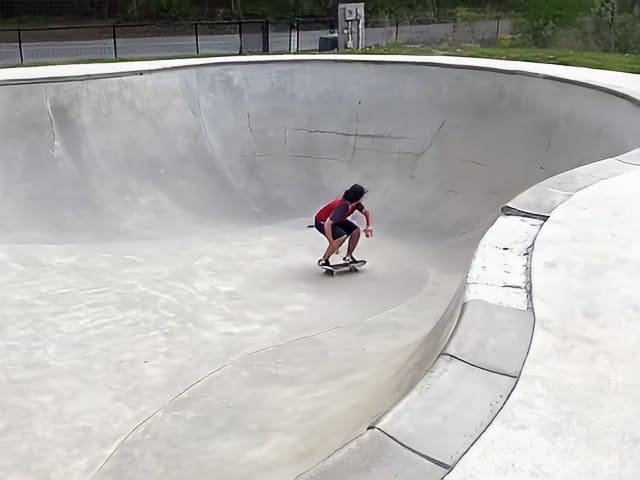 Read 30 Best Tattoo Parlors in Maine USA
2. Standish Skate Park – Standish, Maine
Standish Skatepark is a beautiful park within 30 minutes ride from Portland. It's close to the famous Mountain Division Rail Trail, which leads to Shaw Park in Gorham. Many people go hiking on this trail. There are clean playgrounds and concrete skating grounds with different structures in the park. Like handrails, Euro gap, walls, manual pads, banks, ledges, rails, and quarters. These are best for skateboarding and roller skating. 
Contact: 207-642-2875
Park Timing: Sunday- Saturday: 06:00 a.m.- 10:00 p.m.
Address: 175 Northeast Road, Standish, ME 04084
Read 15 Best Beauty Supply Stores in Maine
3. Belfast Skate Park – Belfast, Maine
Belfast Skate Park is a popular skate board park for half-pipe features. It's one of the few Skate parks in Maine that includes this. Safety supervision by trained personnel is provided in the park. People can visit the park from April to October. Belfast Skate Park is one of the biggest skate parks in the mid-coast part of the state. 
Contact: 207-338-3370 ext.127
Park Timing: Tuesday- Friday: 03:00 p.m.- 07:00 p.m., Monday closed, Saturday &Sunday: 11:00 a.m.- 07:00 p.m.
Address: Washington St., Belfast, ME 04915
Read 15 Best Piercing Places in Maine United States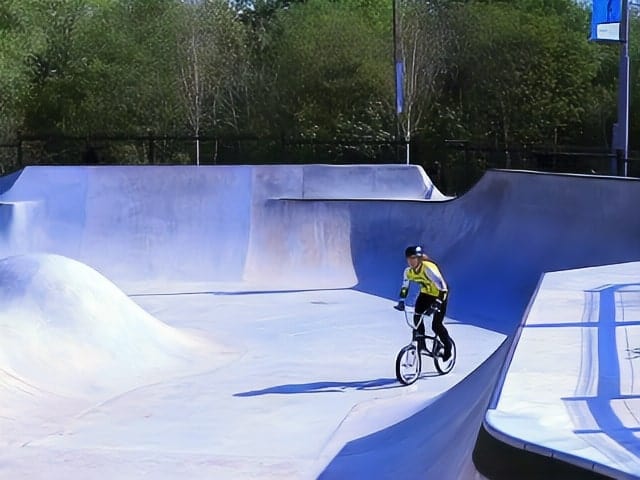 4. Tri-Town SkatePark – Livermore Falls, Maine
TriTown Skate Park in Livermore Falls has massive platforms, ramps, rails, and 4-star coming-off sides. The park is best for advanced-level skateboarders and rollerblade riders. 
The riders recommend helmets, pads, and other safety gear for personal safety measures are available. The park has been operational for nearly two decades. GoSkate provides training classes for beginners in the park. 
Park Timing: Sunday- Saturday: 07:00 a.m.- 09:00 p.m. 
Address: 2 Main Street Livermore Falls, ME 4254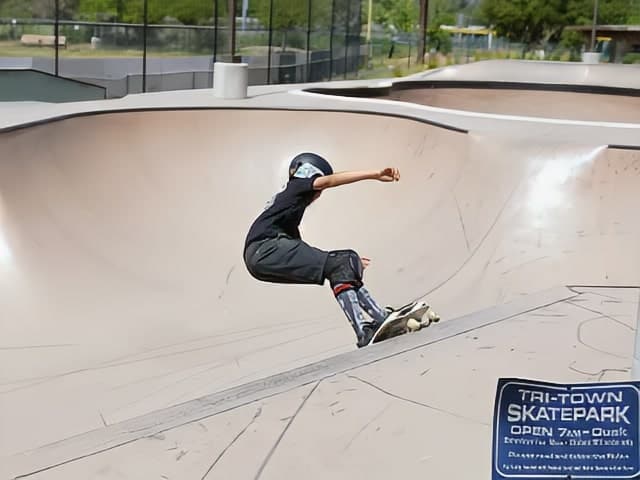 Read 13 Best Pet Stores In Maine
5. Windham Skate Park – ME
Windham Skate Park is situated within the famous Windham Community Park. Skaters can book a skatepark reservation from the community park's official website. Skaters need to be 18 yrs aged to book a reservation and rent equipment. The park is open from dawn to dusk based on weather conditions. $25 per day is required to reserve sports courts in Windham Community Park. 
Contact: 207-892-1905
Park Timing: Monday-Friday: 08:00 a.m.- 04:00 p.m.
Address: 373 Gray Rd, Windham, ME 04062
Read 20 Best Places for Bubble Tea in Maine United States
6. Bicentennial Park & Skate Park – Westbrook, Maine
This cool skate park is famous among the skating community of Westbrook. This park is best for solo skateboarders. There is a beautiful dog park near Bicentennial Park and Skate Park. 
Contact: 207-854-9105
Park Timing: Monday- Friday: 07:30 a.m.- 04:00 p.m.
Address: William Clark Drive and Hannaford Drive, Westbrook, ME 04092
Read 16 Best Bike Shops in Maine
7. Kennebunk Skate Park – Kennebunk, Maine
Kennebunk Skate Park is new compared to other skate parks in Maine. The Town of Kennebunk has gathered enough cash to build this modern state-of-the-art skate park. The park is equipped with every modern feature of the skate park. 
Contact Phone Number: (207) 985-2102 
Park Timing: Monday- Friday: 08:00 a.m.- 04:30 p.m.
Address: 21-29 Factory Pasture Ln, Kennebunk, ME 04043, United States
Read 18 Best Dog-Friendly Beaches in Maine
8. Augusta Skatepark – Maine
Augusta Skatepark is popular among the skating community of Augusta. The park is recently renovated with a huge fund organized by this skating community. The park is famous throughout the state for its modern features of the concrete playground. 
Contact: 207-626-2370
Park Timing: The park is open 24*7
Address: City Hall, 16 Cony Street, Augusta, ME 04330
Read 15 Best Record Stores In Maine United States
9. Hayford Bangor Skate Park – Bangor, Maine
Hayford Bangor Stake Park is equipped with every modern feature of skating. This concrete-made park has a street plaza, quarter pipes, flow bowl, handrail, A-frame, pyramid, hips, flat rail, ledges, manual pads, hubbas, stairs, and many other feathers. 
Contact: 207-992-4490
Park Timing: Sunday- Saturday: 06:00 a.m.- 10:00 p.m.
Address: Hayford Park, 155 13th Street, Bangor, ME04401
Read How Much Is Dinner At The Lost Kitchen
10. Bar Harbor Skate Park – Bar Harbor, Maine
This skate park in Bar Harbor is famous for different concrete structures for skateboarding. Features like quarters, banks, manual pads, ledges, and flat bars are present in the park.
The park's mission is to create a safe and accessible playground for skateboarders of the Mount Desert Desert Island Community. The place is full of fun for every visitor. 
Contact: 207-294-1944
Park Timing: The park is always open
Address: 181 Norway Dr. Bar Harbor, ME US 04609
Read Indian Restaurants in Maine
11. Jake Paquette Memorial Skate Park – South Thomaston, ME
Jake Paquette Memorial Skate Park is constructed in memories of a local teen late Jake Paquette. This 50ft by 80 ft park has half-pipes and pyramids, among different skating features. It's famous among skateboarders in Maine. 
Address: 45 Spruce Head Rd, South Thomaston, Maine 04858, US
Read 12 Best Health Food Stores in Maine [Natural & Organic]
12. Midcoast Youth Centre & Skate Park – Brunswick, Bath, Maine
Midcoast Youth Centre (MYC) is the largest indoor skating park in Maine, with a 6000 sq ft area dedicated to skateboarding and inline skating. This park is operated by local youth, skateboarders, and local communities. For kid riders (between 5 yrs to 18 yrs age), parental supervision is required in the park. 
Contact: 207-443-8750
Park Timing: Sunday-Saturday: 12:00 p.m.- 09:00 p.m.
Address: 4 Old Brunswick Road, Bath, ME 04530
Read 
Find Skate Parks Near You
Conclusion
The Skate parks in Maine are mostly part of the local community parks. It makes these places more fun and safe for locals and visitors. Skateboarders love Maine for the enthusiasm of local communities. They are backed with beautiful, technically sound concrete skateparks, proper safety measures, and almost free access. Most of the parks are open every day. 
The state of Maine enjoys different skating events on sunny days despite long winters. These skate parks in different Maine towns are worth visiting for skateboarders. 
We Need 5 Second More From You To Share this On Your nearby Circle.