16 Best Chocolate Shops in Maine 2023
Memory cherishing candies and kid's favorite confections are available in the Chocolate Shops in Maine. These stores contain a multi-variety of chocolate selections ranging from dark chocolates, truffles, and caramels to fudges, barks, toffees, and nuts. The corporates can get their logo or phrases printed on the gifts.
The Chocolatiers in Oakland, Portland, Biddeford, Kittery, and Wells also manufacture candies like hard candies, old fashioned, bulk, and gummy bears. You can also find outstanding, delicious gourmet chocolates prepared for Mother's Day and Easter in these chocolate companies of Maine. Many of these shops have online ordering facilities along with delivery.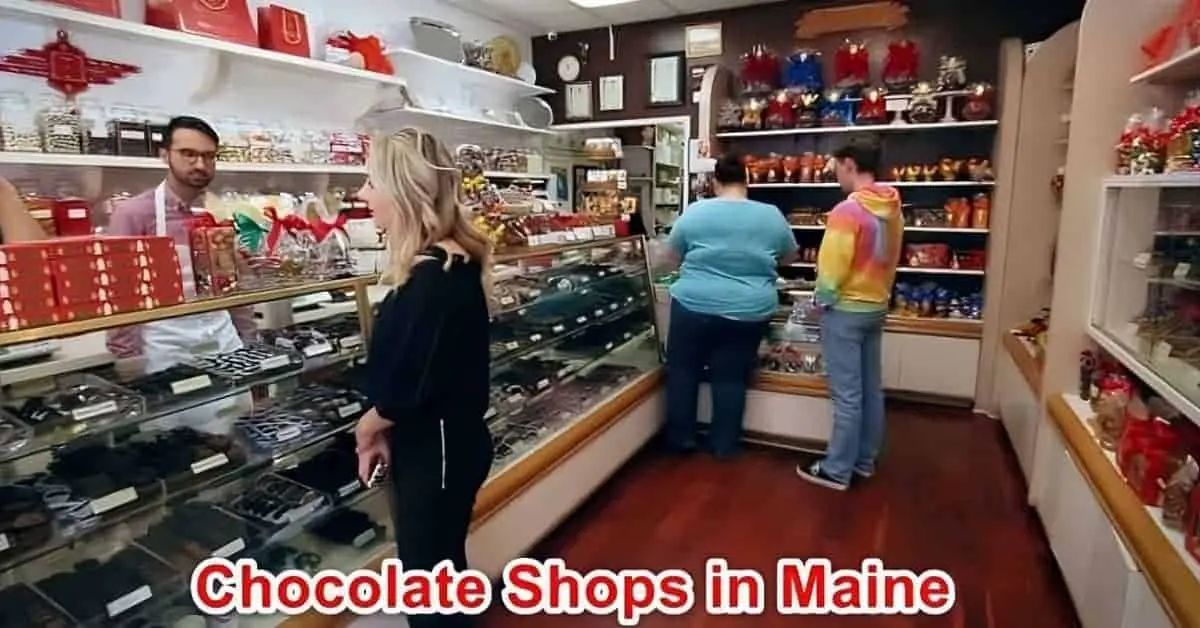 List of 16 Best Chocolate Shops in Maine
1. Candy Hollow – Oakland, Maine
Jason and Lydia Stevens run Candy Hollow in Oakland, serving homemade chocolates and candies. Lydia excels in making excellent different flavored fudges. It's one of the best Chocolate Shops in Maine.
They have great selections of chocolate candies, fudges, truffles, and new varieties filled in jars. Old-fashioned chocolates reflecting tradition are available. Refreshing flavored glass jar sodas, snow cones, and other drinks are unique collections. Mainly, the fudge and truffles are famous here. 
Many bowls are there from where you can fill your bags and buy enough candies. The place is well structured and decorated for a good, pleasing look. It's one of the best chocolate places in Maine.
Best Selling Candies: Milk Chocolate, Fudges, Snow Cones, Truffles, and Maple Walnut Fudge
Hours: Monday: 12 PM – 5 PM, Tuesday – Friday: 10 AM – 5 PM, Saturday: 10 AM – 4 PM
Contact: [email protected]
Nearby Attractions: Colby College Museum of Art, L.C. Bates Museum
Address: 856 Kennedy Memorial Drive, Oakland, ME
Read Best Beauty Supply Stores in Maine
2. Haven's Candies – Portland, Maine
Hebert Haven founded Haven's Candies in 1915 with his wife, crafting handmade chocolates using traditional methods. They have two retail shops at Westbrook and Portland. Wholesale purchase from many retailers is popular here. 
Chocolates are made in toffees, barks, meltaways, buttercream, and butter crunch. Saltwater taffy, truffles, and almond bark are the signature collections. Unique combos are there for seasonal occasions from Valentine's Day and New Year to Father's, Mother's Day, and St. Patrick's Day. 
Delicious chocolates are made to celebrate Children's Day, Teacher's Day, graduation, and birthday parties. They make gift packages for corporates along with customized logos and designs provided.  
The chocolate factory tour happens on Columbus Day every year, and people can come with their kids and make their chocolates.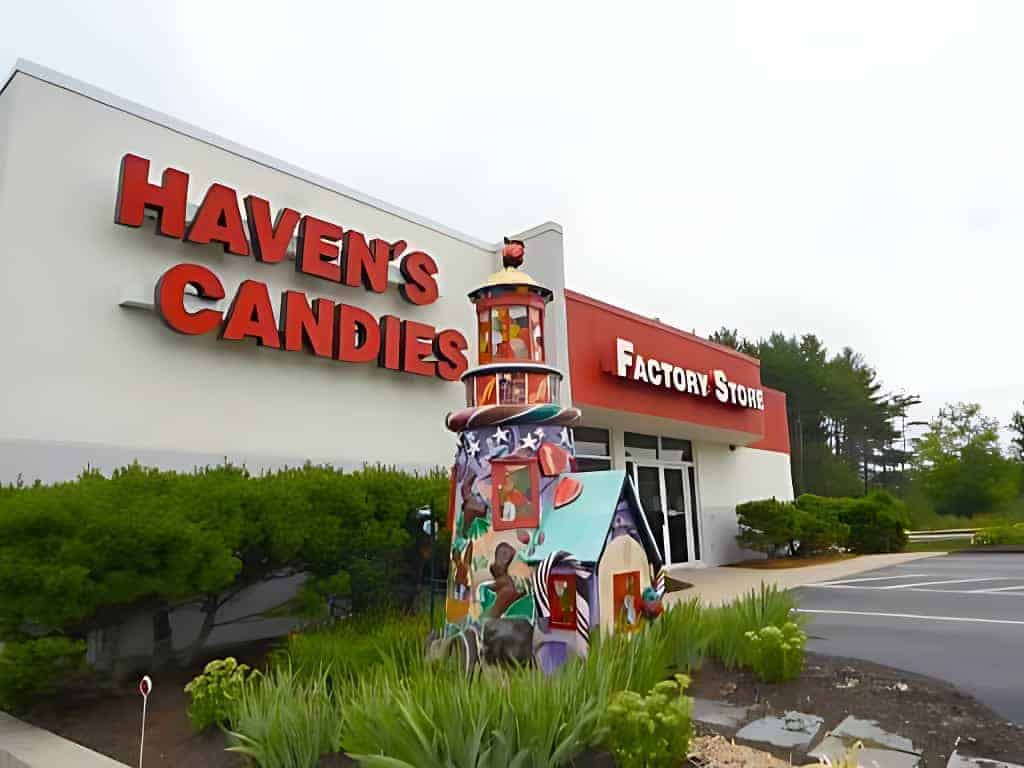 Best Selling Chocolates: Caramels, Meltaways, Non-Pareils, Bangor Taffy, and Saltwater Taffy.
Hours: Monday – Saturday: 9 AM – 5 PM, Sunday: Closed
Contact: 207-772-0761
Nearby Attractions: Bug Light, Maine Narrow Gauge Railroad
Address: 448 Forest Avenue, Portland, ME 04101
Read Best Tattoo Parlors in Maine USA
3. Dean's Sweets – Portland, Maine
Dean Bingham and his wife Kristin started Dean's Sweets shop after making truffles in their home kitchen in 2004. Now, there are two shops at Portland and East Bayside. 
Chocolate making of thirty-plus varieties takes place in their kitchen, spanning 1200 square feet. The products made consist of gluten-free and vegan options. Vast collections of assortments, hot chocolate, bars, local chocolates, and sauces are available. Different textures of sweets found are ideal for special occasions.  
The unique wood-crafted box delights every visitor. Delicious candies are prepared for events like Valentine's Day, Mother's Day, Halloween, and Christmas. 
The subscribers receive separate boxes as a surprise gift with free shipping. Distinct service for weddings and baby showers is there. Business corporates can get their logo and designs in various chocolates for their events.   
Best Selling Chocolates: Simply White Squares, Maine Sea Salt Caramels, Signature Mixes, Heart-Shaped Gift Box. 
Hours: Fore Street – Monday – Saturday: 10 AM – 6 PM, Sunday: 11 AM -4 PM, Cove Street – Monday – Saturday: 12 PM – 6 PM, Sunday: Closed. 
Contact: 207- 899-3664
Nearby Attractions: Tommy's Park, Bug Light Park.
Address: Shop 1- 54 Cove Street Portland, Maine 04101 and Shop 2 – 475 Fore Street Portland, Maine 04101.
Read Best Piercing Places in Maine United States
4. Robin's Confections – Biddeford, ME
Robin's Confection started producing chocolates in 2012 with distribution channels across Maine. They are recognized as one of the best chocolate makers in USA Today. The retail store opened in August 2018 and attracted more customers. 
Diverse chocolate collections include Dark, Milk, Smoothy and Crunchy, Peanut Buttery, and Sweet & Salty. They prepare elegant-shaped goodies for weddings, parties, and holidays. Gift baskets add credit to the function. Special offers are given for Mother's Day. 
They run Wicked Sweet Flowers and supply fresh flowers for all special events, from weddings to birthdays and parties. It's one of the best chocolate shops in Maine.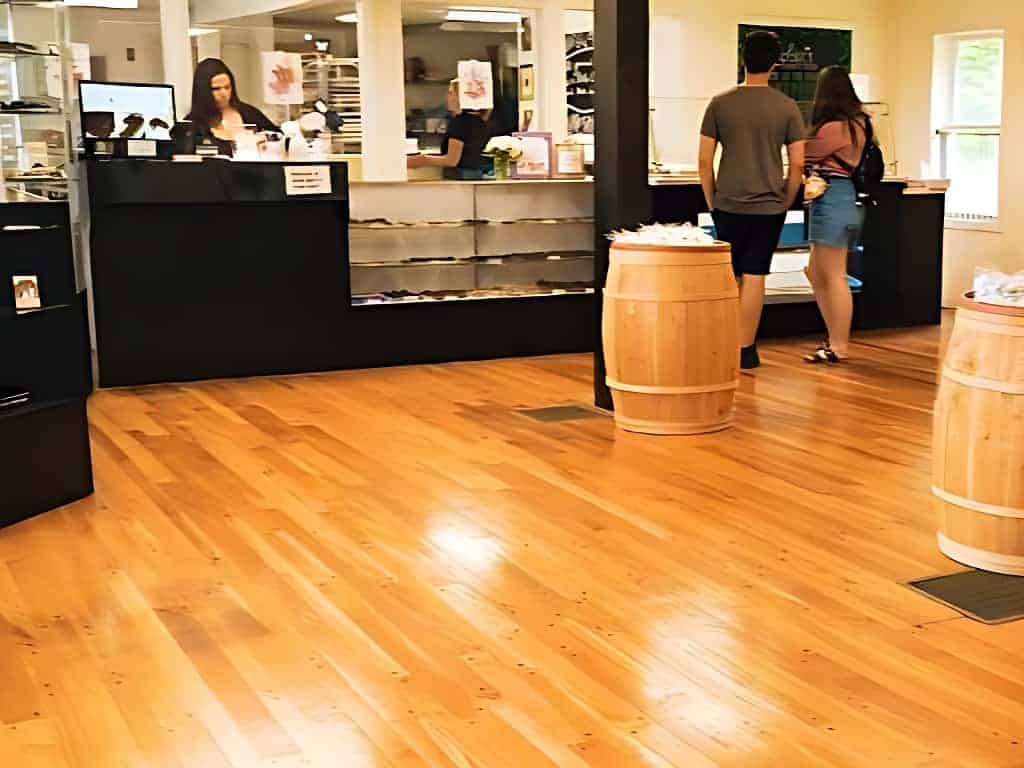 Best Selling Chocolates: Needham, Peanut Butter Ball, Chocolate Covered Oreo, Cashew Clusters and Peanut Clusters
Hours: Monday – Friday: 10 AM- 6 PM, Saturday: 10 AM – 5 PM, Sunday: 12 PM – 5 PM 
Contact: 207-494-8533
Nearby Attractions: Palace Playland, Old Orchard Beach Historical. 
Address: 586 Alfred St, Biddeford, ME 04005
5. Yummies Candy & Nuts – Kittery, ME
Yummies Candy & Nuts has been functioning since 1986 and makes various chocolates, nuts, and candies. The products are packed in small quantities for customer convenience. Chocolates are mainly made in Dark and milk chocolate.
Hard candies like rootbeer barrels and jolly ranchers are popular. The Tootsie rolls, Canada mints, and sugar daddies create memorable childhood experiences. Forty-five individual flavored jelly beans are available for selection. Saltwater Taffy is famous here. Crispy cashew nuts delight you with superb taste. 
Cool merchandise collections, such as T-shirts and sweatshirts, are sold in this chocolate store. Other household accessories and shot glasses are available.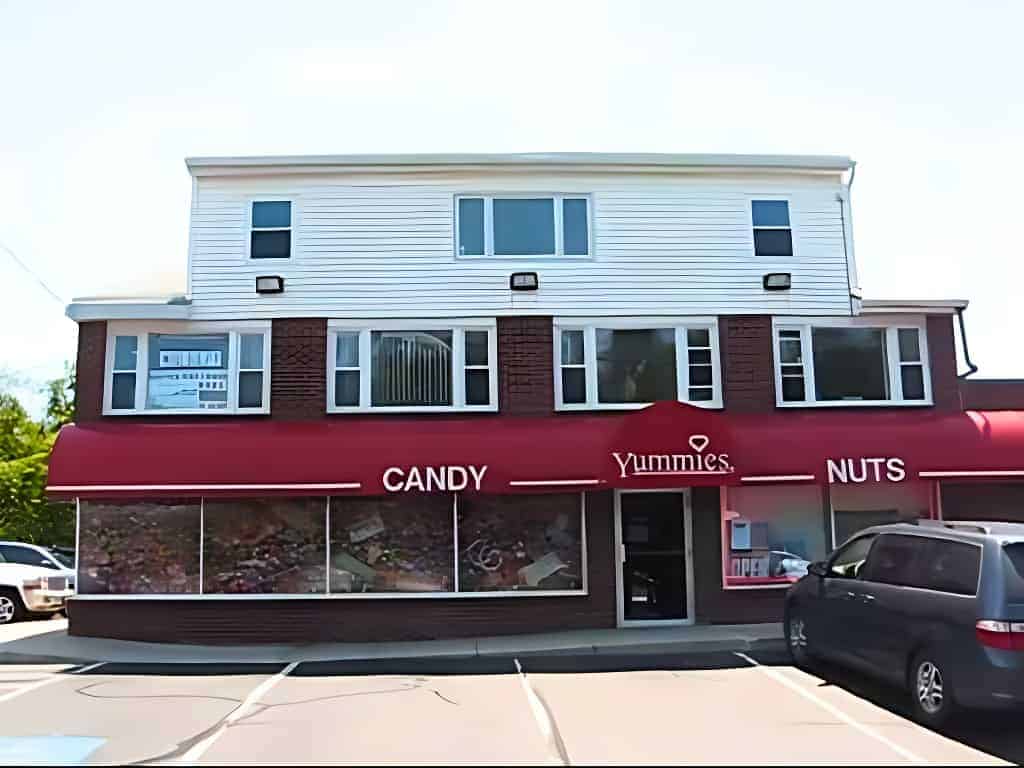 Best Selling Chocolates: Chocolate Covered Pretzels, Cookie Dough, Gummy Bears, Chocolate Bars.
Hours: Monday – Sunday: 8 AM – 5 PM
Contact: 207-439-5649
Nearby Attractions: Prescott Park, Strawbery Banke Museum
Address: 384 State Road (U.S. RT. 1) Kittery, ME 03904
Read Best Places for Bubble Tea in Maine United States
6. Old Port Candy Co – Portland, ME 
Anna Largay opened Old Port Candy Co in January 2002 and, along with her husband Tom, started Old Port Card Works in 2010. Both these shops are involved in producing fudges, confections, and candies. 
The delicious fudge here consists of 100 flavors, from peanut butter and maple to pumpkin pie chocolate. It is an award-winning delight of the shop. Customers can buy out their amazing chocolate truffles, caramels, turtles, and pretzels. You can take home customized favorite gourmet chocolates.   
This fancy chocolate store offers Bulk candies, nostalgia, novelty, and international candies. Perfect customized gifts are for corporate functions, holiday parties, and birthdays. They sell over forty popcorn flavors, from savory and sweet to sour, cheesy, and spicy.  
Best Selling Chocolates: Needhams, turtles, Chocolate Covered cookies, Almond Bark and Coconut Clusters. 
Hours: Monday – Saturday: 11 AM – 6 PM, Sunday: 11 AM – 5 PM 
Contact: 207-772-0600
Nearby Attractions: Portland Museum of Art, Bug Light. 
Address: OLD PORT CANDY CO – 422 Fore St. Portland, ME 04101 and OLD PORT CARD WORKS – 163 Commercial St. Portland, ME 04101
7. Len Libby Candies – Scarborough, Maine
Len Libby Candies started the Len Libby Candies in 1926 after gaining years of experience in candy making and being called the Dean of Maine Candymakers. This shop is the third old business in Scarborough. 
Molded, double-dipped, panned, and dunked-type chocolates are present. Sugar-free options, chocolate barks, and clusters are fantastic. Confections prepared include gummi candies, Maine maple, salt water taffy, copper kettle fudge, and roasted nuts.
The gift shop has good apparel, accessories, books, animal toys, and puzzle collections. Big Mugs, drinking cups, and wine glasses are also available. 
You can witness the moose made of white chocolate named Lenny, and it attracts many visitors.
Best Selling Chocolates: Fresh Coconut Needhams, Almond Buttercrunch, Moose – Stakes, Non-Pareils, and Real Chocolate Sprinkles.
Hours: Monday – Saturday: 9 AM – 5 PM, Sunday: Closed
Contact: 207-883-4897
Nearby Attractions: Palace Playland, Portland Museum of Art.  
Address: 419 US Route 1 Scarborough, ME 04074
Read Best Dog-Friendly Beaches in Maine
8. Dickinson's Candy – Old Orchard Beach, ME
Dickinson's Candy spans about 4500 square feet, making wide varieties of chocolates, candies, and fudges. They also make different taffies, kettle corn, and nuts.
The fudge flavors and selections are incredible. You can taste yummy salt water taffy along with kids. Old-fashioned to modern candy collections are present here. Other candy types include cotton candy, jelly beans, gums, and lollipops. Ice creams, particularly cake batter ice cream, are most sought by customers.
Nuts, notably the Cashews roasted with sesame oil, are superb. Many popcorn flavors with sweet, salt, and cheese taste are available. It is the best spot for the kids to get their favorite candies. 
Best Selling Chocolates: Saltwater Taffy, Jelly Beans, Cotton Candy, Carrot Cake Fudge. 
Hours: Monday – Sunday: 11 AM – 9 PM
Contact: 207-934-4797
Nearby Attractions: Saco Museum, Fort Williams Park. 
Address: 1 E Grand Ave Old Orchard Beach, ME, US 04064
Read Best Record Stores In Maine United States
9. Wilbur's Of Maine Chocolate Confections – Freeport, ME 
Tom and Catherin started Wilbur's Of Maine in 1983, and currently, it has a factory store and two retailers at Brunswick and Freeport. They received the popular Gowell Award in 2012.
Chocolate assortments are available in 6 to 24 pieces in various flavors. Panned chocolate includes blueberry, keto & paleo almonds. Molasses puff, and peanut brittles are crunchy delights. Seasonal specials include gourmet truffles, sugar-free chocolates, and a Mother's Day assortment. Other collections are bars, fudges, and wooden gift baskets.
They cater distinct foil-wrapped chocolates, gift boxes, and Chocolate platters for weddings, showers, and gatherings. Customers can have personalized candy buffets at events from multiple collections present. Businesses can print their logos on the gifts. Famous corporate products sold are stamped coins. 
Recreational chocolate factory tours and Mother's Day celebrations do occur here. Attractive merchandise and hats are sold online. 
Best Selling Chocolates: Chocolate Covered Blueberries, Gummi Lobstahs, Turtles, Malt Balls, Shah Bars
Hours: Friday – Sunday: 11 AM – 5 PM, Monday – Thursday: Closed 
Contact: 207-865-6129
Nearby Attractions: Desert of Maine, International Cryptozoology Museum
Address: 13 Bow St Freeport, ME 04032
Read How Much Is Dinner At The Lost Kitchen
10. Uncle Willy's Candy Shoppe – Camden, ME
Karen Keber opened Uncle Willy's Candy in 2008 at Houlton and later at Camden in 2015 with her husband, Matt Sutton. She fills the shop with many old-fashioned candies that create unforgettable customer memories.
Chocolates and candies are attractively displayed in glass jars. Caramels, nut brittles, caramel corn, local chocolates, fudges, and barks are also made. Special-type candies are made for Easter and Valentine's Day. New truffles made of honey have arrived, which are rose gold truffles. 
Kids' play dolls and toys, including the New Little Mermaid and Gabby Doll House, are there for sale. Small gift baskets with goodies and bunny-shaped chocolates are available for giving surprises. Hot Chocolate Bombs and Chocolate Dipped Strawberries are Valentine's Day distinct goodies. 
Best Selling Chocolates: Saltwater Taffy, Truffles, Penny Candies, Jelly Beans, and Gummies.   
Hours: Monday & Tuesday: Closed, Wednesday – Saturday: 10 AM – 5 PM, Sunday: 12 PM – 5 PM
Contact: 207-230-2470
Nearby Attractions: Andre The Seal Statue, Curtis Island Lighthouse
Address: 57 Bay View St, Camden, ME, United States, Maine
Read The Lost Kitchen Reservations, Maine
11. Harbor Candy Shop – Ogunquit, Maine
Harbor Candy Shop has been serving since 1956 in Ogunquit. The core style revolves around traditional European and American. Ingredients such as dairy cream and eggs are sourced from local farms. They have both national and international customer connections.
The gift sampler consists of various delicious barks, caramels, turtles, truffles, snowflakes, nut clusters, and marzipan. The vegan sampler is made of Dark chocolate from Belgian chocolate with roasted nuts and California glace apricots. Various jellies in raspberry, strawberry, pomegranate, navel orange, and blueberry are available.
Truffles are there in both vegan and non-vegan options. Fudges from egg whites and corn syrup make a great combo. Holiday chocolate gifts and surprises are available in multiple assortments. 
Best Selling Chocolates: Caramallows, Turtles, Coconut Snowflakes, Sandwich Praline, and Peanut Butter Cups.
Hours: Monday – Sunday: 9 AM – 5 PM
Contact: 800-331-5856
Nearby Attractions: Ogunquit Heritage Museum, Nubble Lighthouse
Address: 248 Main Street Ogunquit, ME 03907
Read The Lost Kitchen Dress Code, Maine
12. Perkins Cove Candies – Wells, Maine
In 1980, Martin and Fay Fitzgerald started Perkins Cove Candies shop. They make delicious chocolates, fudges, and saltwater taffy under the ownership of Amy and Erin. Now, they have two more outlets at Wells and Ogunquit.
Their gourmet chocolates made with dark and white chocolate are now available online for sale. The turtles attract most of the customers back for their unique taste. Fine collections of handcrafted chocolates are there for weddings, birthdays, showers, and family gatherings. 
They have a coastal tidings collection with scallops & lobsters, an Ocean treasure collection with jumbo lobsters, and special handcrafted collections with butter crunch and sea salt caramels. These are the most sought for corporate events. 
Best Selling Chocolates: Chocolate Turtles, Sea Salt Caramels, Heath Bars, Coconut Clusters, and Almond Bark
Hours: Sunday & Monday: 10 AM – 4 PM, Tuesday & Wednesday: Closed, Thursday – Saturday: 10 AM – 4 PM
Contact: 207-646-3003
Nearby Attractions: Wonder Mountains Fun Park, Rogers Pond Park. 
Address: 966 Post Road, Wells, ME 04090
Read Best Indian Restaurants in Maine
13. Ragged Coast Chocolates -Westbrook, ME
Steve and Kate Sheffet founded Ragged Coast Chocolates in 2007 at Isle au Haut. In 2011, The Dessert Professional became one of the Top Ten Chocolatiers in North America. She is also a recipient of three Good Food awards. 
They run two online wholesale markets at Faire and Mabel, where you can easily buy their products at cheaper rates. Multiple retail partnerships exist in Biddeford, Bethel, Camden, and Caribou. Fine ingredients are sourced from Ecuador, Peru, and Venezuela. 
Truffles and caramels are available in various flavors, such as lavender, early grey tea, and hazelnut. The drinking chocolate made there is unique. Vegan and dairy-free options are there. All the Products are organic and made with fruits, nuts, and butter. Peculiar orders are taken for Mother's Day, weddings, and parties. 
Cooking books for making different chocolates and baking mixes are sold online. Attractive designed T-shirts for men and women are also available. Products should be returned within three days of delivery for refunds and returns. 
Best Selling Chocolates: Peanut Buttercups, Bon Bon Boquet, Dark Chocolate Tahini, Chocolates for Wine Pairing, and Almond & Maine Sea Salt Bark.  
Hours: Wednesday – Friday: 3 PM – 6 PM, Saturday: 10 AM – 2 PM 
Contact: 207-887-9763
Nearby Attractions: Tate House Museum, Bug Light 
Address: 869 Main St Westbrook, Maine
Read Best Health Food Stores in Maine [Natural & Organic]
14. Bixby Chocolate Factory – Rockland, Maine
Kate McAleer is the pioneer behind Bixby Chocolate Factory, which started in December 2011. Kate and her mother, Donna, run the shop and received awards such as the Greenlight Maine Grand Prize in 2021. Quality organic cocoa beans are sourced from Caribbean countries such as Haiti and Belize. 
They make chocolates in snack bars, Bonbons, Caramels, Needham, and Toffees. Bixenta coffee blend is best to taste the aroma of coffee. Amazing gifts and goodies collections excite people at weddings, parties, and special occasions. Customized basket selection with Bixby bars, bonbons, and caramels is an excellent combo for corporate events. 
Diet-regulated products such as gluten-free, vegan, soy-free, and organic chocolates are produced for customers. Wholesale order is available through Faire and Marble. 
Best Selling Chocolates: Maine Blueberry Jam Bonbons, Needhams, Allagash Beer Brittle, Lobster Dinner, and Dark Chocolate Toffee
Hours: Monday – Friday: 10 AM – 5 PM, Saturday & Sunday: Closed
Contact: 207-691-2634
Nearby Attractions: Rockland Breakwater Lighthouse, Maine Lighthouse Museum
Address: 1 Sea St Pl, Rockland, ME 04841, USA
Read Best Skate Parks In Maine
15. R&R Chocolate – Wells, Maine
Brenda Strum prepares mouth-watering confections after having several years of culinary experience in the field. John Mahassel, the general manager, assists Brenda in running the shop effectively. Their online store sells gourmet chocolates, bark, treats, and nuts varieties. Stunning gift cards are purchasable online. 
Handmade chocolates, fudges, unique sea salt caramels & nonpareils, almond bark, and milk chocolate turtles are available. The best party platter is the triple-dipped strawberries, truffles, and cannoli bars. Unique product gift baskets are purchasable for all notable occasions. White chocolate-dipped doggy biscuit for your pet is ideal. 
Best Selling Chocolates: Cannoli Bars, Chocolate Covered Caramels, Peppermint Patties, Moose Twigs, and Peanut Butter Cups.  
Hours: Monday – Saturday: 9 AM – 6 PM, Sunday: 9 AM – 4 PM
Contact: 207- 351-8091
Nearby Attractions: Brick Store Museum, Seashore Trolley Museum
Address: 913 Post Road U.S. Route 1 Hanford Shopping Plaza, Wells, Maine 04090
Read Best Art and Craft Supply Stores in Maine
16. Maine Gourmet Chocolates – Auburn, ME
Maine Gourmet Chocolates makes a wide variety of specialty chocolates for many occasions. Such unique delights are made for Valentine's Day, Christmas, and Easter. They have an online portal for customers to order their favorite goodies. Offline pickup and shipping facilities are also available here. 
Their core collection includes nonpareils, chocolate barks, assorted varieties, chocolate sea salt caramel clusters, and bunny face lollipops. Peculiar gift box packages include caramels, cherry variety boxes, lobster bake, Oreo variety boxes, and truffle love boxes. 
Best Selling Chocolates: Assorted Truffles, Needhams, Barks, Brittles and Chocolate Dipped Strawberries. 
Hours: Sunday & Monday: Closed, Tuesday – Friday: 12 PM – 4 PM, Saturday: 11 AM – 1 PM 
Contact: 207 – 783-8472
Nearby Attractions: Desert of Maine, Thorncrag Bird Sanctuary  
Address: 168 Main St. Auburn, Maine 04210
Read Best Bagel Shops in Maine
Find Chocolate Shops Near You
Conclusion
People get a heavenly experience after tasting the confections from the Chocolate Shops in Maine. The chocolate drinks are soul-refreshing and best to have in summer. Farmington, Camden, Westbrook, Ogunquit, and Old Orchard Beach stores have well-experienced chocolatiers in the industry.
Maine Articles:-