17 Best Corn Mazes in Maine 2023
Many people visit the Corn Mazes in Maine to explore new adventures. The farms having these corn mazes also offer pick-your-own options for people to take apples, pumpkins, pears, and plums. 
The corn mazes in New Gloucester, Levant, Auburn, Turner, and Springvale have their farm stands selling fresh vegetables, greens, fruits, eggs, and meat. Fun-filled activities like wagon rides, hay rides, pumpkin toss games, and many events are organized on these farms.  
List of 17 Best Corn Mazes in Maine
1. Pineland Farms – New Gloucester, Maine
Pineland Farms is located in the hills of New Gloucester. It is a 5000-acre widespread farm doing crop cultivation, and they also provide education & recreation venues for the children. 
They have a 5-acre corn maze and pumpkin patch that opens from mid-August to October. A 2-hour farm pass is offered for people wishing to stroll in the corn maze and pick pumpkins. It is one of the biggest cornfields in Maine.
Their farm contains varieties of strawberries, blueberries, raspberries, and pears for which pick-your-own options are given to people in respective seasons. Different types of gardens are found here, such as the herb garden, the lilac garden, the cutting garden, and the farmyard garden. Annual flower displays and self-guided garden tours are a must to experience. 
There are amenities for visitors to stay, dine, and enjoy on this farm. They have an eatery and homes for people's comfort.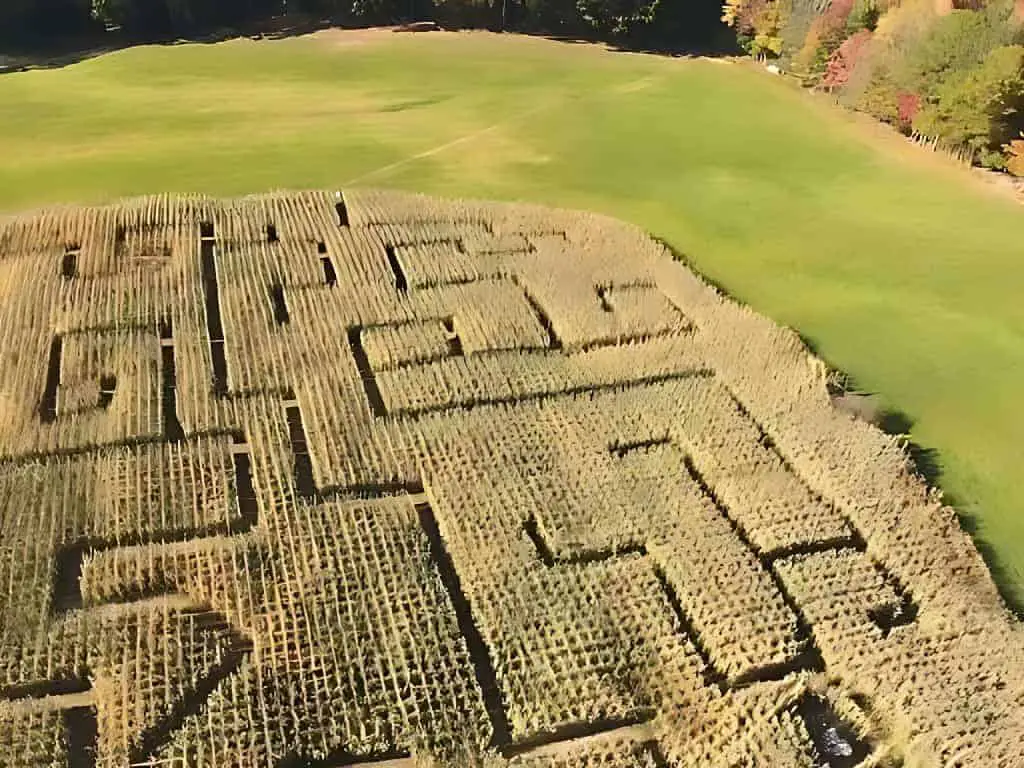 Farm Activities: Walking through the cornfield and Self-guided tour to the dairy farm.
Hours: Monday – Friday: 7.30 AM – 6 PM, Saturday and Sunday: 8 AM – 6 PM 
Contact: 207-688-4539
Nearby Attractions: Desert of Maine, Maine Wildlife Park 
Address: 15 Farm View Drive, New Gloucester, ME 04260
Read Best Beauty Supply Stores in Maine
2. Treworgy Family Orchards – Levant, ME
Gary and Patty started Treworgy Family Orchards after buying a 42-acre of land containing a pond and cornfield. Their farm is a good spot for people to pick berries, apples, and squashes. Elegance flowers like Cosmos, Snapdragons, Zinnias, and Amaranthus are grown here. 
The corn maze spans 4 acres, with 10-foot-tall corn planted in different patterns yearly. Visitors can get a riddling experience in the maze with a specified fee. It is an award-winning corn maze in Maine. 
A goat pen is available to see different breeds of goats and buy your desired breed. Entertaining events like Farm Camps, Workshops, Photography Sessions, Night Mazes, and School Field Trips for children are organized here.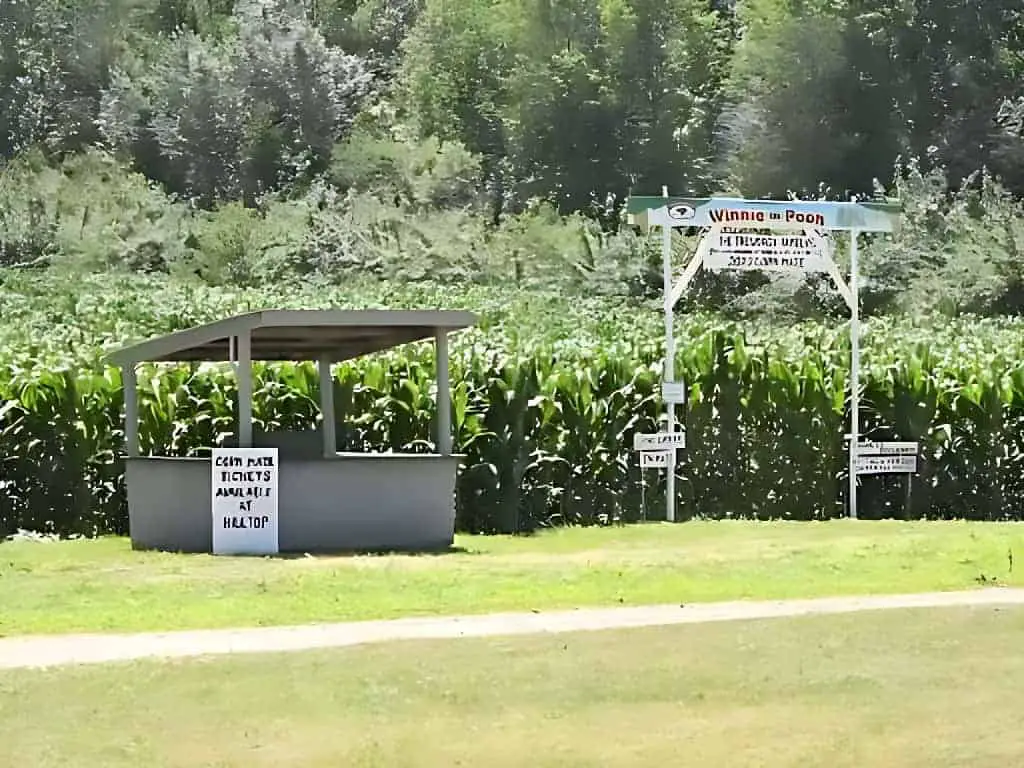 Farm Activities: Exploring special maps with riddles
Hours: Monday: Closed, Tuesday – Saturday: 8 AM – 8.30 PM, and Sunday: 12 PM – 8.30 PM 
Contact: 207-884-8354
Nearby Attractions: Maine Discovery Museum, Bangor Historical Society
Address: 3876 UNION STREET, LEVANT, ME, 04456
Read Best Tattoo Parlors in Maine, USA
3. Wallingford's Fruit House – Auburn, Maine
Wallingford's Fruit House has been growing a variety of apples since 1803. Their core plantations include red apples, cranberries, and North American Ginseng. They left 1000 acres of uncultivated land for wildlife and a hundred acres for wetland cultivation. 
The backyard offers a suitable environment for people and kids to explore the corn maze, orchards, and pet area. Their bakery section makes many baked items with raspberries, apples, cranberries, and pumpkins. Apple cider doughnut is famous here.
Apple varieties like Mcintosh, Cortland, Ginger Gold, Empire, & Gala, and pumpkins are available for people to pick independently.   
Farm Activities: Roaming through Cornfield, visiting the petting area and the orchard.
Hours: Monday – Sunday: 8 AM- 6 PM 
Contact: 207- 784-7958
Nearby Attractions: Desert of Maine, Thorncrag Bird Sanctuary. 
Address: 1240 Perkins Ridge Rd Auburn, ME 04210
Read Best Piercing Places in Maine United States
4. Ricker Hill Orchards – Turner, Maine
Ricker family founded the Ricker Hill Orchards in 1803, and they mainly focus on growing many varieties of apples in about 400-plus acres. Their orchard is found in several places like Turner, Auburn, Minot, and Hebron. They also do wholesale supply of apples around the world. Other crops grown here are blueberries, pumpkins, grapes, and cranberries. 
Private events and birthday parties take place at their party tents, which can fill approx 100 people. The tent is present near the widespread corn maze. Entertaining activities happening here are school tours, cider plant tours, and disc golf. 
Their bakery making delicious homemade chocolates and apple donuts is a highlight. They also sell various items and products in the county store.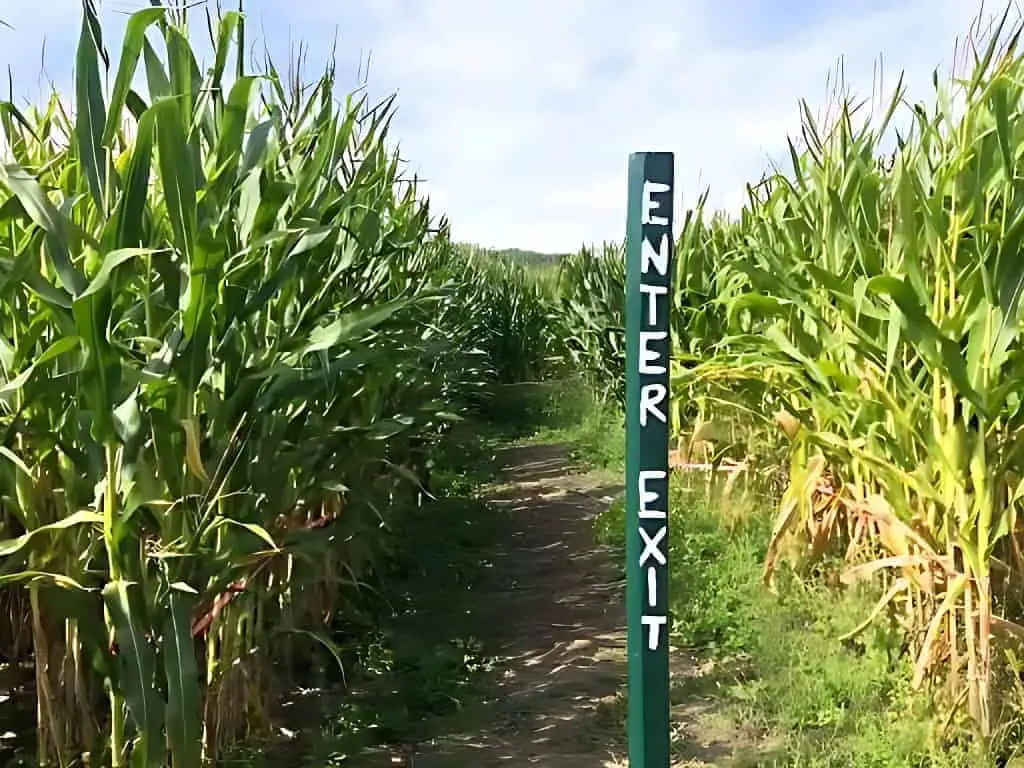 Farm Activities: Disc Golf, Hay Climb & Slides, Bounce House, and Bus Tours. 
Hours: Monday – Sunday: 9 AM- 6 PM 
Contact: 207- 225-5552
Nearby Attractions: Poland Spring Preservation Society, Thorncrag Bird Sanctuary. 
Address: Turner, ME, United States, 04282
5. McDougal Orchards – Springvale, ME
McDougal Orchards has been running successfully for seven generations, focusing on producing multiple apple varieties. They are more active from August to October. Their farm has other crops like peaches, plums, pears, and pumpkins.   
The store here has a good collection of local jams, jellies, pickles, and honey. Weekend wagon rides, touring the 1-acre corn maze, and tasting Captain Jack's donut shack are good recreations. 
They offer big spaces for organizing weddings, professional photographs, school tours, and birthday parties. Strolling through the Miracle Fairy Village is a good experience for visitors. 
Farm Activities: Weekend wagon ride, Visit to fairy village, and Explore Hanson Farm Trails. 
Hours: Saturday – Wednesday: 9 AM- 5 PM, Thursday & Friday: 9 AM – 6 PM 
Contact: 207-324-5054
Nearby Attractions: Alfred Shaker Museum, New Hampshire Farm Museum.  
Address: 201 Hanson Ridge Road, Springvale, ME 04083
Read Best Places for Bubble Tea in Maine United States
6. Goughan's Berry Farm – Caribou, Maine
Mark and Gloria Goughan started the Goughan's Berry farm. They frame different patterns of corn mazes for visitors each year in the late summer. There will be three phases of difficulty inside the cornfield for people to come through. The fresh strawberry ice cream is a delight to taste here after exploration. 
They sell homemade agro products, jams, and jellies for visitors. People can pick their desired strawberries and pumpkins from the field. Strawberries are available as packages to buy in their dairy bar. The 19th hole canteen serves delicious Arcadian blend greens, shredded cheese, and breast meat tenders. 
Farm Activities: Getting homemade ice cream at Dairy Bar and Mini Golf.  
Hours: Monday – Saturday: 8 AM- 5 PM, Sunday: 10 AM – 5 PM 
Contact: 207-498-6565
Nearby Attractions: Nylander Museum – Natural History, Northern Maine Museum of Science. 
Address: 875 Fort Fairfield Rd, Caribou, ME, United States, Maine
7. Thunder Road Farm – Corinna, ME
Charles Peavey bought this farm in 1939, and their family has run it for three generations till now. They have 35 acres of farmland cultivating various fruits and vegetables. The farmstand sells diverse varieties of vegetables, fruits, berries, jams, jellies, and pickles.  
Each year, the corn maze designed here portrays different themes since 2004. Visitors can enter the maze after buying seasonal passes. Corporate parties and birthday functions are organized here. Yummy foods are available at the Snack Shack; people can bring food too. 
There is a six-acre corn maze and a one-acre play area to explore for customers. The Jumping Pillow, Tire Swings, Corn Tunnel, Pirate Ships, and Roller Bowler are entertaining activities here.  
Farm Activities: Cow Train, Wagon Ride, Tricycle Races, Tire Swings, and Bean Bag Toss
Hours: Monday -Sunday: 9 AM – 6 PM 
Contact: 207- 278-2676
Nearby Attractions: Museum of Fine Arts, Boston, Blacksmith Shop Museum. 
Address: 185 Newport Rd, Corinna, ME 04928
Read Best Dog-Friendly Beaches in Maine
8. Lemieux's Orchard – Vassalboro, Maine 
Lemieux's orchard was started in 1964 and converted into a family farm by Deb & Richard in 1998. A maximum of 8000 trees are grown now on the farm. Apple varieties like Macs, Cortland Red & Gold, Macoun, Empire, and Granny Smith are available for pickup. 
Their corn maze has an area of two acres, and it is ideal for kids & adults. They serve sweet cider and cider donuts for the people. Folks can take a free wagon ride to pick their desired apples. 
Farm Activities: Exploring through Cornfield and Wagon Rides. 
Hours: Monday -Sunday: 8 AM – 5 PM 
Contact: 207-873-4354
Nearby Attractions: Old Ford Western, Children's Discovery Museum 
Address: 210 Priest Hill Road, Vassalboro, ME 04989
Read Best Record Stores In Maine United States
9. Applewald Farm – Litchfield, ME
Tom Fair and his family started the Applewald Farm in the 1970s. Ken Fair guides the visitors on farm tours and hands-on demonstrations like potato digging. They cultivate crops in an area of 25 acres over 150 years old. 
Their orchard has about 1,000 trees established in 1976, and the apples here are used for in-house cider production. They also grow tender corn varieties with small kernels. 
The online store contains collections of vintage glassware, primary household decor, and old apple crates. Delicious donuts, pies, fudge, and pastries are affordable at the bakery.  
They participate in the Senior Farmshares Program, supplying essential agro-produce to eligible senior citizens.  
Farm Activities: Farm Tours (to Farm Museum), Potato Digging Demonstrations, Pedal Tractors, and Big Dig Sandbox. 
Hours: Monday -Sunday: 9 AM – 6 PM 
Contact: 207-268-4042
Nearby Attractions: Desert of Maine, Thorncrag Bird Sanctuary
Address: 525 Huntington Hill Rd, Litchfield, ME, United States, Maine
Read How Much Is Dinner At The Lost Kitchen
10. Pumpkin Valley Farm – Dayton, ME
Pumpkin Valley Farm grows various crops and organizes many festivals for people. The Sunflower Fest happening in September allows people to stroll happily and enjoy live music & playing in the designated areas. 
Fall festival takes place on this farm and involves exploring the 5-acre corn maze and pumpkin pickings. Four stations are inside the corn maze to taste different wines and chocolates. It will take around 45 minutes to explore their corn maze. Baby animals day in spring here gives insights into their farm animals like goats, bunnies, cows, and chicks. 
The Rusty Bucket serves Brick Oven Pizza, Kettle Corn, and drinks. Entertainment options like Jumping Pillow, Cow Train, and Corn Pit are available for visitors. 
Farm Activities: Playing Corn Pit, Jumping Pillow, Two Shots on the Ball Launchers, and Duck Races. 
Hours: Time yet to be fixed
Contact: 207-929-4088
Nearby Attractions: Seashore Trolley Museum, Palace Playland
Address: 100 Union Falls Rd, Dayton, ME
Read The Lost Kitchen Reservations, Maine
11. County Fair Farm – Jefferson, Maine
County Fair Farm harbors a diverse range of fruits and crops. Their farmstand functions from July to November. They sell various products like farm-raised meats, maple syrup, and other farm products.
Customers can pick their desired flowers, apples, and pumpkins. Christmas trees and decorative wreaths are also sold here. 
When the farmstand is about to close, people can make an appointment to buy meat products and maple syrup. Wagon rides are offered here on the weekends.      
Farm Activities: Visit to petting area, Visit to Orchard, and Wagon Rides
Hours: Monday – Sunday: 10 AM – 6 PM
Contact: 207-549-4793
Nearby Attractions: Hidden Valley Nature Center, Coastal Maine Botanical Gardens. 
Address: 423 Augusta Rd, Jefferson, ME 04348
Read The Lost Kitchen Dress Code, Maine
12. Hooper's Orchard – Monroe, Maine
Hooper's orchard was started in the 1800s, covering an area of 300 acres. Over 75 types of apples, peaches, plums, and pears exist. The apple trees are mostly dwarf; the notable varieties are Honeycrisp, Chestnut, Wolf River, Golden Russet & Red Jonaprince, etc. 
Their orchard store contains many squashes, pumpkins, ciders, and honey. Pick your options available for apples, pears, and pumpkins. Honeycrisp is the core apple variety grown here for multiple purposes.  
Farm Activities: Hay Rides and Wagon Rides 
Hours: Before the visit, please call.
Contact: 207-323-8226
Nearby Attractions: Cole Land Transportation Museum, Maine Discovery Museum. 
Address: 856 Back Brooks Rd, Monroe, ME 04951, United States
Read Best Indian Restaurants in Maine
13. Sandy River Farms – Farmington, Maine
Sandy River Farms was started by Hebert and Brenda York in 1961. The farm now has an area of about 600 acres, focusing on organic crop production and dairy management. There is a 10-acre corn maze for people to explore with various adventures. 
This corn field has many shorthorn and Holstein cattle for commercial milk production. Holsteins cows are available for sale from calves to adults. They sell organic sweetcorn, pumpkins, and squash from their farm.  
Farm Activities: Barn & Crop Tours, Farming, and Milking Demonstrations.   
Hours: Monday – Saturday: 9 AM – 5 PM, Sunday: Closed
Contact: 207-778-1995
Nearby Attractions: The Nordica Homestead Museum, Western Maine Play Museum. 
Address: 560 Farmington Falls Rd, Farmington, ME, United States, Maine
Read Best Health Food Stores in Maine [Natural & Organic]
14. Alewives Brook Farm – Cape Elizabeth, Maine
Alvin E. Jordans got the Alewives Brook Farm in 1957, and his family continued farming with various on-farm businesses. The market here contains fresh farm produce, lobsters, clams, snails, and crabs. They raise chickens for eggs, pigs, and turkeys on their farm for commercial purposes.  
There is an exciting corn maze for enjoyment and a giant corn launcher. Their pumpkin patch is open from October to November. People can grab a wagon to pick their pumpkins. Fun games, including pumpkin tic tac toe, pumpkin toss, and pumpkin memory, are conducted here on weekends for kids.  
Farm Activities: Playing Pumpkin Memory, Pumpkin Toss, and Wagon Ride. 
Hours: Summer – Monday – Sunday: 9 AM – 8 PM. Winter – Monday – Sunday: 9 AM – 6 PM
Contact: 207-799-7743
Nearby Attractions: Bug Light, Fort Williams Park
Address: 83 Old Ocean House Rd – Cape Elizabeth, Me
Read Best Skate Parks In Maine
15. Zach's Corn Maze – York, Maine
Zach's cornfield is spread around 17 acres, and people can reach there by a 20-minute hayride. Pick your own option is available for people to pick pumpkins grown in five rows. Visitors can pick pumpkins with the help of tractor-pulled hayrides. 
They sell fresh farm vegetables, fruits, and flowers at the Yorks, Kittery Community Market, and Portsmouth Farmer's Market. There are rentals available to organize corporate parties and birthday functions. 
Farm Activities: Flashlight Tag, Wagon Rides, and Hayrides
Hours:  Monday – Sunday: 10 AM – 6 PM
Contact: 207-337-0618
Nearby Attractions: Strawberry Banke Museum, York's Wild Kingdom
Address: 7 Colby Turner Ln, York, ME, United States, Maine
Read Best Art and Craft Supply Stores in Maine
16. Pumpkin Vine Family Farm – Somerville, Maine 
The origin of Pumpkin Vine Family Farm started back in the early 1800s. The legacy of this farm has been continued for over six generations now. Popular events are Kid Hugging Returns, Dairy Magic, Music & The Spheres, and Heavy Meadow Concert. 
People can surf through the pumpkin patch and enjoy a glass of wine with a cinnamon roll. Kids can play the entertaining pumpkin ring toss there. 
They sell goat's milk of Alpine & Nubian goats and other dairy products like yogurt, somersault feta, smoothies, pandora, and Caper. They mainly organize farmer's markets on Sundays to sell various farm products. 
Farm Activities: Cow Train, Playing Corn Pit, Goat Hikes, and Farmer Photobooth
Hours:  May – October – Sunday: 11 AM – 3 PM
Contact: 207-549-3096
Nearby Attractions: Hidden Valley Nature Center, Old Ford Western
Address: 217 Hewett Rd. Somerville, Maine 04348
Read Best Bagel Shops in Maine
17. Pine Ridge Corn Maze – Cumberland, Maine
Ben, Lee, and Sierra have jointly run the Pine Ridge Corn Maze since 2005. Their farm is located at both Falmouth and Cumberland. The farmstand here is open daily, selling fresh eggs, beef, chicken, pork, and lamb. 
Many designers and artists combine to design this farm corn maze each year, portraying different themes. Also, there are pumpkin patches and hayrides to get complete entertainment. 
In the summer, they mainly cultivate hays for farm animals, pumpkins, gourds, and squash. The store contains various jams, jellies, and maple syrup to try out by people. Unfortunately, this year, they are not doing a corn Maze.
Farm Activities: Roaming through Cornfield and Hay Rides
Hours: Monday – Sunday: Always Open
Contact: 207-749-5327
Nearby Attractions: Portland Observatory, Spring Point Ledge Lighthouse
Address: 40 Winn Rd, Cumberland, ME 04021, USA
Read Best Seafood Restaurants In Maine
Find Corn Mazes Near You
Conclusion 
The Corn Mazes in Maine offer a thrilling experience for visitors and their families. After the completion of the corn field, several delicious foods and drinks are given on the farms. The corn mazes in Monroe, Jefferson, Farmington, York, and Somerville also have livestock, poultry, pigs, and lambs.
Maine Articles:-