15 Best Bagel Shops in Maine 2023
The Bagel Shops in Maine provide delicious bagels along with refreshing beverages. It may be a breakfast or lunch; these shops have enormous menu varieties. There is a need for catering and food service for a party or business meeting.
The Bagel shops in Bangor, Portland, Augusta, Biddeford, and Yarmouth of Maine meet it out with dedicated staff and peculiar menus. Take-in and delivery options are available in these bagel shops.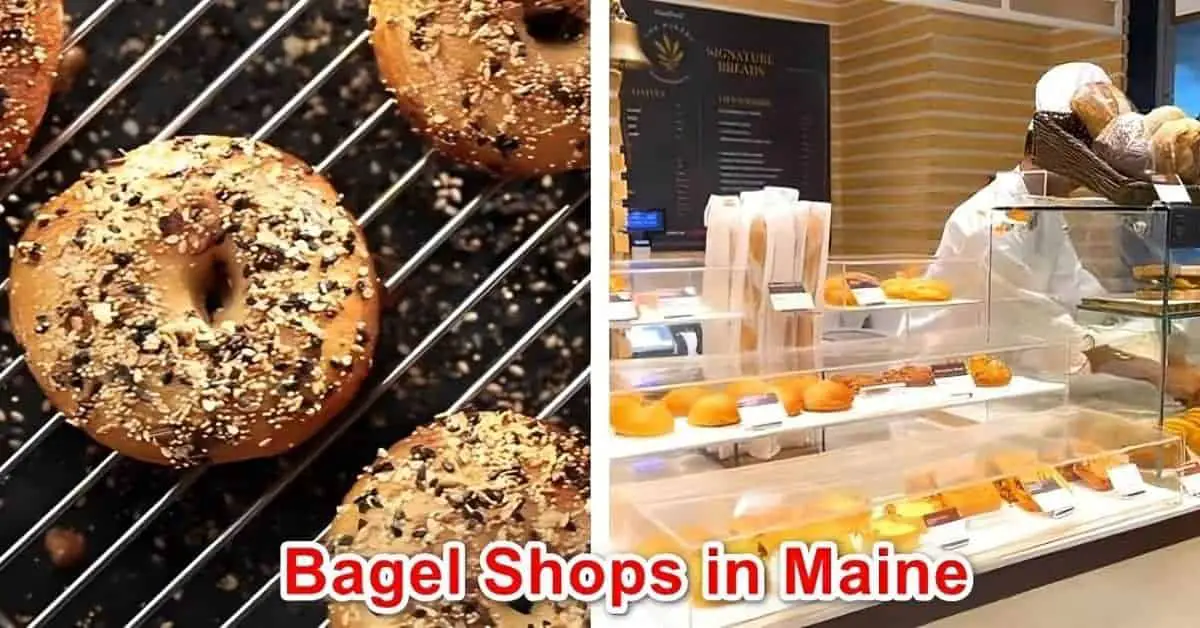 List of 15 Top Rated Bagel Shops in Maine
1. Bagel Central – Bangor, Maine
Bagel Central offers a variety of bagels made of marbled rye, apple-cinnamon, blueberry, etc. Bread of seven-grain, plain challah, buckwheat, and bialys has a pleasing aroma and taste. Snacks like sandwiches, pastries, salads, and breakfast and lunch needs are met. Online food ordering and delivery are available. 
Beverages like coffee, tea, and rickeys are served hot and chill. A dining area with catering service is provided for family gatherings, business luncheons, or special parties. The central meeting house is rentable for seven days for $20 per hour, and catering service is applicable. They also have gluten-free bagels and bread.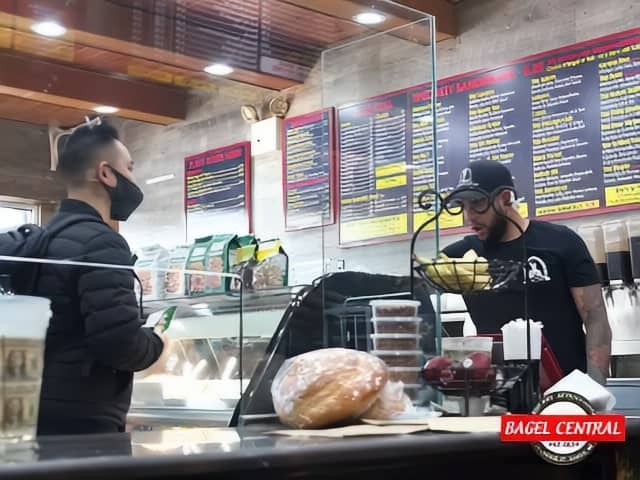 Hours: Monday – Friday: 6 AM – 6 PM, Saturday & Sunday: 6 AM – 2 PM
Contact: 207-947-1654
Nearby Attractions: Cascade Park, Bangor City Forest
Address: Bagel Central 33 Central Street, Bangor, ME 04401
Read Best Beauty Supply Stores in Maine
2. Scratch Baking Co – South Portland, Maine
Allison and Sonja opened One Fifty Ate in June 2004 at Willard Square, later changed the name to Scratch Baking Co. in December 2006. Then, Allison, Sonja, and Bob moved their unit to South Portland in 2015 exclusively for bread and bagels. Patti Smith was the wrangler. Separate bagel baking classes are conducted.
Different cake varieties are available for order at least 48 hours in advance and finished earlier on the weekends. Bread is leavened with natural yeast Lulu, and a special day menu is available.
Special gift cards are available online for purchase. They have special sandwiches, pastries, salads, and a coffee bar. Groceries like smoked salmon, eggs, bacon, and roasted coffee beans are sold. It's one of the best bagel stores in Portland, Maine.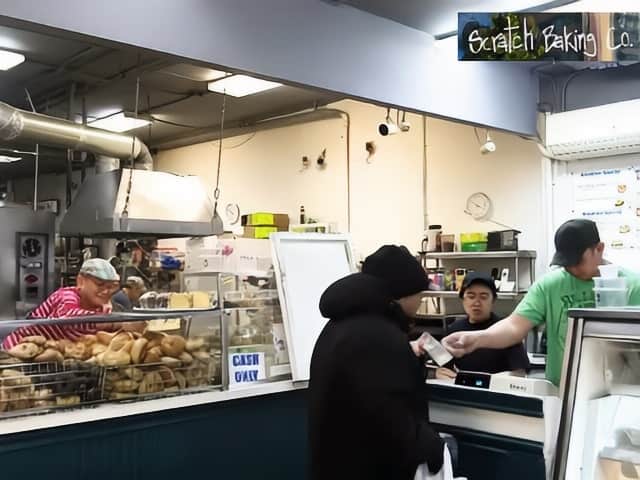 Hours: Wednesday – Saturday: 7 AM – 1 PM, Sunday – 7 AM – 12 PM, Monday & Tuesday: Closed
Contact: 207-799-0668
Nearby Attractions: Liberty Ship Memorial, Bug Light
Address: 416 Preble Street, South Portland, Maine 04106   
Read Best Tattoo Parlors in Maine, USA
3. Beach Bagels – Old Orchard Beach, Maine
Beach Bagels offers a delicious variety of dishes to its customers. Bagels made with whole wheat, poppy seed, cinnamon raisin, asiago cheese, and some incredible toppings are available.
Breakfast includes pancakes, French toast, Belgian waffles, and an omelet. Pastries made of coffee cake and jumbo muffins are supplied. Tasty salads, along with grilled chicken, are exceptional. 
There is a separate menu for kids, like chicken fingers & fries and peanut butter and jelly sandwiches. Mozzarella sticks, French fries, chicken tenders, Coffee varieties, burger varieties, and smoothies can fill a hungry stomach.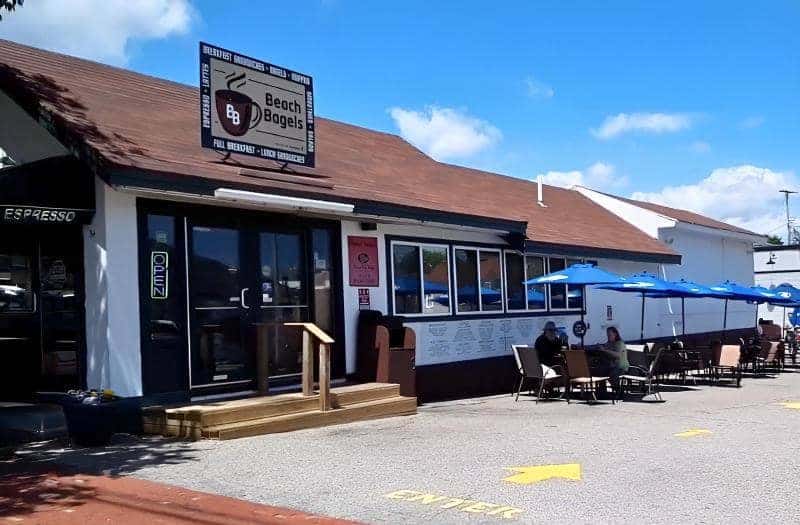 Hours: Monday -Sunday: 7 AM – 3 PM
Contact: 207-934-6235
Nearby Attractions: Palace Playland, Funtown Splashtown USA
Address: 34A Old Orchard Street, Old Orchard Beach, ME 04064
Read Best Piercing Places in Maine United States
4. Bagel Mainea – Augusta, Maine
Bagel Mainea is voted one of Augusta's best bagel places and the top ten shops. It has been running in New England for 17 years. They make New York-style bagels fresh daily with their crisp. Delicious salads, sandwiches, boar's head meats, and Taylor's pork roll are also made here.
There is an elegant retro sun room with a stove, creating a good vibe. Exceptional Carrabasset coffee, along with omelets and wraps, is served. Online ordering and email facilities are available. Cool merchandise like cotton T-shirts, insulated cups, ceramic mugs, beanies, and hats are provided.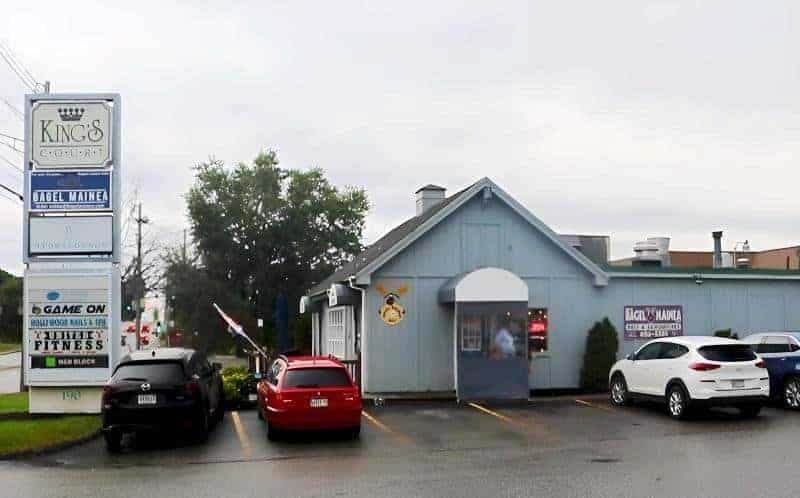 Hours: Wednesday – Sunday: 7 AM – 2 PM, Monday & Tuesday: Closed 
Contact: 207- 626-5581
Nearby Attractions: Capitol Park, Vaughan Woods 
Address: 190 Western Ave. Augusta, ME 04330
5. Forage Market – Lewiston, Portland, ME
Forage Market specializes in making delicious bagels, leavened with wild yeast and baked in a unique woodfired oven. They have partnered with several farmers for their inputs around Portland, Westbrook, and green wood. Cafe bagels with cream cheese, breakfast bagels, and many different varieties for lunch are served.
An online portal for ordering food and delivery is also available. Cafe drinks such as hot and cold, pastry varieties, chill sodas, and smoothies are there to quench the thirst. Valuable gift cards are also there for purchase. Allen Smith is the owner and has been interested in baking and hearth bread for over 20 years.
Hours: Lewiston: Monday – Sunday: 8 AM – 1 PM  Portland: Monday – Friday: 7 AM – 1 PM, Saturday& Sunday: 8 AM – 1 PM.
Contact: Lewiston – 207 333 6840, Portland – 207 274 6800
Nearby Attractions: Lewiston: Beaver Park, Doubling Point Lighthouse Portland: Bug Light, Fort Allen Park
Address: Lewiston – 180 Lisbon Street, Lewiston, Maine 04240, Portland, and 123 Washington Ave, Portland, Maine 04101
Read Best Places for Bubble Tea in Maine
6. Rose Foods – Portland, ME
Chad Conley and his wife Rachel opened Rose Foods in Portland on 30th July 2017. It is a family-owned bakery and restaurant. Chad envisioned this shop after visiting Toronto's Schmaltz Appetizing in 2015. Mr. Chad developed the bagel recipe with his taste and skills. They also develop a love for making Jewish foods.
They donate a minimum of 1% of sales to charity. Their bagels are wholesaled to retailers across the locations. A variety of bagels, sandwiches, fish, and beverages are served. Each day, a special menu like a beef hot dog in pastry on Sundays with an endless platter.
Online ordering through credit cards and gift cards is available before 48 hours. Sweet merchandise is available for sale online.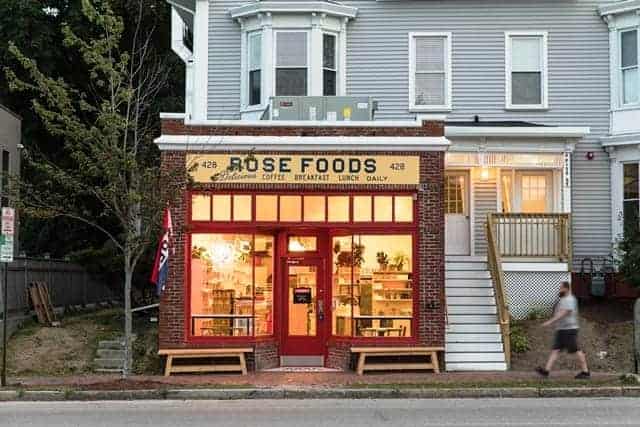 Hours: Monday – Sunday: 7 AM – 2 PM
Contact: 207-835-0991
Nearby Attractions: Portland Head Light, Fort Allen Park
Address: 428 Forest Ave. Portland, ME. 04101
7. Maples – Yarmouth, Maine
Maples offers homemade foods and super-taste beverages. They make various yeast products like bagels, country loaves, baguettes, brioche, and yeast rolls. A new branch of them is soon to be opened at New Gloucester. Some famous bread varieties are bagels with sesame and Montreal spice, English muffins, and sourdough bread.
Cream Cheese, butter, sandwiches, and fancy toast are delicious stuff with bread. Scones, pretzels, cinnamon rolls, crumb cakes, and pumpkin bread are famous baked foods. Coffee varieties include coffee, espresso, Americana, cappuccino, and macchiato, served hot and chill. Peach iced tea and black iced tea come from the tea refreshments.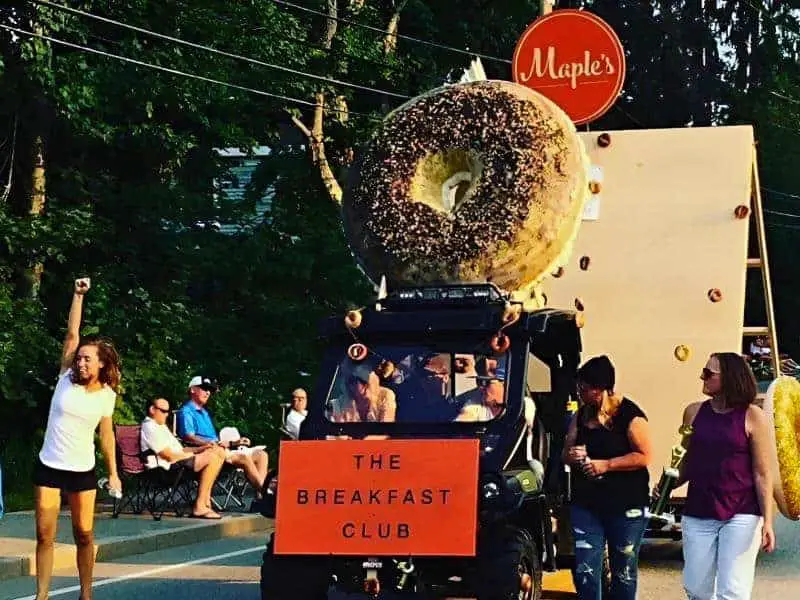 Hours: Tuesday – Friday: 7 AM – 2.30 PM, Saturday: 8 AM – 12 PM. Sunday & Monday: Closed
Nearby Attractions: Maine Audobon, Royal River Park
Address: Yarmouth: 881 US Route 1 Yarmouth, ME 04096, New Gloucester: 1055 Lewiston RD, New Gloucester, ME 04260
Read Best Dog-Friendly Beaches in Maine
8. Mister Bagel Mall – South Portland, ME
Mister Bagel Mall offers a variety of dishes for breakfast and lunch. For breakfast, bagels made of wheat, Cinnamon raisin, tomato basil, or gluten-free with sesame, low-fat cream cheese, and sandwiches. Bread, roll-ups, and condiments are available for a good lunch. Online order facilities are available.
Special sandwiches include Turkey Club, Reuben, and Tuna melt. Catering is done for a party or a business meeting, covering breakfast and lunch needs. Breakfast catering is done with delicious bagel platters and breakfast platters. Sandwich and deli platters, bag lunches, and salads are there for the best lunch catering.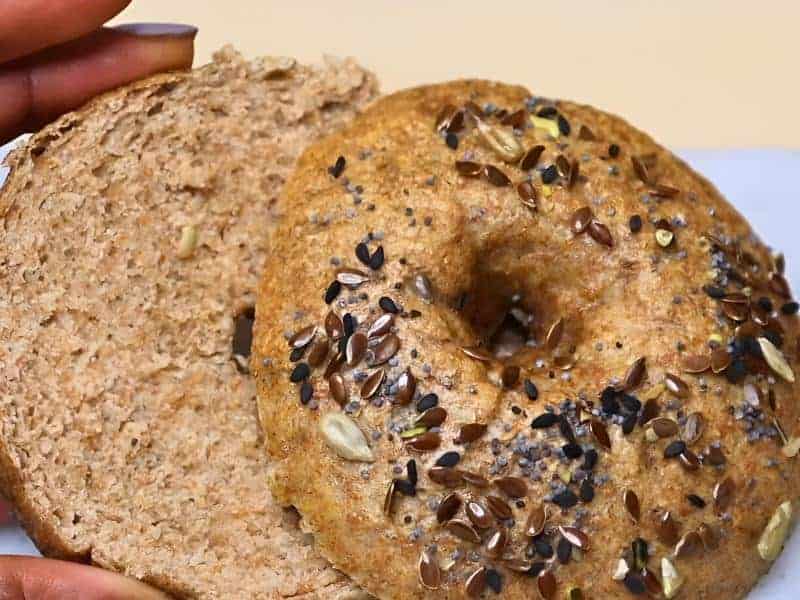 Hours: Tuesday – Friday: 6.30 AM – 2 PM, Saturday: 7 AM – 2 PM, Sunday: 8 AM – 2 PM, Monday: Closed
Contact: 207- 773-3238
Nearby Attractions: Bug Light, Maine Narrow Gauge Railroad
Address: 220 Maine Mall Rd, South Portland, ME 04106
Read Best Record Stores In Maine
9. Bernie's Foreside / Mister Bagel – Falmouth, ME
Bernie is the grandfather of Adam Shapiro, the owner of Bernie's Foreside. Bagels are made from Asiago and whole wheat with various ingredients and served with yummy toppings. Eggs, scrambles, pancakes, and yogurt delight are there for breakfast. Sandwiches, wraps, fries, salads, burgers, and seafood meet the lunch needs. 
The popular beverage bottomless cup of coffee is available and a must-tasting. A separate kid's menu with pancakes, oatmeal, hot dog, and chicken tenders are provided. Takeout facilities are available.
Catering service is available for any business meet or parties. The menu is customizable based on client needs. A cocktail party or buffet system with multiple foodies is also organized.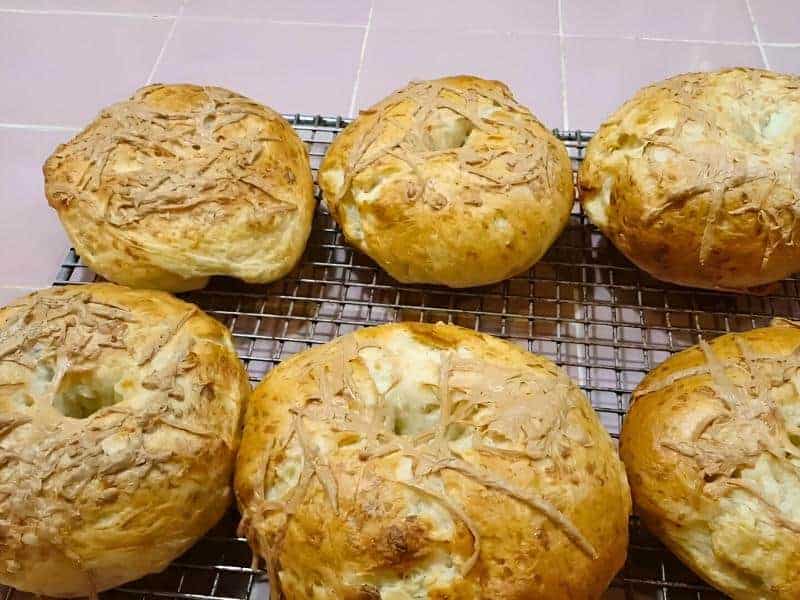 Hours: Monday – Friday: 7 AM – 2 PM, Saturday & Sunday: 7 AM – 12 PM (only breakfast), Monday Holidays with only breakfast: 7 AM – 1 PM. 
Contact: 207-781-7817
Nearby Attractions: Fort Allen Park, International Cryptozoology Museum
Address: 204 U. S. Route One, Falmouth, ME 04105
Read How Much Is Dinner At The Lost Kitchen
10. Bagel Caboose – Kittery, Maine
Bagel Caboose started as a train caboose and has served mainly the seacoast for over 20 years. Locals and visitors can have a good breakfast here with all comfort. There is a patio to relax and have food. Takeout facilities are available. Overall, the top is designed like a toy train, giving an excellent experience.
Bagels are made with Asiago cheese, Cinnamon raisins, multigrain, etc. Crispy sandwiches and homemade spreads like Cream cheese and Tofu. Energy drinks, along with chill smoothies, are served on their menu.
Coffee (ice and hot) is famous here with locally roasted arabica beans, and varieties include brewing with breakfast blend, French toast, Hazelnut, and French Vanilla.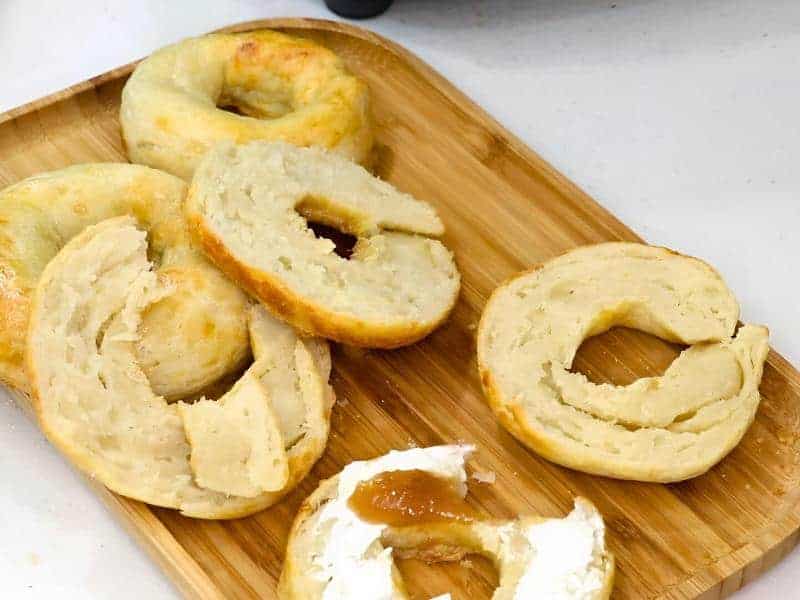 Hours: Monday – Friday: 6 AM – 1 PM, Saturday – Sunday: 7 AM – 1 PM
Contact: 207-439-5039
Nearby Attractions:  Prescott Park, Seacoast Science Center
Address: 176 State Road, Kittery, ME 03904
Read Best Indian Restaurants in Maine
11. The Maine Bagel – Scarborough, ME
John Lancaster and his two sons, Matthew and Nick, have run The Maine Bagel shop for 12 years. Matthew tried hard to bring John back to the bagel business by 2006. Nick's work had turned the shop modernized into super facilities. All supplies are unfrozen. A recycling program happens where leftover bagels are donated to food banks, local farmers or composted. 
Bagels from blueberry to bialy spread from veggie tofu to jalapeno and pastries from pistachio to cranberry are served delightfully. Lunch varieties like roast beef, and turkey gobbler are available.
Local coffee of Wicked Joe, along with Pastries, is served. Catering service for any special parties or meetings is rendered with on-time delivery.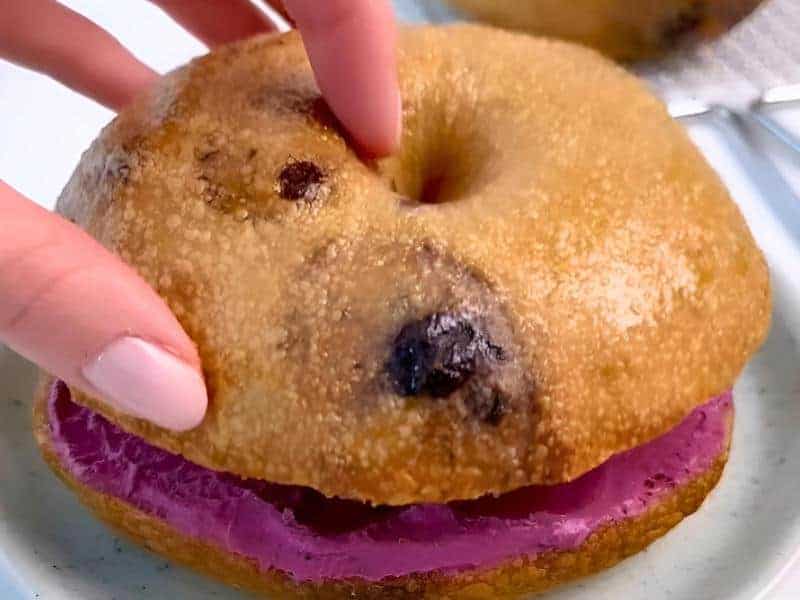 Hours: Tuesday – Friday: 6.30 AM – 2 PM, Saturday: 7 AM – 1 PM, Sunday & Monday: Closed
Contact: 207-883-0070
Nearby Attractions: Children's Museum and Theatre of Maine, Scarborough Marsh Audubon Center.
Address: 172 US Route 1, Scarborough, ME 04074
Read Best Health Food Stores in Maine [Natural & Organic]
12. Bagel Basket – York, Maine
Bagel Basket has provided a wide range of foodies and bagels since 1994. They have been selling 18 varieties of bagels along with delicious spreads. There are breakfast and lunch sandwiches along with pastries and goodies. Beverages ranging from coffee and tea are served hot and cold. Flavor shots are available to mix with any drinks.
Special menu available for wraps platter bought with free chips. In addition to the cafe, they have seasonal seating with Adirondack chairs. They do breakfast and lunch catering for any parties or business luncheons full-time and drop-offs. Online ordering and take-in facilities are available.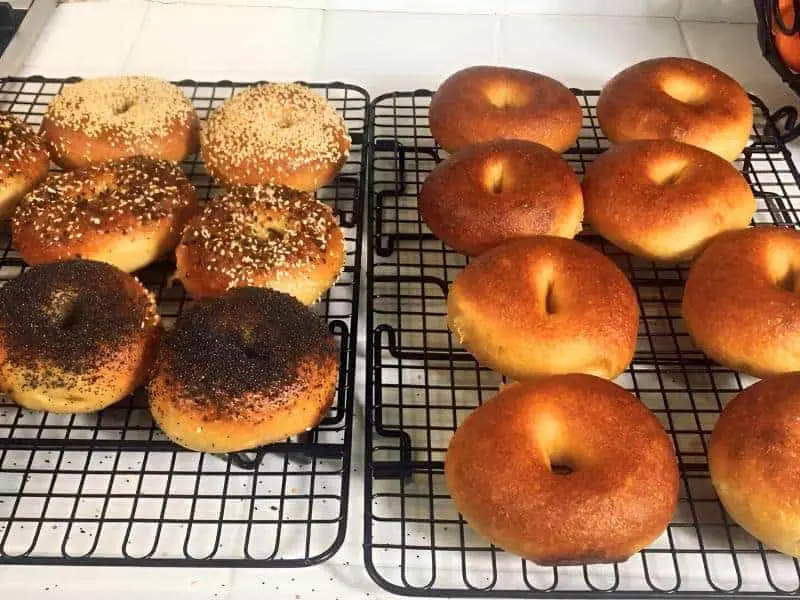 Hours: Monday – Saturday: 6.30 AM – 1.30 PM, Sunday: 6.30 AM – 1 PM
Contact: 207-363-1244
Nearby Attractions: Nubble Lighthouse, Wiggly Bridge
Address: Bagel Basket 280 York Street York, ME 03909 
Read Best Skate Parks In Maine
13. Rover Bagel – Biddeford, ME
Rover Bagel has walk-up window facilities and welcomes prefer online ordering. The ordering slot starts from 5 AM daily until the open hours. Customers can choose their convenient time for pick up. They are famous for their woodfired bagels and homemade spreads. 
Bagel sandwiches include classic, spicy salmon, and veggie specials. Foods like single and dozen bagels, kolache, chocolate chip cookies, labne parfait, and banana chocolate chip bread are available in this local bagel shop. Hot and cold drink variations to chill our appetite are also present.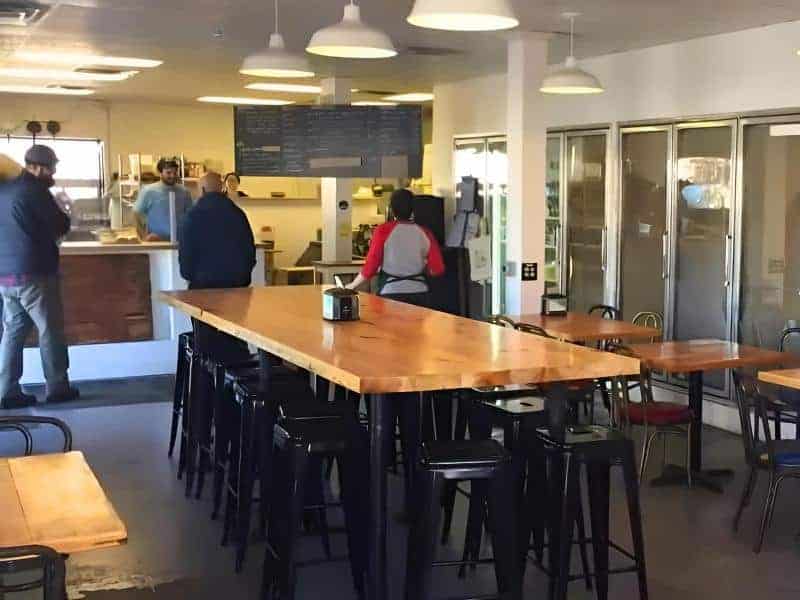 Hours: Wednesday – Friday: 7 AM – 1 PM, Saturday: 8 AM – 1 PM, Sunday: 8 AM – 12 PM
Contact: 207- 710-6248
Nearby Attractions: Saco Museum, Palace Playland
Address: 10 W Point Ln. STE 10-204, Biddeford, ME 04005
Read Best Art and Craft Supply Stores in Maine
14. Bohemian Coffee House & Deli -Brunswick, ME
Bohemian Coffee House & Deli started in 1993 as a small coffee shop serving for 30 years. It has won an award in Brunswick. The breakfast menu is clubbed with Brooklyn bagels, English muffins, thick-cut toast, sandwiches, coffee & espresso, and smoothies. Deli & special sandwiches, soups, and salads make up the lunch varieties. 
They help people to make their dishes at home. Special gift certificates are available for purchase online. Their small team has been voted the best waitstaff in mid-coast Maine for four consecutive years. Food order is available via phone for the take-in facility.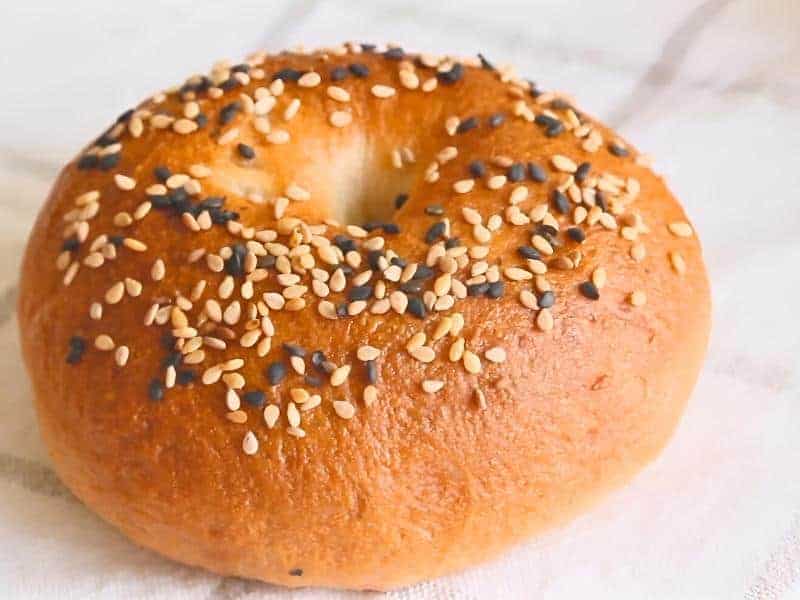 Hours: Monday – Saturday: 7 AM – 3 PM, Sunday: 8 AM – 2 PM
Contact: 207- 725-9095
Nearby Attractions: Bowdoin College Museum Of Art, The Rumpus Room
Address: 4 Railroad Avenue, Brunswick, ME 04011
Read Best Seafood Restaurants In Maine
15. Sunrise Bagel – Waterville, Maine
Sunrise Bagel excels in providing fresh and healthy bagels. They make bagels with unbromated wheat, barley flour, malt, and kosher salt. Fermentation is done with the sourdough starter for over 50 hours to make it soft and sweet.
A huge parking lot is available, and big picnic tables are on the lawn. Catering menu varieties and hot Carrabasset coffee are available for special gatherings or parties.
The menu contains bagel varieties, delicious spreads, sandwiches, and special bagels on each day of the week. Croissant on Friday to Sunday is special. Drinks like pure-leaf tea & kevita and assorted chips suit an excellent snack menu. Special discount on bagels at 10% for greater than 12. A dozen cost $21.60. Two-day advanced order has to be given for more than three dozen bagels.  
Hours: Monday – Friday: 7 AM – 1 PM, Saturday & Sunday: 8 AM – 1 PM
Contact: 207- 616-0876
Nearby Attractions: Colby College Museum of Art, Children's Discovery Museum
Address: 31 Water Street Waterville, ME 04901
Read Best Places for a Bloody Mary in Maine
Find Bagel Shops Near You
Conclusion
We feel happy and excited to spend quality time with our family having some incredible foods and varieties. A shop or restaurant with multiple dishes and features will give a paradise feel.
The Bagel Shops in Maine make fresh bagels with unique ingredients and other dishes. Many other Bagel Shops in Waterville, Kittery, and Scarborough have excellent cuisines and a soothing atmosphere for dining.  
USA Maine State Articles:-
Email Us to Enlist Your Business Here.