15 Best Shopping Malls and Outlets in Rhode Island 2023
The Shopping Malls and Outlets in Rhode Island have numerous renowned branded shops for people to browse for trending outfits. The Restaurants and bars here offer peaceful dining with a diverse menu. 
Rhode Island Convention Center, Omni Providence, and Providence Place Mall offer visitors over 200 shopping, dining, and entertainment options.
Many such malls in Providence, Cranston, Smithfield, and Warwick have stores offering attractive deals on apparel and merchandise. Businesses display their products in these premium outlets at reasonable prices.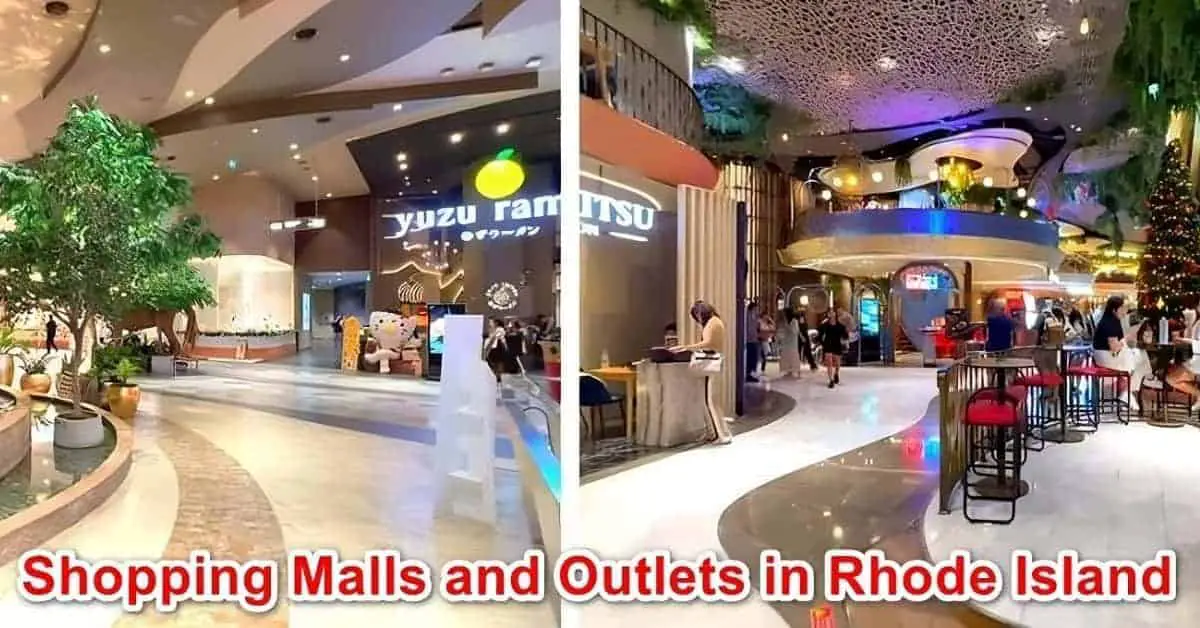 List of 15 Best Outlets and Shopping Malls of Rhode Island
1. Providence Place Mall – Rhode Island
Providence Palace is one of the best shopping stores to enjoy and do joyful shopping. Many accessories, clothing, and groceries shops are here. Top brands like 401 Fashion, Abercrombie & Fitch, Aerie, and Aeropostale are housed here to provide a delightful shopping experience. 
P.F. Chang's, The Cheesecake Factory, and Dave & Buster's provide excellent meals. Naughty Waffles and Charley's Philly Steaks are good spots for a quick snack break. Relaxing beverages and drinks are affordable at Vivi Bubble Tea and Starbucks Coffee. 
Fun events happen for customers' happiness and entertainment. Top trending movies are screened where people can come with their families for recreation. Different shops are also available for haircuts and personal care. Businesses can take leases in the mall for their display.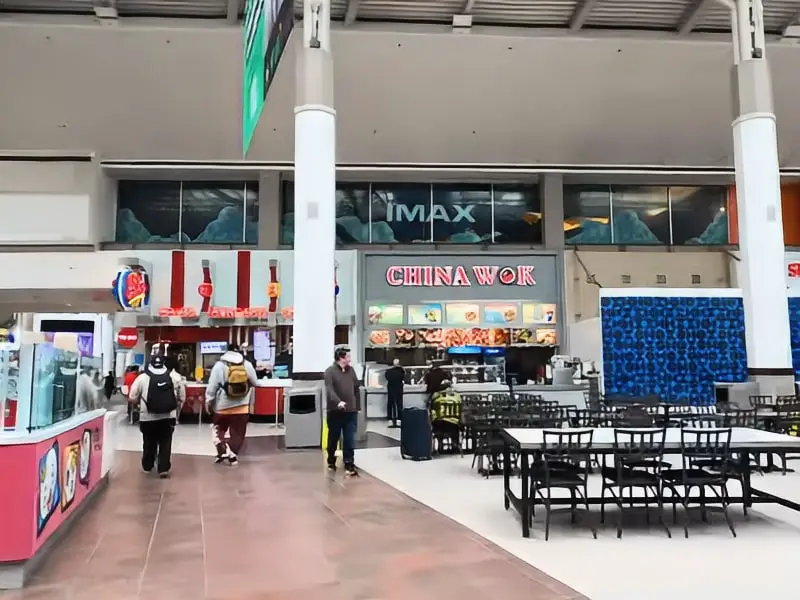 Hours: Sunday: 11 AM – 6 PM, Monday – Thursday: 11 AM – 8 PM, Friday & Saturday: 10 AM – 9 PM
Contact: 401-270-1012
Nearby Attractions: RISD Museum, Waterplace Park. 
Address: One Providence Place Providence, RI 02903
Read Best Buffets In Rhode Island
2. Warwick Mall – RI, United States
Warwick Mall is a must-go spot for excellent, family-friendly shopping and has been running for over 50 years. Top-pitch branded merchandise is available at great deals in Aeropostale, American Eagle Outfitters, Claire's, and Custom T-Shirts. 
Delicious food spots include Auntie Anne's, Buffalo Wild Wings, Panda Express, and crispy pizza at Pizza Bella. Great drinks are available in Cork N' Rye and Red Robin. Fun events like photos with the Easter bunny and music shows are hosted. Event booking is accessible online. 
A walking area is provided in the mall for comfort, and a lullaby lounge with comfy chairs & soft lighting is there for nursing babies. Thrilling and entertaining movies are screened in Apple cinemas with laser projectors and Dolby 7.1 sound systems.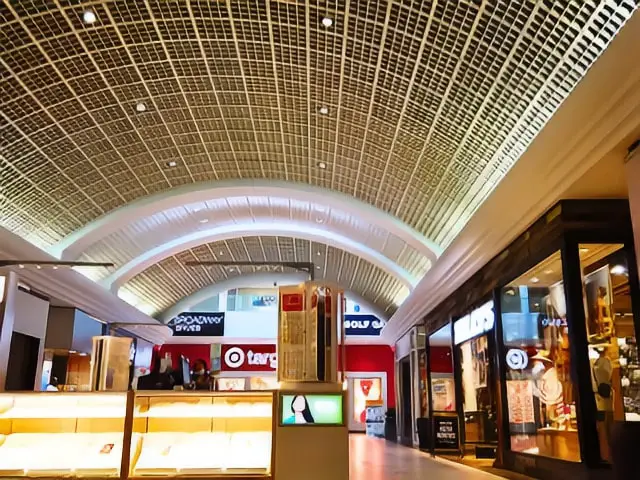 Hours: Monday – Thursday: 10 AM – 8 PM, Friday & Saturday: 10 AM – 9 PM, Sunday: 11 AM – 6 PM
Contact: 401- 739-7500
Nearby Attractions: Clouds Hill Museum, Rocky Point State Park
Address: 400 Bald Hill Road Warwick, RI 02886 
Read Best Tattoo Parlors in Rhode Island
3. Garden City Center- Cranston, Rhode Island
Garden City Center has been serving the locals of New England for over 70 years. It is known for its landscaping and green atmosphere. Stores began to emerge in the 1950s, and as time progressed, more diverse facilities were added, attracting more visitors. The pavilion has featured special summer concerts and food spots since the 1980s.
Trending fashion merchandise is sold in Anthropologie, Aerie, Athleta, Banana Republic, and Old Navy. Anthony's Coal Fired Pizza, Asia Grille, and Legal Sea Foods are popular spots for a good appetite in this shopping complex. Starbucks and Tropical Smoothie Cafe are the points for refreshing drinks and beverages.
Bath & Body Works, European Wax Center, and L.A. Fitness provide good fitness and health training. Pet Supplies Plus has essential pet products. The Little Free Library allows you to borrow and read your favorite books. Dog-friendly shopping is common here. Charging for electric vehicles is available in the parking lot. 
Hours: Monday – Saturday: 10 AM – 8 PM, Sunday: 11 AM – 6 PM
Contact: 401-942-2800
Nearby Attractions: RISD Museum, Waterplace Park
Address: 100 Midway Road, Suite 14, Cranston, RI 02920
Read Best Dance Clubs and Venues in Rhode Island
4. Lincoln Commons – RI
Acadia Realty Trust owns Lincoln Commons, serving as a spot for daily shopping needs for the locals. It covers a wide area of about 578790 with many retails. The Cinema World movie theater screens the latest blockbuster movies for visitors to jam and enjoy.
Major stores from Target, Stop & Shop, and Homegoods Marshalls are here. Five Guys, McDonald's, Chili's, Starbucks, and Chipotle treat customers with their unique style of dishes. The laser tag and bowling alley are places for unlimited entertainment.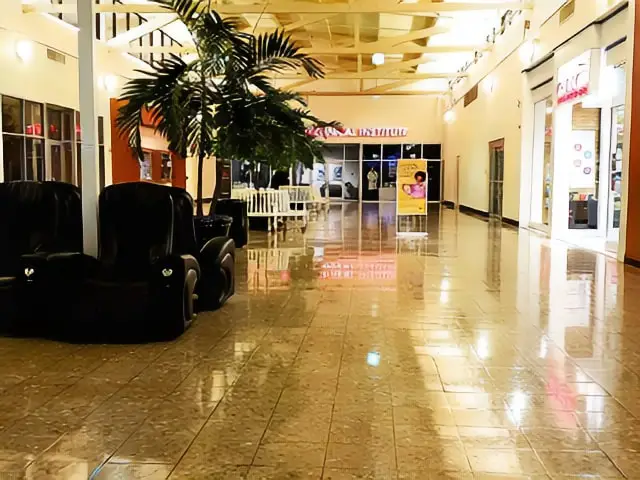 Hours: Monday – Sunday: 9 AM – 9 PM
Contact: 914-288-3311
Nearby Attractions: Waterplace Park, Escape Room Rhode Island
Address:  622 George Washington Hwy, Lincoln, RI 02865
Read Best Furniture Stores In Rhode Island
5. Midland Commons – Warwick, Rhode Island
Midland Commons was founded in October 1967 and is owned by Acadia Realty Trust. The mall has an area of 225000 square feet encompassing many famous branded shops. Premium fashion outlets like Walmart, Kohl's, Burlington Coat Factory, and At Home are found here. 
Dicks Sporting Goods has a wide range of sports accessories for all groups. Chuck E. Cheese, Wendy's, and B.J.s Restaurant & Brew House offer customers a great dining experience. Planet Fitness has top-class trainers for providing the best personal fitness training. 
Hours: Monday – Sunday: 9 AM – 9 PM
Contact: 914-288-3330
Nearby Attractions: Roger Williams Park, Museum of Natural History and Planetarium 
Address: 650 Bald Hill Rd Warwick, Rhode Island 02886
Read Breakfast Spots in Rhode Island
6. Chapel View – Cranston, RI
Carpionato Group owns Chapel View and started in 2008. As time progresses, it becomes a spot for people to do comfortable retail and enjoy shopping. The mall has been created with the theme of Live – Work – Play. 
The design of Chapel View is of historical significance in society. Popular retailers like Massage Envy, Petco, Beauty Collective, Cosmo Nails & Hudson Terminal Corp are here. Delicious food items are available in Blaze Pizza, Panera Bread, Cold Stone Creamery, and Chapel Grille. 
Many top businesses also have their units. Condominiums here have modern amenities, giving the best living. Many entertaining events happen for people regarding fitness and super offers on crispy foods. 
Hours: Monday – Thursday: 9 AM – 9 PM, Friday & Saturday: 9 AM – 10 PM, Sunday: 10 AM – 6 PM.
Contact: 401- 942- 0901
Nearby Attractions: Waterplace Park, Roger Williams Park Zoo
Address: Chapel View Boulevard Cranston, RI 02920
Read Best Consignment Shops in Rhode Island
7. The Crossing at Smithfield – RI
Chili's and UNO Chicago Grill provide visitors a pleasant dining experience with various dishes. The 36000 square feet of Dave's Fresh Marketplace is there for household grocery shopping. It provides the most convenient outlet shopping in the area. Many thrilling summer concerts happen at the pavilion for the visitors.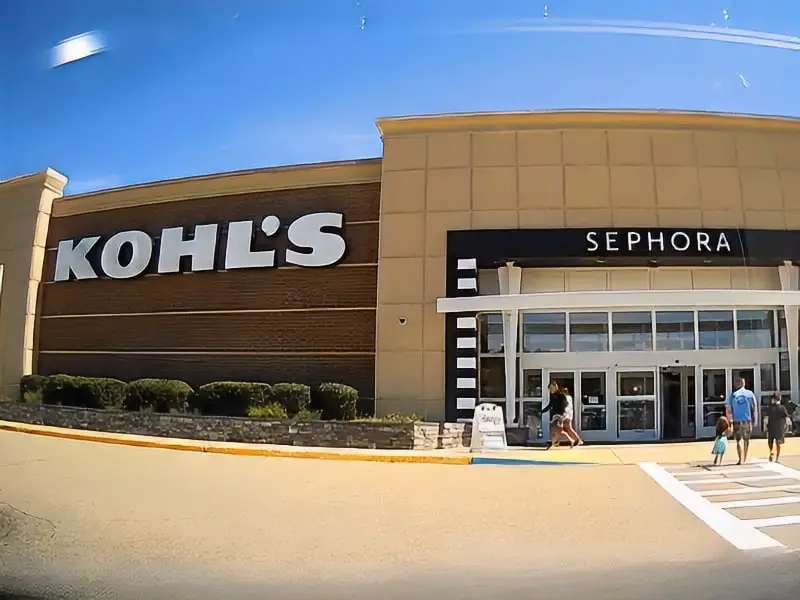 Hours: Monday – Saturday: 9.30 AM – 9 PM, Sunday: 11 AM – 6 PM
Contact: 617-232-8900  
Nearby Attractions: RISD Museum, Providence Children's Museum
Address: 371 Putnam Pike Smithfield, RI 02917
Read Best Spas in Rhode Island
8. Cowesett Corners Shopping Center – Warwick, RI
The CBRE retail properties own the Cowesett Corners Shopping Center in Warwick, spanning 14184 square feet. AC Moore Arts and Crafts, Mattress Firm, Stop and Shop, and New Asia House are good destinations for exciting accessories and merchandise. 
Five Guys, Moe's Southwest Grill, and Applebee's excel in providing mouthwatering cuisines for customers. Petco has essential pet grooming products. The Christmas tree shop is filled with surprising gifts and home groceries to buy. Beauty and personal care products are available in Sally's Beauty Supply. 
Hours: Monday – Sunday: 9 AM – 9 PM
Contact: 401-266-5280
Nearby Attractions: RISD Museum, Museum of Natural History and Planetarium
Address: 300 Quaker Lane, Warwick, RI 02886
Read Best Antique Stores in Rhode Island
9. RK Newport Towne Center – Rhode Island
RK Centers owns the RK Newport Towne Center, and the mall spreads over 275301 square feet. Amazing brands like Walmart, Superstop & Shop, T.J. Max, and Old Navy are found here. There is a nail spa & salon to get trending haircuts and coloring. Here you will get a fantastic shopping experience.
The interior design setup resembled the strip malls of the 80s and 90s. Ninety-nine stores, Starbucks, and liquor stores create fantastic dining with tasty menus and refreshing drinks. Burgers and Fries of Five Guys are a must to feel the crispiness. There is a gas station to fill the required fuel. 
Hours: Monday – Sunday: 9 AM – 10 PM
Contact: 781- 320-0001
Nearby Attractions: Rosecliff, The Breakers
Address: 199 Connell Highway, Newport, RI 02840
Read Best Candy Shops in Rhode Island
10. 1000 Bald Hill- Warwick, RI
Linear retail started the 1000 Ball Hill shopping mall with an area of 73419 square feet. Trader Joe's is a famous tenant here, attracting most customers with its killer collections of groceries and delicious food menu.    
Panera Bread & Smashburger renders a superb menu with a variety of dishes. The Rumford Pet Center and Wild Birds Unlimited contain products for pets and lovely birds. Supercuts and Hera Nail & Spa provide nice, stylish haircuts and grooming. Aspen Dental offers good health services for the local community. 
Hours: Monday – Sunday: 8 AM – 9 PM
Contact:781- 202-3536
Nearby Attractions: Roger Williams Park Zoo, Clouds Hill Museum
Address: 1000 Bald Hill Rd, Warwick, RI 02886
Read Best Pizza Strips in Rhode Island
11. The Wakefield Mall – South Kingstown, RI
The Wakefield Mall opened in 1972 and has been successfully running for over 50 years, housing many eminent shopping points. Island Outfitters, The Paper Store, and Shaw's Supermarket are there to purchase excellent merchandise and required daily groceries. Wakefield Books offers various genre books, and shipping is also available. 
Jennifer's Chocolates, McDonald's, and Panera Bread make different varieties of Cuisines for people. Trending sports goods are available at 2nd Time Around Sports. Planet Fitness and Supercuts render personal training and body grooming services.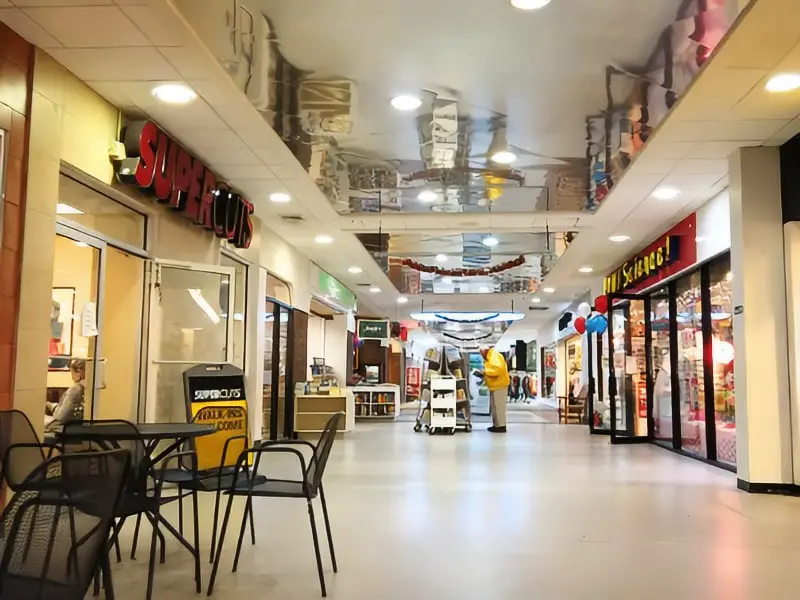 Hours: Monday – Saturday: 10 AM – 7 PM, Sunday: 12 PM – 5 PM
Contact: [email protected]
Nearby Attractions: Prescott Farm, South County Museum
Address: 160 Old Tower Hill Rd, Wakefield, RI, United States, 02879
Read Best Bakeries in Rhode Island
12. Franklin Shopping Plaza – Westerly, RI
Franklin Shopping Plaza consists of numerous shops for buying top-notch branded items. Popular brands such as T J Max, J. C. Penney, Aldi, and Pet Smart run their businesses. Groceries and household items are also affordable here. Great deals are offered here with attractive discounts. 
TJ Max has many items like clothing, jewelry, and nicknacks. Delicious food varieties are available in Burger King, 99 Restaurants, Subwayand Cold Stone Creamery. Fantastic Sam's provides elegant and stylish haircut services. 
Hours: Monday – Saturday: 9.30 AM – 9.30 PM, Sunday: 11 AM – 8 PM
Nearby Attractions: Wilcox Park, Mystic Aquarium 
Address: 100 Franklin St, Westerly, RI 02891
13. Westerly Crossings Shopping Center – RI
Caprionato group established the Westerly Crossings Shopping Center with an area of 151770 square feet. Renowned brands like Home Goods, Staples, Michael's, Stop and Shop, and CVS are on the customer's favorite list. The Seaside Pharmacy offers medicines at good discounts. 
99 Restaurant is a premier spot for peculiar dishes. Cold Stone Ice Cream is good for having various flavors of ice cream. Flavored coffee is available in Starbucks. Trending and modern hairstyles are done with experienced artists. They also run a blood center for social service. 
Hours: Monday – Sunday: open 24 hours a day. 
Contact: 401-273-6800 
Nearby Attractions: The Stonington Lighthouse Museum, Mystic Aquarium. 
Address: 151 Franklin Street Airport Road (Route 78) AND US Route 1 Westerly, RI 02891
14. Barrington Shopping Center – Rhode Island
Paolino Properties constructed the Barrington Shopping Center, spanning 105000 square feet, in the 1960s. The place has become a favorite for people to do happy retail shopping. Bus stops are situated near the center.
Shaw supplies daily grocery needs. Other famous shops include Talbots, The Loft, Staples, and CVS. Hot and Cold beverages are ready to taste in Starbucks. The Barrington Book Store has vast collections of books from different genres. There is also a hair salon for personal grooming and hardware shops for mechanical accessories. 
Hours: Monday – Saturday: 9 AM – 8 PM, Sunday: 11 AM – 5 PM
Contact: 401-274-6611
Nearby Attractions: Waterplace Park, Carousel Village
Address: 184 County Rd, Barrington, RI 02806
15. Long Wharf Mall – Newport, RI
Long Wharf Mall is a premier destination for locals to get daily accessories from top branded shops. Tina Stephens, White House Black Market, and Lululemon display many peculiar outfits and accessories for all ages. Cutie Curls has beautiful craftworks and gifts done by local artists.
Francesca's and Josa Bank have exclusive apparel collections for women and men. The General Store has all the necessary things and groceries for households. Yagi Noodles makes delicious traditional Japanese and Chinese cuisine noodles, and parties happen here with extraordinary foods and cocktails. Summer concerts happen in this mall for people's entertainment.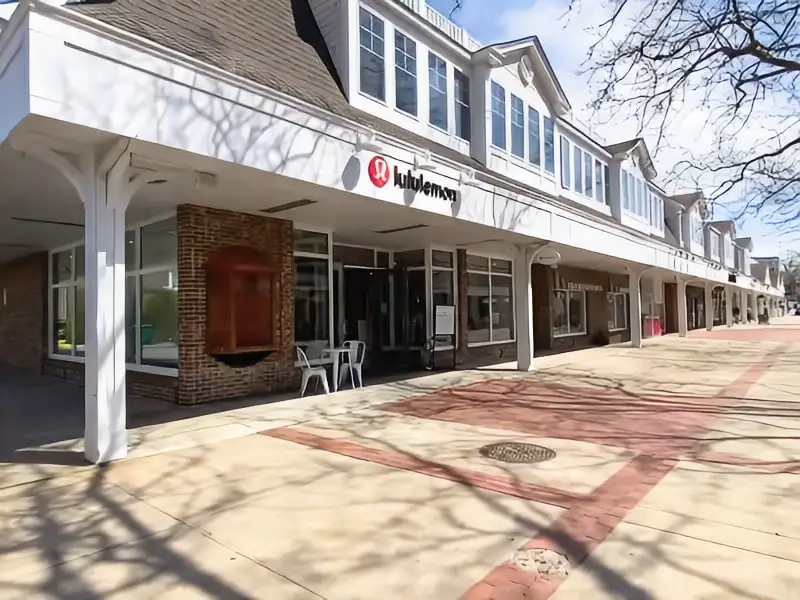 Hours: Monday – Thursday: 6 AM – 3 PM, Friday & Saturday: 6 AM – 6 PM, Sunday: 7 AM – 6 PM
Contact: 401- 619-1555
Nearby Attractions: Rosecliff, Newport Art Museum
Address: Long Wharf Mall North, Newport, RI, United States
Find Outlet Malls Near You
Conclusion 
There are several exceptional amenities and services in these Shopping Malls and Outlets in Rhode Island to protect and offer people a pleasant atmosphere. The Newport, Westerly, Lincoln, and Barrington malls organize special events for people's entertainment and blockbuster discounts on accessories.