14 Best Candy Shops in Massachusetts 2023
The Candy Shops in Massachusetts offer chocolates in different shapes, sizes, textures, and forms. These candy stores make special package box chocolates for holidays, weddings, and birthday parties. 
Many such candy shops in Cambridge, Hyannis, Shrewsbury, Lenox, and Deerfield in Massachusetts offer customers amazing gifts and basket goodies. Most shops provide wholesale services selling cheap and popular chocolate bars, truffles, patties, gummy candies, and bonbons.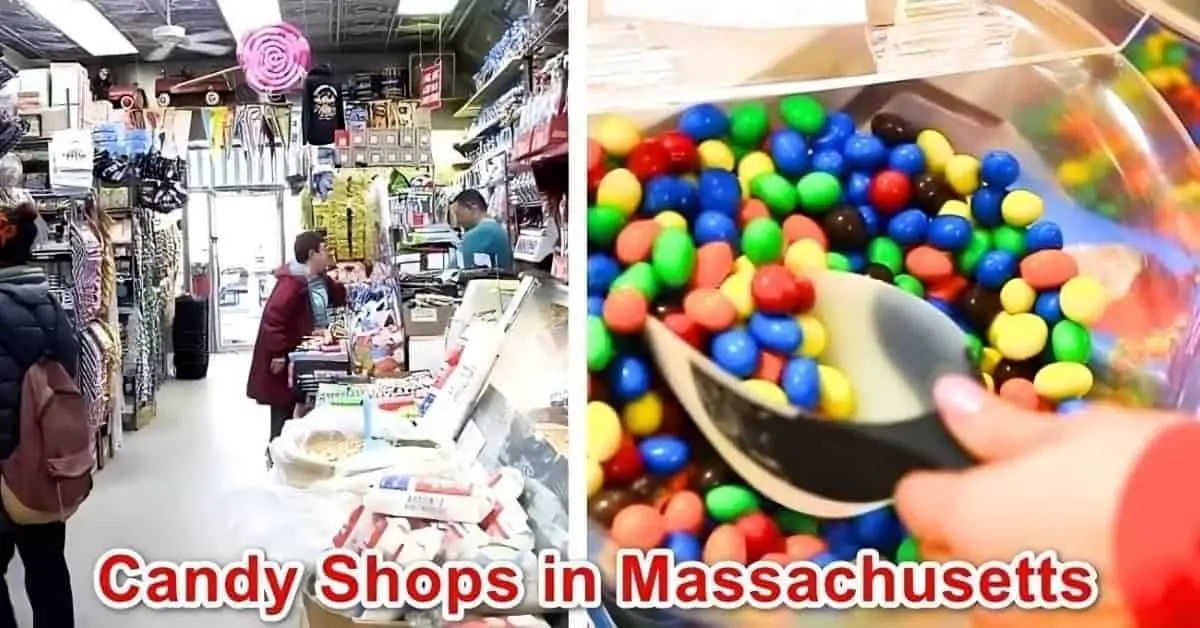 List of 14 Famous Massachusetts Candy Stores
1. L.A. Burdick Handmade Chocolates – Cambridge, MA
Larry Burdick Founded the L.A. Burdick Handmade Chocolates in 1987. Larry highlighted the art of making chocolates from high-quality cocoa beans to Americans. Every candy here is handmade, taking up to three days. At present, Michael Klug has been the head chocolatier since 2002. 
Fresh chocolates are made from natural ingredients like fresh oranges, brewed coffee, and Tahitian Vanilla Beans. The signature Chocolate Mouse is the most wanted candy here. The pastries come with Swiss, Austrian, and French cuisine. The Cafe features superb Burdick blend dark, white, and spicy dark chocolates drinks and beverages.  
Delicious chocolates are made for special occasions such as Christmas, Easter, Halloween, and New Year. Specific orders for any events like weddings and baby showers are also taken.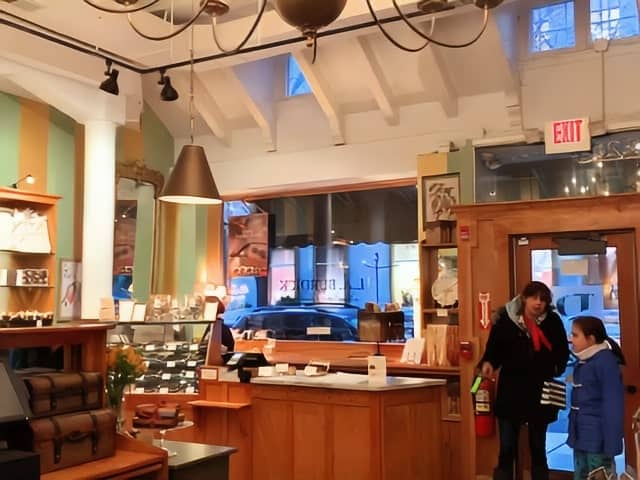 Best Selling Candies: Bonbons, Truffles, Hot Chocolate Mixes, Chocolate – Covered Marzipan
Hours: Monday – Wednesday: 8 AM – 8 PM, Thursday – Sunday: 8 AM – 9 PM
Contact: 617-491-4340
Nearby Attractions: Harvard Square, Boston Common 
Address: 52 Brattle Street, Cambridge, MA
Read Best Spots for Bubble Tea in Massachusetts
2. Kandy Korner – Hyannis, Massachusetts
Kandy Korner makes tasty, peculiar candies for its customers. A 97-year-old model machine wraps the taffy at 150 pieces per minute. The taffies are homemade and in small batches daily to get good taste and flavor. It's one of the best candy stores in Mass.
Candy varieties include Peanut Brittle, Old Fashioned Chocolates, Cranberry Bog Frogs, and Cola Gummies. Delicious fudges, cranberry, and sugar-free chocolates are famous here. Special orders are made for Easter, Halloween, Christmas, and Valentine's Day. Returns and Exchanges are acknowledgeable if done within 30 days from delivery.
Beautiful toys, merchandise, and games are there for kids' entertainment. Stylish hats with attractive designs are sold. The gift shop has Cape Cod Jelly and Jams collections, Inis Fragrances, Summer House Soaps, Jewelry, Puzzles, and Willow Tree.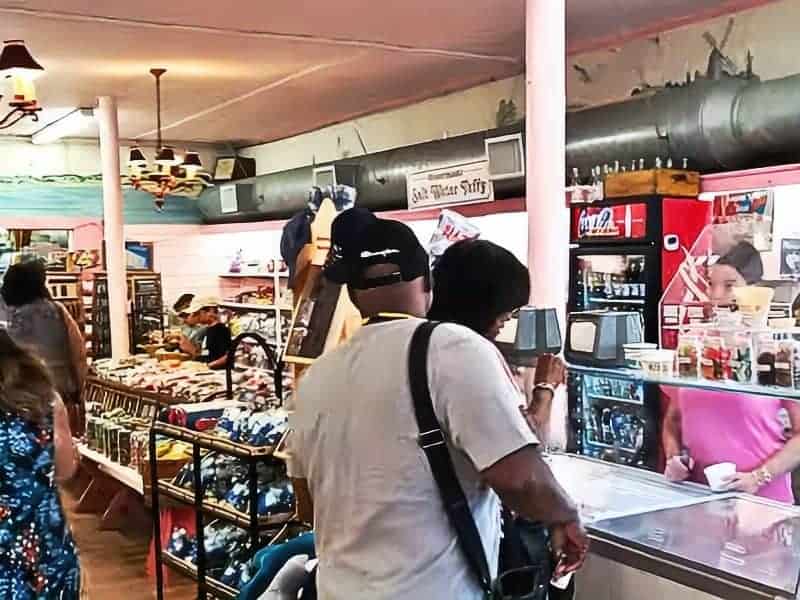 Best Selling Candies: Salt Water Taffy, Penny Candy, Cranberry Taffy, Homemade Fudge, Pretzel Poppers. 
Hours: Tuesday & Wednesday: 10 AM – 5 PM, Monday, Thursday – Sunday: 10 AM – 6 PM
Contact: 5087715313
Nearby Attractions: John F. Kennedy Memorial, Veterans Memorial Park 
Address: 474 Main Street, Hyannis, MA 02601
Read Best Record Stores in Massachusetts
3. Hilliards Chocolates – North Easton, MA
Perley and Jessie Hilliard started the Hilliards Chocolates in 1924 in South Boston. They are operated in 14 locations throughout Great Boston and West Hartford, CT. The North Easton Shop was opened in 1950. 
Wide varieties of candies and chocolates are presented for customers. Homemade chocolates include Milk Chocolate Assortment, Spring Oreos, Craft Beer Caramels, Hot Fudge Sauce, and Pecan Turtles. The seasonal and special occasions menu is filled with Milk Chocolate Bunny, Pecan Caramel Bark, Gummy Bunnies, and Coconut Custard Egg for Easter and other events. 
This Boston candy store takes orders for weddings, birthday parties, baby showers, business meetings, and anniversary favors. Popular Gifts like baskets, towers, and business complements are also available for sale at discounts.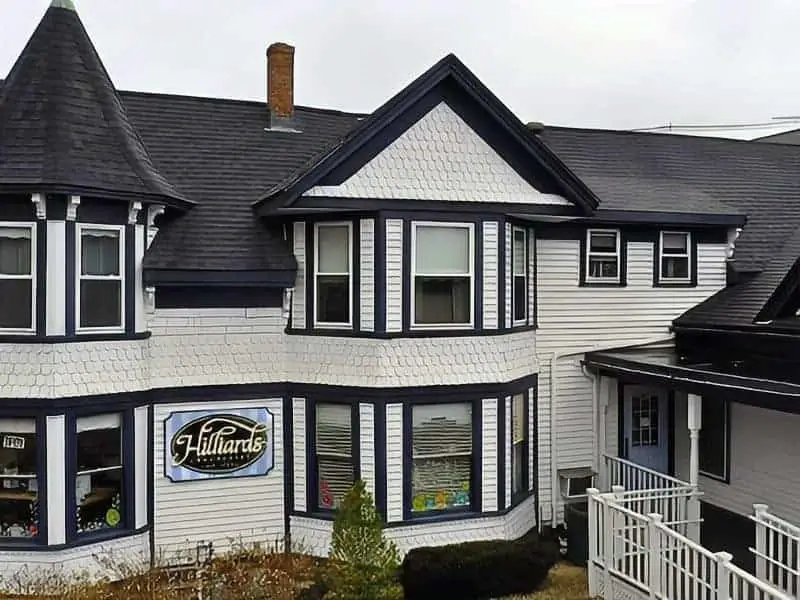 Best Selling Candies: Almond Toffee Crunch, Homemade Bark, Sugar-Free, Chocolate Turtles, and Caramel Apples. 
Hours: Monday – Saturday: 8 AM – 9 PM, Easter Sunday: 8 AM – 4 PM
Contact: 508-238-6231, 1-800-286-8533
Nearby Attractions: Children's Museum in Easton, Borderland State Park
Address: 316 Main St. (Rte. 138) North Easton, MA 02356
Read Best Antique Stores in Massachusetts
4. Hebert Candies & Gifts – Shrewsbury, MA
Herbert Frederick established Hebert Candies & Gifts in Shrewsbury in 1946. His art of handcrafted candies became a favorite and staple for the people of New England. 
Easter specials like Sunday basket collections and goodies are available. Chocolate bars include sea salt caramel milk, peanut buttermilk, Raspberry Burst Dark Chocolate, and Espresso Bean. The Creme collection contains nine flavors, from Milk Chocolate to Milk Mocha. 
Genevas comes in milk, white, Almond, and Dark Chocolate. Classics of Heberts are Tri- colored coffee beans, chocolate-covered blueberries, and Bridge mix. Yummy flavored ice creams are also available. 
Unique events for Easter, students' vacations, celebrating veterans, and special dishes are conducted with crowd encouragement.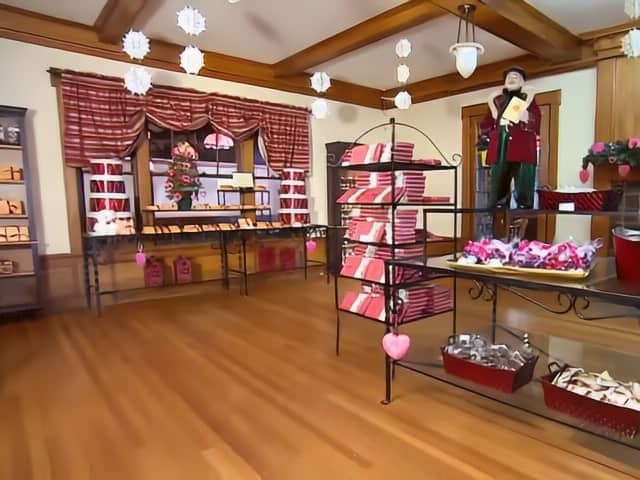 Best Selling Candies: Milk Chocolate, Dark Chocolate, Almond Genevas, Malt Balls, Assorted Chocolate Pretzels.  
Hours: Sunday, Tuesday, and Wednesday: 11 AM – 6 PM. Thursday – Saturday: 11 AM – 7 PM 
Contact: 508-845-0403
Nearby Attractions: EcoTarium, Green Hill Park
Address: 574 Hartford Turnpike, Shrewsbury, MA 01545
Read Best Piercing Places in Massachusetts
5. Chocolate Springs Cafe – Lenox, Massachusetts
Joshua Needleman opened Chocolate Spring Cafe in September 2003. Several magazines, such as SAVEUR, Sante, and Berkshire Living, recognize them. People's favorite items are Velvety Mousse Cakes and hot chocolates. 
Themed chocolate collections have dark, milk, and nutless chocolates. Single unique flavored Rose Tea, Vanilla Cardamom, Champagne Cognac Truffle, and Cocoa Rush. Classic assortments range from four to fifty-four pieces. 
Bar-type candies come in Early Grey Bar, Passion Fruit Bar, Signature Milk Bar, and Love Oil Dark Bar. Special candies include Pretzels, Dark Chocolate, Marshmallows, and Oreo dips. Vegan-type and gluten-free chocolates are also made here. 
The Cafe is a good destination for any music shows and social gatherings. Catering is done with tasty confections, ice cream, and gelato.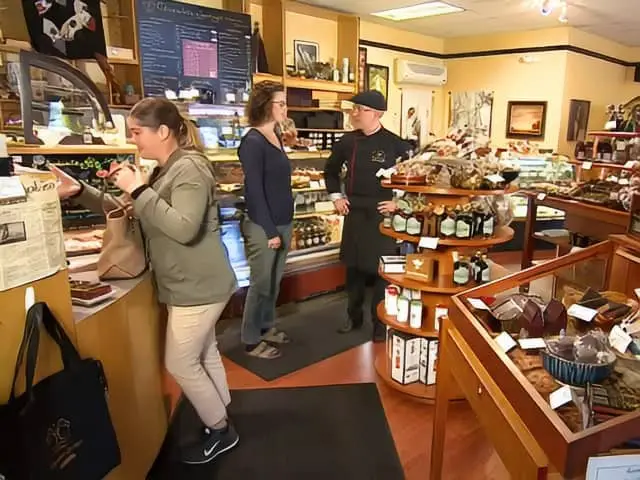 Best Selling Candies: Dark Chocolate Covered Prunes, Pure Venezuela Bar, Solid Easter Bunny, Bear Hug Pop, Large Tablet – White. 
Hours: Monday – Sunday: 9 AM – 7 PM
Contact: 413- 637-9820
Nearby Attractions: Kennedy Park, Berkshire Botanical Garden
Address: 55 Pittsfield Rd Lenox, MA, USA
Read Best Arcades in Massachusetts
6. Richardson's Candy Kitchen – Deerfield, MA
Richardson's Candy Kitchen makes a variety of candies loved by locals and visitors. The case chocolates come in Almond, Cranberry, Acrons, and Caramellows. Old-fashioned penny candies have Black Licorice Sticks, Boston Baked Beans, Candy Pebbles, coffee beans, and Dark Chocolate Panned Almonds. 
Mousse truffles from 5 to 24 pieces, sea salt caramels and seashells, seafish & turtles with 72 % cocoa are available. Good sugar-free dark & white chocolates and nonpareils are offered. 
Heart-shaped and cigar-shaped candies are given a superb touch in this local candy shop. A nine-piece assortments pack is given for special occasions and birthdays.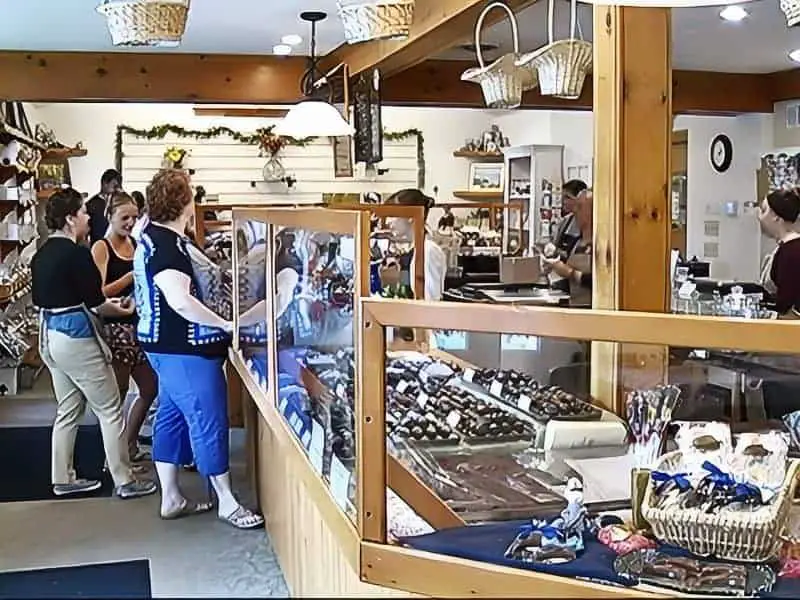 Best Selling Candies: Sea Salt Caramels, Old Fashioned Penny Candy, Truffles, Case Chocolates, and Sugar-Free 
Hours: Monday – Saturday: 9.30 AM – 4.30 PM, Sunday: 11 AM – 4 PM
Contact: 4137720443
Nearby Attractions: Historic Deerfield, Flynt Center of Early New England Life. 
Address: 500 Greenfield Road Route 5 & 10 Deerfield, MA 01342
Read Best Tattoo Shops in Massachusetts
7. Colonial Candies – Bolton, Massachusetts 
Colonial Candies has been a part of the Hebert Family since 1917, and three generations have passed, still establishing its legacy. A wide range of handcrafted chocolates, colorful candies, and gummy candies are made here.
The chocolate-covered Oreo brings magic in taste with a unique difference. Traditional candy collections include Wax Lips, Salt Water Taffy, Buttermint, and Root Beer Barrels. Varieties of ice creams are available at the ice cream bar with excellent toppings, particularly Whipped Cream. 
Tasty fudge is available, and picnic tables are outside for comfortable seating and recreation with family members.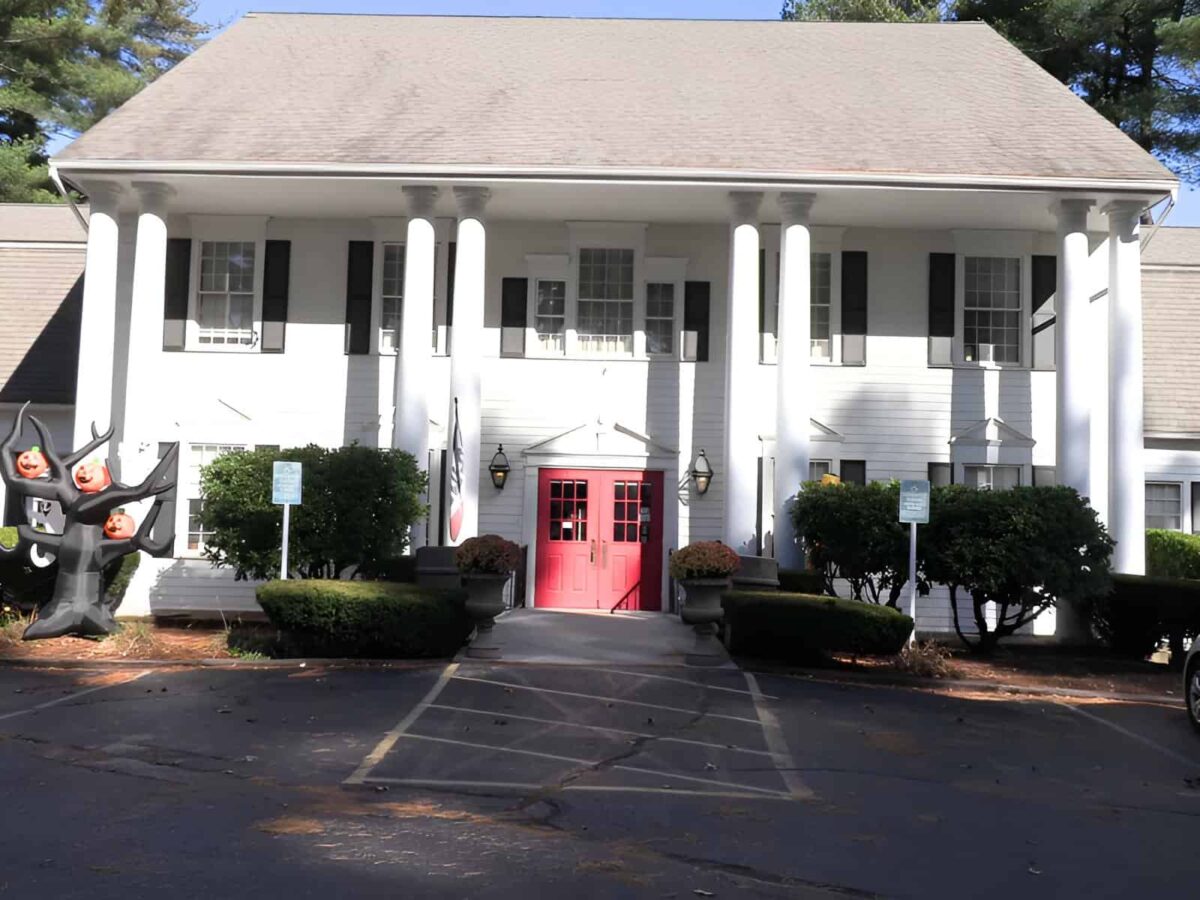 Best Selling Candies: Gummy Candies, Chocolate Covered Oreos, Hard Candies
Hours: Monday – Thursday & Sunday: 10 AM – 6 PM, Friday & Saturday: 10 AM – 7 PM 
Contact: 978- 779-6586
Nearby Attractions: EcoTarium, Fitchburg Art Museum 
Address: 47 Sugar Rd, Bolton, MA 01740
Read Best Furniture Stores in Massachusetts
8. Ye Olde Pepper Companie – Salem, MA 
Ye Olde Pepper Companie has been functioning since 1806 and into the fourth generation. It all started with George Burkinshaw, who learned the art of making candies and continued with his descendants. It's America's oldest candy company. They have another in North Andover, Ma.
Fudge flavors include chocolate walnut, maple walnut, mudslide, and sea salt caramel. English Toffees 8oz, Peppermint patties 8oz, and Fudge squares 8oz are nice to taste. Chocolate variations include covered crackers, Hawthorne Assortments, truffles, and sugar-free chocolates. 
Delicious taffies come in Cranberry and Blueberry flavors. Watermelon, Malted Milk Balls, and Cinnamon Licorice are good summer packages.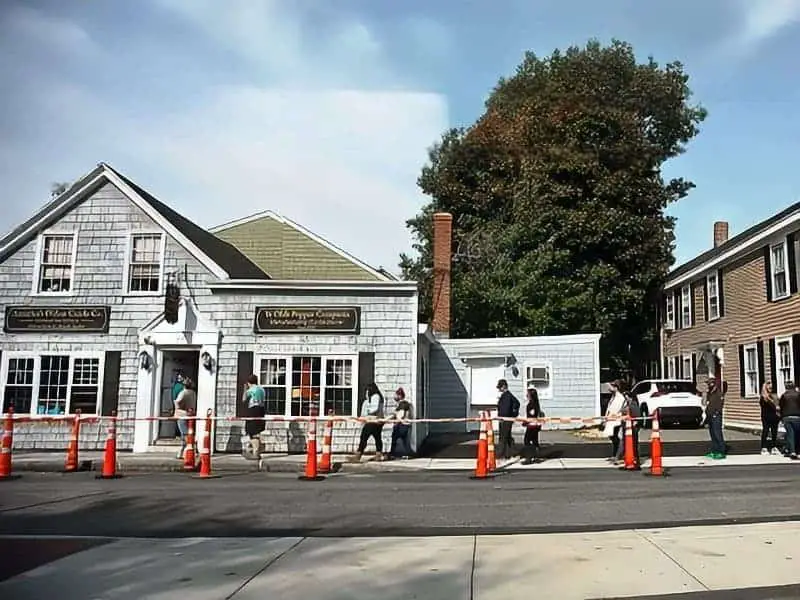 Best Selling Candies: Soft Center Assortment, Watermelon Drops, White Almond 8oz, Coconut Squares 8oz, and Red Twist 5 oz. 
Hours: Monday – Sunday: 10 AM – 5 PM
Contact: 978-745-2744
Nearby Attractions: Witch Dungeon Museum, Salem Willows Park
Address: 122 Derby Street Salem, MA 01970
Read Best Consignment Shops in Massachusetts
9. Furlong's Candies & Ice Cream – Norwood, MA
Furlong's Candies & Ice Cream has been in service for over 80 years. It makes homemade, delicious boxed chocolates for people and many special occasions.
Homemade Collections include assortments, barks, gourmet truffles, and nut patties. Crispy roasted nuts like Cashew brittle, Pistachio nuts, and butter toffee almonds are available.
Mint flavored Cream mints, Mint lentils, Wintergreen patties, and Peppermint patties are offered. Sugar-free candies are available in coconut clusters, Marshmallows, Orange Jelly, Raspberry Jellies, and Cherry cordials. Ice creams are as affordable as Sherbets, Sundaes, buckets, and delightful toppings.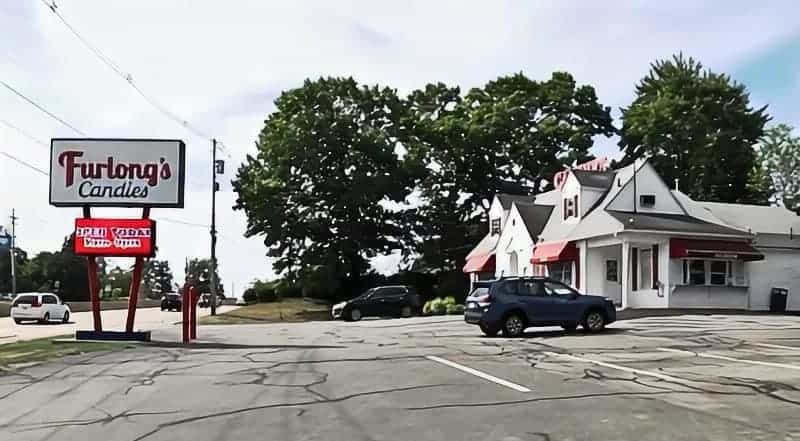 Best Selling Candies: Boxed Truffle Assortment, Butter Toffee, Chocolate Covered Twinkies, Baby Carriage Pops, Penunche with Walnuts. 
Hours: Monday – Thursday: 9 AM – 8 PM, Friday: 9 AM – 9 PM, Saturday: 10 AM – 9 PM, Sunday: 10 AM – 8 PM.
Contact: 781- 762-4124
Nearby Attractions: Blue Hills Trailside Museum, Boston's Children's Museum
Address: 1355 Providence Highway Norwood, MA 02062 
Read Garden Centers and Nurseries Near Plymouth, MA
10. The Penny Candy Store – Sharon, Massachusetts
The Penny Candy Store is known for its unique make of producing 1800s and 1900s old-fashioned penny candies. They also make many colorful candies for special events and weddings. 
Color candies are available in black, brown, gold, green, and many others. The type of chocolates sold consists of lollipops, candy bars, Gummies, and sugar-free. Package size ranges from box type and small to bulk. Oscar Mayer Gummi bacon, Riesen, Mike, Ike Berry Blast, and Nerd Gummi Clusters Rainbow are new items.  
Sweet and delicious chocolates are made especially for Halloween and Holidays. These candies and chocolates are purchasable even at wholesale prices.  
Best Selling Candies: Orange Candy, Licorice, Halloween Candy, Jelly Beans, and Kid's Fun Candy
Hours: Monday – Friday: 10 AM – 5 PM, Saturday: 10 AM – 6 PM
Contact: 781-784-1600
Nearby Attractions: Borderland State Park, The Enchanted Village
Address: 10 Merchant St, Sharon, MA, United States
Read Best Garden Centres and Nurseries in Massachusetts
11. Mrs. Nelson's Candy House – Chelmsford, MA
Mrs. Nelson's Candy House makes various types of candies for the locals. Chocolate collections include Dark chocolate-covered fruit, Hard N chewy box, and chocolate-covered nut clusters. 
Novel chocolates are made in designs of Hockey Pucks, Motorcycle pop, Star Pop, smartphones, and butterflies. Small ball candies are available in Gummi Peaches, fruit slices, Swedish fish, Boston baked beans, and Sour Patch Kids. 
Nut collections include Peanut brittle, Salted Cashews, and Salted Mixed Nuts. Solid Milk Chocolate Bunny and Milk Chocolate foiled eggs are special for Easter celebrations.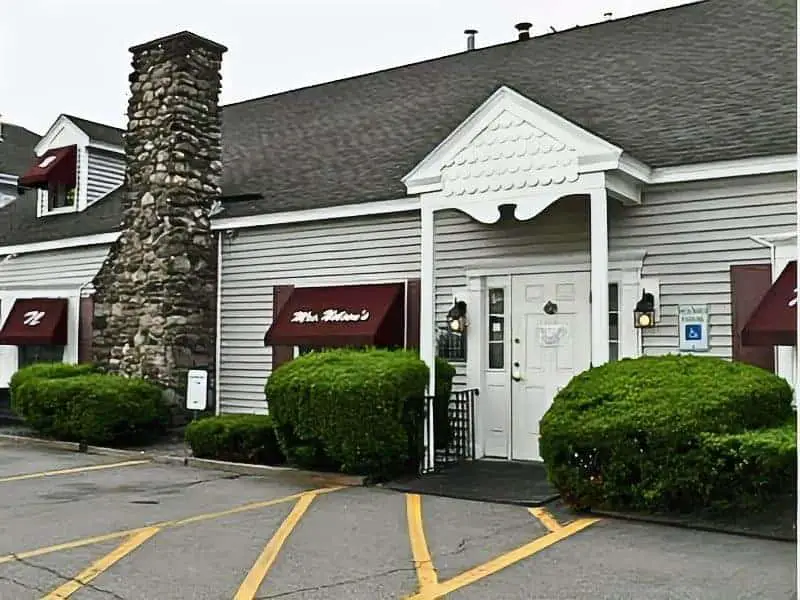 Best Selling Candies: Dark Chocolates, Cashew Turtles, Fudges, Sea Salt Caramels
Hours: Monday – Wednesday: 9 AM – 6 PM, Thursday & Friday: 9 AM – 8 PM, Saturday: 10 AM – 6 PM, Sunday: 10 AM – 4 PM
Contact: 978- 256- 4061
Nearby Attractions: Lowell National Historical Park, National Streetcar Museum at Lowell  
Address: 292 Chelmsford St Chelmsford, MA 01824
Read Best Bowling Alleys in Massachusetts
12. Taza Chocolate – Somerville, MA
Alex Whitmore started Taza Chocolate with his wife, Kathleen Fulton, in 2005. They excel in making stone ground chocolates from Cacao sourced uniquely from US farmers. Taza became the first chocolate maker in the US to set up a third-party certified direct trade Cacao Certification Program.
Cacao beans are ground with a traditional Mexican stone mill called Molinos to get flavored and textured Chocolate. Varieties of bar chocolates and disc-shaped goodies of Spiked eggnog, salted Almond, cinnamon, sea salt, and coffee flavors are available.
Snack packs are made with almonds, coconut, and quinoa. The smooth and crunchy bars comprise nearly 70 % dark Chocolate mixed with various crunches of different flavors.     
Private and Virtual tours are arranged for people who love to explore Taza. Events or parties are organized here, like cocktail parties of about 40 members.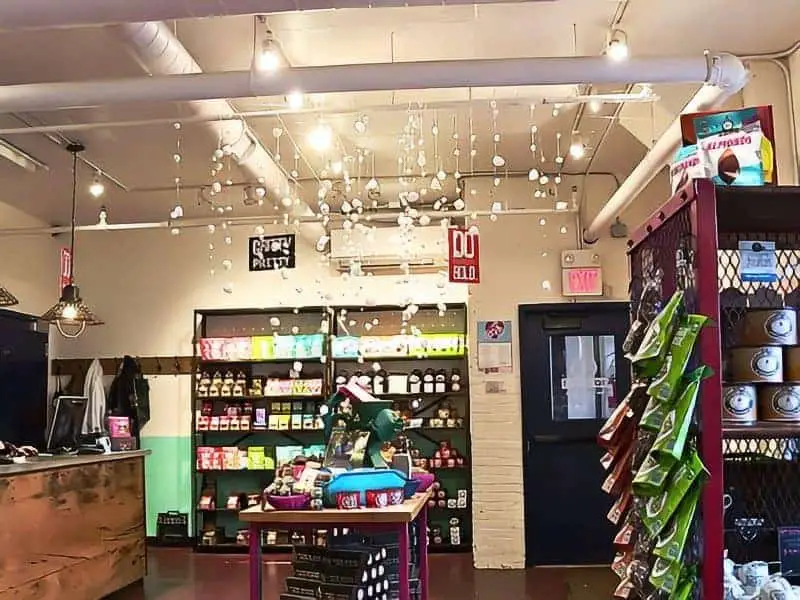 Best Selling Candies: Lemon Cookie Crunch, Triple Nut Crunch, Guajillo Chili, Cacao Puro, and Chocolate Covered Hazel Nuts. 
Hours: Monday & Tuesday: Closed, Wednesday – Friday: 11 AM- 6 PM, Saturday & Sunday: 10 AM – 6 PM
Contact: 617-284-2232
Nearby Attractions: Boston Common, Museum of Science. 
Address: 561 Windsor Street, Somerville, MA 02143
Read Best Indian Restaurants in Massachusetts
13. Phillips Chocolates – Boston, Massachusetts
Phillips Chocolates is Boston's oldest chocolatier since 1925, making handcrafted candies and chocolate bars. It has received several recognitions from The Boston Globe and Phantom Gourmet.
Chocolate varieties range from turtles and boxed chocolates to old-fashioned fudge. Bark type is available in dark Chocolate and salted Almond. Specialty chocolates include chocolate pizza, chunk chocolate, peanut butter bark, and peppermint patties.
Gift package options include penny candy boxes, candy blox, panned marshmallow eggs, buttermints, and beauty pops. Chocolate turtle basket, signature chocolate turtle basket, the deluxe tower, and chocolate indulgence are some unique corporate business gifts.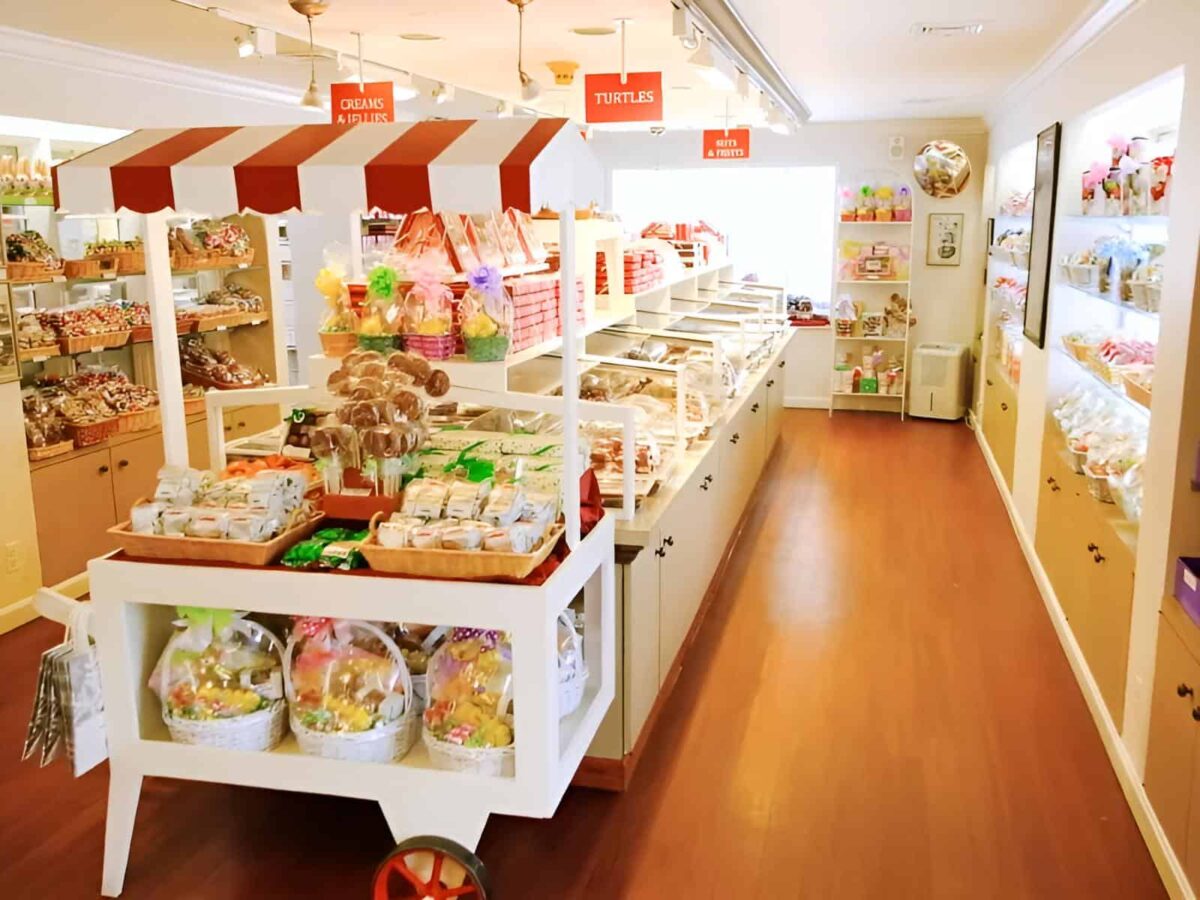 Best Selling Candies: Salted Caramel Turtles, Fudges, Chocolate Chip Cookies, Milk Chocolate Almond. 
Hours: Monday – Sunday: 9.30 AM – 6 PM
Contact: 800-722-0905
Nearby Attractions: Adams National Historical Park, Boston Common 
Address: 818 Morrissey Blvd. Boston, MA 02122
Read Italian Restaurants in Massachusetts
14. IT'SUGAR Lynnfield – Lynnfield, Massachusetts
Candy veteran Jeff Ruben started IT'SUGAR in 2006 and now running with over 100 branches in the US and Canada. In 2017, the shop expanded to become a candy department store with an area of 24000 sq ft and three floors.  
Popular candy brands sold here are Pusheen, Oreo, Mars, Nerds, Funko, and Peeps. These brands offer exciting gift boxes with peculiar flavored candies inside. Giant candy collections include gummy bears, giant Snickers, Nerds giant theatre boxes, and Skittles gift boxes. 
Top selections of gummies like gummy bears, pizza pie gummy, hotdog, and cherry gummy bears are superb to taste. Amazing gifts for teens, soft plushes are also sold.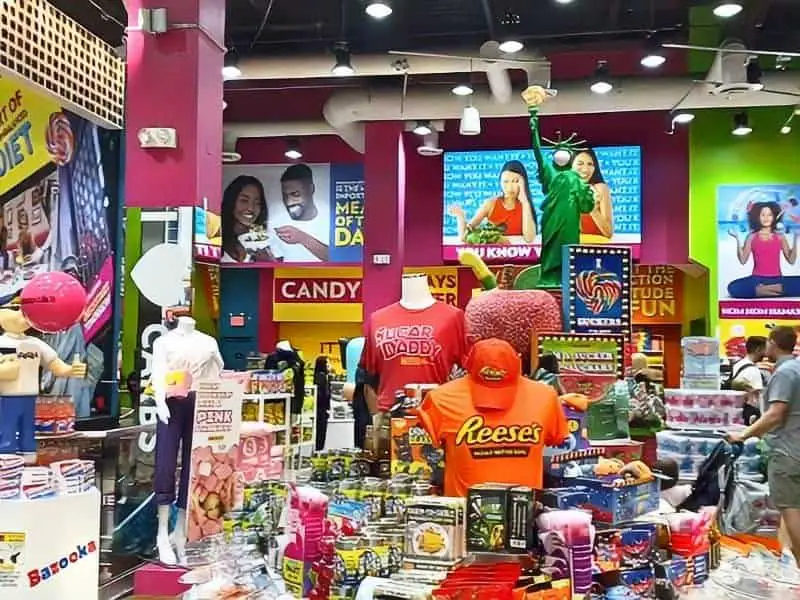 Best Selling Candies: Gummy Bears, Nerds Candy Tin, Sour Patch Kids, and Gummy Hamburger
Hours: Monday – Thursday: 10 AM – 9 PM, Friday & Saturday: 10 AM – 10 PM, Sunday: 11 AM – 7 PM 
Contact: 781-651-4029
Nearby Attractions: Witch Dungeon Museum, Gallow Hills Museum/ Theatre. 
Address: 600 Market St, Space 681 Lynnfield, Massachusetts, 01940
Read Best Salad Bars in Massachusetts
Find Candy Stores Near You
Conclusion
Most Candy Shops in Massachusetts make handcrafted chocolates and goodies uniquely, with great attention among customers. The Chocolate shops in Lynnfield, Boston, Somerville, Chelmsford, and Sharon mainly contain varied flavors of dark Chocolate, milk, and white Chocolate. 
Massachusetts Articles:-