20 Best Botanical Gardens in Massachusetts 2023
The Botanical Gardens in Massachusetts consist of core flowering plants and tree collections. They also serve as a recreational destination for families to spend quality weekends. The beautiful flowers in these locations are stunning for photographs.
The botanical gardens in Boston, Sandwich, Westford, Acton, and Northampton are good spots to host weddings and parties with good scenery & atmosphere. These gardens have other attractions like statues, fountains, walking trails, ponds, and wildlife. Many family fun and kid's entertainment-oriented activities are organized in these places.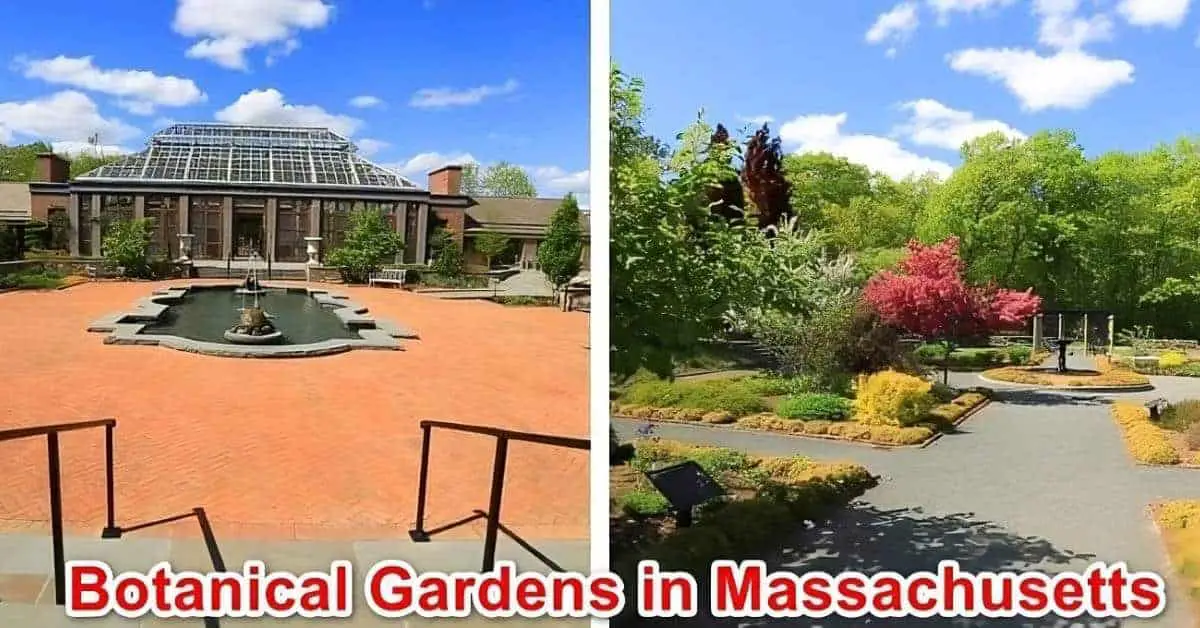 List of 20 Best Botanical Gardens in Massachusetts
1. Public Garden – Boston, Massachusetts
It is the first Public Botanical Garden in America, established in 1837. It creates a pleasant atmosphere for people to walk, stroll with kids, and relax with their families. The Garden has many annuals and greenhouse plants grown using various propagation methods and techniques. 
There are monuments, lagoons, and fountains for sightseeing. The Swan boats are famous here for riding in the six-acre pond. About 80 species of plants are cultivated in the beds for future growth. Over 600 species of trees are found in the park. 
It is a nice garden for weddings outdoors with beautiful natural scenery by the elegant flowers and trees around the park.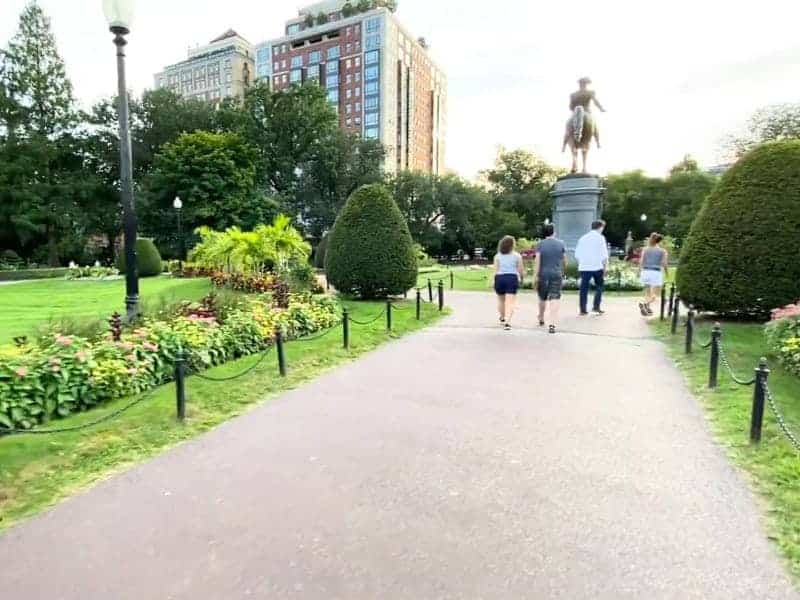 Hours: Monday – Sunday: 6.30 AM – 11 PM
Garden Highlights: Swan Boats, Make Way for Duckling Statues, Ether Monument, Tulip Flowers, and Skating in Winter. 
Unique plants and Trees: Tulips, Elm Tree, Star Magnolia, Maidenhair Tree, and European Beech. 
Contact: 617-635-4505
Nearby Attractions: Boston Common, Charles River Esplanade
Address: 4 Charles St, Boston, MA 02108
Read Best Spots for Bubble Tea in Massachusetts
2. Arnold Arboretum of Harvard University – Boston, MA
Arnold Arboretum is spread over an area of 281 acres with unique collections of woody plants and flowers from eastern North America & eastern Asia. The plant collections, herbarium, and library here support research worldwide. The Arboretum was founded in 1872.
There are about 15000 accessions of plants to explore in this place. Fun and adventurous activities for families, such as a visit to the wet meadow, spotting skunk cabbage, story walks, and virtual walks, are available. 
Popular events organized for people include the Seed of Tree, art shows, Mr.Twister and the Tale of Tornado Alley, mobile landscape reading, and late spring blooms. They also conduct self-guided walks for the public to learn about the architecture and landscape of the Arboretum. 
Their quarterly magazine, Arnoldia, has exclusive information on the nature of various tree species worldwide.  It's one of the best botanical gardens in New England.
Hours: Monday – Sunday: 9 AM – 5 PM. 
Garden Highlights: Bussey Brook Meadow, Bonsai & Penjing Collections, Azalea Border, and Bradley Rosaceous Collections. 
Unique plants and Trees: Dunfee Highbush Blueberry, Compact Hinoki Cypress, Forever Emerald Inkberry, Ernest Wilson Silk Tree. 
Contact: 617-524-1718
Nearby Attractions: Isabella Stewart Gardner Museum, Boston Children's Museum
Address: 125 Arborway Boston, MA 02130-3500
Read Best Record Stores in Massachusetts
3. New England Botanic Garden at Tower Hill – Boylston, MA
The Worcester County Historical Society established the New England Botanical Garden in 1986. Different types of plants blooming in spring, autumn, winter, and summer are housed separately here. The Garden has a beautiful apple orchard, a cottage garden, a daffodil field, a park, and the Limonaia.
They celebrate summer with amazing events like live music shows and Chiaozza. Family-friendly nights involve fun activities like face paintings, arts and crafts, and yummy ice creams for kids. The plant shows frequently feature rare plant collections for sale and give valuable information on gardening. 
It is a good spot for weddings with watching the beautiful Mount Wachusett view and having a cocktail hour. Weekend meetings, social gatherings, and children's parties are available here. 
The Farmer and the Fork cafe provides delicious dishes and refreshing beverages inside the garden. Their garden shop has essential gardening tools, supplies, and seasonal plants. Jewelry, children's toys, and gifts are also found. 
Hours: Monday – Sunday; 10 AM – 5 PM
Garden Highlights: The Ramble, The Wildlife Refuge Pond, Pliny's Allee, and The Orangerie. 
Unique plants and Trees: Cone Flower, False Goat's Beard, Magnolias, Rhododendron, and Iris. 
Contact: 508-869-6111
Nearby Attractions: EcoTarium, Live Action Escapes.  
Address: 11 French Drive P.O. Box 598 Boylston, MA 01505-0598
Read Best Antique Stores in Massachusetts
4. Bridge of Flowers – Franklin County, MA
Regarded as the oldest repurposed structures of its kind in the country, the bridge was originally built in 1908 for trolleys to transport raw materials as well as local produce across the Deerfield River.
When trolleys became obsolete with the advent of motorized vehicles, the bridge was rescued from oblivion in 1929 by members of the Shelburne Falls Area Women's Club, who contributed funds and labor to transform the abandoned structure into a garden over the river.
That same spirit of volunteerism continues to sustain the Bridge of Flowers today. As many as 100,000 people visit the bridge every year, making it a vital economic engine for this area of Western Massachusetts.  
Open from April 1 through October 30 free of charge, the Bridge is resplendent in blooms every season, featuring native plants such as lady slippers and bloodroot as well as both rare and popular specimens of dahlias, roses, alliums, and many other perennials. 
The Bridge of Flowers website offers a wealth of information, including magnificent photographs of plants grouped seasonally and a practical guide for visitors. The bridge is entirely supported by donations – from visitors, from its list of Friends, and by the proceeds of its annual plant sale, held in mid-May. 
Note:- The Bridge of Flowers will close at the end of October for extensive repairs to the structure.  It is now scheduled to remain closed until some time in 2025.  Please include this information in our listing.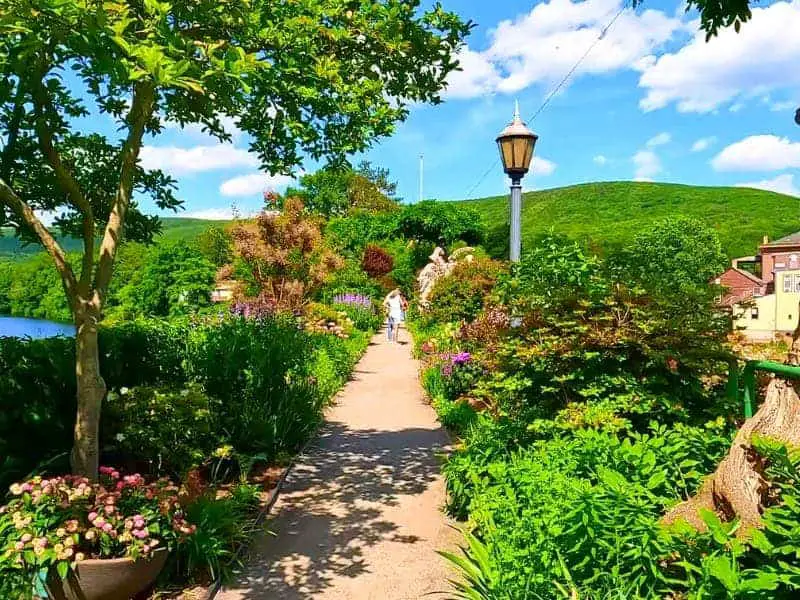 Hours: Monday – Sunday: Open in daylight.
Garden Highlights: Alliums, Poppies, Peonies, and Annuals. 
Unique plants and Trees: Jeffersonia Dubia, Barbriella, Chrysanthemum, and Roses
Contact: Contact them through their official Website
Nearby Attractions: Shelburne Falls Trolley Museum, Historic Deerfield. 
Address: P.O. Box 335 Shelburne Falls, MA 01370
Read Best Piercing Places in Massachusetts
5. Heritage Museums & Gardens- Sandwich, MA
The Lilly family founded the Heritage Museums & Gardens with a long development milestone history. It is spread over 100 acres on the banks of Shawme Pond. 
The Garden contains herbs, hydrangea, and multiple varieties of rhododendrons. Bee hotels are nested there to encourage pollination. The long trail walk here leads to a pleasant experience with the wildlife and the song of birds. Horticultural research, especially in hydrangea, is carried out in this place. 
The Museum includes an exclusive display of American automobiles and their parts, a long back from the past. Hidden Hollow is a children's classroom that connects them with nature. Children can draw paintings, do crafts, and engage in planting activities. Kids do enjoy the fun ride in the 1908 Looff Carousel. 
Popular events include Creating Cape Cod, From Carriage to Classic, Heritage Highlights, and Wampanoag Mush8n.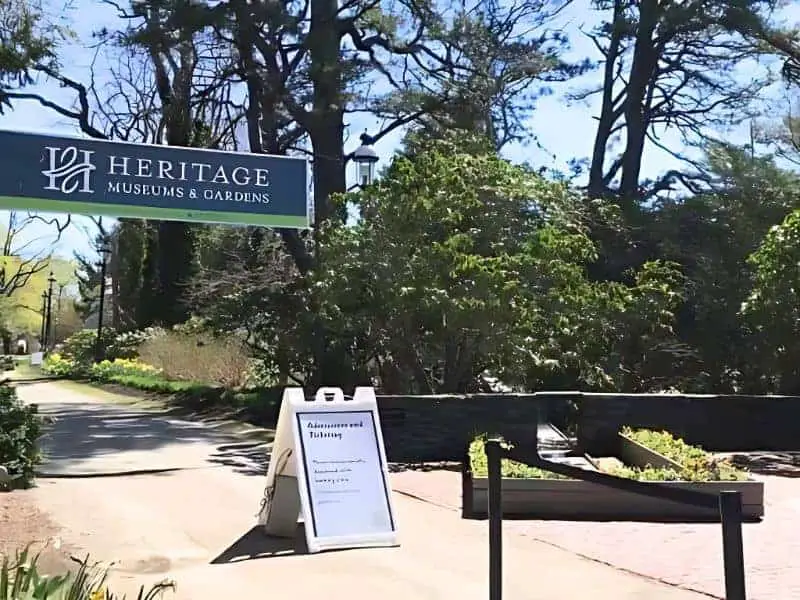 Hours: Monday – Sunday: 10 AM – 5 PM
Garden Highlights: The Hundred Acre School, Hidden Hollow, The Flume Fountain, and 1908 Looff Carousel
Unique plants and Trees: Rhododendrons, Hydrangea, Day Lily, and Hostas
Contact: 508-888-3300
Nearby Attractions: Sandwich Glass Museum, Sandwich Boardwalk
Address: 67 Grove Street, Sandwich, MA 02563 
Read Best Arcades in Massachusetts
6. The Butterfly Place – Westford, Massachusetts
The Butterfly Place is an elegant place for families to visit as it contains an indoor garden with colorful butterflies. Multiple species of butterflies from New England and tropical climate live here among the bushes. Butterflies sipping the nectar and basking in the sunshine are good sights to see. 
The place also exhibits eggs, caterpillars, cocoons, and chrysalids of butterflies for people. Hatching kits for butterflies can be bought at the gift shop, which sells butterfly-designed jewelry and books. 
Weddings, birthday parties, and bridal showers are organized at the rental space, which can fill 100 people. There is an outdoor tent area for picnics with families and friends.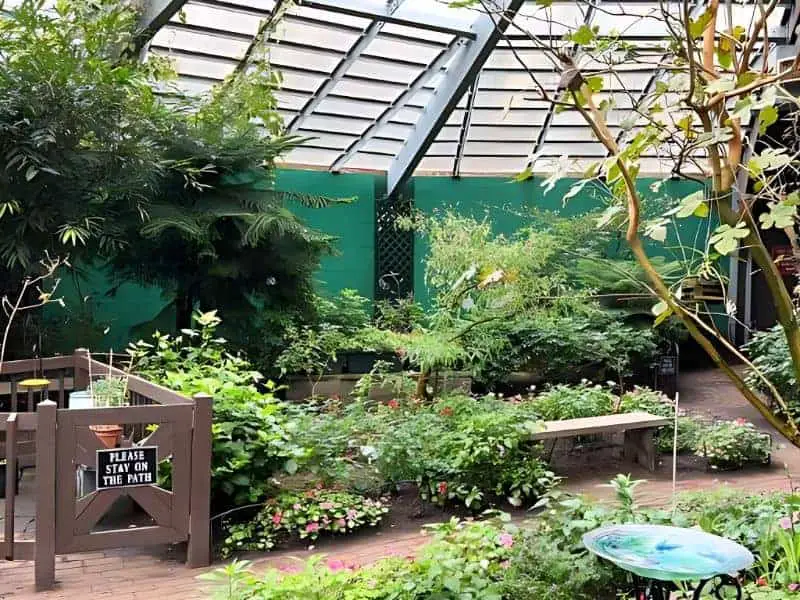 Hours: Monday – Sunday: 10 AM – 4 PM
Garden Highlights: The Show and Tell Bench, The Butterfly Flight Area, The Outdoor Picnic Area, and Quails & Koi Fishes. 
Unique Plants and Trees: Perennial & Annual Flowers and Trees.  
Contact: 978- 392-0955
Nearby Attractions: Friendship Park, Lowell National Historical Park. 
Address: 120 Tyngsboro Road Westford, MA 01886
Read Best Tattoo Shops in Massachusetts
7. Berkshire Botanical Garden – Stockbridge, MA
The Garden was established in 1934 and spread over 24 acres, and is now open to many workshops, lectures, and exhibitions annually. Multiple varieties of perennials and seasonal house plants are grown here.
A mixed border garden, contemplative pond, daylily walk, tree collections, and raised bed vegetable gardens exist. The 23 display gardens feature top attractive plants that grow exclusively in Berkshire. The Tower Arboretum here has indigenous and exotic collections of trees. 
Weddings and other private events are organized in the Center House, with a capacity of 80, and in the Procter Garden, with a capacity of 125, along with catering. Fan Fare, Symbiosis, Alchemy & Innocents, Face Nature, and Shimmer are famous art exhibitions. 
Adult and Youth education is also affordable here with their popular education programs.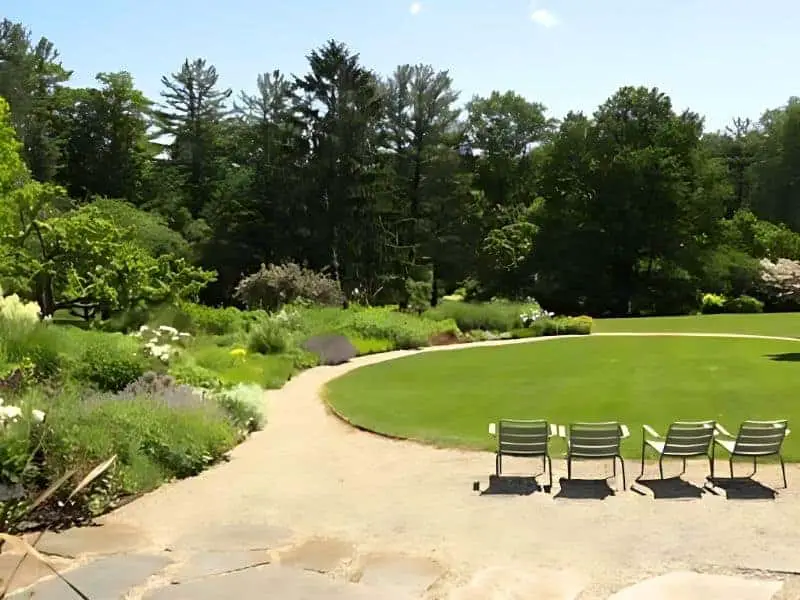 Hours: Monday – Sunday: 9 AM – 5 PM
Garden Highlights: Enchanting Procter Garden, Pond & Rock Gardens, Towering Arboretum, and Seasonal Vegetables & Fruits Collection. 
Unique plants & Trees: Herbs, Basil, Chervil, American Persimmon, and Aurea.  
Contact: 413-298-3926
Nearby Attractions: Children's Chime Tower, The Mount, Edith Wharton's Home
Address: 5 West Stockbridge Road PO Box 826 Stockbridge, MA 01262
Read Best Furniture Stores in Massachusetts
8. Acton Arboretum – Acton, Massachusetts
The Acton Arboretum has a widespread land area comprising diverse plants and wildlife species. The place is free to visit by the people. The butterfly garden has vast numbers of valuable pollinators. There are separate gardens for herbs, hostas, ferns, rhododendrons, and wildflowers. The sun pond here contains unique plants like flag iris and winterberry. 
The Bog Boardwalk trail journey through the Arboretum gives a fantastic view of jewel-colored dragonflies and red-winged blackbirds. Integrated Chinese style and culture are followed in their China Trail Garden. The Meadow Garden contains rich daisies, milkweed, Columbine, and witch grass collections. 
There are three walking trails: the orchard loop trail, the bog loop trail, and the wildflower loop trail, each with uniqueness and plants. Picnic tables, benches, and boardwalks are available in the Garden for recreation.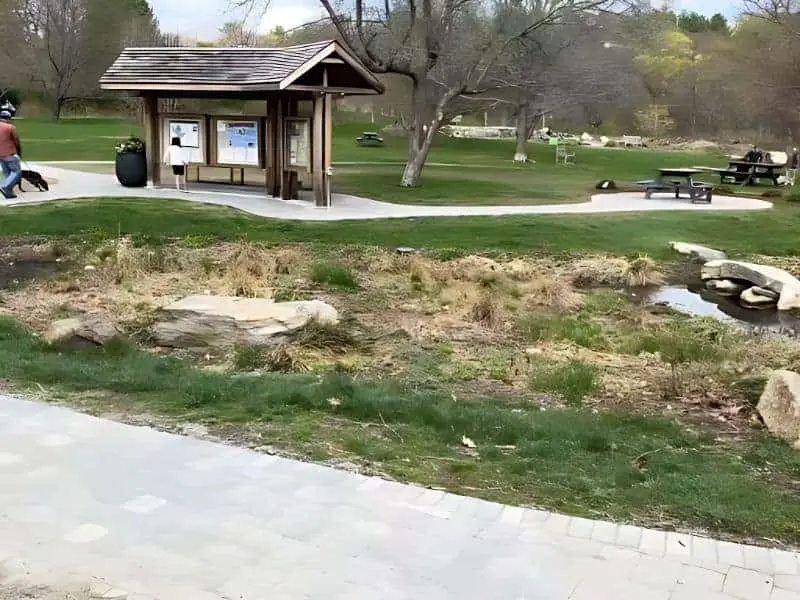 Hours: Monday – Sunday:  8 AM – 6 PM
Garden Highlights: Daylily Collections, American Elms, White Pine Stand, and Highland-Bog Loop Trail 
Unique plants & Trees: White Oaks, Old Apple, Glossy Buckthorn, Black Walnuts, and Red Maple. 
Contact: 978-929-6634
Nearby Attractions: Discovery Museum, Concord Museum. 
Address: 10 Taylor Rd, Acton, MA, United States, Massachusetts
Read Best Consignment Shops in Massachusetts
9. The Botanic Garden of Smith College – Northampton, MA
This Botanical Garden at Smith College was founded in 1895, and its prime focus is to impart education & research to people. Several renovations have taken place here, now being the best recreation spot for visitors. 
There are separate gardens built for perennials, xerophytes, wildflowers & woody trees. The Capen garden houses many tulips, lilacs, roses, and annuals. The Wilson bulb bank grows huge daffodil bulbs in April for commercial use. The Science Center Rock Park contains many rock varieties surrounded by yellow birch, Ilex glabra, Rhus aromatica, and Swamp maples. 
The Lyman Conservatory comprises about 3,000 tropical, subtropical, and desert plant species. The specimens here are carefully observed for research and conservation. Campus Arboretum houses several woody trees and shrubs for an attractive landscape. 
Famous events and exhibits include the Tree Climbing Workshop, Spring Bulb Show 2023, Fall Chrysanthemum Show, Woods of the World, and Plant Life Through the Ages.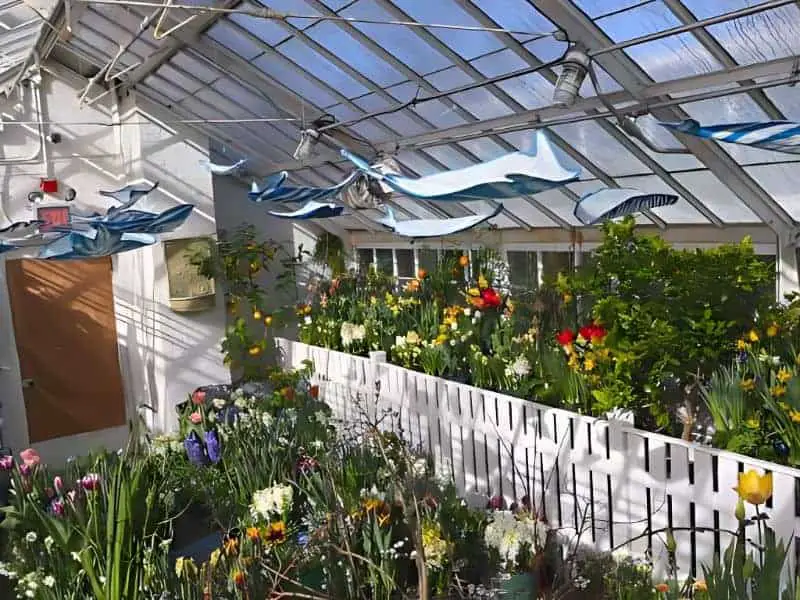 Hours: Monday – Sunday: 9 AM – 4 PM
Garden Highlights: Happy Chace '28 Garden, Lyman Conservatory, Campus Arboretum, and Science Center Rock Park
Unique plants & Trees: Tulips, Mountain Laurel, Inkberry, Betula lenta and  
Contact: 413-585-2742
Nearby Attractions: Historic Northampton, Smooth College Museum of Art. 
Address: 16 College Lane Northampton, MA 01063
Read Best Candy Shops in Massachusetts
10. Brewster Gardens – Plymouth, Massachusetts
Brewster Gardens was created in the early 1920s. It has a long bridge, a colorful flower garden, and benches to sit on. The Garden is spread over an area of 2.9 acres. There is Jenney Gristmill, a corn grinding mill that is a popular recreation here. 
The Garden is filled with peculiar plant and tree species. Common trees are red maple, black willow, and eastern black walnut. Plants like Hay-Scented Fern, Japanese Knotweed, giant butterbur, variable watermilfoil, broadleaf cattail, and Forget-Me-Nots are also found here. 
Two eminent statues, The Pilgrim Maiden and The Immigrant Memorial, are there for public sightseeing. Leashed dogs are allowed, and the entry fee is free.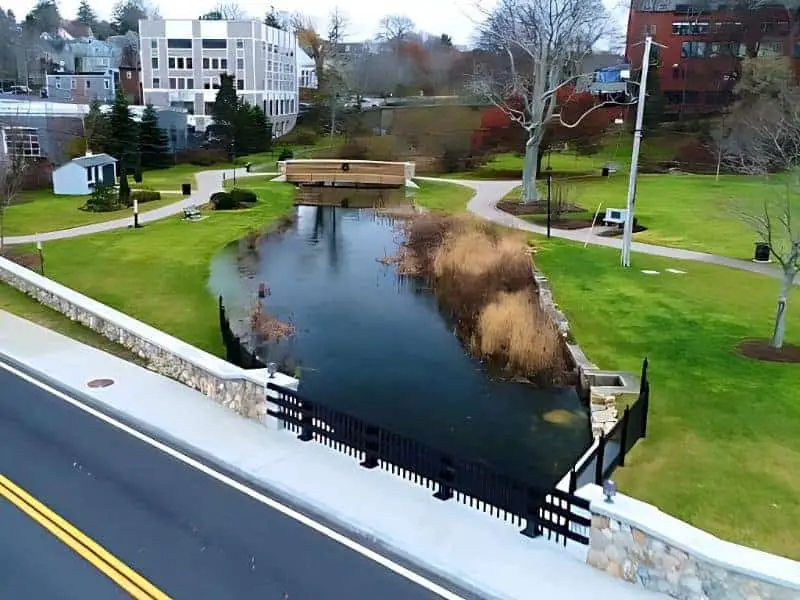 Hours: Sunrise to Sunset
Garden Highlights: Pilgrim Memorial State Park, Cole's Hill, Town Brook Trail, and Billington Street Park. 
Unique plants & Trees: Red Maple, Black Willow, Eastern Black Walnut, Forget-Me-Nots, and Hay-Scented-Fern. 
Contact: (508) 747-1620 ext. 12116
Nearby Attractions: Plymouth Rock, Nelson Memorial Park. 
Address: 30 Water St, Plymouth, MA 02360
Read Garden Centers and Nurseries Plymouth, MA
11. Stevens-Coolidge House & Gardens – North Andover, MA
Helen Stevens and her husband, John Gardner Coolidge, maintain the Stevens–Coolidge House & Gardens and have transformed it into an agricultural estate. The Garden is spread over 91 acres with elegant plants and trees. The Garden and its setting portray the ideas of the wealthy Americans who lived there.  
The flower beds in this Garden are in European style initially and are modified to the latest American trends. There are nine display gardens with bulb flowers of different seasons like spring, summer, and winter. The shaded brick terrace gives a good view of perennials in rectilinear beds. The fragrance rose Garden is built in Italian style.  
The brick serpentine wall here supports the growth of espaliered trained fruits. The French flower garden attracts many visitors for its flower species. Many trail paths go through the woods and ponds located in this place for people's adventure.  
Popular entertaining activities include hiking concerts with the Nields, pine hole bog walk, full moon hike, summer concert series, and faerie festival.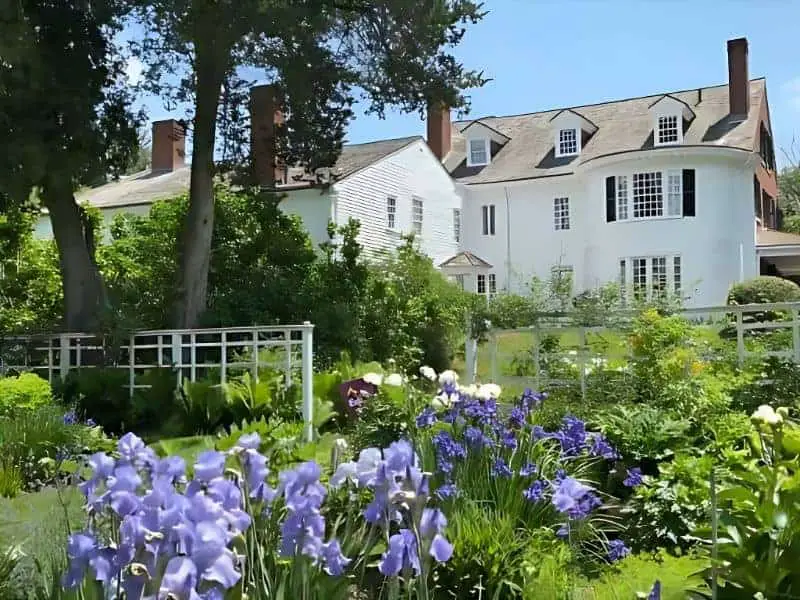 Hours: Monday & Tuesday, Thursday – Sunday: 10 AM – 6 PM, Wednesday: Closed.
Garden Highlights: Potager Garden, The Main House, Tavern Ballroom, and Brick Serpentine Wall   
Unique plants & Trees: Lily, Mountain Laurel, Tulips, Daisies, and Rose. 
Contact: 978-689-9105
Nearby Attractions: Den Rock Park, Buttonwoods Museum. 
Address: 153 Chickering Road, North Andover, MA 01845
Read Best Garden Centres and Nurseries in Massachusetts
12. James P. Kelleher Rose Garden – Boston, MA
The Kelleher Rose Garden harbors different varieties of beautiful roses, statues, and a fountain. Arthur Shurcliff designed this Garden and established it in 1931. There are about 200 rose varieties, with a total of 1500. The fountain was constructed with a total depth of 14 feet and a bluestone-capped edge. 
This Botanical Garden was expanded and renovated in 1932 with a rectangular bed section. Every Tuesday evening, the Emerald Necklace Conservancy volunteers meet to prune the roses and remove the weeds in the Garden. It's one of the best Botanical Gardens in Boston.
This Garden had won the Massachusetts Horticultural Society for Excellence. The pathways are wide with benches to sit on, and we can view the cherubs surrounding the fountain.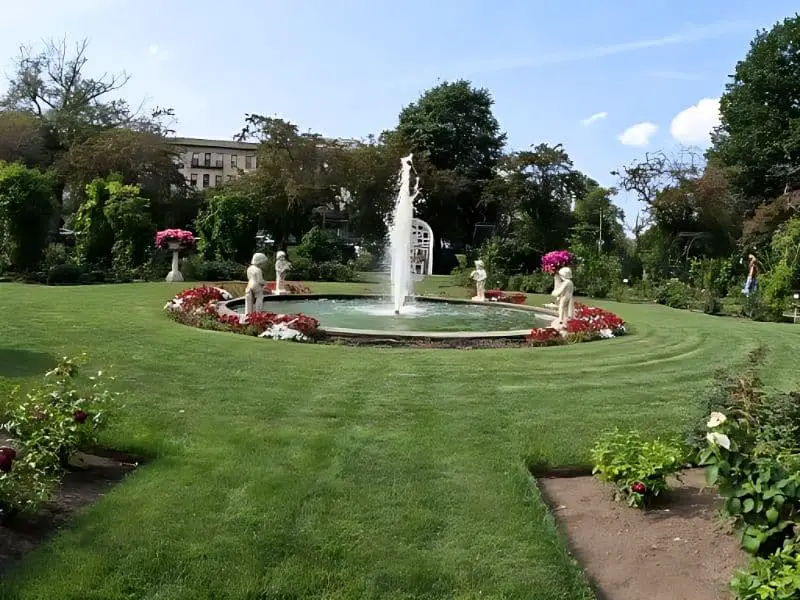 Hours: Monday – Friday: 7 AM – 5 PM, Saturday & Sunday: 10 AM – 5 PM. 
Garden Highlights: Emerald Necklace Conservancy, The Fountain, Cherubs, and Statues. 
Unique plants & Trees: 200 Rose Varieties and Cherubs
Contact:  617- 522-2700
Nearby Attractions: Isabella Stewart Gardner Museum,  Emerald Necklace Conservancy Shattuck Visitor Center
Address: 73 Park Dr, Boston, MA, US 02215 
Read Best Bowling Alleys in Massachusetts
13. Mytoi Japanese Garden – Edgartown, Massachusetts
Mytoi is a Japanese-style garden spread over 14 acres with many native and exotic plant species. Hugh Jones designed this Garden perfectly in the 1950s. The Garden is divided into two parts, containing traditional Asian plants and Japanese plants. A pond is here with a zigzag bridge surrounded by winterberry and beach plum. 
A waiting shelter to relax called "Azumaya" is located opposite the pond. The pond is rich in koi fishes and many plants. Chappaquiddick Island is home to animals like turtles, frogs, and goldfish. A long trail leads to the Poucha pond and salt marsh. 
Useful events like Mytoi meander and Mytoi meditation with yogi Jay take place here for people. 
Hours: Monday – Sunday: 9 AM – 5 PM
Garden Highlights: Pine Groves, The Pond, Chappaquiddick Island.  
Unique plants & Trees: Azalea, Rhododendrons, Stewartia, Camellias, and Threadleaf Maples. 
Contact: 508- 627-7689
Nearby Attractions: Martha's Vineyard Museum, Ocean Park. 
Address: 41 Dike Rd, Edgartown, MA 02539
Read Best Indian Restaurants in Massachusetts
14. Spohr Gardens – Falmouth, Massachusetts
Charles and Margaret Spohr created the Spohr Gardens to entertain the public. It is a six-acre woodland garden with diverse species of plants and trees. The Butterfly Project implemented here aims to spread the diversity of butterflies like monarchs, swallowtails, blue butterflies, and painted lady butterflies. There are millstones and anchors spread all over the Garden for visitor sights. 
Fun and enthusiastic events like spring at Spohr, enchanted evenings at Chapman's Garden, summer sips at Spohr, butterfly celebration day, and daffodil planting day occur here. Weddings occur at the dock, and 50 public members can gather for the ceremony.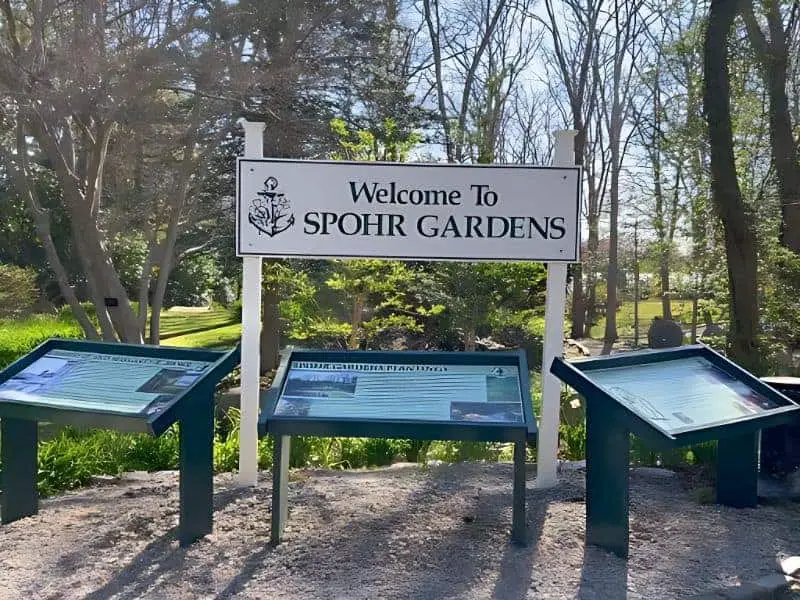 Hours: Monday – Sunday: 8 AM – 8 PM
Garden Highlights: Oyster Pond, Mill Stones, Anchors, and Lanterns. 
Unique plants & Trees: Magnolias, American Hollies, Cryptomeria, Dawn Redwoods, Azalea, Rhododendrons, and Spring Bulbs. 
Contact: 508-548-0623
Nearby Attractions: The Knob, Nobska Lighthouse. 
Address: 45 Fells Rd, Falmouth, Massachusetts 02540
Read Italian Restaurants in Massachusetts
15. Lynch Park Rose Garden – Beverly, Massachusetts
Lynch Park is called the Crown Jewel of Beverly, with many natural settings and attractions. The Rose Garden is the core part here, covering most people. It is an Italian-style rose Garden made by the Evans family. There are two lion statues on the brick rails watching the park. 
The Rose Garden is famous for weddings and other gatherings, with a breathtaking view of the Atlantic Ocean and colorful flowers. The Carriage House is a good spot for having wedding receptions, family parties, and business meetings. 
The Splash Pad keeps the kids energetic and fun in the summer. There are two beaches with an ice cream stand for relaxation and enjoyment. Dogs are prohibited at Lynch Park from 29 May to 5 September. Drones and charcoal grills are not allowed here. Stand-alone gas grills are permitted.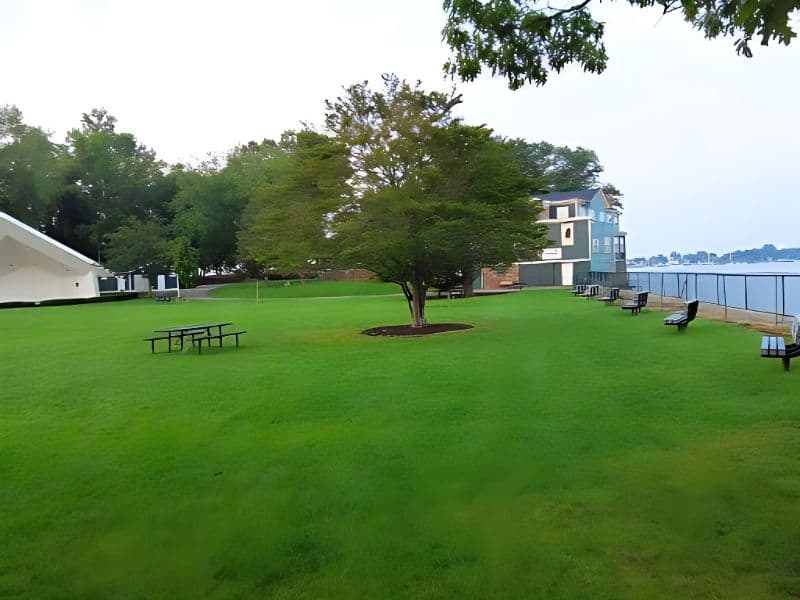 Hours: Monday – Sunday: 6 AM – 10 PM
Garden Highlights: The Rose Garden, Iconic Lion Statues, The Carriage House, and The Splash Pad. 
Unique Plants & Trees: Rose Varieties. 
Nearby Attractions: Witch Dungeon Museum, Salem Willows Park
Address: Lynch Pk, Beverly, MA 01915
Read Italian Restaurants in Massachusetts
16. The Fenway Garden Society – Boston, Massachusetts
The Fenway Gardens was established in 1942 in the famous Emerald Necklace. It spreads to an area of 7.5 acres with over 500 gardens. It is one of the parts of World War II victory gardens operating till now. Visitors can see fresh vegetables, herbs, and colorful flowers here. 
This Boston flower garden gives a glimpse of urban gardening techniques, from establishing a vegetable garden to designing a beautiful landscape. Unique collections of tree species are available here, like weeping willow, dawn redwood, black tupelo, and European euonymus. The meadow or grove area is often picked for picnic occasions by people. 
They organize helpful gardening-related workshops, volunteering, and charity donations.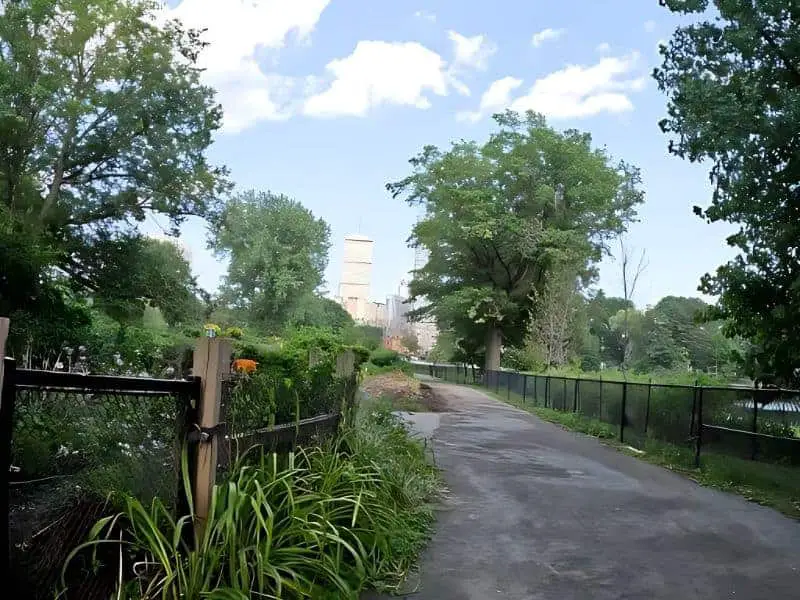 Hours: Monday – Sunday: 6 AM – 11.30 PM
Garden Highlights: The Teaching Garden, Bee Apiary, Pollinator Garden, Medicinal Herb Garden, and The Meadow
Unique Plants & Trees: Tamarisk, Katsura, Cottonwood, Eastern Hornbeam, and Silver Maple. 
Contact: 857- 244-0262
Nearby Attractions: Museum of Fine Arts, Boston, Isabella Stewart Gardner Museum. 
Address: P.O. Box 230038 Astor Station Boston, MA 02123
Read Best Salad Bars in Massachusetts
17. Garden in the Woods – Framingham, Massachusetts
Garden in the Woods is located west of Boston on about 45 acres. The area is formed with ponds, brooks, and wetlands. There are benches throughout the pathway for the comfort of visitors. 
An outdoor patio with tables is good for a family picnic and outdoor activities. The education center here has a drinking fountain that is elegant to watch. People can buy snacks or order lunch online in the visitor center. They provide guided walking tours and scheduled tours for the public. 
The education center has a rental space to accommodate about 75 members for business meetings. The rental room is spacious, with an area of 785 square feet.    
The guest can enjoy visiting the wildflower collections in the field from the Northeast. There is a garden shop to buy gardening tools, inputs, and native plants and trees. 
Hours: Monday – Sunday: 10 AM – 5 PM
Garden Highlights: Outdoor Patio, Pond, Fountain 
Unique Plants & Trees: Canada Columbine, Wild Bergamot, Virginia Bluebells, Canada Burnet, and Blue Mistflower
Contact: 508-877-7630
Nearby Attractions: Callahan State Park, Wayside Inn Grist Mill 
Address: 180 Hemenway Road Framingham, MA 01701
Read Best Spas in Massachusetts
18. Allen C. Haskell Public Gardens – New Bedford, MA
Allen C. Haskell is a horticulturist, and he structured this public Garden. It has been one of the most visited gardens for more than 30 years, and it spans about six acres. There are many local & exotic varieties of plants and trees grown here. This place also has one of the oldest houses in Bedford. 
The trail towards the north of the commons will feature the old Hathaway house and a chicken coop. On the way, there are many exhibits present made by local artists. A large park here has fun games for kids, like lawn games, and the best excellent hidden bamboo grove for entertainment. 
This floral garden in spring glows with flower blossoms, and the greenhouse has many exotic specimens to see now. Japanese Maples are beautiful to watch here during the fall season.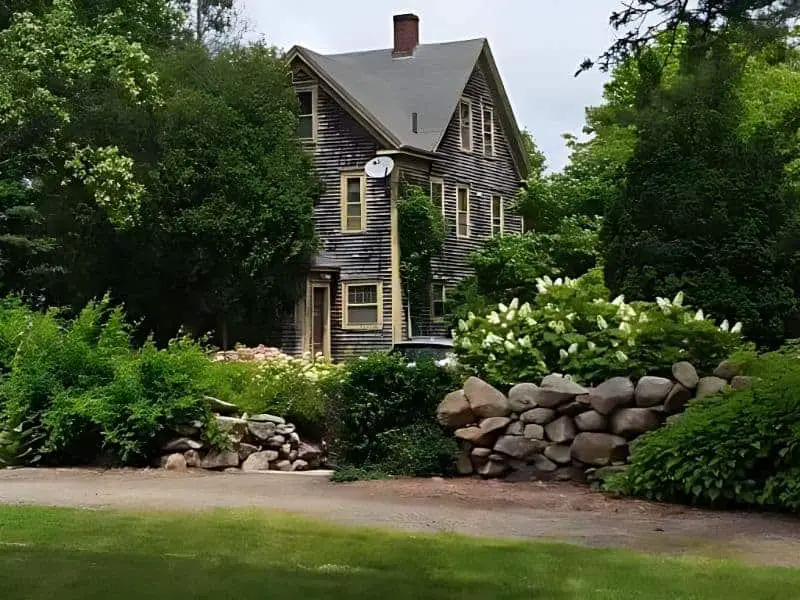 Hours: Monday – Sunday: 6.15 AM – 7 PM
Garden Highlights: Hathaway House, Greenhouse, Visitor Center, and Hidden Bamboo Grove
Unique Plants & Trees: Japanese Maples, Boxwoods, Alliums, Dawn Redwood, and Seven-Son Flower. 
Contact:  857-350-0958
Nearby Attractions: New Bedford Whaling Museum, Buttonwood Park. 
Address: 787 Shawmut Ave, New Bedford, MA, United States, Massachusetts
Read Best Breakfast Places in Massachusetts
19. Polly Hill Arboretum – West Tisbury, MA
Eminent horticulturist Polly Hill established the Arboretum in 1998, promoting the education and preservation of unique plant species. The visitor center has an exclusive variety of perennials, wildflowers, shrubs, and trees to buy home. 
There are peculiar collections of plants like hollies, rhododendrons, conifers, and crabapples. Kousa Dogwood Allee and Monkey Puzzle Tree are famous tree species found in this Arboretum. 
The Polly playpen is a rectangular garden with rare plants like lilac daphne, oconee bells, azaleas, and woodland perennials. The homestead border features a combination of wildflowers, shrubs, and trees. The Garden also has 17 types of Stewart with attractive reddish and purple foliage. The white Julian magnolia is famous here. 
Hours: Monday – Sunday: 9.30 AM – 4 PM
Garden Highlights: Polly's Play Pen, The Dogwood Alle, The Homestead Border, PHA Dinosaur Trees, and Arboretum Quest
Unique Plants & Trees: North Tisbury Azalea, Camellias, Crabapples, Magnolia, and Monkey Puzzle Tree. 
Contact: 508- 693-9426
Nearby Attractions: Martha's Vineyard Museum, Nobska Lighthouse
Address: 809 State Road, West Tisbury, MA 02575
Read Best Shopping Outlets and Malls in Massachusetts
20. Talcott Greenhouse – South Hadley, Massachusetts
Mount Holyoke College owns the Talcott greenhouse and other gardens in their surroundings. Mount Holyoke College has a special alpine & rhododendron, rock, and woodland garden. 
The greenhouse has a wide variety of non-hardy green plants. It was constructed in late 1896, and today, it occupies about 6000 square feet in the Garden. Plants from tropical, subtropical, warm, and temperate regions are grown here. 
Distinct plant species are also used there for research, new propagation methods, and production purposes. Some species are conserved for their economic importance and morphological characteristics.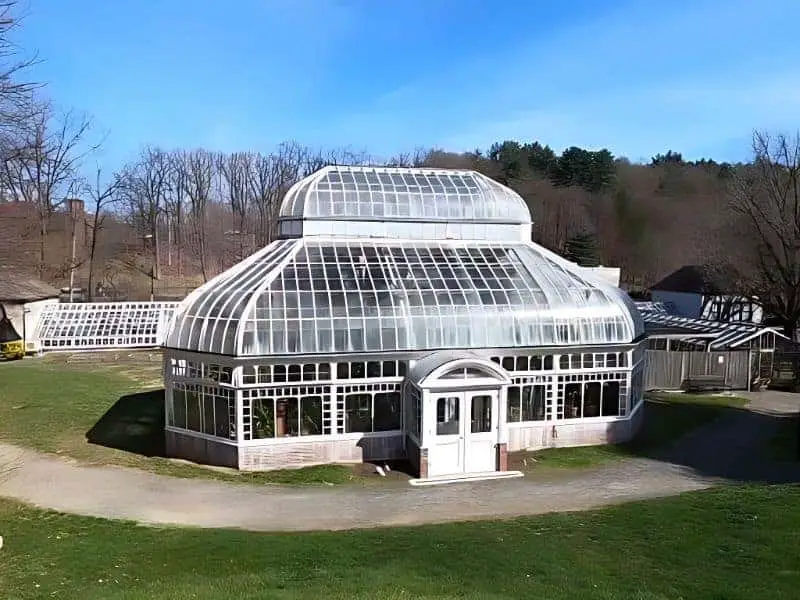 Hours: Monday – Friday: 9 AM – 4 PM, Saturday & Sunday: 1 PM – 4 PM. 
Garden Highlights: Drue Matthews Garden, Heckel Staircase Garden, Class of 1904 Garden, and Virginia Craig Rhododendron Garden. 
Unique Plants & Trees: Orchids, Cacti, Begonia, Bromelia, and Ferns. 
Contact: 413-538-2116
Nearby Attractions: Children's Museum at Holyoke, Holyoke Heritage State Park.  
Address: 50 College Street South Hadley, MA 01075 USA
Read Best Gyms in Massachusetts
Visit a Nature Center and Botanical Garden Near You
Conclusion 
The Botanical Gardens in Massachusetts harbors extensive collections of flowering plants that attract pollinators for pollination. Unique species of butterflies such as swallowtails, painted lady butterflies, and certain bee species are prominent pollinators found here. The botanical gardens in Plymouth, New Bedford, South Hadley, and Framingham contain a separate area for medicinal herbs. 
Massachusetts Articles:-