16 Best Fall Festivals in Massachusetts 2023
Fall Festivals in Massachusetts are to celebrate the unmatched beauty of the autumn season. Leaves turn an orange-yellowish hue, and the weather gets cooler to prepare the people to welcome snowy winter. Several events and festivals have started to unravel this time to showcase local culture, traditions, and craftsmanship.
Towns and cities of Massachusetts always amaze its citizens with several fall events.  Each event has something different to offer. Besides hiking, exploring mazes, and observing fall foliage, these events are essential to get people into seasonal festive moods.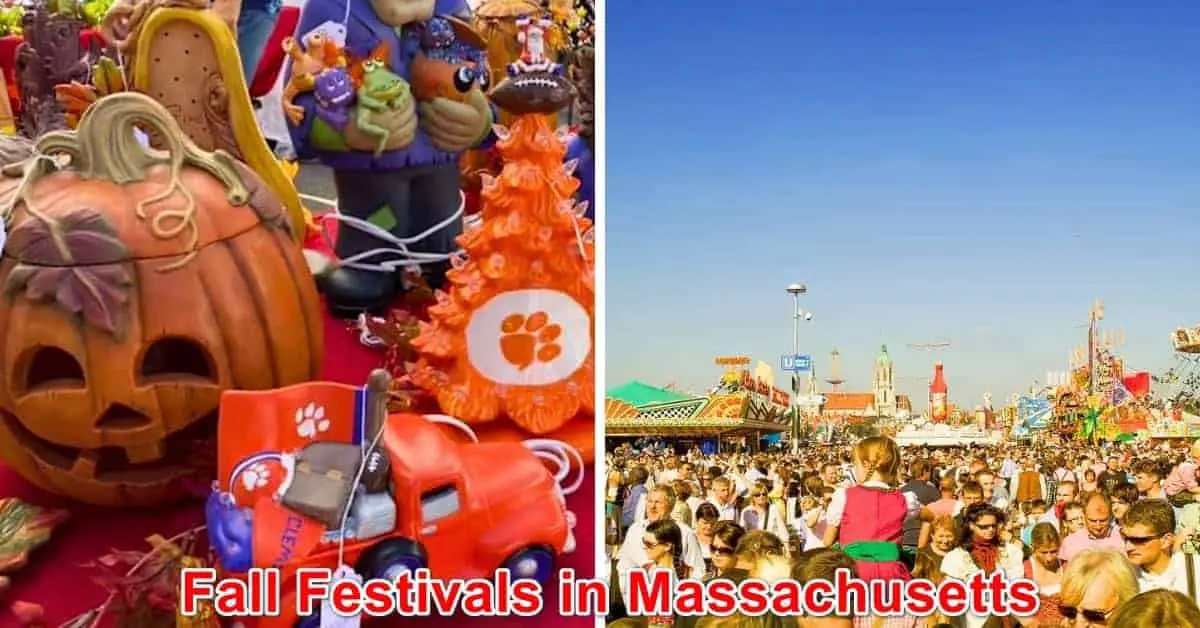 16 Best Fall Festivals in Massachusetts
1. The Big E – West Springfield, MA
The Big E is an annual fair in West Springfield. Eastern States Exposition is the home to the Big E.  For over a century, it has offered the people livestock, innovative commercial, and diversified entertainment. This event is held for 17 days on the second Friday after Labour Day. Under the Commonwealth of Massachusetts laws, the occasion is organized as a not-for-profit educational institution.
It showcases the awesomeness of the fall through exhibits, agriculture, and entertainment. Joshua L. Brooks proposed this idea for the events in 1917 to introduce new farming methods and establish competitive awards for the betterment of the farmers.
The Avenue of States and Sorrowtown Village Museum are the most remarkable features of this event. Band concerts, circuses, celebrity chefs, and famous talents are other spectrums of this event.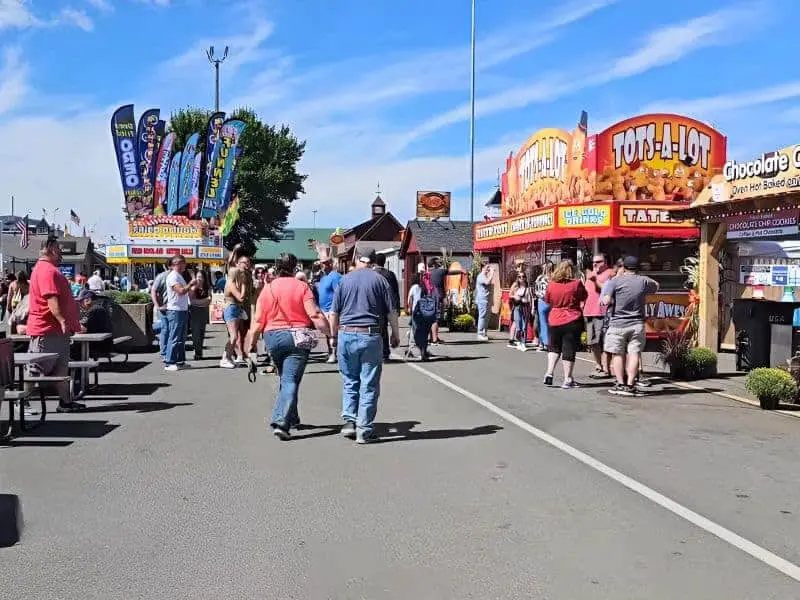 The Big E features agricultural activities, horse shows, consumer events, trade shows, and entertainment events. During this, more than 25 breeds of goats, cattle, goats, and hogs are on display. The Magic Midway features a giant wheel, various rides, a petting zoo, camel and elephant rides, and many more. A few restaurant facilities also offer food from different nations and regions.
Date: 15th Sept to 1st Oct 2023. From 9 a.m. to 11 p.m.
Special Activities: Sky-High Super Wheel, Kiddieland
Contact Info: 413-737-2443, [email protected]
Nearby Attractions: Storrowton Village Museum, Naismith Basketball Hall of Fame
Address: 1305 Memorial Ave. West Springfield, MA 01089
Read Best Spots for Bubble Tea in Massachusetts
2. Douglas Oktoberfest – Douglas, MA
Douglas Oktoberfest is a prominent fall festival for the people of Massachusetts. It is a hub for non-profit organizations to raise funds. This event is getting bigger each year and is considered the best Blackstone Valley region event. Started in the mid-1980s as a yard sale, the event now hosts 4 phases of live performances. 
The event is diversified with high-caliber entertainment. There are over 10,000 people gathered every year. About 90 vendors line up the streets with various games, crafts, food, unique items, etc. The audience was captivated by dance routines, live bands, singers, choral groups, and shows. 
It also features many games and rides for the neighboring and local children on the church lawn. Among them, trains, moonwalks, slides, and obstacle courses are famous. Wiener dog races, antique cars, and delicious food items are the key features of this event.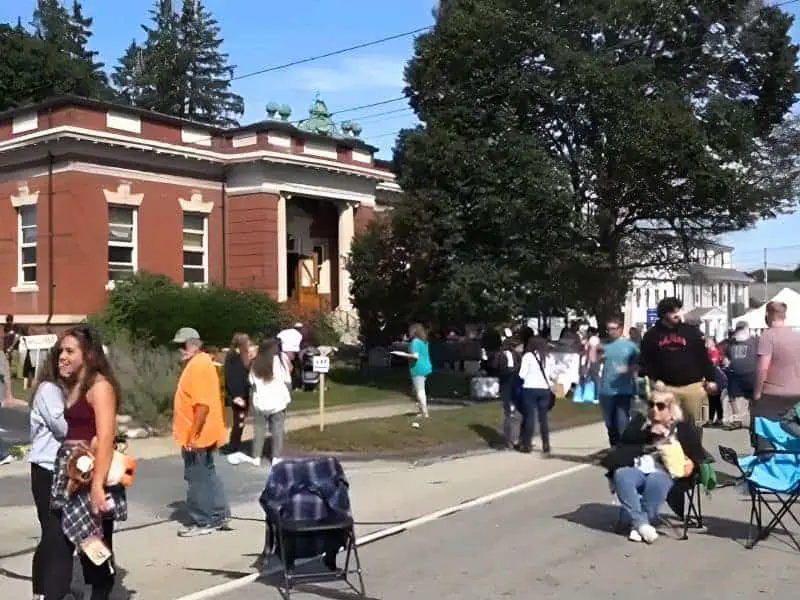 Date: 7th October, 2023, Saturday, from 9 a.m. to 4 p.m.
Special Activities: Petting Zoo, Beer Garden
Contact Info: [email protected]
Nearby Attractions: Southwick's Zoo, Purgatory Chasm State Reservation
Address: 29 Depot Street, Douglas, MA 01516
Read Best Record Stores in Massachusetts
3. Harpoon Octoberfest – Boston, MA
Harpoon Octoberfest is one of the celebrated fall fests in Boston. This year, the event is stepping on its 33rd year. It is the largest festival ever celebrated in the neighborhood. The event is held at Harpoon Brewery. 
They have multiple entrances and a tented area with ample seating arrangements. It is a haven for all the bear lovers.  Live oompah music,  beers, food, and other forms of entertainment are this event's key features. Pretzel eating, chicken dancing, and beer-drinking competitions are attractions here. 
Date: 29th September to 30th September, 2023. Friday from 6 p.m. to 11 p.m. and Saturday from 12 p.m. to 7 p.m. 
Special Activities: Flowing Taps, Stein Hoisting Competition
Contact Info: 617-456-2322, [email protected]
Nearby Attractions: Boston Tea Party Ships & Museum, The Greenway Carousel
Address: 306 Northern Ave, Boston, MA 02210
Read Best Antique Stores in Massachusetts
4. Berkshire Botanical Gardens Harvest Festival – Stockbridge, MA
The Harvest Festival at the Berkshire Botanical Garden is a quintessential event. The 24-acre garden is turned into a magnificent hub for this occasion. This autumn harvest has been the center of attraction since 1934. 
The salient feature of this festival is family entertainment. A tag sale with gently used and repurposed household items, jewelry, and clothes is another part of this place. The elaborated plant sale and farmer market are also popular here. A botanical bakery offers baked goods, chili, bisque, treats, and many more. Over 50 artisanal food and craft vendors are in the garden during this event.
Barrington Brewery offers a beer garden to make this event more fun. For children, the festival has a lot of entertainment, including pony rides, hay rides, hay jumps, pumpkin tossing, painting, etc.
The festival includes interactive music, the popular persona "The Pocket Lady," fire dancing, 'Misty Blues' concert, obstacle courses, and other entertainment. Apple squeezing is also available. Carpooling is allowed, and dogs are forbidden on the fairground. +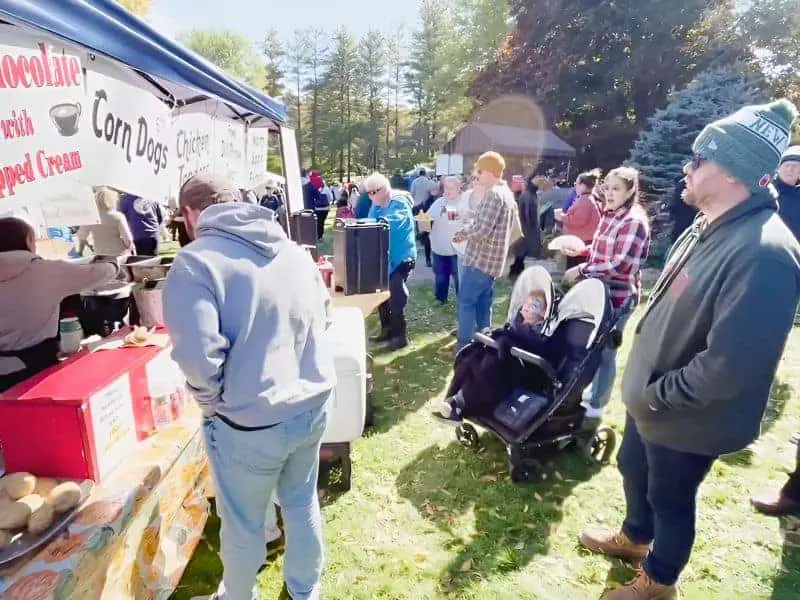 Date: 7th October to 8th October, 2023. From 10 a.m. to 5 p.m.
Special Activities: Interactive Music with Robie Bones, Great Barrington Rudolf Steiner School Puppet Wagon Show
Contact Info: 413-298-3926, [email protected]
Nearby Attractions: Norman Rockwell Museum, Chesterwood
Address: 5 W Stockbridge Rd, Stockbridge, MA 01262
Read Best Piercing Places in Massachusetts
5. Wellfleet OysterFest – Wellfleet, MA
Wellfleet Oysterfest is a traditional event in Wellfleet Cape Cod. On the weekend following Columbus Day, the event will be held. It is all about the famous shellfish, clams, and oysters from the locals. This event is the collaboration of fishermen, shellfish men, businessmen, and many amazing volunteers. 
Local cuisine, arts, and crafts are the main attractions for visitors and locals alike. Culinary programs, educational lectures, road races, and eco tours keep the visitors hooked. This two-day festival represents the local traditions. Tickets are mandatory for this event. 
The main feature of this place is Oyster Shuck Off, an annual oyster shucking competition. There are raw bars, indie food vendors, and numerous food tent vendors. Many children's activities include spelling bees and other fun games. For entertainment, there are numerous live performances on the festival grounds. A jumbo screen is available to show the main stage. 
Date: 14th October to 15th October, 2023. From 10 a.m. to 5 p.m.
Special Activities: Oyster Shuck Off, Sugarcane Duquesne Redux
Contact Info: 508-349-2510, [email protected]
Nearby Attractions: Wellfleet Historical Society & Museum, Cape Cod National Seashore
Address: 1410 Route 6, Wellfleet, MA 02667
Read Best Arcades in Massachusetts
6. What the Fluff? – Somerville, MA 
What the Fluff, a midcap festival, honors the invention of the marshmallow. Union Square Main Streets and Somerville Arts Council present this event that pays tribute to Union Square Innovation.  The fluff will celebrate its 18th anniversary this year.
The theme is Fluff Union: The Sweetest Square in Somerville, which offers the sweetest taste, sounds, sight, and innovation. Several food vendors are present to make this day more memorable. Art and craft vendors will also be there. They also have a selection of merchandise like shirts, koozies, tote bags, etc.
There are several live performances available for entertainment. Several antiques are hosted by Archibald Query impersonators, including marshmallow toss, jousting, etc. The midway games area has bowling, ring toss, and other varieties of games. Their innovation alley has some youth inventors and bots to make smores, face painting, open mic, etc. Parkour brings more excitement, and they have bike valets.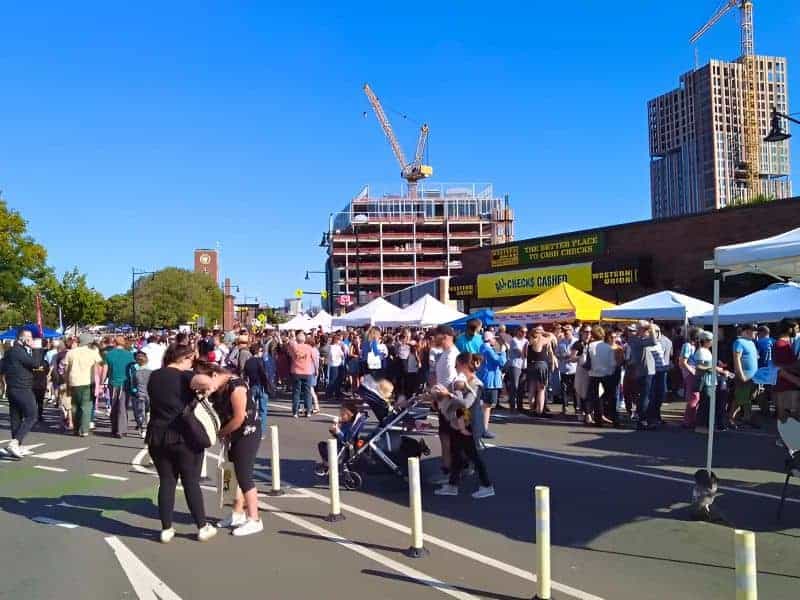 Date: 24th September, 2023. From 3 p.m. to 7 p.m.
Special Activities: Mayor Joe Flufftastic Innovation for Impact Award Presentation, Fluff Musical Chairs
Contact Info: 617-955-0080, [email protected]
Nearby Attractions: LEGO Discovery Center Boston, Peabody Museum of Archaeology and Ethnology
Address: Somerville Ave btwn School St and Warren Ave, Somerville, MA 02143  
Read Best Tattoo Shops in Massachusetts
7. King Richard's Faire – Carver, MA  
King Rochard's Faire is the longest-running festival in the fall of the six states in New England. This Renaissance Festival of New England provides entertainment for all ages. The 80-acre wooded space brings this festival's fun, challenges, and excitement. 
They have eight vibrant stages for live entertainment. Several talented artists and performers travel a great distance to showcase their talents. Acrobats, fire eaters, aerialists, minstrels, and others entertain the patrons. The larger-than-life puppets are another attraction here.
The knights of the king daily perform jousting on horseback. In the mud, several bawdy beggars compete. Signature cocktails, wines, roasted turkey legs, fries, chowders, and other delectable food are present at the fair.
Beautiful jewelry, unique treasures, handcrafted wares, leather fabrics, armor, and many beautiful crafts are brought for sale. Face and body painting are done here. This festival includes tarot reading, henna art, psychic reading, perfumes, scented oils, etc..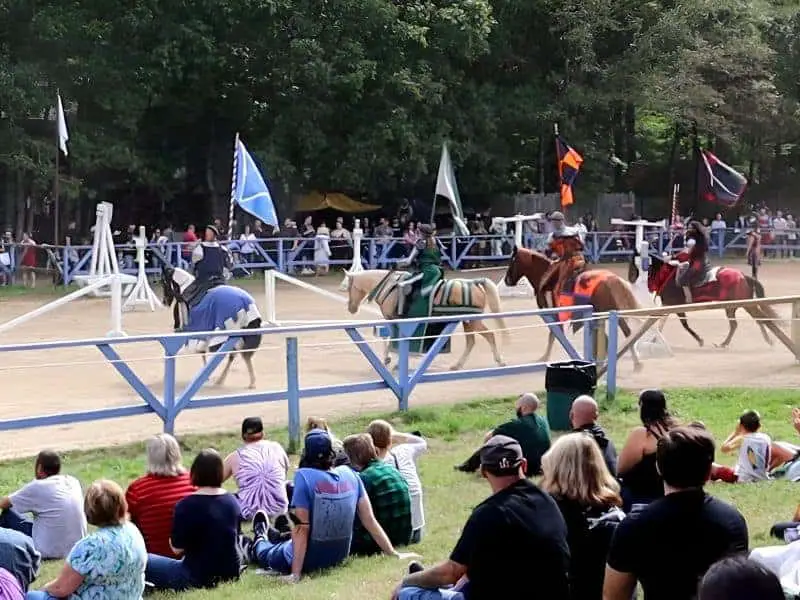 Date: 2nd September to 22nd October, 2023. From 10.30 a.m. to 6.30 p.m.
Special Activities: Viking Tug O' War on the Joust Field, Magical HP House Meetups
Contact Info: [email protected]
Nearby Attractions: Edaville Family Theme Park, Thomas Land USA
Address:  235 Main St, Carver, MA 02330, United States
Read Best Furniture Stores in Massachusetts
8. Freshgrass Festival, North Adams, MA
Freshgrass is a family-friendly festival dedicated to root music in the Berkshire Hills' foothills. FreshGrass Foundation, Mass MoCa, and No Depression partnered and produced this three-day music festival. For every ticket sold, FreahGrass plants a tree with One Tree Planted. 
The largest contemporary galleries of Mass MoCa, courtyards, and fields are filled with visitors. Farm fresh food, locally brewed beers, and world premiers are all about this event. Several art competitions are held to celebrate new talents. Shuttle buses are available from the campsite to the festival. They have planted 16689 trees to date.
Pop-up jamming sessions and original live programs are the keys to the festivals. Four stages are there for traditional and innovative musicians on the 16-acre campus. A Silent film, FreshScores, also played at this festival.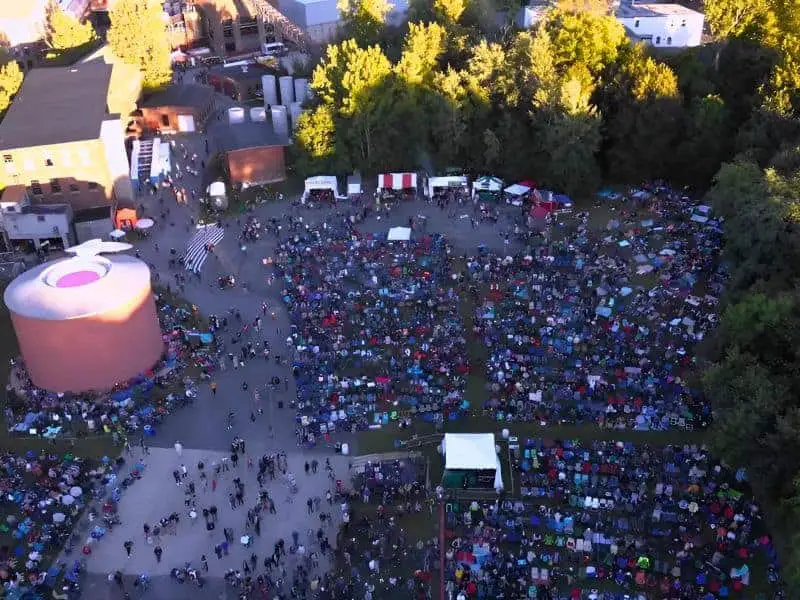 Date: 22nd September to 24th September. Friday from 5 p.m. to 10.35 p.m., Saturday from 10 a.m. to 10.30 p.m., and Sunday from 10 a.m. to 5 p.m.
Special Activities: Dropkick Murphys (Acoustic), Lukas Nelson + POTR
Contact Info: 413-662-2111, [email protected]
Nearby Attractions: Western Gateway Heritage State Park, Berkshire Art Museum
Address: 1040 Mass MoCA Way, North Adams, MA 01247
Read Best Candy Shops in Massachusetts
9. North Quabbin Garlic and Arts Festival – Orange, MA
North Quabbin Garlic and Arts Festival is a beloved gathering amid fall foliage. For 25 years, this festival has always impressed neighboring people and visitors. In 1999, it was first started in Solidarity Farm, and from the next year till now, it has been held in the historic Foster's Farm. This event is a celebration of the regional beauty and agricultural economy. 
Over 100 exhibitors come together to showcase local produce, intricate healing arts, food, and many more. This 'festival that stinks' unites thousands of people across New England and hopes for a better future. There is abundant knowledge on sustainability, renewable energy, and local living.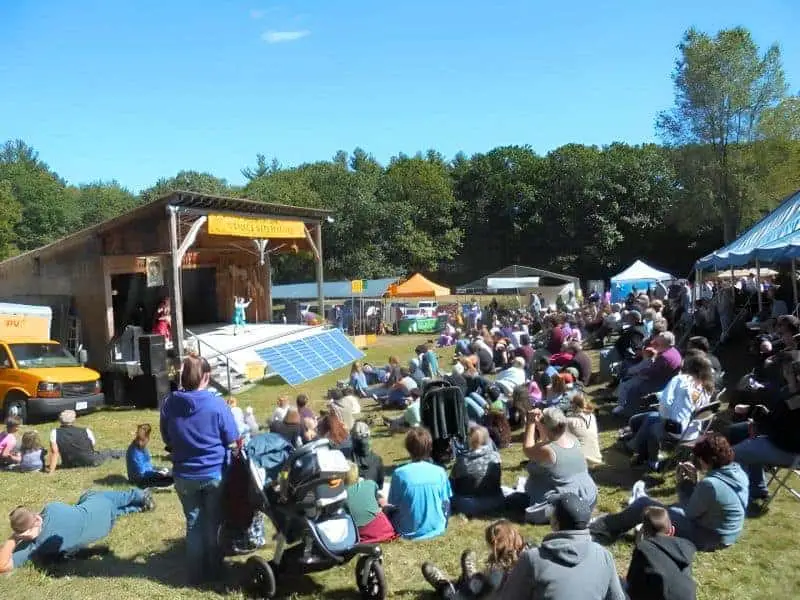 Tons of entertainment awaits at the festival. Artists and performers provide endless entertainment in the three stages of the fairground. A free kids' tent offers unlimited arts and garlic games. The cooking demonstration with numerous chefs showing garlic recipe demos is essential to this event.
This year, the theme includes foraging for mushrooms, pollinators, flower-visiting insects, training of land stewards, the Inflation Reduction Act, forestry practices, etc. A big wood-fired Masonry Oven is another attraction of this place.
 Date: 30th September to 1st October. Saturday to Sunday from 10 a.m. to 5 p.m.
Special Activities: Hooping with Alotta Hoopla, Parent, and Baby Space
Contact Info: 
Nearby Attractions: Orange Historical Society, Millers River Environmental Center
Address: 60 Chestnut Hill Rd, Orange, MA 01364
Read Garden Centers and Nurseries Plymouth, MA
10. Harvest Moon Festival – Onset Beach, MA
Harvest Moon Festival is a popular event hosted on Onset Beach. This reimagined occasion is one of the biggest and draws more people yearly. Several vendors, food trucks, chowder, chili, and other entertainment keep visitors occupied.
The Rusty Nuts Car Club of Wareham hosts antique car shows. Besides, live music, stuffies contests, face painting, guitar raffle, and balloons for kids are a few attractions here. A firework occurs after all events to end the day well.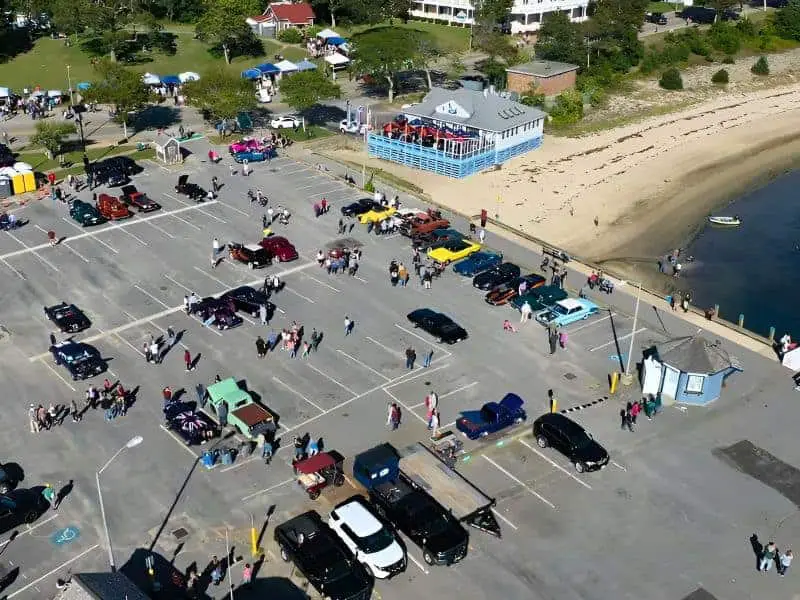 Date: 1st October from 10 a.m. to 8 p.m.
Special Activities: Carved Pumpkin Contest, CRANKIT!-Hits & deep cuts from the WCOZ & MTVli eras
Contact Info: 508-295-7072, [email protected]
Nearby Attractions: Cape Cod Canal Railroad Bridge, Heritage Museums & Gardens
Address: Onset Pier, 186 Onset Ave, Onset, MA 02558
Read Best Garden Centres and Nurseries in Massachusetts
11. Fabulous Fall Festival – Gardner, MA
Fabulous Fall Festival is a family-friendly street event. It becomes a haven for pedestrian shoppers. Vendors line up the streets with their merchandise and products. It is free to the public.
Live entertainment is also a part of this occasion. Local shops, business, and restaurants open up their stalls. Non-profit organizations, novelties, crafters, and food trucks gather here. Several games, inflatable jumping characters, music, and costumed characters are other features of this event.
Date: 30th September from 10 a.m. to 4 p.m.
Special Activities: Reptile Shows of New England, The Witches of The North Woods
Contact Info: [email protected]
Nearby Attractions: Bicentennial Giant Chair, Dunn State Park
Address: Downtown Gardner, Massachusetts, 1 West Lynde Street, Gardner, MA 01440
Read Best Bowling Alleys in Massachusetts
12. Applefest at Wachusett Mountain – Princeton, MA
Applefest at Wachusett Mountain is a family entertainment hub for all ages. This year, the event will turn 39 years old. It features all things Apple and locally produced items.
Great food, entertainment, and unlimited fun are the main motto of the festival. Over 100 exhibitors, a farmers' market, live music, and locally brewed beer keep the visitors happy. The scenic fall foliage from the SkyRide acts as a magnificent backdrop. 
A giant pumpkin weigh-off, a cider house, blueberry pie, and an apple pie eating contest are most popular here. Besides that, slides, inflatables, statue carvers, stilt walkers, etc., gained popularity. For children, clown and balloon arts are here. Glimpses of eagles, hawks, falcons, and owls are a bonus.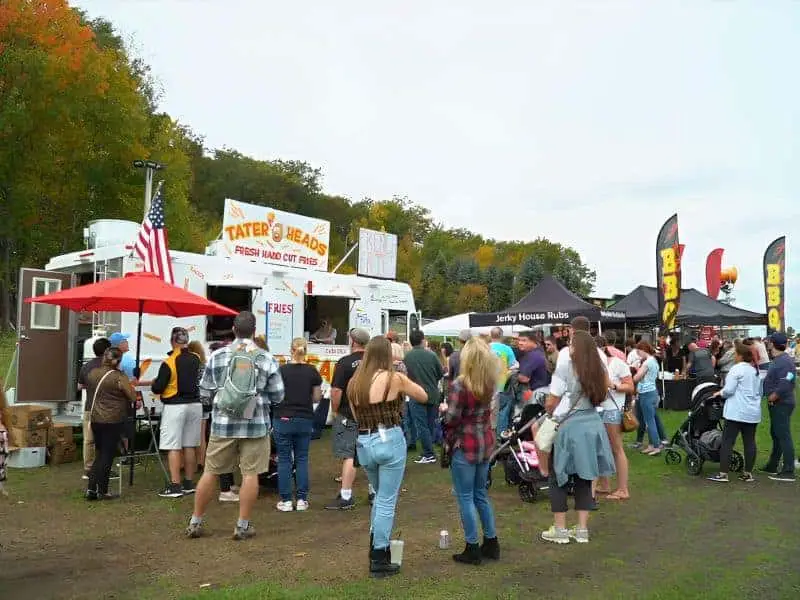 Date: 14th October through 22nd October, only Saturday and Sunday from 11 a.m. to 5 p.m.
Special Activities: Skyride, Fun Side Shows
Contact Info: 978-464-2300
Nearby Attractions: Bicentennial Giant Chair, Dunn State Park
Address: 499 Mountain Rd, Princeton, MA 01541
Read Best Indian Restaurants in Massachusetts
13. Salem Food Truck & Craft Beer Festival – Salem, MA
Food Truck Festivals of America is presenting the Salem Food Truck & Craft Beer Festival. Being held in Salem Common, the festival is turning 4th this year. This two-day event is all about delicious food and refreshing drinks.
Over 40 most popular food trucks are present on the days. From juicy fall-off-the-bone ribs, lobster rolls, and Indian cuisine to delectable pies, several dishes from popular cuisines are available. More than 50 local brewers offer regional and national local brewed drinks. An artisanal corner is here that has some of the best crafts. 
Live music, unlimited entertainment, and many games are also part of the event. Visitors must bring their blankets and lawn chairs for relaxing and basking in the sun. Leashed dogs are allowed.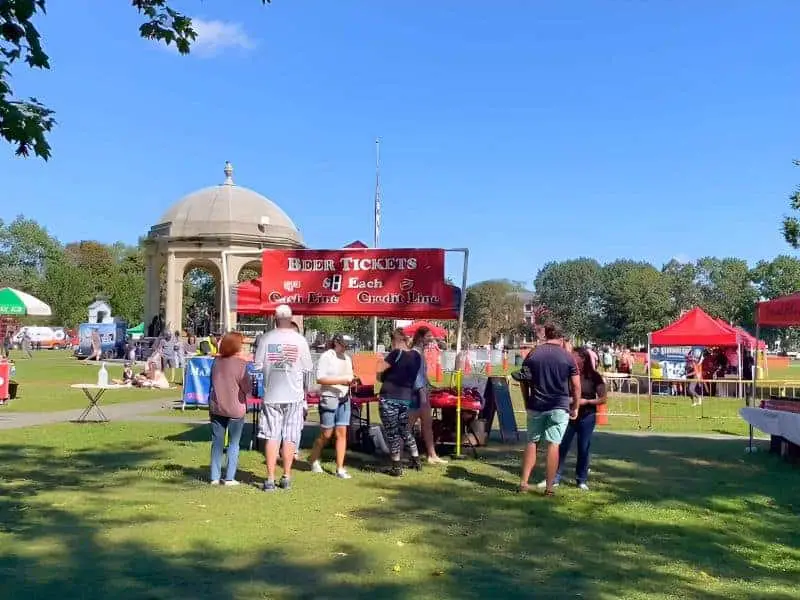 Date: 23rd September to 24th September from 11 a.m. to 6 p.m.
Special Activities: Lawn Games 
Contact Info: 781-956-3832, [email protected]
Nearby Attractions: Salem Willows Park, The House of the Seven Gables
Address: Salem City Hall, 93 Washington Street, Salem, MA 01970
Read Italian Restaurants in Massachusetts
14. Ashfield Fall Festival – Ashfield, MA
Ashfield Fall Festival is celebrated in the foothills of the Berkshire Mountains. Since 1970, it has been one of the celebrated fall events in the locality. It is a place to collect fundraisers for different service organizations.
This hilly festival is all about showcasing local business and arts. It creates an opportunity for youth to develop their creativity and skills. Several games and fun activities make the event more exciting. Rope ladders, marble mazes, catapults, and pirate's toss are among the favorites.
All the food vendors offer seasonal, locally produced food dishes. Several maple offerings are available. Many handmade crafts, potteries, barns, glass blowers, jewelry, etc., are available. Exhibitor of furniture, instruments, baskets, and fabrics showcase their artistry. Merchandise is available here.
Date: 7th October to 8th October from 10 a.m. to 5 p.m.
Special Activities: Cloudbelly Duo, Pumpkin Games: pumpkin relay races, bowling
Contact Info: [email protected]
Nearby Attractions: Three Sisters Sanctuary, Bridge of Flowers
Address: Salem City Hall, 93 Washington Street, Salem, MA 01970
Read Best Salad Bars in Massachusetts
15. Topsfield Fair – Topsfield, MA
Topsfield Fais is one of the oldest county fairs in Topsfield. For over 200 years, it has been people's favorite event. Several people from locals and visitors from other neighborhoods visit this festival every year. Parades, a premium flower show, vegetables, and fruits are displayed here. Fine Arts, canning, crafts, and winemaking are added perks of this fair.
They have a midway full of different rides for both kids and families. Some fast-moving stomach, stomach-turning rides are present for teenagers. It has the largest bee-keeping and honey exhibits in North America. Four live hives are kept on display at the fair. Bee-related arts and crafts are shown on display.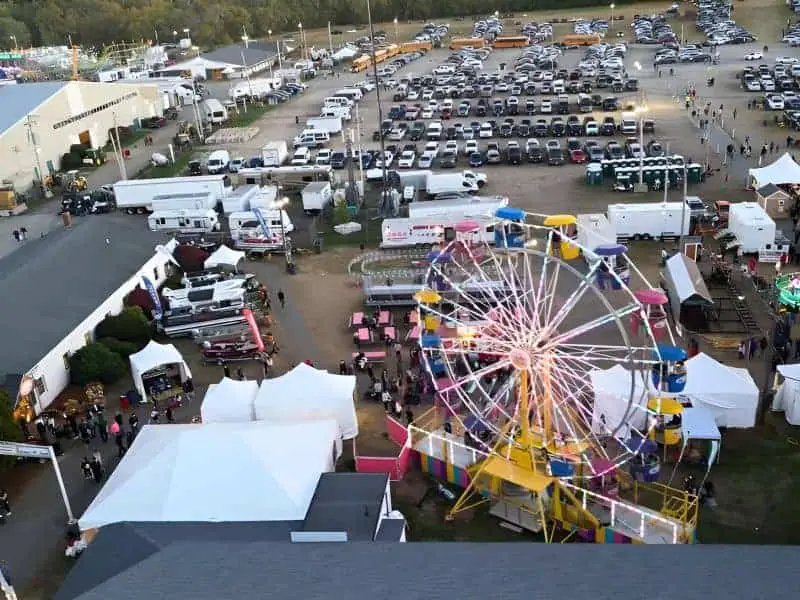 Traditional agricultural competitions like horse pulling, oxen pulling, sheep dog trails, touch-a-truck, stock framer tractor pulling, etc., are part of this event. Live performances like motor stunts, New England Rodeo, Clay Walker, the Flying Wallendas, and Demolition Derby are performed. Several savory and dessert items are available here. 
Date: 29th September to 9th October. The 1st Friday is from 4 p.m. to 10 p.m., Saturday from 10 a.m. to 10 p.m., Sunday from 10 a.m. to 9 p.m., Monday to Wednesday from 11 a.m. to 9 p.m., Thursday from 10 a.m. to 10 p.m. The second Friday, Saturday, and Sunday are from 10 a.m. to 10 p.m. The last Monday is from 10 a.m. to 8 p.m.
Special Activities: Mrs. Essex County Pageant, Cock Crowing Contest & Hen Flying Contest
Contact Info: 978-887-5000, [email protected]
Nearby Attractions: Mass Audubon's Ipswich River Wildlife Sanctuary, Wenham Museum
Address: 207 Boston St, Topsfield, MA 01983
Read Best Buffets in Massachusetts
16. Johnny Appleseed Arts & Culture Festival – Leominster, MA
This festival is dedicated to the birthday of John Chapman. He's also known as Johnny Appleseed for introducing apple trees throughout America and Canada. He was born in Leominster, Massachusetts. The city organizes this fall festival annually to celebrate the history and indulge in different apple-filled dishes. 
For Johnny Appleseed Arts & Culture Festival, every year, the downtown turns into a hub for live music, handmade crafts, fresh apple crisps and desserts, a kid's party zone, ice creams, donation centers, and many more. The festival is open for 8 hours. There are more than 230 vendor booths, including Webster First's Fitchburg Branch. Visitors can enjoy fresh breakfast, lunch, and different snacks here. 
You will also find the  Leominster Emergency Communication Center booth here. Local thrift store booths encourage people to donate here. There are 2 stages for live music performances on the ground. This fun-filled long fall festival is a must-visit for every local to celebrate the birthday of a hero.
Date: 23rd September. From 9 a.m. to 5 p.m. 
Special Activities: Live Music, Kid's Parking Lot Party. 
Contact Info: 978-660-2313, [email protected]
Nearby Attractions: Coggshall Park, Curious Escape Rooms. 
Address: 25 West Street, Downtown Leominster, MA, United States
Read Best Spas in Massachusetts
Find Fall Festivals Near You
Conclusion
These are the most beloved fall Festivals in Massachusetts. They are unique in their way but similar in a sense to get people into autumn moods. All these events represent the regional culture. It allows businessmen, craftsmen, and artists to develop their skills. They are a representation of the vibrant nature of the fall season. Visit these events and enjoy the beautiful autumn celebrations.
Massachusetts Articles:-