20 Best Antique Stores in Massachusetts 2023
People of Mass love antiques, and for that reason, there are many antique stores in Massachusetts. These shops offer a variety of unique vintage goods. In Massachusetts, Salem, Essex, Lee, Plymouth, Worcester, and Boston are the best places to find the best antique malls.
Antiques are a way of reusing old items to give them a new purpose. They are famous worldwide for their aesthetics and history behind them. Antiques can be the answer to various needs, whether they're related to home décor or significant collections.
List of 20 Best Antique Stores in Massachusetts
1. Canal Street Antique Mall – Lawrence, Massachusetts
Canal Street Antique Mall is a 40000 square feet space in two mill buildings. This place is known for its massive collection of vintage antiques. This place is voted one of the state's largest antique malls. Steve Fortier is the owner of this antique store.
The diverse collection includes antique furniture, primitive collectibles, mid-century art, and architectural decor. They also have live edge hardware for any repair work within every budget. A new design center was recently introduced on the fourth floor of the Everett Mill Building. It offers customization according to the customer's niche. 
Antique Collections: Custom Painted Furniture, Home Stager, etc
Hours: open daily from 10 am to 5 pm, except Thursday from 10 am to 7 pm
Nearby Parking: Star Parking Enterprises, LAZ Parking
Nearby Places:  Lawrence Heritage State Park, Den Rock Park
Phone: 978-685-1441
Address: 181 Canal Street, Lawrence, MA 01840
Read Best Spots for Bubble Tea in Massachusetts
2. Brimfield Antique Center – Brimfield, MA
Brimfield Antique Center is a renowned boutique in Brimfield. It's considered one of the best antique markets in the U.S. It has 6000 square feet of floor space.
The market consists of many outdoor shops, tents, and booths. These stores offer a huge collection of vintage items and artifacts. They host many unique events all year round.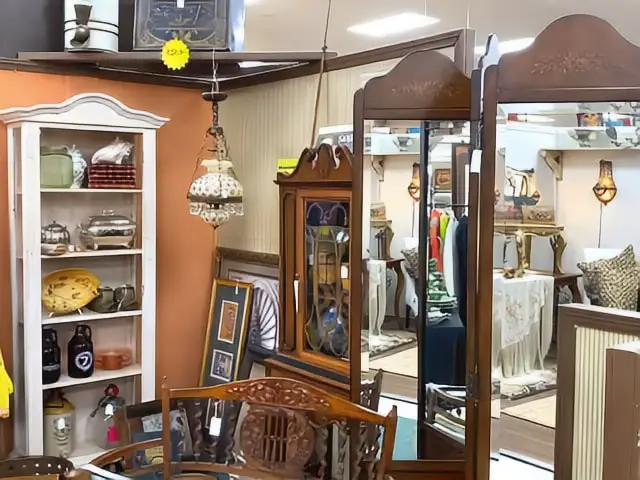 Antique Collections: Sterling Silver Teapots, Moorcroft Pottery
Hours: November to February, Monday, Wednesday through Friday, 11 am to 4 pm, and Sunday from 11 am to 5 pm. March to October, daily from 11 am to 5 pm
Nearby Parking: Yellow Fields Parking, Brimfield Trail, Five Bridge Road Parking Area
Nearby Places: Brimfield State Forest, Norcross Wildlife Foundation
Phone: 413-245-9269, 
Address: 35 Palmer Rd, Brimfield, MA 01010
Read Best Record Stores in Massachusetts
3. Crompton Collective – Worcester, MA
Crompton Collectives are a curated antique boutique in Worcester Mill Building. It is home to many antique and vintage products along with new decor. The store has 9000 sq. ft. of floor space.
They sell new home decor along with vintage ones. It offers chic furniture, antique treasures, milk paintings, and other gift options. They do not entertain consignments and appraisals. The store extended its support to local artists and independent makers.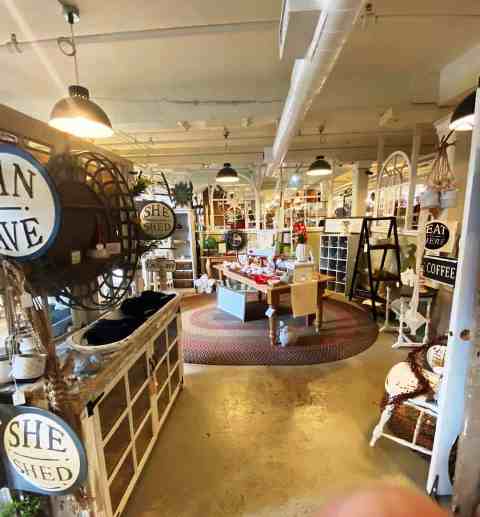 Antique Collections: Lamp and Wall Sconce.
Hours: Sunday, Tuesday through Thursday, 11 am to 5 pm, Monday from 11 am to 4 pm, Friday from 11 am to 6 pm, and Saturday from 10 am to 6 pm 
Nearby Parking: Worcester Common Garage, 142 Commercial St Parking
Nearby Places: Live Action Escapes, EcoTarium
Phone: 508-753-7303
Address: 138 Green St, Worcester, MA 01604
Read Best Piercing Places in Massachusetts
4. Freight House Antiques – Erving, Massachusetts
Freight House is an eminent antique store nestled in Erving Center Station. Jeff and Rita Dubay first started this shop in 1993. The varied collections of collectibles make it a must-visit place.
This place is home to antique furniture, tools, farm equipment, Native American artifacts, paintings, etc. They sell many vintage items in their original packaging. They also have a cafe adjacent to the shop that offers food and beverages.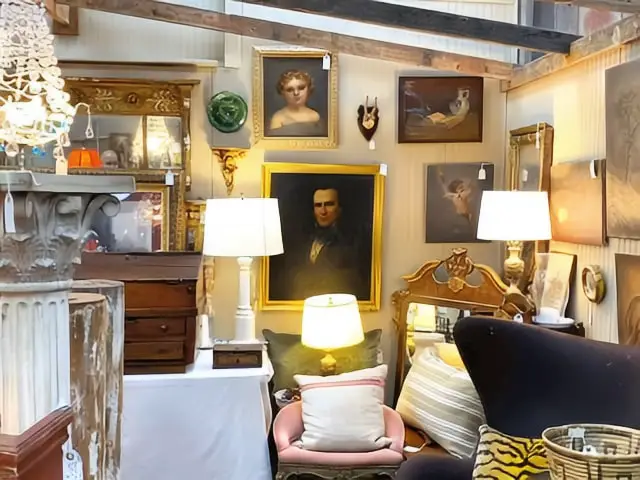 Antique Collections: Silver Pursuit Peddle Plane, Vintage Japanese Koto with Accessories, and Cover
Hours: Thursday to Tuesday from 9 am to 4 pm
Nearby Parking: Erving Municipal Parking, Farley Ledge Trailhead Parking
Nearby Places: Erving State Forest, French King Bridge
Phone: 413-422-2828
Address: 11 E Main St, Erving, MA 01344
Read Best Arcades in Massachusetts
5. Cambridge Antique Market – Cambridge, Massachusetts
Cambridge Antique Market is a multistoried mall in Cambridge. The five-storied building has tons of variety to choose from. It has had a lot of visitors over the years, including people from the Harvard and MIT campuses. 
This place provides more than 150 dealer spaces, resulting in a vast collection. It includes artwork, rustic furniture, vintage clothing, toys, antique collectibles, etc. The store's main focal point is reasonable pricing and outstanding stock.
Antique Collections: Checkerboard Reverse Painting on Glass Folk Art, Sterling Tureen
Hours: Tuesday to Sunday from 11 am to 6 pm
Nearby Parking: First Street Garage, CambridgeSide Galleria Upper & Lower Garages
Nearby Places: Museum of Science, Bunker Hill Museum
Phone: 617-868-9655
Address: 201 Monsignor O'Brien Highway, Cambridge, MA 02141
Read Best Tattoo Shops in Massachusetts
6. Jeffrey's Antique Co-op – Lunenburg, Massachusetts
Jeffrey's Co-op is a famous antique shop in Lunenburg. This store has 150 dealers with enormous stock. They believe in a greener future, as antiques are a great way to reuse and recycle. 
This multi-dealer store has a collection of furniture, toys, vintage artifacts, and many more. They also have merchandise that is changing quite often. The store is accessible to all as it has collectives in different price ranges. Multiple events are organized all over the year.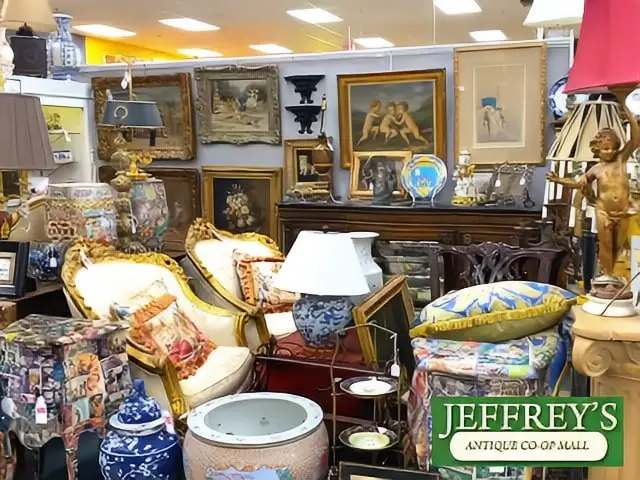 Antique Collections: Tiffany Pitcher, Timex Jewelry Display Case
Hours: Open daily from 10 am to 3 pm
Nearby Parking: Fitchburg Station Parking, North 4
Nearby Places: Lunenburg Historical Society, Lunenburg Historic District
Phone: 978- 582-7831
Address: 62 Chase Rd, Lunenburg, MA 01462
Read Best Furniture Stores in Massachusetts
7. New Bedford Antiques at the Cove – New Bedford, MA
New Bedford Antiques at the Cove is a historical place in New Bedford. This spacious store has 1.5 acres of floor space. It is a place where memories are rekindled for the past 15 years.
The store is home to numerous antique pieces of furniture, jewelry, clothing, and many more. They have home delivery and gift card facilities. It's a great place for antique shopping.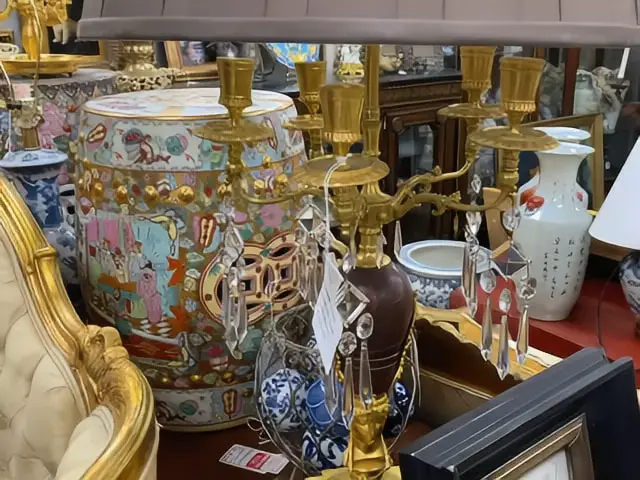 Antique Collections: Vintage Milk & Cream Separator, Expandable Oak Table
Hours: Sunday to Saturday from 10 am to 5 pm 
Nearby Parking: Harbor Walk A Parking Lot, 185 MacArthur Drive Parking
Nearby Places: Fort Rodman, New Bedford Fire Museum
Phone: 508-993-7600
Address: 127 Rodney French Blvd, New Bedford, MA 02744
Read Best Consignment Shops in Massachusetts
8. Antique Center of Yarmouth – West Yarmouth, MA
Antique Center of Yarmouth is the largest co-op in Cape Cod. There are 100 dealers and consignors associated with them. They are known for their unique inventory and easy parking lots.
It is home to many unique collectibles. They collaborate with the best dealers specializing in glass, furniture, nautical, and antique weapons. Aside from this, they offer gold, silver, and antique consignments.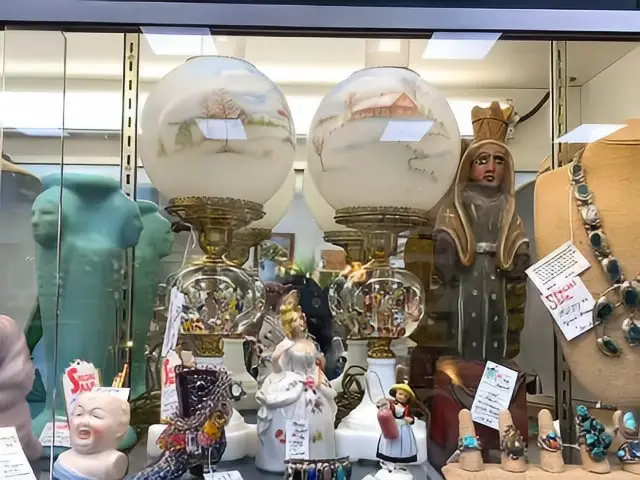 Antique Collections: Ornately Carved Oak Armchair, Railroad Dinnerware
Hours: Monday, Tuesday, Thursday through Saturday from 10 am to 5 pm and Sunday from 11 am to 5 pm 
Nearby Parking: Hy-Line Parking, Scan & Pay – 201 Main Parking
Nearby Places: Whydah Pirate Museum, Pirate's Cove Adventure Golf
Phone: 508-771-3327
Address: 325 MA-28, West Yarmouth, MA 02673
Read Best Candy Shops in Massachusetts
9. Hunt & Gather Vintage Market – Princeton, MA
Hunt and Gather Vintage Market is a lifestyle and antique store in the locality. This 6000 sq ft space has multiple vendors on its list. It is located in the historic all-brick building of the Museum of Antique Autos.
Being a multi-vendor store, they have a massive inventory of home decor, furniture, repurposed items, etc. It features an onsite apothecary with teas and herbs. Numerous events happened in the store, including the famous 'Mistletoe & Margarita Holiday Shopping Event.'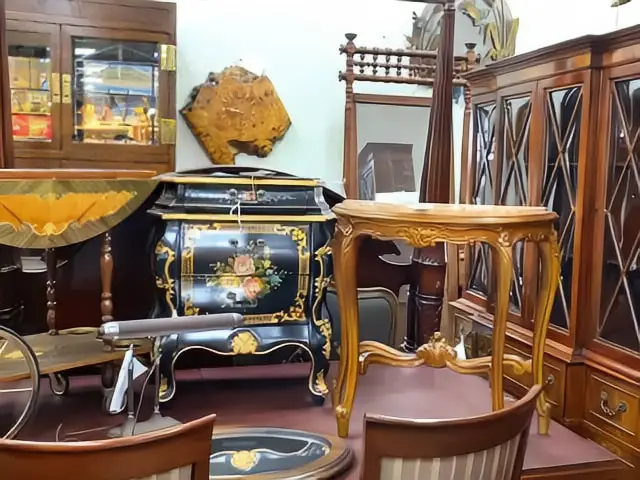 Antique Collections: Found Wooden Vessel, Amethyst Crystal Cluster of Assorted Sizes
Hours: Wednesday to Saturday from 11 am to 5 pm and Sunday from 12 pm to 5 pm 
Nearby Parking: Echo Lake Road Parking, Mountain House Trail Parking
Nearby Places: Wachusett Mountain State Reservation, Minns Wildlife Sanctuary
Phone: 978-464-5555
Address: 194 Worcester Rd, Princeton, MA 01541
Read Garden Centers and Nurseries Near Plymouth, MA
10. Sturbridge Antique shop – Sturbridge, MA
Sturbridge Antique Shop has been a paradise for antique collectors in Sturbridge since 1978. This vintage antique store has 80 dealers with an array of rare collectibles. 
The store features furniture, books, textiles, primitive artworks, and many other items. They have an impressive collection of customized merchandise. The staff are incredibly polite and helpful.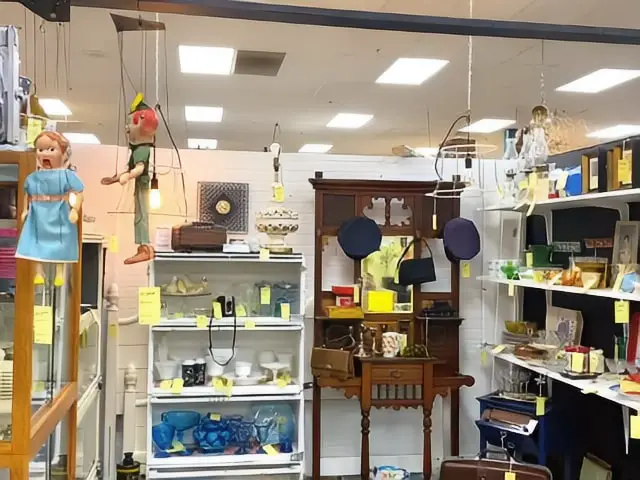 Antique Collections: Bakelite, Chinese Apothecary Chest
Hours: Open daily from 10 am to 5 pm 
Nearby Parking: Administrative Parking, Massachusetts Turnpike Parking
Nearby Places: Sturbridge Common Historic District, Escape the Pike (Escape Room Games)
Phone: 978-464-5555
Address: 128 Charlton Rd, Sturbridge, MA 01566
Read Best Garden Centres and Nurseries in Massachusetts
11. Sandwich Antiques Center – Sandwich, Massachusetts
Sandwich Antiques Center is a popular antique store and gallery over Sagamore Bridge. For over 20 years, the store is featured quality collections. It has been voted the 'Best of The Cape' for several years for its impressive inventory. 
This 5000 ft area has an array of contemporary artworks, miscellaneous items, paintings, etc. Their stock upgrades regularly based on their interest. It pays homage to history, thus making this store one of the finest galleries.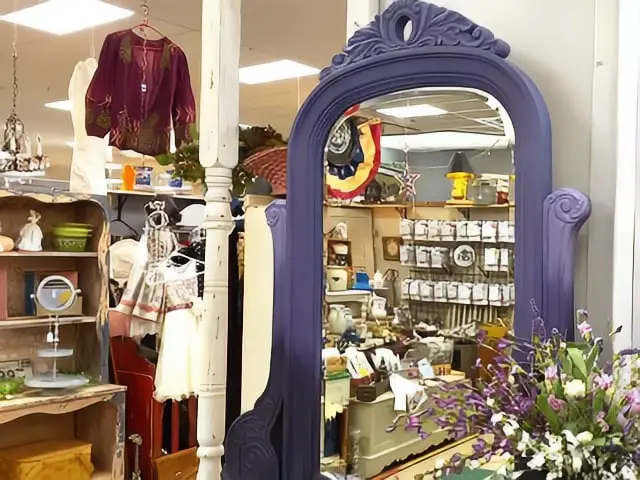 Antique Collections: Compass Rose Motif Sailor's Valentine c.1870, Native American Baskets 1890-1920
Hours: Open daily from 10 am to 5 pm 
Nearby Parking: Sandwich Boardwalk Parking, Sagamore Beach Lot 
Nearby Places: Sandwich Glass Museum, Thornton Burgess Society 
Phone: 508-833-3600
Address: 131 MA-6A, Sandwich, MA 02563
Read Best Bowling Alleys in Massachusetts
12. Buzzards Bay Antiques – Buzzards Bay, MA
Buzzards Bay Antiques is a famous store formerly known as Whatchamacallit Shop. The store has a spacious 7000 sq. ft. floor space. They feature 15 individual dealers with individual shops with an evolving inventory.
New collections are added by dealers specializing in certain vintage collectibles daily. From handmade jewelry, Asian items, and glass wares to vintage signs, the list is never-ending. With over 1,000 products, this shop won The Readers' Choice Award in 2012.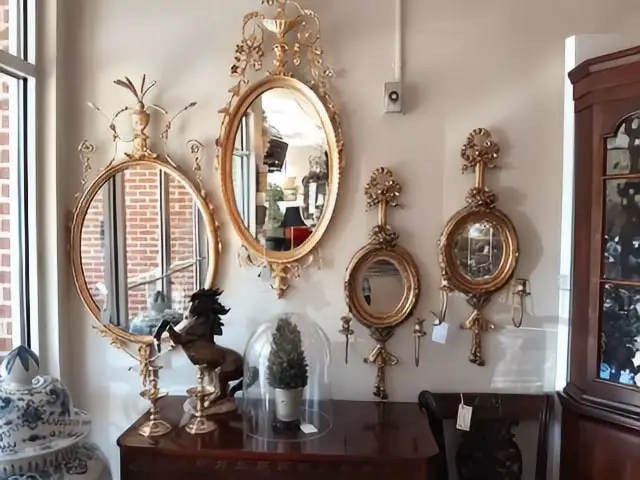 Antique Collections: Frankenstein Furniture, 1958 Philco Predicta TV
Hours: Open Tuesday to Sunday from 11 am to 6 pm 
Nearby Parking: Temple Lot, Old Train Pickup Lot 
Nearby Places: Herring Run Recreation Area, Ryan Family Amusements
Phone: 774-302-4065
Address: 61 Main St, Buzzards Bay, MA 02532
Read Best Indian Restaurants in Massachusetts
13. Whitney Hill Antiques – Greenfield, MA
Whitney Hill House Antiques is a local group shop in Greenfield. The store has 13000 sq. ft. floor space in its two-story building. They are associated with 90+ vendors with tons of collectibles and gift items.
The multi-vendor store has items for everyone with premium quality and moderate pricing. They have regular estate sales and silent auctions. It also features products made by local artisans along with vintage collections. They often posted special offers that made their collection more accessible.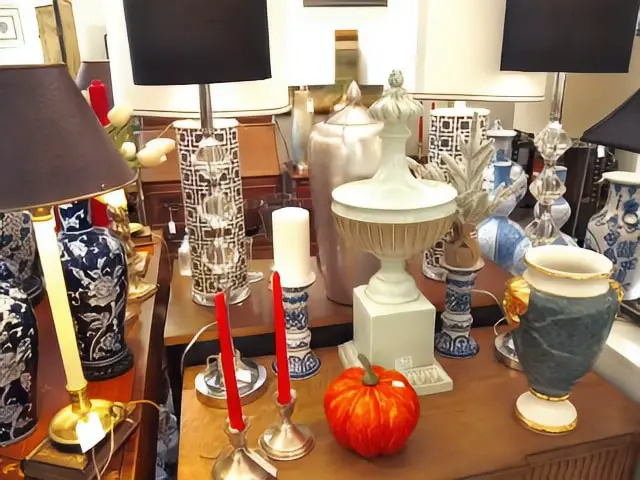 Antique Collections: Elvis Special Photo Fo4o Concert Edition, UMASS Stadium Chair Vol 319
Hours: Wednesday to Sunday from 10 am to 5 pm
Nearby Parking: Picnic Area, Towpath Trail parking
Nearby Places: Poet's Seat Tower, Museum of Our Industrial Heritage
Phone: 413-522-9939
Address: 122 Main St, Greenfield, MA 01301 and 250 Greenfield Rd. Deerfield, MA 01373.
Read Italian Restaurants in Massachusetts
14. Antiques at Deerfield – South Deerfield, Massachusetts
Antiques at Deerfield is a group of vintage and antique shops. It is located in South Deerfield near Yankee Candle Flag Ship Store. This shop has been in business since the 1990s. The two large rooms of this store contain numerous items.
Many dealers are associated with this vintage store. An array of antique items and collectibles are present under one roof. Sometimes, they also purchase the products through auctions.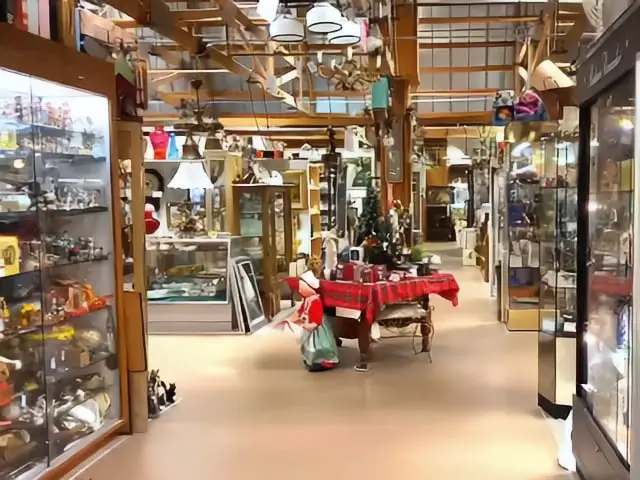 Antique Collections: Unsigned Coastal Painting Eastern Coast of U.S., Vintage Oak Hat or Coat Tree with Brass Hooks and Sturdy Base
Hours: Open Thursday to Monday from 11 am to 4 pm 
Nearby Parking: Whately Park and Ride, South Sugarloaf Parking
Nearby Places: Memorial Hall Museum, Magic Wings Butterfly Conservatory
Phone: 413- 665-0064, 413- 219-7165
Address: 226 Greenfield Rd #9790, South Deerfield, MA 01373
Read Best Salad Bars in Massachusetts
15. Palmer Antique Co-Op – Palmer, Massachusetts
Palmer Antique Co-Op is a vintage store in Palmer. This shop has an 8700 sq. ft. floor space and a warehouse. It has over 100 dealers with quality collections in its inventory. It's one of the best antique places in MA.
They feature a fantastic evolving collection of vintage items. Everything from Ephemera, outside decor, and musical equipment to kitchenware is under one roof. Every item is reasonably priced, so it's accessible to everyone.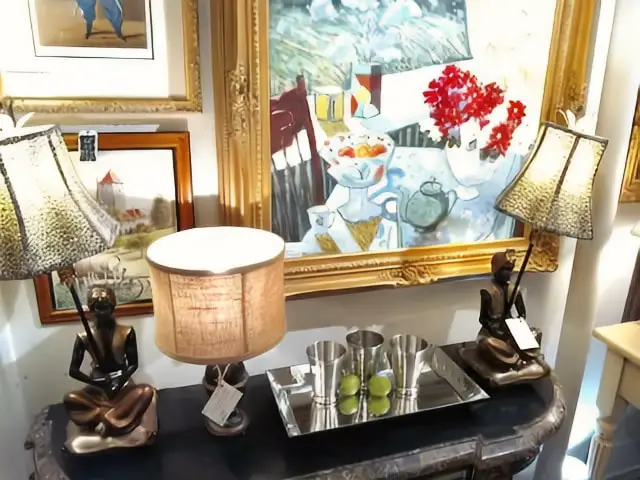 Antique Collections: Rhinestoned Owl, Lucite Flowers
Hours: Open Thursday to Saturday from 9 am to 5 pm and Sunday from 10 am to 4 pm 
Nearby Parking: Brimfield State Forest Parking, Yellow Fields Parking
Nearby Places: St. Joseph's Park, Lupa Zoo 
Phone: 413-283-3373
Address: 1239 S Main St, Palmer, MA 01069
Read Best Spas in Massachusetts
16. Wayside Antiques – West Boylston, Massachusetts
Wayside Antiques is a renowned vintage store in West Boylston. It is a multi-dealer store with a fantastic inventory. The shop has been in business for over 20 years.
The store has a moderate space where all the antique items are stored. They feature glassware, art, primitive artifacts, and vintage furniture. All the employees are polite and insightful and will help to choose.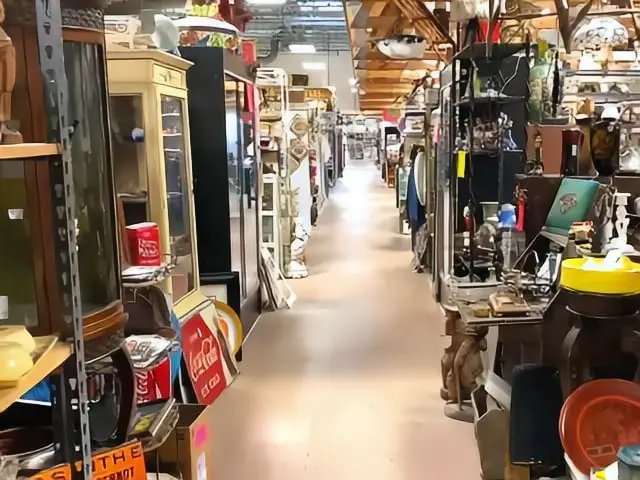 Antique Collections: Open Woven Wood Potpourri Box, Carved Wooden Cedar Lined Chest 
Hours: Monday to Saturday from 11 am to 5 pm and Sunday from 12 pm to 5 pm 
Nearby Parking: Mass DCR Wachusett Reservoir Parking, Thomas Street Parking, Mass Central Rail Trail
Nearby Places: Trout Brook Recreation Area, Old Stone Church
Phone: 508-835-4690
Address: 1 Prospect St, West Boylston, MA 01583
Read Best Botanical Gardens in Massachusetts
17. Stanley Mill Antiques – Uxbridge, Massachusetts
Stanley Mill Antiques is an eminent vintage shop in the historic Stanley Woolen Mill building. It's a multi-dealer shop with unique collectibles. The store has two stories with a floor space of 4000 sq. ft. 
Their ever-changing collections are of premium quality. It is accessible to all for its moderate pricing. They offer vintage industrial items, unique primitives, and furniture.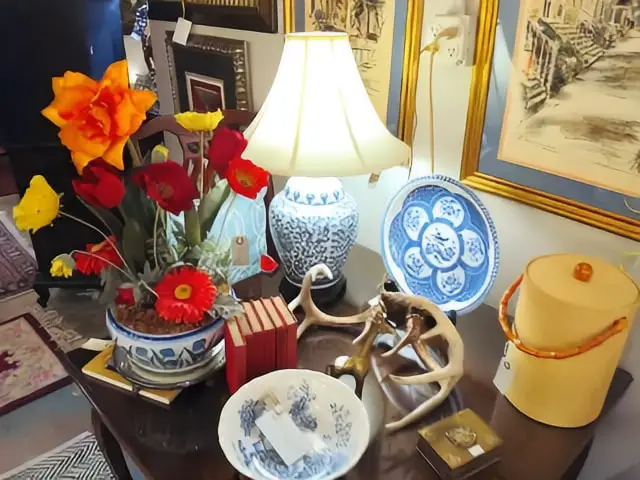 Antique Collections: Antique/Vintage Curio Cabinet, Vintage Westing House Floor Fan with Adjustable Height.
Hours: Sunday to Saturday from 10 am to 5.30 pm 
Nearby Parking: City Hall Parking Lot, Chapman Davis City Parking Lot
Nearby Places: West Hill Dam, Cormier Woods
Phone: 508-779-0334
Address: 146 Mendon St, Uxbridge, MA 01569
18. The Emporium Antiques & Art Center – Great Barrington, MA
The Emporium Antiques & Art Center is a popular vintage store. It's an organized space filled with priced collectibles. The moderate price makes it accessible to all.
They offer antique collections, especially art glass and estate jewelry. All the employees and the owner itself possess knowledge about every item. The vast collection showcases the passion of the owner for antique pieces.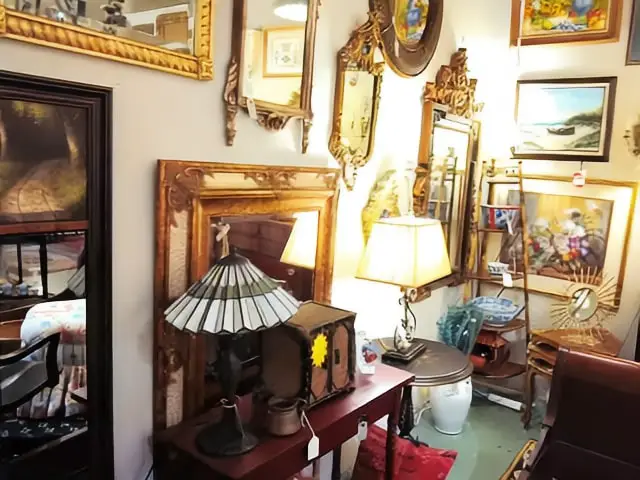 Antique Collections: Scott Taylor's Truck Series, Joani Ciolfi's Dress piece
Hours: Thursday to Monday from 11 am to 5 pm 
Nearby Parking: 249 Stockbridge Road Parking, AT Parking at Massachusetts 183
Nearby Places: Monument Mountain Reservation, River Walk
Phone: 413-528-1660
Address: 162 Main St, Great Barrington, MA 01230
Read Best Breakfast Places in Massachusetts
19. Howard's Flying Dragon Antiques – Essex, Massachusetts
Howard's Flying Dragon Antique is an eminent store in Essex. It is a family-owned shop that has been running successfully for 49 years. Ed Howard currently owns this fourth-generation store.
This store has an impressive inventory with an array of collections. The store has everything from furniture, home decor, vintage artifacts, and unique textiles. It's an ideal place to shop many vintage original antiques under one roof.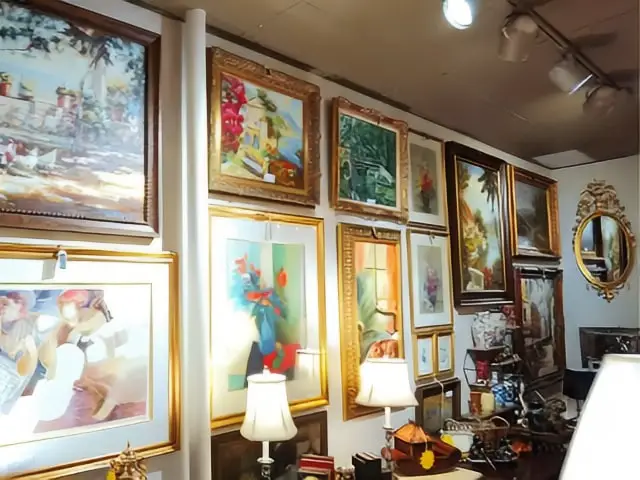 Antique Collections: Vintage Woolrich Hunting Jacket, Stetson Wool caps
Hours: Open Thursday to Sunday from 11 am to 5 pm 
Nearby Parking: Republic Parking, Coolidge Reservation Parking
Nearby Places: The Essex Historical Society and Shipbuilding Museum, Gloucester HarborWalk
Phone: 978-768-7282
Address: 136 Main St, Essex, MA 01929
Read Best Shopping Outlets and Malls in Massachusetts
20. Oldies Marketplace – Newburyport, MA
Oldies Marketplace is an antique store located in Newburyport. This eminent shop is a multi-dealer store. They have an evolving collection of antique items.
This store offers gently used furniture, vintage trains, fine arts, toys, and sterlings. They only approved consignments with premium quality. They sell their special items online and on Newburyport's waterfront. Sometimes, there is an auction of their items on eBay.
Antique Collections: Remember Marilyn LP Record 1972, Vintage Gene Doris New York Fitted Silk Hat
Hours: Saturday, 9 am–5 pm, and Friday and Sunday, 11 am–4 pm. Monday, Wednesday, Tuesday, and Thursday are Closed.
Nearby Parking: Green Street Lot, NRA East Lot
Nearby Places: Waterfront Park, Custom House Maritime Museum
Phone: 978-465-0643
Address: 27 Rear Water St, Newburyport, MA 01950
Read Best Gyms in Massachusetts
Find Antique Stores Near You
Conclusions
These antique stores in Massachusetts are heaven for vintage lovers. They are easily accessible and can cater to customers' needs. Their vast collections and efforts are truly appreciated. Visit one of these stores to get the best antiques and deals. 
Massachusetts Articles:-
Email Us to Enlist Your Business Here.