15 Best Garden Centres and Nurseries in Massachusetts 2023
The Garden Centres and Nurseries in Massachusetts grow and sell multiple varieties of perennials, annuals, flowering plants, and seasonals to people. These nurseries give a specific period of warranties for the saplings offered. 
The Cambridge, Winchester, Reading, Danvers, and Peabody of MA garden centers contain top-notch gardening tools, organic manures, and seasonal seeds. Many of these nurseries offer in-home design consultations and deliver the products to the desired customer locations. The florists are well-skilled in helping people to get a good bouquet for weddings and parties. 
List of 15 Top Rated Garden Centres and Nurseries in Massachusetts
1. Pemberton Farms Marketplace – Cambridge, MA
Tafic Saidnaway opened Pemberton Farms Marketplace in 1930 at Cambridge. Today, the Saidnaway family sells top-class vegetables, fruits, garden supplies, and plants for customers. Daily groceries and allergen-free food products are also sold here.
The garden center has extensive collections of indoor and outdoor plants. Trees from perennial, biennial, and annual types are present. Farm implements, mulches, fertilizers, and seeds are available.
The staff here provide consulting services to make the garden and landscaping better. Practical gardening workshops are organized at the greenhouse on Saturdays. 
Breakfast, lunch, and dinner are affordable, along with wines and catering. There are also seafood, fresh meats, poultry, and natural pet products. They feature attractive gift baskets with fruits, chocolates, wines, and food. 
Best Selling Garden Plants & Products: Roses, Perennials, Shrubs, Mulches, and fertilizers. 
Hours: Sunday – Thursday: 7 AM – 9 PM, Friday & Saturday: 7 AM – 10 PM
Contact: 617-491-2244
Nearby Attractions: Somerville Museum, Boston Children's Museum
Address: 2225 Massachusetts Avenue, Cambridge, MA 02140, US
Read Best Spots for Bubble Tea in Massachusetts
2. Mahoney's Garden Center – Winchester, MA
Paul Mahoney started the Mahoney's Garden Center in Winchester in 1959. It is running rapidly with eight retailers at Tewksbury, Concord, Falmouth, Chelmsford, Osterville, and Brighton in Boston. Woburn is the center's hub for growing delicate garden plant varieties. 
They grow local annuals and perennials ideal for planting in beds, patios, and window boxes. Landscaping service is offered here to people for interior designs through a virtual consultation. Fruit trees, shrubs, and greenhouse-grown plants are sold exclusively. Home gardening accessories like mulches, pots, and seed starters are available.  
The florist makes unique collections of cut flowers, bouquets, and potted gifts for weddings, funerals, and functions. The designer's team will take care of decorations, reception arrangements, and wedding bouquets during wedding occasions.  
Popular Selling Garden Plants & Products: Hydrangea, Gerbera Daisy, Organic Lawn Food.  
Hours: Monday – Saturday: 8 AM – 8 PM, Sunday: 8 AM – 7 PM.
Contact: 781-729-5900
Nearby Attractions: Stone Zoo, Mary Cummings Park. 
Address: 242 Cambridge Street, Winchester, MA 01890
Read Best Record Stores in Massachusetts
3. Kane's Flower World – Danvers, Massachusetts
Kane's Flower World was started in 1965 and is a family-run business selling garden plants and essential garden inputs. A large selection of indoor and outdoor plants is available for house needs. Jeff Kane is the pioneer behind this organization. 
Garden supplies include seed starters, terracotta pots, fertilizers, and soils. Notably, they have the carnivorous Pitcher plant and the Venus Fly Trap. They sell indoor plants ideal for house or patio decoration, including spider, hanging, and snake plants. The greenhouse and nursery are a delight to get a variety of plants and gardening tools.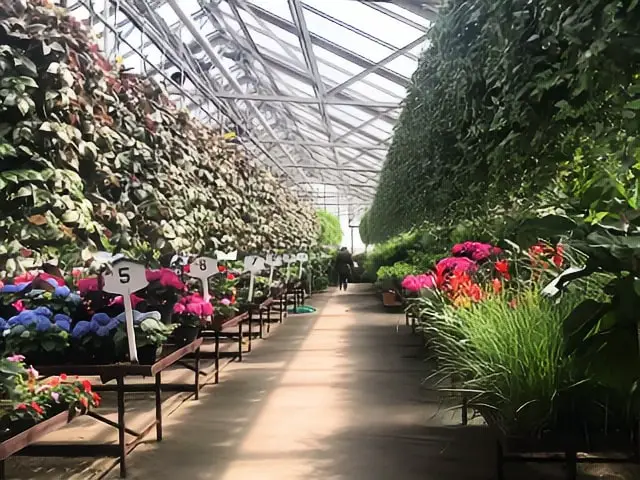 Popular Selling Garden Plants & Products: Hydrangea, Pitcher Plant, Terracotta Pots, and Venus Fly Trap. 
Hours: Monday – Sunday: 8 AM – 5 PM
Contact: 978-774-6911
Nearby Attractions: Witch Dungeon Museum, Salem Witch Village. 
Address: 64 Andover St., Rt. 114, Danvers, MA, United States,
Read Best Antique Stores in Massachusetts
4. Calareso's Farm Stand & Garden Center- Reading, MA
The Grandfather of Joe Calareso III started this business in Reading in 1952. They make flower bouquets, have a garden center, and a bakery shop. Their Market contains fresh fruits and veggies, from strawberries and blueberries to carrots and squash. 
Their Cut flowers, like Roses, Gerbera, Daisies, and Tulips, comprise the perfect bouquets for any occasion. Summer varieties of flowers like Geranium and Petunia are grown here. Special Pumpkins, Aster, and Mums are in the greenhouse during the fall season. Christmas trees in winter attract many customers to the store.   
The bakery makes soft pizza dough, cookies, and puddings here. They sell different types of fresh meat and cheese products for people.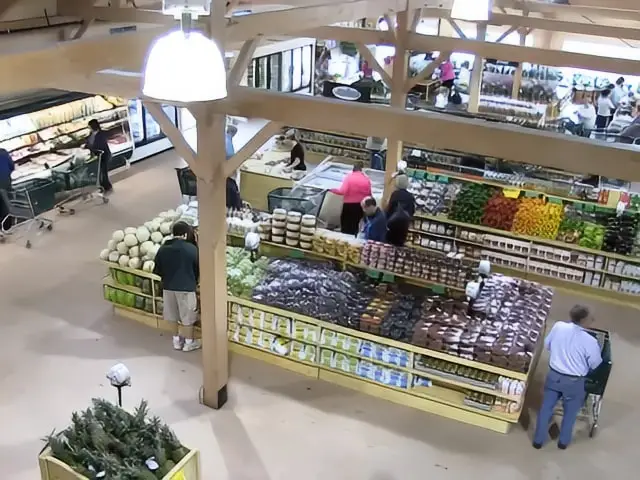 Popular Selling Garden Plants & Products: Pumpkins, Balsam Firs, Frasier Fir Trees, and Daffodils. 
Hours: Monday – Saturday: 8 AM – 7 PM, Sunday: 8 AM – 6.30 PM
Contact: 7819446010
Nearby Attractions: Boston Children's Museum, Stone Zoo 
Address: 100 Main Street, Reading, Massachusetts 01867, United States
Read Best Piercing Places in Massachusetts
5. Briggs Nursery – North Attleborough, MA
Paul and Barbara Briggs built the Briggs Nursery in North Attleborough in 1961. Initially, they were doing small and large landscape designing projects. Later, they grew to include a retail store, nursery, and garden center. 
The 12000 square foot garden store houses many kinds of home decor, pots, seeds & bulbs, and other gardening products. The greenhouse structure here has tropical plants, cacti, succulents, citrus, and veggies. It's one of the biggest nurseries in MA.
Inputs to maintain the lawn and garden are offered here. The nursery yard has beautiful perennials, flower shrubs, and trees. They provide professional landscaping services with well-skilled officials for interested people.  
The Cafe serves delicious breakfast, lunch, beverages, and refreshing smoothies. Catering is available for large orders and is only through pickup.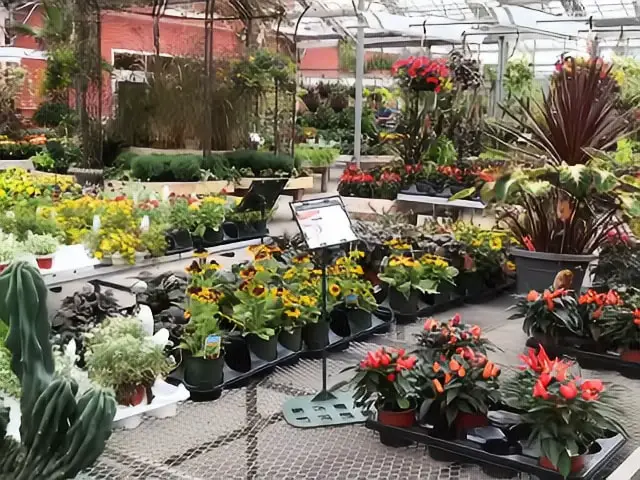 Many outdoor workshops and events are held between April to June, like the Spring Workshop, Pebble art classes, and Crochet classes. 
Popular Selling Garden Plants & Products: Cactus, Succulents, Grass Seeds, and Fraser Fir Trees. 
Hours: Monday – Saturday: 8 AM – 6 PM, Sunday: 8 AM – 5 PM
Contact: 508- 699- 7421
Nearby Attractions: Attleboro Art Museum, Attleboro Area Industrial Museum.   
Address: 295 Kelley Blvd., North Attleboro, MA 02760
Read Best Arcades in Massachusetts
6. Russell's Garden Center – Wayland, Massachusetts
Russell's Garden Center opened in 1876, was a farm market, and later expanded to a wholesale business delivering veggies and fruits. Now, it has other accessories like gifts, toys, bird stuff, and garden implements. Lewis Russell expanded the wholesale store to include a retail outlet. 
The Wayland Farmer's Market in this place sells fresh vegetables, fruits, meat, fish, baked items, and dairy products. They have vital collections of perennial and annual plants to buy. Their plant shop contains pots, wind chimes, seeds, garden tools, and watering cans. The garden shop is filled with irrigation instruments and organic manures.  
The florist will help customers to select favorites from seasonal varieties and dried flowers to make a good bouquet for special occasions. The nursery has a vast selection of shrubs and trees. They grow vegetables according to local needs and have extensive varieties of herbs. 
The gift shop has fancy items, jewels, toys for kids, daily accessories, and gifts for special moments. The bird shop has feeders, baths, and playing accessories for small birds.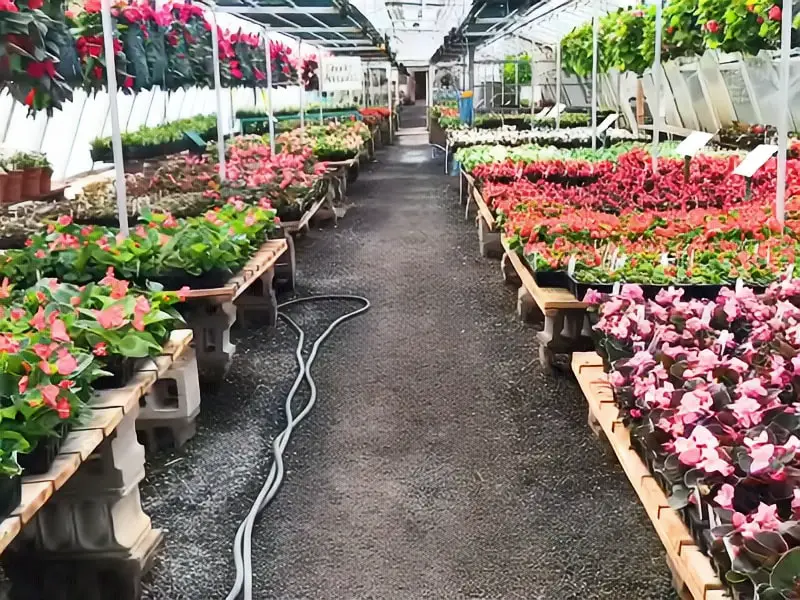 Popular Selling Garden Plants & Products: Abutilon, Fuschia, Clematis, Parsley, and Rosemary 
Hours: Monday – Sunday: 9 AM – 6 PM. 
Contact: 508-358-2283
Nearby Attractions: Walden Pond State Reservation, Rose Art Museum. 
Address: 397 Boston Post Road – Wayland, MA 01778
Read Best Tattoo Shops in Massachusetts
7. McCue Garden Center – Woburn, Massachusetts
McCue Garden Center is a family-run business founded in 1933, selling varieties of garden plants, flowers, and planting tools for gardening. It was recognized as the Best Nursery of 2021 by Boston Magazine.  
Well-hardened varieties of trees and plants specific for summer, winter, fall, and spring are grown and sold here. The shop sells various mulches, seasoned firewood, and dried wood. The skilled staff provides gardening tips to interested customers. They sell unique gifts for functions and festivals like Christmas.  
This MA nursery has a provision for propane gas filling at their locality. Unique Woburn puzzles are sold for people and kids to enjoy their holidays. Events like" Plant your herb garden" take place here.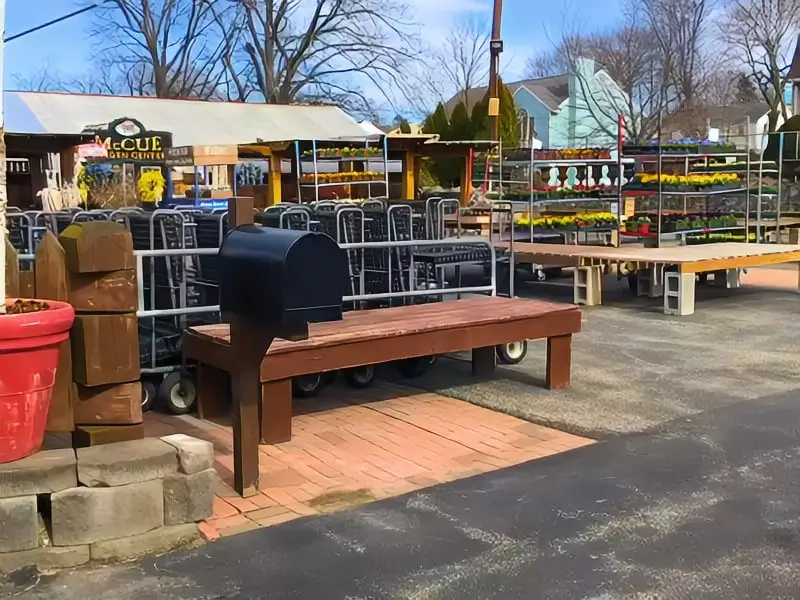 Popular Selling Garden Plants & Products: Pumpkins, Poinsettias, Wood Pellets, and Palletized Kiln Dried Firewood. 
Hours: Monday – Sunday: 7 AM – 7 PM
Contact: 781- 933-1385
Nearby Attractions: Wright's Tower, Mary Cummings Park. 
Address: 200 Cambridge Road, Woburn, MA 01801
Read Best Furniture Stores in Massachusetts
8. The Gardeners' Spot – Leominster, Massachusetts
The Gardeners' Spot is a full-time center selling extensive collections of shrubs, annuals, perennials, and flowers. Perennial collections include pansies, Columbine, Nasturtiums, and many others. Compost incorporation into the soil every spring will make the plants grow better and healthy. 
They sell a wide variety of trees for Christmas. Wreaths and kissing balls are also available. Attractive discounts are offered for houseplants. The greenhouse contains impressive clusters of flowers with decor plants. Fresh veggie plants are also available there for home gardens. They have an online ordering facility to buy garden inputs and tools. 
Popular Selling Garden Plants & Products: Poinsettias, Pansy, House Plants, and Columbine.  
Hours: Monday – Sunday: 9 AM – 5 PM
Contact: 978-537-7191
Nearby Attractions: Fitchburg Art Museum, Curious Escape Rooms. 
Address: 66 Granite St, Leominster, MA, United States
Read Best Furniture Stores in Massachusetts
9. Sixteen Acres Garden Center – Springfield, MA
John Bordenuk and his wife Joan started the Sixteen Acres Garden Center in 1962. His parents inspired him as they sold Gladiolas on the roadsides. This center became the largest Garden Center in Western Massachusetts. Landscaping service is offered here by skilled professionals. 
The floral shop contains many species of cut flowers for weddings, funerals, and parties. The nursery yard contains multiple varieties of trees, vines, and fruits. New disease-resistant types are available in the nursery. The grass and lawn center has grass seeds, fertilizers, and other inputs for gardening. 
The gift shop features unique selections of Yankee candles, wall plaques, glass vases, wind chimes, and garden flags for special occasions. Goodies and holiday stuff are found in the Christmas shop here.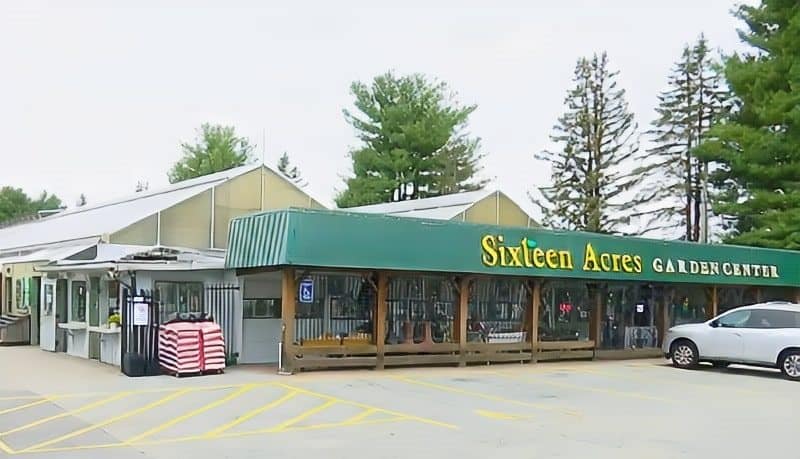 Popular Selling Garden Plants & Products: Azalea, Andromeda, Japanese Maples, and Viburnum 
Hours: Monday – Sunday: 8 AM – 5 PM
Contact: 413- 783-5883
Nearby Attractions: Springfield Museums, Springfield Armory National Historic Site 
Address: 1359 Wilbraham Road Springfield, MA 01119
Read Best Consignment Shops in Massachusetts
10. Northeast Nursery Garden Center – Peabody, MA
Northeast Nursery has served the community since 1982, providing gardening and planting materials. Notably, they offer masonry products and tools for work. They have three units in Maine and one in New Hampshire. 
There are sods, soil mixes, fertilizers, garden tools, and pot containers to maintain a good lawn and garden. Similar supplies are also separately available for landscapes. The nursery stock contains multiple varieties of perennials, annuals, bulbs, shrubs, and ornamentals. 
Masonry items sold include veneer stone, cement & mortar, cobblestone, and fireplace. Firewood, snow shovels, and clothes for winter are sold here. Climbing gear and tree-pruning tools are also found in the supply section. Landscaping services are offered virtual and offline in the store per customer needs. Products are also available at wholesale rates to buy.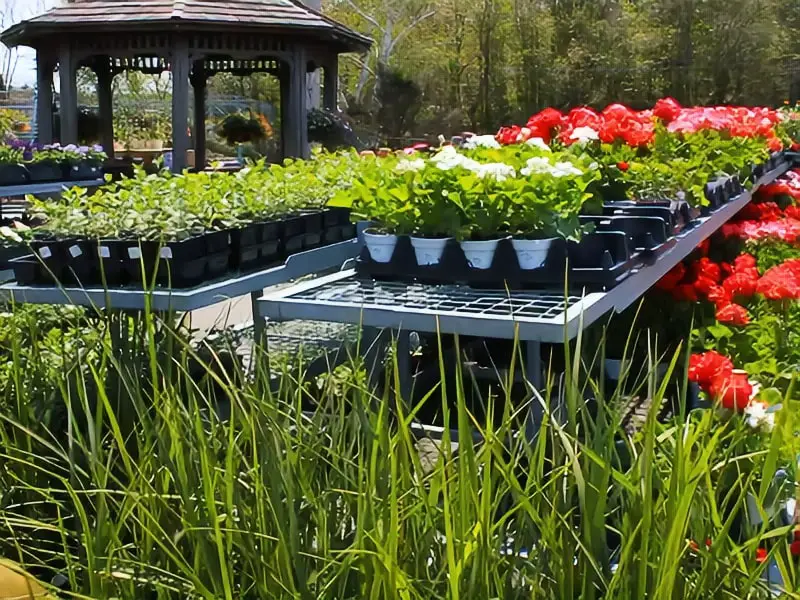 Popular Selling Garden Plants & Products: Bulbs, Bamboo, Sods, and Mulches. 
Hours: Monday – Saturday: 7 AM – 6 PM, Sunday: 8 AM – 5 PM. 
Contact: 978-535-6550
Nearby Attractions: The Stone Tower, Salem Witch Village.   
Address: 234 Newbury Street Peabody, MA 01960
Read Best Candy Shops in Massachusetts
11. Sterling Greenery – Sterling, Massachusetts
Mark and Karen Packard are the origins of Sterling Greenery, a small company that started in 1996. They offer top-notch planting materials and install plants, ponds, and patios. They provide landscape and design services to various locations. 
Their designers offer design services through Plant Nerds Mobile Design. The landscaping team installs patios, walkways, firepits, and landscape lighting. The garden center contains a handful of varieties of shrubs, annuals, perennials, indoor plants, and gardening inputs such as bone meal, soils, and pesticides. 
The Stone Yard section contains high-quality granites and different types of mulches for gardening. The Pond Store has filters, plants, fish, and other things for the pond.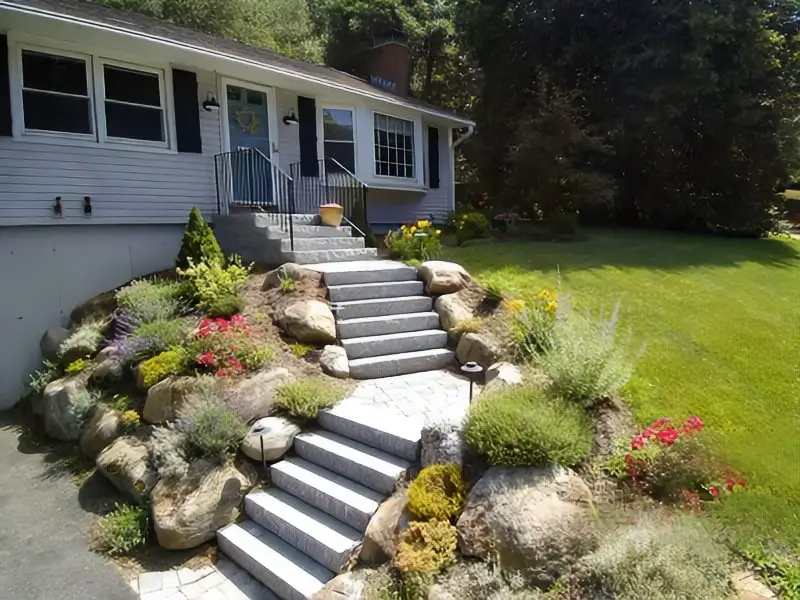 Popular Selling Garden Plants & Products: Annuals, Perennials, Herbs, and Hanging Baskets
Hours: Monday – Sunday: 8 AM – 6 PM
Contact: 978-422-0071
Nearby Attractions: Davis Farmland, Fitchburg Art Museum.   
Address: 44 Redemption Rock Trail, Sterling, MA 01564
Read Garden Centers and Nurseries Plymouth, MA
12. Bigelow Nurseries – Northborough, MA
Palmer W. started the Bigelow Nurseries in 1915 in North Grafton. He completed studying horticulture at the University of New Hampshire.
Their retail garden center sells perennials, roses, shrubs, and woody plants. Gardening inputs such as potting mix, fertilizers, seeds, pots, and tools are sold here. Delivery is available for the whole of New England. Items and plants are available based on seasons. 
This plant nursery also offers wholesale services for people to get the plants and tools at a cheaper rate, provided they register for it on their website. The 700 acres of nursery yard houses vast varieties of evergreen and deciduous trees and flowers.   
Popular Selling Garden Plants & Products: Roses, Mulches, Perennials, Shrubs, and Garden Tools. 
Hours: Wholesale – Monday – Friday: 7 AM – 4.30 PM, Saturday: 7 AM – 12 PM
Contact: 508-845-2143
Nearby Attractions: Live Action Escapes, Dean Park    
Address: 455 West Main Street, PO Box 718 Northboro, MA 01532
Read Best Bowling Alleys in Massachusetts
13. Polillio's Garden Center – Stoughton, Massachusetts
Polillio's Garden Center was established in 1981, running a garden center and providing landscaping service. The staff helps customers to get their desired landscape designs. 
Plant collections include annuals, perennials & grasses, roses, house plants, and vegetables. Flowering plants come in annuals and tropicals. They have organic seeds, fertilizers, and soil mix to grow a beautiful lawn. 
Decorative outdoor stuff like wind chimes, birdhouses, soy candles, and benches are available. Organic honey is special to buy at this place. Exclusive collections of pottery are accessible at cheaper rates. 
The garden center has various seeds of bulbs, veggies, and fruits. Gardening tools like shovels, pruners, and many other types are available.   
Popular Selling Garden Plants & Products: Cucumber, Zucchini, Boston Ferns, and Geranium
Hours: Monday – Saturday: 9 AM – 5 PM, Sunday: 9 AM – 4 PM
Contact: 781-344-2783
Nearby Attractions Brockton Fire Museum, Borderland State Park
Address: 1883 Central Street, Stoughton, MA 02072
Read Best Indian Restaurants in Massachusetts
14. Gardener's Supply – Hadley, Massachusetts
Mr. Will Raap started Gardener's Supply in 1983 to solve issues of basic gardening around the USA. They specifically provide products for aged and physically challenged farmers. Five garden centers are spread in Vermont, New Hampshire, and Massachusetts.
Annuals, perennials, succulents, cacti, and shrubs are notable plant varieties in this tree nursery. Bagged mulches, wood pellets, tools, pest control, and pottery are gardening supplies sold at this center. They do report services for garden plants to maintain their health and ensure disease-free conditions. 
Other stuff sold in the store includes wood pellets, decors, gifts, and toys. The staff offers customized landscape design and installations. Various practical workshops and gardening and plant health seminars are organized for people.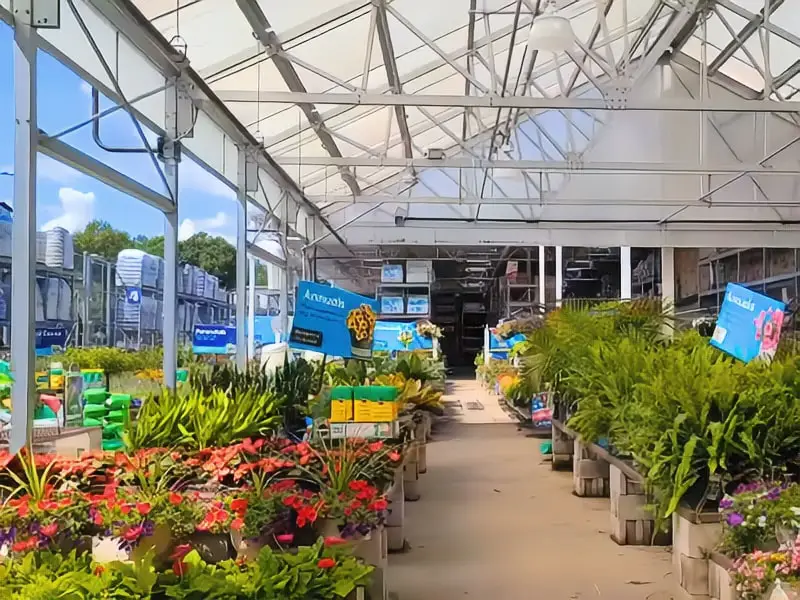 Popular Selling Garden Plants & Products: Succulents, Cactus, Mulches, and Wood Pellets.  
Hours: Monday – Saturday: 8 AM – 6 PM, Sunday: 9 AM – 5 PM
Contact: 413-584-1423
Nearby Attractions: Hadley Farm Museum, Smith College Museum of Art. 
Address: Route 9, 285 Russell St Hadley, MA 01035
Read Italian Restaurants in Massachusetts
15. Weston Nurseries of Hopkinton – Hopkinton, MA
Peter and Anna started Weston Nurseries in 1923; the area is about 80 acres. They ultimately developed to hold 200 acres by the 1940s. They are present in two other places, namely Chelmsford and Hingham. 
Various shrubs, perennials, trees, and hanging plants are available. Woody plants and herbaceous perennials for growing in sandy soil are there for sale. Unique garden inputs like mulches, soil mix, compost, and gravel are present in the yard. Strong and well-structured stones are found for making patios, slabs, firepits, and walls.    
People can build customized patios with the Toja Grid DIY Pergola Kit sold here. They deliver landscape plants and do the installation of sods. At-home consultation by their staff and E-design services are there for us to get a customized design. Garden coaching and repotting of plants are other add-on services rendered here. 
Many valuable workshops and events regarding gardening, like Weston's Project Grow, Companion Planting for Containers, and Ask the Horticulturist, are organized frequently. 
Popular Selling Garden Plants & Products: Bamboo, Black Walnut, Dogwood, Wood Chips, and Mulches
Hours: Monday – Sunday: 9 AM – 5 PM
Contact: 508- 435-3414
Nearby Attractions: Sudbury River, Ashland Town Forest    
Address: 93 East Main Street, Hopkinton, MA 01748
Read Best Salad Bars in Massachusetts
Find Garden Centers and Nurseries Near You
Conclusion
Many Garden Centres and Nurseries in Massachusetts offer a venue for organizing weddings and special functions. The Sterling, North Attleboro, Hopkington, Woburn, and Stoughton garden centers have a marketplace selling fresh veggies, fruits, and dairy products. They also market sods, irrigation equipment, and bird feeds.
Massachusetts Articles:-